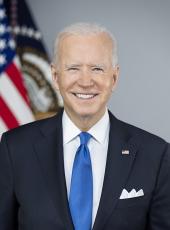 Press Release - President-elect Joe Biden and Vice President-elect Kamala Harris Announce Additional Members of the Office of the Vice President
WASHINGTON - Today, President-elect Joe Biden and Vice President-elect Kamala Harris announced additional members of the White House staff. These diverse, experienced, and talented individuals will join the Office of the Vice President. The appointments demonstrate that the president and vice president-elect are building an administration that looks like America and is ready to deliver results for the American people on day one.
"Building our nation back better requires having the best and the brightest in our administration. These accomplished individuals have the knowledge and expertise to hit the ground running on day one and will work each day in service to the American people. With their varied and diverse backgrounds, they bring a shared commitment to tackling the crises facing America, helping us become a stronger, more united nation," said President-elect Joe Biden.
"These deeply experienced public servants reflect the very best of our nation, and they will be ready to get to work building a country that lifts up all Americans. Their counsel and expertise are grounded in a commitment to making sure our economy works for working people and all those looking to work. And their leadership will be critical as we work to meet the challenges facing the American people — from the coronavirus pandemic to this economic recession to our climate crisis and long-overdue reckoning on racial injustice. I am proud to announce these individuals will be joining my team and look forward to working alongside them each and every day," said Vice President-elect Kamala Harris.
"President-elect Biden and Vice President-elect Harris have a bold agenda that will build our nation back better than before. These appointees will work tirelessly for the American people, and I am proud to have them join our White House team," said incoming Chief of Staff to the Vice President Tina Flournoy.
Biographies of the appointees are listed below in alphabetical order:
Yael Belkind, Assistant to the Chief of Staff
Yael Shoshanna Belkind was the Director of Scheduling and Confidential Assistant to former Chairman of the Democratic National Committee and former Governor of Virginia Terry McAuliffe. During the Obama-Biden administration, Belkind worked at the State Department as the Assistant Manager of Blair House. She started her career in D.C. on the staff of Congressman Gary Ackerman and then Senator Paul Sarbanes on the Senate Banking, Housing, and Urban Affairs Committee. Belkind also worked on the Clinton Global Initiative in Hong Kong. Born in New Delhi, India and raised in London, England, Belkind is a graduate of Tufts University with a degree in International Relations.
Vincent Evans, Deputy Director of the Office of Public Engagement and Intergovernmental Affairs
Vincent Evans served as Political Director to Vice President-elect Kamala Harris on the Biden-Harris Campaign during the general election and the campaign's Southern Political Director during the primary season. Prior to this, he served on the senior staff of U.S. Representative Al Lawson of Florida, his longtime mentor, with a portfolio that focused on state and local issues. Before his role in the Congress, Evans worked as the Chief Aide to Tallahassee City Commissioner Curtis Richardson, after running his successful campaign. His experience includes stints working at a government relations firm focused on state legislative matters, in the Florida Senate Demcoratic Caucus for Democratic Leader Nan Rich and later at a cabinet-level state agency. He managed or served in leadership roles on the campaigns of the two most recent Florida Democratic gubernatorial nominees and several local, state and congressional races in Florida. Born and raised in Florida, Evans attended Florida A&M University, the nation's highest ranked public HBCU.
Michael Fuchs, Deputy Chief of Staff
Michael Fuchs is a Senior Fellow at the Center for American Progress and Foreign Policy Advisor to President Bill Clinton. Previously, Fuchs served in the State Department during the Obama-Biden administration as an advisor to Secretary of State Hillary Clinton and as a Deputy Assistant Secretary of State for East Asian and Pacific Affairs. Originally from New York, Fuchs is a graduate of Columbia University. He lives in Washington, D.C. with his wife, son, and daughter.
Kate Childs Graham, Director of Speech Writing
Kate Childs Graham most recently served as a Principal at the speechwriting and strategy firm West Wing Writers and led the speechwriting team for the 2020 Democratic National Convention. Prior to West Wing Writers, she was Communications Director for U.S. Senator Amy Klobuchar. During the 2016 presidential election, she wrote speeches for the Clinton-Kaine campaign and the Democratic National Convention. Previously, Childs Graham served as Director of Communications and Media Affairs at the American Federation of Teachers and as Senior Speechwriter at the American Federation of State, Municipal, and County Employees. She began her career working in the progressive faith and reproductive health movements. For years, she wrote a regular column for the National Catholic Reporter and is also the editor of the 2019 book Why I Run: 35 Progressive Candidates Who Are Changing Politics. Childs Graham is a graduate of the Catholic University of America and the United Nations-mandated University for Peace. Born in Indiana, she resides in Takoma Park, Maryland with her partner and their son.
Dr. Ike Irby, Policy Advisor
Dr. Ike Irby is currently a Senior Policy Advisor to Vice President-elect Kamala D. Harris in the U.S. Senate, covering climate, environment, energy, transportation, and infrastructure. He was previously an AGU/AAAS Science and Technology Policy Fellow also with the Vice President-elect. Dr. Irby earned his Ph.D. in Marine Science at William & Mary's Virginia Institute of Marine Science, focusing on the efficacy of environmental regulations in the face of climate change. Prior to his Ph.D., he was a physics and earth science teacher in Missouri. Dr. Irby grew up in Colorado and graduated from Bowdoin College and William & Mary.
Deanne Millison, Deputy Policy Director
Deanne Millison served as Deputy Chief of Staff and Legislative Director for Senator Kamala Harris. Previously, she served as the Deputy Director for the Legislative Council and Government Affairs Team in the Mayor's Office for the City of Chicago. Prior to working for the City of Chicago, Deanne served in several positions in Congress including Legislative Director and Oversight Investigations Counsel for the U.S. House of Representatives Committee on Financial Services and Counsel on the Senate Committee on Homeland Security and Government Affairs. Deanne started her legal career as an associate at Jenner & Block LLP, and later clerked for the Honorable Sharon Johnson Coleman in the United States District Court for the Northern District of Chicago. She received her B.A. in Political Science and a minor in Psychology from Washington University as a proud Ervin scholar and her J.D. from Harvard Law School.
Rachel Palermo, Assistant Press Secretary
Rachel Palermo serves on the communications team for the Biden-Harris Transition. Previously, Palermo was the Assistant Press Secretary and Director of Women's Media at the Democratic National Committee. She also served as a member of the legal team for Pete Buttigieg's presidential campaign, where she focused on voter protection efforts. Additionally, she spent time doing strategic communications at SKDKnickerbocker. Born in Minnesota and the daughter of a Lebanese immigrant, Palermo is a graduate of St. Olaf College. She is completing her final semester at Notre Dame Law School.
Mike Pyle, Chief Economic Advisor
Mike Pyle served for five years in the Obama-Biden administration, including in the White House as a special assistant to the president for economic policy and in international affairs at Treasury and in the Office of Management and Budget. Most recently, Pyle was the global chief investment strategist at BlackRock, after prior multi-asset investing roles there, first as a portfolio manager and then as deputy chief investment officer. He began his career as a law clerk to Judge Merrick Garland. Raised in a farming community in Central Illinois, Pyle was educated at Dartmouth College, Yale Law School, and Cambridge University. He now lives in Brooklyn with his wife Chloe Schama and their three young sons.
Sabrina Singh, Deputy Press Secretary
Sabrina Singh was Press Secretary to Vice President-elect Kamala Harris on the Biden-Harris campaign. Prior to her role on the campaign, Singh served as Senior Spokesperson for Mike Bloomberg's presidential campaign and National Press Secretary for Cory Booker's presidential campaign. She previously served as Deputy Communications Director for the Democratic National Committee, Spokesperson for American Bridge's Trump War Room and Regional Communications Director on Hillary Clinton's 2016 presidential campaign. She has also worked at SKDKnickerbocker, served as Communications Director for Rep. Jan Schakowsky and worked at various Democratic committees. She lives in Washington, D.C. with her husband and two dogs.
Peter Velz, Director of Press Operations
Peter Velz was Director of Press Operations for the Vice President-elect Kamala Harris on the Biden-Harris Campaign. Velz served in the White House Department of Communications under President Obama from 2012-17, spending three years as a press wrangler advising and accompanying the traveling press pool. After the administration, he worked for the State University of New York (SUNY) for three years as assistant vice chancellor for external affairs. Originally from Virginia, he is a graduate of Virginia Tech.
Herbie Ziskend, Deputy Communications Director
Herbie Ziskend is a communications advisor on the Biden-Harris Transition. Prior, Ziskend was Strategic Planning Advisor for the Biden-Harris campaign and a producer for the 2020 Democratic National Convention. Ziskend was Senior Vice President at SKDKnickerbocker, where he provided communications counsel to a range of clients including winning Democratic campaigns. During the Obama-Biden administration, Ziskend served as a Policy Analyst and Press and Staff Assistant in the Office of the Vice President. Prior, he was a staff member on the Obama for America campaign, Chief of Staff at the Huffington Post and Director of Public Policy at Revolution LLC. A native of Massachusetts, Ziskend is a graduate of Cornell University and the Harvard Kennedy School.
Joseph R. Biden, Press Release - President-elect Joe Biden and Vice President-elect Kamala Harris Announce Additional Members of the Office of the Vice President Online by Gerhard Peters and John T. Woolley, The American Presidency Project https://www.presidency.ucsb.edu/node/347500