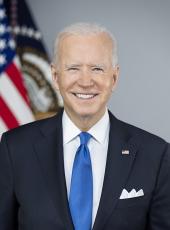 Press Release - President-elect Joe Biden and Vice President-elect Kamala Harris Announce Additional Members of White House Staff
WASHINGTON - Today, President-elect Joe Biden and Vice President-elect Kamala Harris announced additional members of the White House staff. This announcement includes individuals from the Office of the Cabinet Secretary, Office of Political Strategy and Outreach, Office of Public Engagement, and the Office of Management and Administration.
These offices will play key roles in coordinating across the administration, working with state and local governments and organizations, and engaging with the public. Additionally, the technology leaders will play an important role in restoring faith across the federal government by encouraging collaboration to further secure American cyber interests. The diverse, experienced, and talented individuals across these teams demonstrate that the president and vice president-elect are building an administration that looks like America and is ready to deliver results for the American people on day one.
"Our nation is facing urgent challenges, and we are building a team that will be ready to tackle them on day one. In addition to working with organizations and communities, these accomplished public servants sit at the forefront of collaboration across the administration. They will lead initiatives ranging from developing policies and processes, to ensuring our cyber security needs are met with a whole of government response. Together, they fuel the everyday work to build our nation back better than before. I'm proud to have them serve the American people in the White House," said President-elect Joe Biden.
"To meet the unprecedented challenges facing the American people, we must build an administration that reflects the very best of our country. These accomplished public servants have the knowledge and expertise to hit the ground running on day one. And I look forward to working with them in the White House to rebuild our country in a way that lifts up all Americans," said Vice President-elect Kamala Harris.
"Today's appointees are respected leaders who will bring a commitment to serving the American people each and every day. I am proud that we are building a barrier-breaking White House team that will be dedicated to working across the administration and White House to improve the lives of Americans across the country and make government more accessible and efficient," said incoming White House Chief of Staff Ron Klain.
Biographies of the appointees are listed below in alphabetical order:
Office of the Cabinet Secretary
Cristóbal J. Alex, Deputy Cabinet Secretary
Cristóbal J. Alex served as Senior Advisor to President-elect Joe Biden on the Biden-Harris Campaign. Prior to his role on the campaign, Alex served as the founding President of the Latino Victory Fund, and as Hillary for America's National Deputy Director of Voter Outreach and Mobilization. Before his transition into politics, Alex worked at the Open Society Foundations and the Ford Foundation, and served as Director of the National Campaign to Restore Civil Rights. He started his career as a civil rights lawyer with MacDonald Hoague & Bayless. The son of immigrants and native of El Paso, Texas, Alex received his J.D. from the University of Washington where he served as student body president. He lives in Washington, D.C. with his wife, toddler and newborn daughter.
Evan Ryan, Cabinet Secretary
Evan Ryan is a Senior Advisor for the Biden-Harris Transition. Prior to this, she helped launch and lead Axios, as Executive Vice President. Ryan served under Secretary of State John Kerry as Assistant Secretary of State for Educational and Cultural Affairs and worked in the Obama-Biden White House as Assistant to the Vice President and Special Assistant to the President for Intergovernmental Affairs and Public Engagement. Ryan served as Deputy Campaign Manager for then Senator Biden's 2008 presidential campaign and also served on the John Kerry for President campaign and Hillary Clinton's 2000 senatorial campaign. Ryan served in the Clinton White House, as Deputy Director of Scheduling for First Lady Hillary Clinton and as Special Assistant to the First Lady's Chief of Staff. She has worked as a consultant for the Education Partnership for Children of Conflict and served as Deputy Chair for the governance track of the Clinton Global Initiative. She is currently a member of the Council on Foreign Relations. Ryan is from Virginia and holds a B.A. from Boston College and a Masters in International Public Policy from the Johns Hopkins University School of Advanced International Studies.
Office of Political Strategy and Outreach
Emmy Ruiz, Director of Political Strategy & Outreach
Emmy Ruiz is a former campaign aide to Vice President-elect Kamala D. Harris, Secretary Hillary Clinton, President Barack Obama, and Democratic Chairman Tom Perez. She is a co-founder and partner of NEWCO Strategies, a minority-majority political firm. During the 2018 and 2020 election cycles, Ruiz helped support the work of groups mobilizing communities of color to vote and running and electing progressive women to office. For the 2016 presidential elections, Ruiz led and won Colorado and Nevada for Hillary Clinton. She has served as senior advisor to the Democratic National Committee and as the Political Director of Annie's List in Texas. In 2012, she served as the General Election Director in Nevada for President Obama's re-election campaign. Born in Harlingen, Texas, Ruiz is a graduate of the University of Texas at San Antonio. She lives in Austin, TX with her wife and son.
Erin Wilson, Deputy Director of Political Strategy & Outreach
Erin Wilson serves as Deputy Executive Director to the Presidential Inaugural Committee. Prior to this role, Erin served as the Biden-Harris campaign's national political director throughout the primary and general elections. As a senior staff member in this role, Wilson was responsible for relationships with hundreds of elected officials and leaders across the country. Previously, Wilson was a senior aide in Pennsylvania Senator Bob Casey's office, most recently serving as his state director and senior advisor to his 2018 reelection. She is also a Hillary for America, Democratic National Committee and Congressional Black Caucus Foundation alumna. Originally from Pennsylvania, Wilson is a graduate of the University of Pennsylvania.
Office of Public Engagement
Adrian Saenz, Deputy Director of the Office of Public Engagement
Adrian Saenz was an advisor for Latino paid media and mail on the Biden-Harris campaign. He previously served as Special Assistant to the President, Deputy Director and Senior Advisor in the White House Office of Intergovernmental Affairs where he managed the Obama-Biden administration's relationships with Governors, legislators, and other state elected officials. He also served on the White House Ebola response team led by Ron Klain. Previously, Saenz served as the Obama-Biden 2012 National Latino Vote Director, as a Chief of Staff to two members of Congress, as the Texas and New Mexico state director for President Obama's 2008 campaign, and as the Latino vote and field director at the Democratic Congressional Campaign Committee in 2006. Born in Texas, Saenz is a graduate of the University of Texas at San Antonio.
Office of Management and Administration
Austin Lin, Deputy Director of Technology
Austin Lin serves as the Director of Information Technology and Security for the Biden-Harris Transition. Prior to the transition, he led Security and IT Systems teams at the Chan Zuckerberg Initiative and served as a Technical Program Manager on Facebook's Infrastructure team. During the Obama-Biden administration, Lin served in multiple operations and technology roles including as Deputy Director of Information Technology and Associate Director for Operations. Originally from Illinois, Lin is a graduate of the University of Illinois at Urbana-Champaign.
David Recordon, Director of Technology
David Recordon currently serves as the Deputy Chief Technology Officer of the Biden-Harris Transition. He previously served in the Obama-Biden administration through the U.S. Digital Service before being appointed as the first Director of White House Information Technology where his teams led massive cybersecurity, efficiency, and modernization efforts. Recordon learned to program at the public elementary school he attended and has spent his almost two-decade career working at the intersection of technology, security, open source software, public service and philanthropy. Originally from Oregon, Recordon is looking forward to moving back to Washington D.C. with his fiancé and dog.
Joseph R. Biden, Press Release - President-elect Joe Biden and Vice President-elect Kamala Harris Announce Additional Members of White House Staff Online by Gerhard Peters and John T. Woolley, The American Presidency Project https://www.presidency.ucsb.edu/node/347495