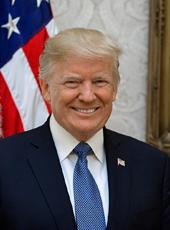 Press Release - President-Elect Donald J. Trump Transition Builds Out White House Policy Team
(New York, NY) – The Trump-Pence Presidential Transition Team today announced the build out of the White House policy team.
The Domestic Policy Director and Council will report to the Senior Advisor to the President for Policy, Stephen Miller. All members of the policy team will be required to accept a five-year ban on lobbying after the conclusion of their service as well as a lifetime ban on becoming registered lobbyists for a foreign government.
"These knowledgeable, skilled and talented experts will make enormous contributions to the President-Elect's America First agenda," said incoming White House Chief of Staff Reince Priebus.
The White House Domestic Policy Council will oversee issue areas including judiciary, budget, public safety, education and immigration policy, and will focus its efforts around the goal of increasing economic prosperity and protecting and defending the American worker and wage earner, particularly those who have been underserved.
Domestic Policy Council, Staff Announcements:
Andrew Bremberg, Director of the White House Domestic Policy Council - Andrew Bremberg worked at the U.S. Department of Health and Human Services from 2001 to 2009, including serving as the Chief of Staff for the Office of Public Health and Science. He later served as Policy Advisor and Counsel on Nominations for Senator Mitch McConnell. He worked as the Policy Director for the 2016 Republican Party Platform. He now works in a lead policy and administrative role on the Presidential Transition Team. Mr. Bremberg received a J.D. from the Catholic University of America Columbus School of Law and a B.A. from the Franciscan University of Steubenville.
Paul Winfree, Deputy Director of the Domestic Policy Council and Director of Budget Policy - Paul Winfree was Director of the Thomas A. Roe Institute for Economic Policy Studies, the Center for Data Analysis and the Richard F. Aster Research Fellow, all at The Heritage Foundation. Prior to joining Heritage, Mr. Winfree was the Director of Income Security on the U.S. Senate Committee on the Budget. He has a Master of Science degree in economics and economic history from the London School of Economics and a Bachelor of Science degree in economics from George Mason University.
Katy Talento, Healthcare Policy - Katy Talento, an infectious disease epidemiologist with nearly 20 years of experience in public health and health policy, as well as government oversight and investigations and program evaluation, served on the campaign since July 2016. Ms. Talento has spent 12 years in the U.S. Senate, working for five Senators and two committees. A graduate of Harvard School of Public Health and the University of Virginia, she has also worked in the field on disease control programs in the U.S. and in Africa.
Ja'Ron Smith, Urban Affairs and Revitalization – Ja'Ron K. Smith has served as a Congressional staff member for nearly a decade. Smith served the House Republican Conference legislative staff under then-Chairman Mike Pence prior to joining the Republican Study Committee to serve on the professional policy staff under Congressman Jim Jordan. He later served as Economic Advisor to Senator Tim Scott and currently works as the Director of External Affairs for Generation Opportunity. Mr. Smith was born in Cleveland, Ohio and is a double graduate of Howard University with a BBA in Finance and a Masters in Divinity.
Rob Goad, Education Policy - Rob Goad currently serves on the Presidential Transition as the education lead for the implementation of the President-elect's education policy agenda. Prior to developing education policy for the President-elect's successful campaign, Mr. Goad served as a Senior Policy Advisor to House Policy Committee Chair Luke Messer focusing on education issues. He also played a pivotal role advancing school choice policies as Director of the Congressional School Choice Caucus. Mr. Goad received a bachelor's degree in political science at Indiana University.
John Zadrozny, Justice and Homeland Security Policy - John Zadrozny has worked for the past six years on the House Committee on Oversight and Government Reform, the Senate Committee on Foreign Relations, and the Senate Committee on the Judiciary for Senator Ted Cruz. Prior to working on Capitol Hill, he served in the Office of National Drug Control Policy and the Department of State. Mr. Zadrozny has a J.D. from Catholic University's Columbus School of Law in Washington, D.C. and a B.A. in History from Fordham University in Bronx, where he graduated magna cum laude.
Zina Bash, Regulatory Reform, Legal and Immigration Policy - Zina Bash has held a variety of positions in business, law and government, and currently serves as the Executive Vice President of Operations and Business Development at Doctors' Hospital at Renaissance. Her previous positions include Deputy Director of Policy and Communications for Senator Ted Cruz's presidential campaign and Senior Counsel to the Senate Judiciary Committee in Senator John Cornyn's office. Ms. Bash also practiced law as an appellate attorney at international law firm Gibson Dunn, & Crutcher LLP. Fluent in Spanish as a native speaker, she earned a bachelor's degree from Harvard College, a J.D. from Harvard Law School and an M.B.A. from Wharton Business School. Ms. Bash also served as a law clerk to Justice Samuel Alito of the U.S. Supreme Court and Judge Brett Kavanaugh of the U.S. Court of Appeals for the D.C. Circuit.
Peter J. White, Senior Policy Analyst - Peter White received his J.D. from American University's Washington College of Law and has worked at the Federal Trade Commission and the Federal Communications Commission. Most recently, Mr. White served as Legislative Counsel for Congressman Mo Brooks. Licensed to practice law in the District of Columbia, Mr. White is an active member of the Federalist Society and performs pro bono legal work for the Washington Legal Clinic for the Homeless.
Additionally, the following team members are joining the Office of the Senior Advisor to the President for Policy, and will help to develop all policy and administer all functions underneath the umbrella of the Office, such as the formulation of a pro-worker agenda – including support for affordable childcare and family initiatives.
Office of the Senior Advisor to the President for Policy, Staff Announcements:
Carlos Diaz-Rosillo, Director of Policy and Interagency Coordination - Carlos Diaz-Rosillo brings a wealth of experience on presidential power, administrative action, executive leadership and the policymaking and executive action process to this key role. Mr. Diaz-Rosillo has been serving on the President-elect's Transition Team as Policy Implementation Executive Authority Advisor and White House Lead. He is fluent in Spanish, and graduated summa cum laude with degrees in International Relations (B.A.) and Civil Engineering (B.S.C.E) from Tufts University and Public Policy (M.P.P) and Government (A.M., PhD) from Harvard University, where he has been a member of the faculty of government for more than eight years.
Vince Haley, Advisor for Policy, Strategy and Speechwriting - Vince Haley is a longtime associate of former U.S. House Speaker Newt Gingrich. He served as policy director and later campaign manager of Gingrich's 2012 presidential campaign. Mr. Haley holds an undergraduate degree from the College of William & Mary, a law and Master's degree from the University of Virginia, and a Master's of law from the College of Europe. During the President-elect's successful campaign, Mr. Haley developed ethics reform policies.
Ross Worthington, Advisor for Policy, Strategy and Speechwriting - Ross Worthington was a longtime aide to former U.S. House Speaker Newt Gingrich. He served as research director for Gingrich, deputy communications director for Gingrich's 2012 presidential campaign and later as Gingrich's primary writer. He is a graduate of Brown University, where he concentrated in Political Theory. During the campaign, Mr. Worthington, together with Mr. Vince Haley, worked to formulate and communicate policies that advanced the Trump agenda.
Ryan Jarmula, Advisor for Policy Development and Speechwriting - Ryan Jarmula served as a member of Vice President-elect Mike Pence's staff for a number of years. As a member of then-Congressman Pence's Capitol Hill office, he handled a variety of issues including foreign affairs, and later served Pence in his capacity as Governor of the State of Indiana as Policy Director for Veterans Affairs and most recently as Speechwriter. During the campaign, Mr. Jarmula worked on Stephen Miller's staff and had an active role in policy development. Mr. Jarmula is a graduate of Indiana University and completed his B.A. while majoring in political science in 2007.
Robert Gabriel, Special Assistant to the Senior Advisor - Robert Gabriel served as policy advisor on the President-elect's campaign and assisted the National Policy Director in policy development, speechwriting functions, and staff management. He received a B.A. in Economics with a concentration in Policy from New York University.
The following names are also being announced to join the National Trade Council (NTC); Economist Peter Navarro is the Director of the NTC, which works collaboratively with the other Councils in the White House.
National Trade Council, Staff Announcements:
Alexander Gray, Deputy Director of the National Trade Council for the Defense Industrial Base - Alexander Gray is currently a member of the U.S. Department of State Landing Team for the Presidential Transition, focusing on Asia-Pacific issues. Previously, he served as Senior Defense Advisor to the Trump-Pence campaign, on Stephen Miller's policy staff and working with Peter Navarro, helping to craft the campaign's plan to rebuild the U.S. military and the defense industrial base. Mr. Gray has also served as Senior Advisor to U.S. Congressman J. Randy Forbes, a senior member of the House Armed Services Committee, focusing on defense industrial base issues and Asia-Pacific security. Mr. Gray's writings on defense and national security topics have appeared in Foreign Policy, Naval War College Review, Strategic Studies Quarterly and the U.S. Naval Institute's Proceedings. He was educated at the Elliott School of International Affairs at George Washington University and the War Studies Department of King's College London.
Rolf Lundberg, Deputy Director of the National Trade Council for "Buy American, Hire American" - During the President-elect's campaign and Presidential Transition, Mr. Lundberg worked underneath Stephen Miller and Peter Navarro, and focused his efforts on policies to reverse the economic injustice of offshoring and used his experience and insights to challenge special interests and support the President-elect's "Buy American, Hire American" project. Mr. Lundberg was Senior Vice President for Congressional and Public Affairs at the U.S. Chamber of Commerce, after serving as Assistant General Counsel and Vice President for International Relations with Marriott International, Inc. Mr. Lundberg served as Legal Counsel for Tax and International Trade to Senate Majority Leader Trent Lott, International Trade Counsel to Senate Majority Leader Bob Dole, Deputy Assistant Secretary of Commerce for Import Administration in the George H.W. Bush Administration and International Trade Counsel to the U.S. Senate Committee on Finance. Mr. Lundberg is a graduate of the University of Virginia College of Arts & Sciences, the University of Virginia School of Law, The Johns Hopkins University School of Advanced International Studies and Phillips Andover Academy.
Donald J. Trump, Press Release - President-Elect Donald J. Trump Transition Builds Out White House Policy Team Online by Gerhard Peters and John T. Woolley, The American Presidency Project https://www.presidency.ucsb.edu/node/321136