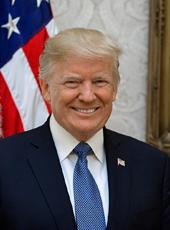 Press Release - President-Elect Donald J. Trump Nominates Elaine Chao as Secretary of the Department of Transportation
(New York, NY) - President-elect Donald J. Trump today announced his intent to nominate Elaine Chao to serve as Secretary of the United States Department of Transportation. Having served as Deputy Secretary at the U.S. Department of Transportation and Secretary of the Department of Labor, Chao brings unparalleled experience and insight to the role.
"Secretary Chao's extensive record of strong leadership and her expertise are invaluable assets in our mission to rebuild our infrastructure in a fiscally responsible manner," said President-elect Trump. "She has an amazing life story and has helped countless Americans in her public service career. I am pleased to nominate Elaine as Secretary of the Department of Transportation."
"The President-elect has outlined a clear vision to transform our country's infrastructure, accelerate economic growth and productivity, and create good paying jobs across the country," said Ms. Chao. "I am honored to be nominated by the President-elect to serve my beloved country as Transportation Secretary."
Elaine L. Chao is a Distinguished Fellow at Hudson Institute. She is the 24th U.S. Secretary of Labor who served from 2001-2009. She is the first American woman of Asian descent to be appointed to a President's Cabinet in our nation's history.
An immigrant who arrived in America at the age of eight speaking not a word of English, Chao received her U.S. Citizenship when she was 19 years old. Secretary Chao's experience transitioning to a new country has motivated her to devote most of her professional life to ensuring that everyone has the opportunity to build better lives.
Secretary Chao has a distinguished career in the public, private and nonprofit sectors. As the first Secretary of Labor in the 21st Century, she focused on increasing the competitiveness of America's workforce in a global economy and achieved record results in workplace safety and health.
Prior to the Department of Labor, Secretary Chao was President and Chief Executive Officer of United Way of America where she restored public trust and confidence in one of our nation's premier institutions of private charitable giving after it had been tarnished by financial mismanagement and abuse. As director of the Peace Corps, she established the first programs in the Baltic nations and the newly independent states of the former Soviet Union. Her government service also includes serving as Chairman of the Federal Maritime Commission. She has also worked in the private sector as Vice President of Syndications at Bank of America Capital Markets Group and Citicorp.
Secretary Chao earned her MBA from the Harvard Business School and an economics degree from Mount Holyoke College. Recognized for her extensive record of accomplishments and public service, she is the recipient of 35 honorary doctorate degrees.
Michael Sacco, president of the Seafarers International Union, said, "There is nobody better qualified to be Secretary of Transportation than Elaine Chao. Throughout her time in government, Elaine Chao has long been a steadfast friend to the SIU and to maritime labor. The industry has no better supporter than Elaine Chao, and she has stood up to defend the Jones Act, the Maritime Security Program, cargo preference and the other key programs that keep our industry alive. She understands the importance of providing jobs to America's working families, and she has seen firsthand the value of the United States Merchant Marine to our nation's defense and prosperity. We look forward to working with her again."
"Elaine Chao is an outstanding choice as Secretary of Transportation. She has been an effective leader in government, the private sector, and in the non-profit sector. I believe she will be able to pull these different stakeholders together for the good of the country," said Brian Gallagher, president and CEO of United Way Worldwide.
"The first Asian Pacific American woman to be appointed to the President's Cabinet, Secretary Chao was also a great Deputy Secretary of Transportation and has extensive experience in transportation. She will help improve our country's infrastructure and create more jobs. This is wonderful news for the Asian Pacific American community," said Chiling Tong, CEO of the International Leadership Foundation.
Ed Mullins, president of the Sergeants Benevolent Association of the New York City Police Department (SBA), a labor union representing more than 13,000 active and retired police sergeants, praised President-elect Trump's selection of Elaine Chao.
"The men and women I represent will always be grateful for the skill and tenacity Elaine Chao displayed in pushing through expanded overtime protections for millions of Americans—including police officers—and defending them from employers, like the City of New York, that tried to take them away from working men and women," said Mullins. "The American people can rest assured that as Secretary of Transportation she will demonstrate the same skill, energy, and commitment to the concerns of ordinary Americans that were the hallmarks of her tenure at the Labor Department. The SBA calls on Congress to quickly confirm Elaine L. Chao as Secretary of Transportation."
Donald J. Trump, Press Release - President-Elect Donald J. Trump Nominates Elaine Chao as Secretary of the Department of Transportation Online by Gerhard Peters and John T. Woolley, The American Presidency Project https://www.presidency.ucsb.edu/node/319866