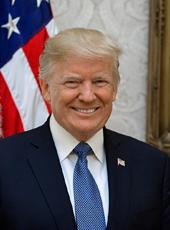 Press Release - President-Elect Donald J. Trump Intends to Nominate Governor Terry Branstad as U.S. Ambassador to China
(New York, NY) – President-elect Donald J. Trump today announced his intent to nominate Governor Terry Branstad of Iowa, the longest-serving governor in American history, to serve as the U.S. Ambassador to China.
Gov. Branstad's relationship with President Xi Jinping dates back to the mid-1980s, when President Xi was a young county official seeking a closer relationship with Iowa's robust agriculture sector.
"Governor Branstad's decades of experience in public service and long-time relationship with President Xi Jinping and other Chinese leaders make him the ideal choice to serve as America's Ambassador to China," said President-elect Trump. "He successfully developed close trade ties with China while serving as chief executive of the Hawkeye State. That experience will serve him well as he represents America's interests and further develops a mutually beneficial relationship with Chinese leadership."
"After long discussions with my family, I am honored and humbled to accept President-elect Trump's nomination to represent our great country as Ambassador to China," said Gov. Branstad. "I have known President Xi Jinping for many years and consider him an old friend. I look forward to building on our long friendship to cultivate and strengthen the relationship between our two countries and to benefit our economy. I am grateful for the opportunity I had to serve as Governor of Iowa and I look forward to serving in this extraordinary new role. Chris and I will always keep Iowa close to our hearts."
Gov. Branstad is the longest-serving governor in American history, having served from 1983 to 1999 and again from 2011 until the present. Since leading his first delegation to Hebei Province in 1984, the Governor has led six trade missions to China meeting with numerous provincial governors, ministerial leaders and local officials.
Gov. Branstad is considered an "old friend", a culturally significant title, by President Xi and has a long-standing relationship with the Chinese Ambassador to the United States Cui Tiankai.
Gov. Branstad collaborated with the Ministry of Agriculture for China, including meetings with Minister Han Changfu and has worked closely with Madam Li Xiaolin of the Chinese People's Association for Friendship with Foreign Countries to further relationships between states in America and Chinese provinces.
Gov. Branstad was born, raised and educated in Iowa. A native of Leland, Branstad was elected to the Iowa House in 1972, '74 and '76, and elected as Iowa's lieutenant governor in 1978. Following his four terms as governor, Branstad went on to serve as president of Des Moines University from 2003-2009. On November 2, 2010 he was again elected governor where, under his leadership, the state of Iowa's unemployment has fallen to 4.1 percent, well below the national average.
Gov. Branstad supports President-elect Trump's mission to negotiate trade deals that put America's interests first. He will work with President-elect Trump's economic team to negotiate fair trade deals that create American jobs, increase American wages, and reduce America's trade deficit. He will also work with President-elect Trump's national security team to implement an America First foreign policy that will advance America's core national interests and promote regional stability.
Donald J. Trump, Press Release - President-Elect Donald J. Trump Intends to Nominate Governor Terry Branstad as U.S. Ambassador to China Online by Gerhard Peters and John T. Woolley, The American Presidency Project https://www.presidency.ucsb.edu/node/319793