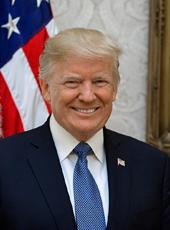 Press Release - President-Elect Donald J. Trump Intends to Nominate Congressman Tom Price as Secretary of Health and Human Services and Seema Verma as Administrator of the Centers for Medicare and Medicaid Services
(New York, NY) – President-elect Donald J. Trump today announced his intent to nominate Chairman of the House Budget Committee Congressman Tom Price, M.D. (GA-06) as Secretary of the United States Department of Health and Human Services and Seema Verma as Administrator of the Centers for Medicare and Medicaid Services.
"Chairman Price, a renowned physician, has earned a reputation for being a tireless problem solver and the go-to expert on healthcare policy, making him the ideal choice to serve in this capacity," said President-elect Trump. "He is exceptionally qualified to shepherd our commitment to repeal and replace Obamacare and bring affordable and accessible healthcare to every American. I am proud to nominate him as Secretary of Health and Human Services."
"It is an honor to be nominated to serve our nation as Secretary of Health and Human Services. Thanks to President-elect Trump and Vice President-elect Pence for their confidence," said Rep. Price. "I am humbled by the incredible challenges that lay ahead and enthusiastic for the opportunity to be a part of solving them on behalf of the American people. There is much work to be done to ensure we have a healthcare system that works for patients, families, and doctors; that leads the world in the cure and prevention of illness; and that is based on sensible rules to protect the well-being of the country while embracing its innovative spirit."
Rep. Price was first elected to represent Georgia's 6th district in November 2004. Prior to going to Washington, Price served four terms in the Georgia State Senate – two as Minority Whip. In 2002, he was a leader in the Republican renaissance in Georgia as the party took control of the State Senate, with Price rising to become the first Republican Senate Majority Leader in the history of Georgia.
In Congress, Rep. Price is a proven leader, tireless problem solver and go-to Republican on quality healthcare policy. He serves on the House Committee on Ways and Means. In the 114th Congress, Rep. Price was named Chair of the House Committee on the Budget. In previous Congresses, he has served as Chairman of the House Republican Policy Committee and Chairman of the Republican Study Committee. Committed to advancing positive solutions under principled leadership, Rep. Price has been a fierce opponent of government waste and devoted to limited government and lower spending.
For nearly 20 years, Rep. Price worked in private practice as an orthopedic surgeon. Before coming to Washington he returned to Emory University School of Medicine as an Assistant Professor and Medical Director of the Orthopedic Clinic at Grady Memorial Hospital in Atlanta, teaching resident doctors in training. He received his Bachelor and Doctor of Medicine degrees from the University of Michigan and completed his Orthopedic Surgery residency at Emory University.
In addition to Chairman Price's nomination, President-elect Trump announced his choice of Seema Verma, one of the leading experts in the country on Medicare and Medicaid, to serve as Administrator of the Centers for Medicare and Medicaid Services.
"I am pleased to nominate Seema Verma to serve as Administrator of the Centers for Medicare and Medicaid Services," said President-elect Trump. "She has decades of experience advising on Medicare and Medicaid policy and helping states navigate our complicated systems. Together, Chairman Price and Seema Verma are the dream team that will transform our healthcare system for the benefit of all Americans."
"I am honored to be nominated by President-elect Trump today," said Ms. Verma. "I look forward to helping him tackle our nation's daunting healthcare problems in a responsible and sustainable way."
Seema Verma is the President, CEO and founder of SVC, Inc., a national health policy consulting company. For more than 20 years, Ms. Verma has worked extensively on a variety of policy and strategic projects involving Medicaid, insurance, and public health, working with Governors' offices, State Medicaid agencies, State Health Departments, State Departments of Insurance, as well as the federal government, private companies and foundations.
Ms. Verma has extensive experience redesigning Medicaid programs in several states. Ms. Verma is the architect of the Healthy Indiana Plan (HIP), the nation's first consumer directed Medicaid program under Governor Mitch Daniels of Indiana and then-Governor Pence's HIP 2.0 waiver proposal.
Ms. Verma served as the State of Indiana's health reform lead following the passage of Obamacare in 2010.
Ms. Verma is a graduate of the Richard G. Lugar Excellence in Public Service Series, and in 2016, Vice President-elect Pence awarded Ms. Verma the Sagamore of the Wabash. Additionally, Ms. Verma was recently selected to participate in the American Enterprise Institute Leadership Network.
Prior to consulting, Ms. Verma served as Vice President of Planning for the Health and Hospital Corporation of Marion County and as a Director with the Association of State and Territorial Health Officials (ASTHO) in Washington D.C. Ms. Verma received her Master's degree in Public Health, with a concentration in health policy and management from Johns Hopkins University, and her Bachelor's degree in Life Sciences from the University of Maryland.
Donald J. Trump, Press Release - President-Elect Donald J. Trump Intends to Nominate Congressman Tom Price as Secretary of Health and Human Services and Seema Verma as Administrator of the Centers for Medicare and Medicaid Services Online by Gerhard Peters and John T. Woolley, The American Presidency Project https://www.presidency.ucsb.edu/node/319833