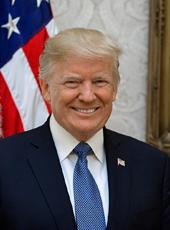 Press Release - President-Elect Donald J. Trump Appoints Thomas P. Bossert Assistant to the President for Homeland Security and Counterterrorism
(Palm Beach, FL) - President-elect Donald J. Trump today announced his selection of Thomas P. Bossert to serve as Assistant to the President for Homeland Security and Counterterrorism. In this position, Mr. Bossert will advise the President on issues related to homeland security, counterterrorism, and cybersecurity, and coordinate the Cabinet's process for formulating and executing policy in these matters.
The role, performed by a deputy national security advisor in the previous Administration, is being elevated and restored to its independent status alongside the National Security Advisor, a decision that reflects the unwavering commitment President-elect Trump has to the safety and security of the Nation, its people and territory. Mr. Bossert will focus on domestic and transnational security priorities as General Michael Flynn remains steadfastly focused on international security challenges.
"Tom brings enormous depth and breadth of knowledge and experience to protecting the homeland to our senior White House team," said President-elect Trump. "He has a handle on the complexity of homeland security, counterterrorism, and cybersecurity challenges. He will be an invaluable asset to our Administration."
"I am grateful for this opportunity, for the faith President-elect Trump has placed in me, and for the chance to serve again in a position of such extraordinary public trust," Mr. Bossert said. "I am looking forward to working closely with Gen. Flynn as we together help the President-elect advance the interests of the United States and its allies. Further, I also look forward to maintaining a strong, deeply respectful relationship with the governors, mayors, police and fire fighters, emergency managers, EMS professionals, and public health officials that constitute the backbone of our homeland security and our National preparedness."
With regard to cybersecurity, Mr. Bossert additionally noted, "We must work toward cyber doctrine that reflects the wisdom of free markets, private competition and the important but limited role of government in establishing and enforcing the rule of law, honoring the rights of personal property, the benefits of free and fair trade, and the fundamental principles of liberty. The internet is a U.S. invention, it should reflect these U.S. values as it continues to transform the future for all nations and all generations."
Mr. Bossert served in the White House previously as the Deputy Homeland Security Advisor to President George W. Bush. In that capacity, he supported and advised the President on matters of homeland and national security, counterterrorism, cybersecurity and continuity of operations. Mr. Bossert spearheaded efforts to improve civil government operations, co-authored and edited the National Strategy for Homeland Security of 2007, was a principle author of the lessons learned report on the Hurricane Katrina response and was deeply involved in the effort to develop the U.S. cybersecurity strategy, among others. He also served as Special Assistant to the President for Homeland Security and Senior Director for Preparedness Policy. He was Director of Infrastructure Protection Policy prior to that.
Since 2009, Mr. Bossert has run his own independent homeland and national security consulting business and served as a Senior Cybersecurity Fellow at the U.S. Atlantic Council. Mr. Bossert held other positions in federal government, including positions with the Federal Emergency Management Agency, the Small Business Administration, the Office of the Independent Counsel and the U.S. House of Representatives.
Frances F. Townsend, former Homeland Security and Counterterrorism Advisor to President George W. Bush, applauded the selection, saying "I have every confidence that Tom will continue to demonstrate the capacity and insight needed to take on the tough challenges facing the country."
Kenneth L. Wainstein, former FBI General Counsel, Assistant Attorney General, and Homeland Security and Counterterrorism Advisor also praised the selection. "Tom Bossert is a dedicated public servant and proven national security professional with significant hands-on experience navigating through security crises and challenges. With his background, Tom is uniquely suited to coordinate the government's homeland security apparatus, and I applaud the President-elect for selecting Tom for this critical White House position," said Wainstein.
Mr. Bossert received a J.D. from the George Washington University Law School and a B.A. from the University of Pittsburgh.
Donald J. Trump, Press Release - President-Elect Donald J. Trump Appoints Thomas P. Bossert Assistant to the President for Homeland Security and Counterterrorism Online by Gerhard Peters and John T. Woolley, The American Presidency Project https://www.presidency.ucsb.edu/node/321060