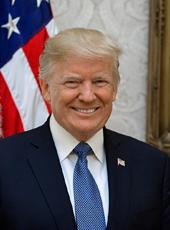 Press Release - President-Elect Donald J. Trump Appoints Stephen Miller as Senior Advisor to the President For Policy
(New York, NY) – President-elect Donald J. Trump today announced his selection of Stephen Miller to serve as Assistant to the President and Senior Advisor to the President for Policy. Miller has served as a key advisor to several members of Congress, including U.S. Senator from Alabama Jeff Sessions, and served in senior leadership roles on both the Senate Budget Committee and Senate Judiciary Committee.
Miller has been serving as the President-elect's top advisor on policy since January 2016. As national policy director, he oversaw the entire policy operation, led the policy development and formulation efforts, and directed strategic policy decisions on a day-to-day basis. Miller also served throughout as the campaign's chief speechwriter, and is currently the policy director for the President-elect's Transition Team. As Senior Advisor to the President for Policy, Miller will also be responsible for directing White House policy staff, managing speechwriting functions, and working to ensure the enactment of the President's policy agenda.
"Stephen played a central and wide-ranging role in our primary and general election campaign," said President-Elect Trump. "He is deeply committed to the America First agenda, and understands the policies and actions necessary to put that agenda into effect. He is a strong advocate for protecting American workers, and will fulfill a crucial role in my Administration as my senior advisor on matters of policy."
"Stephen Miller is the best person President-elect Donald Trump could have chosen to be his senior advisor for policy," said U.S. Senator Jeff Sessions. "He has understood the Trump Movement from the beginning and has a unique understanding of the very real and honest concerns of the American people. Stephen's insight comes from more than his keen political skills and his extraordinary communications and writing talents. These abilities are really founded on an amazingly comprehensive understanding of the key policy issues we face. He thinks broadly and is a master of detail. He will be an invaluable advisor to President-elect Trump as he faces a wide array of decisions in the months ahead. Stephen can and will, with integrity and loyalty to Mr. Trump and to America, distill vast sums of information in order to provide clear choices and honest advice. In the seven years he served with me, I was constantly amazed at his ability to quickly to absorb and master information. His talents will be so important in the days to come. I am very proud of Stephen for proving himself so well throughout this campaign and very happy that President-elect Trump will continue to have his loyal and proven friend at his side."
"I am deeply honored for the opportunity to serve the President-elect, and to focus efforts to develop critical policies that serve the national interest. A Trump administration will focus unremittingly on the safety, security and economic well being of working Americans," said Miller.
Miller played a major role in many high-stakes issues during his time in Congress, including numerous budget debates, multiple Supreme Court and lower court confirmations, and the formulation of a pro-worker agenda on trade and migration policy.
As national policy director to Donald J. Trump for President, Inc., Miller organized policy efforts on across numerous fronts including defense and security policy, energy reform and veterans care.
Donald J. Trump, Press Release - President-Elect Donald J. Trump Appoints Stephen Miller as Senior Advisor to the President For Policy Online by Gerhard Peters and John T. Woolley, The American Presidency Project https://www.presidency.ucsb.edu/node/320012