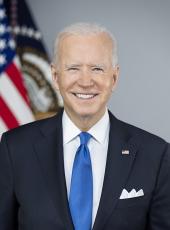 Press Release - President-elect Biden Announces Ambassador Samantha Power as His Nominee for USAID Administrator
A leading voice for humane and principled American engagement in the world, Power will rally the international community and work with our partners to confront the biggest challenges of our time — including COVID-19, climate change, global poverty, and democratic backsliding.
WASHINGTON - Today, President-elect Joe Biden announced Ambassador Samantha Power as his nominee for Administrator of the United States Agency for International Development (USAID) and elevated the position to become a member of the National Security Council. A crisis-tested public servant and diplomat, Ambassador Power has been a leader in marshaling the world to resolve long-running conflicts, respond to humanitarian emergencies, defend human dignity, and strengthen the rule of law and democracy. As USAID Administrator, she will work with our partners to confront the COVID-19 pandemic, lift up vulnerable communities, fight for the value of every human being, and advance American ideals and interests around the globe.
President-elect Joe Biden said, "Samantha Power is a world-renowned voice of conscience and moral clarity — challenging and rallying the international community to stand up for the dignity and humanity of all people. I know firsthand the unparalleled knowledge and tireless commitment to principled American engagement she brings to the table, and her expertise and perspective will be essential as our country reasserts its role as a leader on the world stage. As USAID Administrator, Ambassador Power will be a powerful force for lifting up the vulnerable, ushering in a new era of human progress and development, and advancing American interests globally."
Vice President-elect Kamala Harris said, "One of the most pressing challenges facing our nation is restoring and strengthening America's global leadership as a champion of democracy, human rights, and the dignity of all people. Few Americans are better equipped to help lead that work than Ambassador Samantha Power. Clear-eyed, resolute, and guided by a true moral compass, Ambassador Power is a seasoned leader and innovative thinker. And she will not only help lift up the world's most vulnerable and advance our nation's interests around the world, she will be a powerful voice for the values and ideals we cherish as Americans."
The following White House announcement was made today:
Samantha Power, Administrator of the United States Agency for International Development (USAID)
Link to high-res photo
Ambassador Samantha Power served in the Obama-Biden Administration Cabinet from 2013 to 2017 as the 28th U.S. Permanent Representative to the United Nations. During her time at the United Nations, Ambassador Power rallied countries to combat the Ebola epidemic, ratify the Paris climate agreement, and develop new international law to cripple ISIS's financial networks. She worked to negotiate and implement the ambitious Sustainable Development Goals, and helped catalyze bold international commitments to care for refugees. And she advocated to secure the release of political prisoners, defend civil society from growing repression, and protect the rights of women and girls.
Prior to this role, from 2009 to 2013, Ambassador Power served on the National Security Council staff as Special Assistant to the President and Senior Director for Multilateral Affairs and Human Rights. At the NSC, she was a key part of the Obama-Biden national security team, advising them on issues such as democracy promotion, UN reform, LGBTQ+ and women's rights, atrocity prevention, and the fights against human trafficking and global corruption.
An immigrant from Ireland, Ambassador Power began her career as a war correspondent in Bosnia, and went on to report from places including Kosovo, Rwanda, Sudan, and Zimbabwe. Before her service in government, she was the founding executive director of the Carr Center for Human Rights Policy at the Harvard Kennedy School. Currently, Ambassador Power is the Anna Lindh Professor of the Practice of Global Leadership and Public Policy at Harvard Kennedy School and William D. Zabel '61 Professor of Practice in Human Rights at Harvard Law School. She earned a B.A. from Yale University and a J.D. from Harvard Law School.
Joseph R. Biden, Press Release - President-elect Biden Announces Ambassador Samantha Power as His Nominee for USAID Administrator Online by Gerhard Peters and John T. Woolley, The American Presidency Project https://www.presidency.ucsb.edu/node/347690