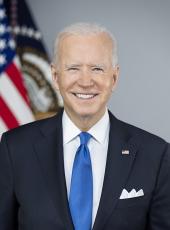 Press Release - President-elect Biden Announces Additional Key Administration Posts
WASHINGTON - Today, President-elect Joe Biden announced a number of key administration posts: Janet McCabe, nominee for Deputy Administrator of the EPA; Shalanda Young, nominee for Deputy Director of the Office of Management and Budget; Jason Miller, nominee for Deputy Director for Management at the Office of Management and Budget; David S. Cohen, appointee for Deputy Director of the CIA; and Deanne Criswell, nominee for FEMA Administrator.
This tested team of respected public servants will lead with compassion, integrity, and character to make our government work for all Americans.
President-elect Joe Biden said, "These dedicated and distinguished leaders will bring the highest level of experience, integrity, and knowledge to bear on behalf of the American people. Each of them brings a deep respect for the civil servants who keep our republic running, as well as a keen understanding of how the government can and should work for all Americans. I am confident that they will hit the ground running on day one with determination and bold thinking to make a meaningful difference in people's lives."
Vice President-elect Kamala Harris said, "These remarkable public servants reflect the very best of our country. Whether it's protecting our environment, keeping our nation safe, managing disasters, or making sure our budget reflects the priorities of the American people, these seasoned leaders have the knowledge and expertise that these critical roles demand. And President-elect Biden and I look forward to working with them to rebuild our nation in a way that lifts up all Americans."
The following White House announcements were made today:
Janet McCabe, Deputy Administrator of the EPA
Link to hi-res photo
Janet McCabe is an environmental law and policy expert, currently serving as a Professor of Practice at the Indiana University McKinney School of Law and Director of the IU Environmental Resilience Institute, where she started as Assistant Director for Policy and Implementation in 2017.
McCabe joined the EPA in November 2009 as Principal Deputy to the Assistant Administrator of the Office of Air and Radiation (OAR) and served as Acting Assistant Administrator for the OAR from July 2013 through January 2017. She was nominated by President Barack Obama to be the Assistant Administrator of that team. During her tenure at the EPA, McCabe helped develop the Clean Power Plan and worked with state and local agencies to address air toxics and climate change, and protect public health and the environment.
McCabe earned her bachelor's degree from Harvard University and her JD from Harvard Law.
Shalanda Young, Deputy Director, Office of Management and Budget
Link to hi-res photo
Shalanda Young, a native of Baton Rouge, La., serves as Staff Director and Clerk for the House Appropriations Committee.
As Staff Director, she has overseen $1.4 trillion in annual federal funding for programs ranging from children and families, to infrastructure, to defense, diplomacy and development. In addition, Young has played a key role in shaping coronavirus relief legislation and other emergency bills responding to natural disasters.
Prior to becoming Staff Director, Youngheld various positions with the Committee for more than 14 years. Young moved to D.C. nearly two decades ago to serve as a Presidential Management Fellow at the National Institute of Health. She holds a Master's Degree from Tulane University and a Bachelor of Arts Degree from Loyola University New Orleans.
Jason Miller, Deputy Director for Management, Office of Management and Budget
Link to hi-res photo
Jason Miller is an accomplished leader in the public, non-profit, and private sectors who served as Deputy Assistant to the President and Deputy Director of the National Economic Council in the Obama-Biden White House. During his seven years in the Administration, Miller led a wide range of initiatives to create American jobs. He was the White House lead for manufacturing policy, created the ManufacturingUSA program and its 16 successful institutes, and shaped the development of historic fuel efficiency standards through 2025. Miller led the White House's efforts for Puerto Rico, culminating in bipartisan legislation to stem the economic and fiscal crisis. He also spearheaded surface and aviation transportation and infrastructure policy initiatives.
Miller currently leads the USTR Agency Review Team for the Biden-Harris Transition, helping to prepare USTR for day one. Previously, Miller served as the CEO of the Greater Washington Partnership beginning in 2017, where he focused on issues of regional inclusive economic growth and prosperity, including building and operating a more reliable and accessible transportation system, driving an improved digital skills workforce, and improving housing affordability.
Miller earned a bachelor's degree from the University of Pennsylvania, a M.B.A. from the Kellogg School of Management at Northwestern University, and a M.P.A. from the Harvard Kennedy School.
David S. Cohen, Deputy Director of the CIA
Link to hi-res photo
David S. Cohen is a national security, finance and legal expert currently leading WilmerHale's Business and Financial Integrity Group. From 2015 to 2017, Cohen served as Deputy Director of the CIA. In that role, Cohen helped manage the Agency's domestic and worldwide operations, oversee strategic modernization of the Agency, and lead foreign intelligence collection, analysis, and action. He directed special projects on new technologies and how best to work with companies to advance the CIA's mission. At the end of his tenure, Cohen was awarded the Distinguished Intelligence Medal, the CIA's highest honor.
Prior to his role at the CIA, Cohen served as Under Secretary for Terrorism and Financial Intelligence in the Department of the Treasury, where he managed the policy, regulatory enforcement, and intelligence functions aimed at fighting illicit finance. He supervised the Office of Foreign Assets Control and the Financial Crimes Enforcement Network and developed and administered sanctions against Iran, Russia, North Korea, and terrorist organizations. He previously served as Assistant Secretary of the Treasury for Terrorist Financing and in the Treasury's general counsel's office. Before his government service, Cohen practiced law for nearly 20 years.
Cohen earned his bachelor's degree in government from Cornell University and his JD from Yale Law School.
Deanne Criswell, FEMA Administrator
Link to hi-res photo
Deanne Criswell is an accomplished emergency management and disaster planning and response leader, with federal, city, military, and private sector experience. Appointed in 2019, Criswell currently serves as the Commissioner of the New York City Emergency Management Department, leading the coordination of NYC's emergency response to the COVID-19 pandemic and overseeing the City's efforts to plan and prepare for emergencies, distributing emergency preparedness information to the public, and organizing emergency response and recovery.
Prior to joining NYC Emergency Management, Criswell worked at FEMA from 2011 to 2017 where she held the roles of Federal Coordinating Officer and National Incident Management Team Lead. In these roles, she served as the primary federal representative responsible for leading the agency's response to and recover from emergencies and major disasters.
As a member of the Colorado Air National Guard, Criswell served 21 years as a firefighter and Deputy Fire Chief. In 2001, she deployed to Kuwait to serve as a fire officer, and in 2010, she deployed to Qatar, Afghanistan, and Iraq to advise on fire protection for military bases.
Criswell is a graduate of Colorado State University, Fort Collins with a bachelor's degree in technology education and training and holds a Master of Public Administration from the University of Colorado, Denver and a Master of Science in homeland security from the Naval Postgraduate School, Center for Homeland Defense and Security.
Joseph R. Biden, Press Release - President-elect Biden Announces Additional Key Administration Posts Online by Gerhard Peters and John T. Woolley, The American Presidency Project https://www.presidency.ucsb.edu/node/347697