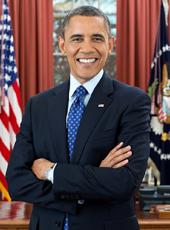 Press Release: President-Elect Barack Obama Announces Key Members of National Security Team
Today, President-elect Barack Obama and Vice President-elect Joe Biden announced the nomination of key members of their national security team, including James B. Steinberg for Deputy Secretary of State, and Jacob Lew for Deputy Secretary of State, and the appointment of Thomas E. Donilon as Deputy National Security Advisor and Antony "Tony" Blinken as National Security Advisor to the Vice President.
President-elect Obama said, "The team that we have assembled is uniquely suited to meet the great global challenges facing us today. They join a strong team of leading experts and accomplished managers and I look forward to working with them in the years ahead."
Vice President-elect Biden said "Tony Blinken has been my most trusted advisor on the most important issues we've faced in the areas of national security and international affairs over the past six years. His broad experience in foreign policy and his sound judgment will be invaluable to me and to the President-elect in addressing the challenges ahead."
The following White House announcements were made today:
James B. Steinberg, Deputy Secretary of State

James B. Steinberg became dean of the Lyndon B. Johnson School of Public Affairs on January 1, 2006. Before joining the School, he was the vice president and director of Foreign Policy Studies at the Brookings Institution in Washington, D.C. (2001-2005), where he supervised a wide-ranging research program on U.S. foreign policy. From December 1996 to August 2000, he served as deputy national security advisor to President Bill Clinton. During that period he also served as the president's personal representative ("Sherpa") to the 1998 and 1999 G-8 summits. Prior to becoming deputy national security advisor, he served as chief of staff of the U.S. State Department and director of the State Department's policy planning staff (1994-1996), and as deputy assistant secretary for analysis in the Bureau of Intelligence and Research (1993-1994). Steinberg is a member of the Bulletin of Atomic Scientists' Science and Security Board, the President's Council on International Activities of Yale University, the board of directors of the Pacific Council on International Policy, the senior advisory council of The American Assembly's Next Generation Project, the board of advisors of the Center for a New American Security, the board of advisors of The Yale Journal of International Law, and the editorial board of The Washington Quarterly. He also is a member of the D.C. Bar. Steinberg is the author of and contributor to many books and articles on foreign policy and national security topics, including Difficult Transitions: Foreign Policy Troubles at the Outset of Power, Protecting the Homeland 2006/2007 and An Ever Closer Union: European Integration and Its Implications for the Future of U.S.-European Relations. Steinberg received his B.A. from Harvard in 1973 and J.D. from Yale Law School in 1978. Steinberg is married to Ms. Sherburne B. Abbott, director of the Center for Science and Practice of Sustainability at the University of Texas at Austin. They have two daughters, Jenna and Emma.
Jacob Lew, Deputy Secretary of State

Jacob J. "Jack" Lew is a Managing Director and Chief Operating Officer of Citi Alternative Investments, where he is responsible for operations, technology, human resources, legal, finance and regional coordination. Previously, Mr. Lew was Executive Vice President and Chief Operating Officer of New York University, where he was responsible for budget, finance, and operations (including capital projects and human resources). Prior to joining NYU, Mr. Lew served in President Clinton's cabinet as the Director of the Office of Management and Budget (OMB) and led the Administration budget team, from the preparation of the President's budget through final negotiations with Congress. He was also a member of the National Security Council. From 1979 to 1987, he was a Senior Policy Advisor to House Speaker Thomas P. O'Neill, Jr. Mr. Lew served on the Corporation for National and Community Service Board and chaired its Management, Administration, and Governance Committee. He co-chairs the Advisory Board for City Year New York and is a member of the Council on Foreign Relations, the Brookings Institution Hamilton Project Advisory Board, and the National Academy of Social Insurance. He is a member of the bar in Massachusetts and the District of Columbia. Lew received his A.B. from Harvard magna cum laude and receieved his J.D. from Georgetown.
Thomas E. Donilon, Deputy National Security Advisor

Thomas E. Donilon is a Partner at the law firm of O'Melveny & Myers and serves on the firm's global governing committee. Most recently Mr. Donilon co-chaired the Obama-Biden State Department Agency Review Team and the Obama-Biden general election debate preparation effort. Mr. Donilon served as Assistant Secretary of State for Public Affairs and Chief of Staff at the U.S. State Department during the Clinton Administration. In these capacities, he oversaw the development and implementation of the Department's major policy initiatives. He was deeply involved in a range of policy issues, including the Bosnia and Middle East peace negotiations, the expansion of NATO, and US-China relations. He was awarded the Secretary of State's Distinguished Service Award—the Department's highest award—in November 1996. Mr. Donilon is a member of the Council on Foreign Relations, where he has served on Task Forces on State Department Reorganization and Transatlantic Relations, the Brookings Institution Board of Trustees, where he co-chaired the Institution's 2008 policy development effort, the Miller Center of Public Affairs Governing Council, the Aspen Strategy Group, the National Security Advisory Group to the Congressional Leadership, and the Trilateral Commission. Mr. Donilon received his B.A., summa cum laude, from the Catholic University of America and his law degree from the University of Virginia School of Law.
Antony "Tony" Blinken, National Security Advisor to the Vice President

Antony "Tony" Blinken was appointed Staff Director of the U.S. Senate Foreign Relations Committee in April 2002. From 1994 to 2001, Mr. Blinken served on the National Security Council staff at The White House. He was Senior Director for European Affairs (1999-2001) and Senior Director for Strategic Planning and NSC Senior Director for Speechwriting (1994-1998). He also served as Special Assistant to the Assistant Secretary of State for European Affairs (1993 – 1994), and was a lawyer in New York and Paris. Mr. Blinken was a Senior Fellow at the Center for Strategic and International Studies (2001 to 2002) and a Senior Foreign Policy adviser to the Obama-Biden presidential campaign. He has been a reporter for The New Republic magazine and has written about foreign policy for numerous publications, including The New York Times and Foreign Affairs Magazine. He is the author Ally Verses Ally: America, Europe and the Siberian Pipeline Crisis (1987). Mr. Blinken is a graduate of Harvard College and Columbia Law School.
Barack Obama, Press Release: President-Elect Barack Obama Announces Key Members of National Security Team Online by Gerhard Peters and John T. Woolley, The American Presidency Project https://www.presidency.ucsb.edu/node/285601