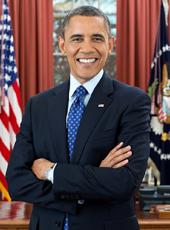 Press Release: President-Elect Barack Obama Announces Governor Bill Richardson as Secretary of Commerce
CHICAGO -- President-elect Barack Obama today officially announced his nomination of Governor Bill Richardson as Secretary of Commerce.
President-elect Obama said, "With his breadth and depth of experience in public life, Governor Richardson is uniquely suited for this role as a leading economic diplomat for America. He has seen from just about every angle what makes our economy work and what keeps it from working better. He will be an unyielding advocate for American business and American jobs, at home and around the world. I look forward to working with him in the years ahead."
Governor Richardson said, "There is a vital role for the Department of Commerce in our economic recovery. The unique strengths of the department and its talented public servants make it the natural agency to serve as the programmatic nerve center in America's struggle to rejuvenate our economy. America will once again be at the forefront of innovation, especially in the new frontier of energy independence and clean energy jobs, and we will restore our position of respect in the world."
Governor Richardson's biography:
Governor Bill Richardson, Secretary of Commerce

Governor Richardson is serving his second term as Governor of New Mexico, where he has worked aggressively to build a high-wage economy, expand health care access, and invest in renewable energy. Richardson served for fifteen years in northern New Mexico representing the 3rd Congressional District. In 1997, Richardson was nominated to be the U.S. Ambassador to the United Nations, where he addressed many difficult international negotiating challenges and crises and promoted economic development. In 1998, Richardson was unanimously confirmed by the United States Senate as Secretary of Energy. Richardson has served as Chairman of the Democratic Governors Association, and Chair of the Western Governors Association, Border Governors Conference and the 2004 Democratic National Convention. He has been married to his wife, Barbara, for 35 years, and received a BA from Tufts in 1970 and a MA from Tuft's Fletcher School of Law and Diplomacy in 1971.
Barack Obama, Press Release: President-Elect Barack Obama Announces Governor Bill Richardson as Secretary of Commerce Online by Gerhard Peters and John T. Woolley, The American Presidency Project https://www.presidency.ucsb.edu/node/284887