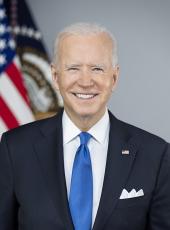 Press Release - President Biden Announces Staff Additions to the White House Council on Environmental Quality
Washington, D.C — President Biden today announced the addition of key staff members to the White House Council on Environmental Quality (CEQ) to advance the Biden-Harris Administration's agenda to confront climate change, create jobs, pursue environmental justice, and help conserve America's lands and waters.
"We are continuing to build a team that will help lead our nation towards a clean, equitable, and prosperous future where everyone has clean water, clean air, and healthy communities," said Matt Lee-Ashley, Senior Director for Lands and Interim Chief of Staff. "The Council on Environmental Quality will play a critical role in fulfilling our Administration's commitment to confronting climate change, creating good-paying union jobs, delivering environmental justice, and conserving America's natural and cultural heritage for future generations."
The incoming team includes a broad range of perspectives, backgrounds, and expertise, including from previous experience in the federal government, academia, the private sector, and non-profit and advocacy organizations. The team will join Dr. Cecilia Martinez, who was previously announced to serve as Senior Director for Environmental Justice at CEQ, and, if confirmed by the U.S. Senate, President Biden's nominee for CEQ Chair, Brenda Mallory.
Biographies of the appointees, listed in alphabetical order, are below.
Austin Brown, Senior Director for Transportation Emissions
Austin Brown is the Executive Director of the UC Davis Policy Institute for Energy, Environment, and the Economy, where he works to connect scientific research and analysis with policy-makers to advance environmental and equity priorities. An expert in technology and clean energy and transportation policy, Dr. Brown's previous public service includes work at the Department of Energy, the National Renewable Energy Laboratory, and the White House Office of Science and Technology Policy during the Obama-Biden Administration. He holds a B.S. from Harvey Mudd College and a Ph.D. from Stanford University.
Mark Chambers, Senior Director for Building Emissions
Mark Chambers is the Director of the New York City Mayor Bill DeBlasio's Office of Sustainability, where he led a team of engineers, architects, policy makers, and city planners to lower New York City's emissions and align the built environment, waste, transportation, and energy sectors in a citywide response to climate change. Chambers previously served as Director of Sustainability and Energy for the Government of the District of Columbia, where he focused on securing renewable energy for the District and implementing energy management and resource conservation efforts across the City's schools, municipal offices, parks, libraries, and other properties. Chambers is a licensed architect and holds a BArch and an MA in Public Policy and Management from Carnegie Mellon University in Pittsburgh, PA.
Sara Gonzalez-Rothi, Senior Director for Water
Sara Gonzalez-Rothi serves as Senior Counsel on the Senate Committee on Commerce, Science, and Transportation, where she helps develop and advance legislation and oversight relating to ocean, fisheries, weather, climate, clean energy, and other environmental policies. Gonzalez-Rothi previously served on the Hill as Legislative Counsel and Everglades Fellow for U.S. Senator Bill Nelson, where she worked with a team of Senate colleagues to draft and negotiate the bipartisan RESTORE Act in response to the Deepwater Horizon oil disaster. She has also worked at the National Wildlife Federation and with the Mississippi River Delta Restoration Coalition. She holds a JD from the University of Miami School of Law and a Bachelor of Arts degree from the University of Florida.
Jayni Hein, Senior Director for NEPA and Counsel
Jayni joins CEQ from the NYU School of Law, where she serves as an Adjunct Professor of Law and is the Natural Resources Director at the Institute for Policy Integrity. She previously served as executive director of UC Berkeley School of Law's Center for Law, Energy and the Environment. Hein has also worked as an attorney in private practice and has written extensively about climate change, energy, and natural resources. She received a BA from the University of Virginia and a JD from UC Berkeley School of Law.
Matt Lee-Ashley, Senior Director for Lands and Interim Chief of Staff
Matt Lee-Ashley joins CEQ from the Center for American Progress, where he served as a Senior Fellow, led the organization's natural resources policy team, and worked to develop and advance a more ambitious and equitable vision for conservation policy. During the Obama-Biden Administration, Lee-Ashley served as Deputy Chief of Staff and Communications Director at the U.S. Department of the Interior. Previously, he served as communications director and a legislative assistant for U.S. Senator Ken Salazar from Colorado. He is a graduate of Pomona College in Claremont, California.
Andrew Mayock, Federal Chief Sustainability Officer
Andrew Mayock is a management expert who most recently served as a senior adviser on the Biden-Harris transition to coordinate cross-agency preparation for implementing the Biden-Harris agenda, including climate and environmental justice. He also served as a leader of the Climate 21 Project, which marshalled the expertise of more than 150 experts with high-level government experience to deliver actionable advice for a rapid-start, whole-of-government climate response. Mayock spent eight years serving in the Obama-Biden Administration, including serving as the Deputy Director of Management in the Office of Management and Budget (OMB) where he led the President's Management Council and the 2016-17 presidential transition. In addition, Mayock has held a number of senior government positions at the White House, U. S. Treasury Department and the Millennium Challenge Corporation.
Justin Pidot, General Counsel
Justin Pidot is a Professor of Law and the Co-director of the Environmental Law Program at the University of Arizona James E. Rogers College of Law, where his scholarship and teaching focuses on environmental, natural resources, public lands and administrative law. During the Obama-Biden Administration, Pidot served as Deputy Solicitor for Land Resources at the U.S. Department of the Interior. He has also served as an appellate litigator at the Environment & Natural Resources Division of the U.S. Department of Justice and clerked for Judge Judith W. Rogers of the U.S. Court of Appeals for the District of Columbia Circuit. Pidot holds a BA from Wesleyan University and a JD from Stanford University.
Joseph R. Biden, Press Release - President Biden Announces Staff Additions to the White House Council on Environmental Quality Online by Gerhard Peters and John T. Woolley, The American Presidency Project https://www.presidency.ucsb.edu/node/348023