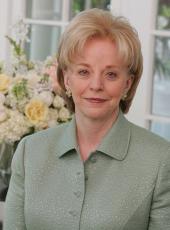 Press Release - Mrs. Cheney Celebrates Constitution Day 2005
Mt. Vernon, Virginia
Highlights George Washington: President of the Constitutional Convention
Lynne Cheney, author, scholar, and wife of Vice President Dick Cheney, today celebrated National Constitution Day with 180 elementary school students from Fairfax County Public Schools at George Washington's Mount Vernon Estate. Constitution Day 2005: Telling America's Story is Mrs. Cheney's fourth annual Constitution Day event honoring September 17, 1787, the day the Constitution was signed. In 2001, she announced plans for an annual celebration of Constitution Day to highlight the importance of learning about America's Founding Fathers and documents, as well as the inspirational figures who have since helped our nation live up to the ideals contained within the Constitution. The inaugural event took place at the Vice President's Residence in 2002.
This year, students commemorated this important day in history at the home of George Washington, the founding father who served as President of the Constitutional Convention and was the first president elected under the Constitution. Mrs. Cheney highlighted how George Washington's support was crucial to the creation and adoption of the Constitution.
"I think it is vital to teach children about one of our nation's most influential documents and the people who shaped it." Mrs. Cheney said. "George Washington played a critical role at the Constitutional Convention and his influence helped secure support for the adoption of the Constitution by the states."
The event with fourth graders from Garfield, Lynbrook and Woodley Hills Elementary Schools included opening remarks by Mrs. Cheney and Mount Vernon Executive Director James Rees on the lawn overlooking Washington's home and the Potomac River.
"Every time the Founding Fathers needed someone to unify this fledgling nation, they turned to one man - George Washington," said Mr. Rees. "One of Washington's greatest accomplishments was bringing together disparate personalities and agendas at the Constitutional Convention to create a lasting document which guides our democracy today."
Mrs. Cheney then led the students in various activities on the estate, accompanied by historical figures (actors) George Washington, James Madison, John Adams, Ben Franklin, Patrick Henry, Susan B. Anthony and Harriet Tubman. The activities were designed to teach students about life in the 18th century and included rudimentary drumming, quill penmanship, and colonial children's games.
Lynne Cheney, Press Release - Mrs. Cheney Celebrates Constitution Day 2005 Online by Gerhard Peters and John T. Woolley, The American Presidency Project https://www.presidency.ucsb.edu/node/283659