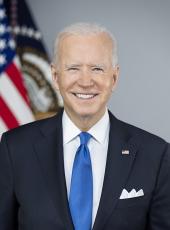 Press Release - Key Administration Officials Remarks as Prepared for Delivery
Remarks as Prepared for Delivery by Secretary Tom Vilsack in Wilmington, Delaware
Mr. President-elect, Madam Vice President-elect: I'm honored by the trust you've placed in me to return to the vital work of the USDA at this critical moment for so many families and communities.
And to begin that work by embracing the full benefits of a diverse and inclusive senior leadership team in our Department, as I was proud to do in my previous tenure, and continue the work of rooting out inequities in the systems we govern and the programs we lead.
When Abraham Lincoln established the Department of Agriculture, after all, he called it "the people's department."
I look forward to making good on that moniker — for all people — as we build back better.
I happen to be celebrating a birthday on Sunday — one of those round numbers that causes you to reflect on your life.
And thinking back on the path my life has taken — from where it began, in an orphanage in Pittsburgh — to Iowa, my wonderful wife, Christie, our family, and the home we've made there — to standing here today, being given a chance to serve once again — I feel enormously lucky and grateful to live in a country where paths like mine are possible.
A country, as the president-elect so often says, defined by possibilities.
I consider it my duty, and my privilege, to help expand those possibilities for all Americans at the USDA.
I know firsthand the character of the dedicated public servants who work hard each and every day to fulfill the mission of the Department.
I am especially grateful for the chance to get back to work alongside them.
Our first charge together will be to contribute all that we can as a Department to aid in the pandemic response.
Reviving rural economies, addressing dire food shortages, and getting workers and producers the relief they need to hang on and come back stronger.
When we emerge from this crisis, we are going to have an incredible opportunity before us.
To position American agriculture to lead our nation and the world in combating climate change and reaping the new, good-paying jobs that will come from that leadership.
To make landmark investments in communities that have been mired in poverty for far too long — adopting the 10-20-30 rule of Congressman Jim Clyburn, that sets aside 10 percent of federal funding to communities where 20 percent of people have been caught beneath the poverty line for 30 years.
To ensure that every child in America, and all those in need, have access to safe, affordable, nutritious food.
And to build a vibrant and resilient rural economy that creates new possibilities for manufacturing workers, family forest owners, farmers, ranchers, and producers, and makes life better, richer, and safer for all of us in turn.
Under my watch, the USDA will be a team player, working with our sister agencies to advance issues of shared interest:
Rebuilding our infrastructure, fixing a broken immigration system, and fighting the ongoing opioid crisis.
I look forward to pursuing that work on behalf of the American people.
And I am grateful to the president-elect and vice president-elect for this opportunity to serve.
Thank you.
Remarks as Prepared for Delivery by Congresswoman Marcia Fudge in Wilmington, Delaware
Mr. President-elect, Madam Vice President-elect: thank you for the opportunity to join this remarkable team and work on behalf of people in every city and community, to serve all those who are struggling and looking for the fair shot we all deserve.
When I think about the enormity of the task ahead of us, I recall the Book of Matthew, where it is written:
"Foxes have holes, and birds have nests — but the Son of Man has no place to lay his head."
There is dignity and there is grace within every woman, every man, and every child in this nation.
Including those who live on the outskirts of hope, those who work hard, but still struggle to make it work, and those who have no place to lay their head.
It is one of the highest responsibilities of our government to see them, to see their dignity, and to lift them up.
I remember the feeling I had as a kid of the safety, security, and peace of mind contained in that one word: home.
I remember the comfort of knowing that no matter what happened, I could always go home.
But far too many Americans live without that feeling.
More and more have had that comfort ripped away.
The crisis of a pandemic that has threatened their lives.
The crisis of a recession that has swallowed up jobs, hours, wages, and lifelines.
The crisis of injustice that has forced communities of color to make it in America with one dream tied behind their back.
Each crisis chips away at their hope — and at the promise of our nation.
But I believe that hope is on the way.
Because I know that the president-elect and vice president-elect are building a team that is grounded in dignity.
And our task at the Department of Housing and Urban Development will be to stand up for the dignity of all Americans and deliver the promise of our nation to all those left out in the cold.
We will take on the deep-set roots of poverty and homelessness.
We will fight for housing in every community that is affordable, decent, and safe.
We will help more Americans secure the dream of homeownership, to close the gaps of inequity, build wealth, and pass it on to their children.
We will pursue creative development projects to shape our landscapes and skylines, re-start the engines of cities that have stalled out, and launch new opportunities in hometowns across America.
But perhaps most importantly of all, we will help people believe once again that their government cares about them, no matter who they are.
That we understand their problems, as the president-elect often recalls his father's words.
I am honored to have this chance to help restore the people's faith.
To deliver for them and make them proud.
And to build back better alongside this dedicated team.
Thank you for the opportunity to serve.
Remarks as Prepared for Delivery by Denis McDonough in Wilmington, Delaware
Mr. President-elect, Madam Vice President-elect: I'm deeply humbled by the trust and confidence you have placed in me, and, if confirmed by the Senate, will be honored to serve.
Mr. President-elect, you have pledged to restore the soul of our nation and to unite us as Americans.
In this work, there is a mission that can bring every American together — caring for our nation's veterans and their families.
As you have said, this is a sacred obligation. I know that for you and Dr. Biden, this is also deeply personal.
I've been inspired by the veterans in my life as well.
Today, I'm thinking of my grandpa McDonough, a Marine; all our troops I met on my visits to Afghanistan and Iraq; and the wounded warriors I spent time with at Walter Reed.
I'm thinking of the many vets I've had the pleasure to serve with — in and out of government — who have put the character and training that they developed in uniform to continue serving our country as civilians.
I'm also thinking of one of my high school football coaches back in Stillwater, Minnesota — Joe "Sam" Samuelson. He stormed the beaches of Normandy. In hospice at the end of his life, he and his family were grateful for the compassion of a VA administrator. When he passed, his wife gave me his coaching jacket — one of my most prized possessions.
Coach Sam's jacket reminds me why we're here.
Our men and women in uniform have had our country's back, and when they come home, we need to have their back.
As the president-elect said, his marching order to me are pretty clear: "fight like hell for our veterans."
We're going to fight like hell to give our veterans and their families the healthcare, respect and dignity that they deserve.
That means helping our veterans build civilian lives of meaning and opportunity; making our VA even more welcoming to all veterans, including our women veterans, veterans of color and LGBTQ veterans; and keeping faith with our incredible military families and caregivers — because we need to have their backs, too.
To the men and women of the VA, many of you veterans yourselves, you work tirelessly to take care of our veterans, and your demanding jobs have been made even more so by the pandemic.
To you, and to the many dedicated veterans organizations who serve our veterans, survivors and their families, I look forward to being your partner — one united team — in delivering care and support that is second to none.
Finally, taking care of our veterans is not a job for the VA alone.
Every federal department and agency has a role to play — and I will make that happen.
And even though only one percent of Americans wear the uniform, under President Biden every American will be called upon to embrace our responsibility to support our veterans and military families.
Mr. President-elect, Madam Vice President-elect, on behalf of my wife Kari and our family, thank you for this opportunity to serve.
May God bless our troops, our veterans and their families — and, as a nation, may we always give them our very best, just as they did for us.
Remarks as Prepared for Delivery by Katherine Tai in Wilmington, Delaware
Mr. President-elect, Madam Vice President-elect: I'm grateful for this opportunity to serve and look forward to working with you, with our partners across the Administration, and with the bright and dedicated public servants at USTR to deliver for the American people.
When the president-elect approached me about taking on this role, two memories from my past sprang to mind.
The first was from when I initially joined USTR in 2007. I was filling out paperwork, and providing information about my family history.
My parents were born in mainland China and grew up in Taiwan.
In the 1960s, President Kennedy's immigration reforms welcomed them to America as graduate students in the sciences.
My dad would become a researcher at Walter Reed, helping the Army advance treatments for afflictions that debilitated American GIs fighting in the Vietnam War.
My mom still works at the National Institutes of Health, developing treatments for opioid addiction.
They were naturalized in 1979 — five years after I was born in Connecticut.
And it wasn't until decades later, filling out that paperwork, that it truly occurred to me that I became an American before my parents, the very first American in our family.
The second memory that came to mind was from several years later, when a colleague and I from USTR went to Geneva to present a case suing China before the World Trade Organization.
We sat down at the table — she, whose parents had emigrated from South India,
and I, whose parents had come from Taiwan — and my heart swelled with pride as we raised our placard and stated that we were there to present our case on behalf of the United States of America.
Two daughters of immigrants, there to serve, fight for, and reflect the nation that had opened doors of hope and opportunity to our families.
Those memories fill me with gratitude, for being an American,
and for what America is at our best.
And they remind me of the extraordinary responsibilities that come with the honor as we navigate our relationships with the world.
Trade is like any other tool in our domestic or foreign policy — it is not an end in itself.
It is a means to create more hope and opportunity for people.
And it only succeeds when the humanity and dignity of every American — and of all people — lie at the heart of our approach.
I'm proud to join with leaders who instill their policy with purpose and who never lose sight of the humanity and dignity, the opportunity and hope, that make trade a force for good in our nation and the world.
I'm proud to be an advocate for American workers, to stand up for their ingenuity and innovation and for America's interests across the globe.
I look forward to harnessing the power of our trade relationships to help communities lift themselves out of the current crisis.
And I am grateful for this chance to serve, fight for, and reflect America, on behalf of all our people, once again.
Thank you.
Remarks as Prepared for Delivery by Ambassador Susan Rice in Wilmington, Delaware
Thank you so much, Mr. President-elect and Madam Vice President-elect.
I'm honored to join this tremendous team.
Today, we confront a profoundly connected set of crises: a relentless pandemic, a struggling economy, urgent demands for racial equity and justice, a climate in need of healing, a democracy in need of repair, and a world in need of renewed American leadership.
In the 21st century, our foreign, economic and domestic imperatives are deeply intertwined.
Tackling these challenges is personal to me.
I am a descendant of immigrants and the enslaved, and service is in our blood.
My paternal great grandfather was born a slave in South Carolina and joined the Union Army.
He went on to get a college degree, become an AME minister, and founded The Bordentown School in New Jersey, which provided generations of African Americans with vocational and college preparatory educations.
Two generations later, my father, Emmett Rice, served as a Governor of the Federal Reserve.
My maternal grandparents came to this country from Jamaica with no education.
But, working for decades as a janitor and a maid, they saved and scraped to send all five of their children to college — and on to professional success.
My mother, Lois Rice, was known as "the mother of the Pell Grant program", which has enabled 80 million Americans to attend college. As she liked to say, "Not bad for a poor colored girl from Portland, Maine."
But today, for far too many, the American Dream has become an empty promise — a cruel mockery of lives held back by barriers, new and old.
That's not good enough, for any American.
But we know that, throughout our history, Americans have forged opportunity out of crisis. After the Civil War, we ended slavery and enshrined the concept of equal protection under the law.
During the Great Depression, we established the Works Progress Administration and the Civilian Conservation Corps.
After World War II, we enacted the G.I. Bill.
In the 1960s, we abolished legal segregation, established full voting rights, and enacted Medicare and Medicaid.
Now, at the foot of yet another bridge between crisis and opportunity, I am honored and excited to take on this role.
Joe Biden and Kamala Harris's vision for our future is expansive but achievable: America must finally become a nation where every child — from Akron to Arkansas, from the Bronx to Brownsville, from the Sioux Nation to South Central L.A. — can dream without limits and make her dreams come true.
I have no illusions about the difficulty of making that vision real. But we are here to get hard stuff done.
Our top priorities will be to help end the pandemic and revitalize an economy that delivers for all; to bring dignity and humanity to our broken immigration system; to advance racial equity, justice and civil rights for all; to ensure that healthcare is affordable and accessible; and to educate and train Americans to compete and thrive in the 21st-century.
I profoundly believe that we all rise or fall together — absolutely all of us.
So — Mr. President-elect, Madam Vice President-elect — I promise you that I will do everything I can to help this country I love "build back better," to make our government deliver for working families — and to bring the American Dream far closer to reality for all.
Joseph R. Biden, Press Release - Key Administration Officials Remarks as Prepared for Delivery Online by Gerhard Peters and John T. Woolley, The American Presidency Project https://www.presidency.ucsb.edu/node/347303