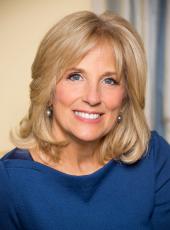 Press Release - Joining Forces and the National Security Council Release White House Report on Federal Agency Commitments to Support Military Families
Administration Outlines More than 80 Specific Commitments and Proposals to Support Military and Veteran Families, Caregivers, and Survivors
Today, Joining Forces and the National Security Council (NSC) released a White House report, signed by the President of the United States and Secretaries of 15 executive departments, which outlines the first round of administration-wide commitments and proposals to supporting military and veteran families, caregivers, and survivors.
"The commitments contained in today's report represent critical first steps to solving some of the most complex and pressing issues facing the families of our service members and veterans, their caregivers and survivors," said Rory Brosius, Executive Director of the White House Initiative, Joining Forces. "From increasing economic opportunities for military spouses, to supporting military children in the classroom, to addressing food insecurity, we are working together as a team across the government to share data, create innovative solutions, and implement evidence-based programs and policies. Through Joining Forces, we are bringing a whole-of-government approach to supporting military and veteran families, caregivers, and survivors. These initial commitments from federal agencies, as well as our commander-in-chief, show the dedication of this administration to those who also serve."
Key commitments from the Strengthening America's Military Families report include:
• With new partners at the Departments of Justice, Commerce, Transportation, Energy, and Health and Human Services, along with the Internal Revenue Service and the General Services Administration, all executive departments across the President's Cabinet are now partner employers in the Department of Defense's (DoD) Military Spouse Employment Partnership, a program connecting talented candidates with employers committed to recruiting, hiring, promoting, and retaining military spouses.
• To support the child care needs of military families, DoD will expand its Military Child Care in Your Neighborhood Pilot (MCCYN-PLUS) program to additional states and offer the In-Home Child Care Provider Fee Assistance Pilot, a new program providing fee assistance to in-home child care providers. Visit www.militarychildcare.com for details.
• The U.S Census Bureau, in collaboration with other federal agencies, will undertake a multi-year process to create The Ask US Panel, a nationally-representative survey panel for tracking concerns and experiences across many domains. The panel will include military spouses and will allow for more expedient insights into emerging trends on issues like military spouse employment, health, and food insecurity.
• Upon passage of the Build Back Better Agenda, the Department of Veterans Affairs will implement a Family Coordinator Program, with social workers linking veterans with support for their spouses and children. The Family Coordinator will be knowledgeable about resources in the local community as well as the federal government to support veterans and their families.
• To encourage military and veteran families to find recreational opportunities and increase physical, social, mental, and spiritual fitness, the Department of the Interior created a dynamic map available on the National Park Service website to show where park access exists in proximity to military installations. Service members, including Reserve and National Guard members, veterans, their dependents, and Gold Star family members are all eligible for the free annual Military Pass. Learn more and explore the map at https://www.nps.gov/subjects/military/index.htm.
The full Strengthening America's Military Families report with over 80 commitments can be viewed HERE.
In May of 2021, the Office of the First Lady and the NSC launched a Joining Forces Interagency Policy Committee with representatives from across the executive agencies to work collaboratively on priorities related to the families of service members and veterans, caregivers, and survivors. Going forward, the Interagency Policy Committee will continue to advance these priorities, including the Strengthening America's Military Families commitments, through cross-agency working groups and will report results and updated plans annually.
Along with the historic investments included in the American Rescue Plan and the Bipartisan Infrastructure Deal, the Biden-Harris administration has proposed a number of additional measures through the Build Back Better Agenda to support American working families, which will also contribute to the well-being of the families of service members and veterans, their caregivers, and survivors.
Background on Joining Forces: Joining Forces is a White House initiative, led by military mother and grandmother First Lady Jill Biden, to support military and veteran families, caregivers and survivors. Guided by the life experiences and the perspectives of these families, the work and priorities Joining Forces focuses on are: economic and entrepreneurship opportunities for military spouses, including access to affordable, quality child care; supporting military-connected children in the classroom; and promoting health and well-being resources. Joining Forces convenes and collaborates with federal agency partners, non-profit organizations, corporate stakeholders, and service providers to develop comprehensive, meaningful, and long-term solutions that address the holistic well-being of military and veteran families, caregivers, and survivors.
For any questions related to the report, please reach out to the First Lady's Press Secretary, Michael LaRosa at Michael.J.LaRosa@who.eop.gov.
Jill Biden, Press Release - Joining Forces and the National Security Council Release White House Report on Federal Agency Commitments to Support Military Families Online by Gerhard Peters and John T. Woolley, The American Presidency Project https://www.presidency.ucsb.edu/node/352764