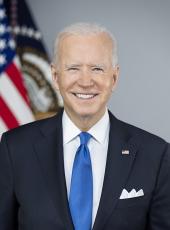 Press Release - Jill Biden Announces Additional Members of the Office of the First Lady
WASHINGTON - Today, Dr. Jill Biden announced additional members of the Office of the First Lady, including the new incoming Executive Director of Joining Forces.
"With their varied and diverse backgrounds, these dedicated and accomplished public servants bring a shared commitment to building an administration that lifts up all Americans. Together, we will work to open the White House in new, inclusive and innovative ways, reflecting more fully the distinct beauty of all our communities, cultures and traditions. I am proud to announce these individuals and look forward to working alongside them each and every day," said future First Lady, Dr. Jill Biden.
These impressive and experienced appointees will work closely with incoming First Lady, Dr. Jill Biden and play a critical role in supporting the operations of the First Lady's office. These efforts will showcase the administration's commitment to building our nation back better for working families. Today also marks the first step in the work to re-launch Joining Forces, the nationwide effort Dr. Biden founded with former First Lady Michelle Obama to support service members, veterans, their families, caregivers, and survivors. With the appointment of Executive Director of Joining Forces, Rory Brosius, the First Lady's office will be ready on day one to begin serving and supporting military families.
"The incoming Biden-Harris administration has a bold vision for our country that will build our nation back better than before. These skilled, diverse and incredibly talented and committed appointees to the First Lady's Office will work tirelessly for American families. I am proud to have them join our White House team," said incoming Chief of Staff to the First Lady, Julissa Reynoso.
Biographies of the appointees to the Office of the First Lady are listed below in alphabetical order:
Rory Brosius, Executive Director of Joining Forces
Rory Brosius serves as the military families engagement lead on the Biden-Harris Transition Team and was a senior advisor to Dr. Jill Biden during the Biden-Harris Campaign. During the Obama-Biden administration, Brosius was the Deputy Director of Joining Forces in the Office of the First Lady. After working in the White House, she launched her own social impact consulting firm and was the Advisor for Military Families to the Biden Foundation. Earlier in her career, she also held roles as a civil servant with both the United States Marine Corps and the United States Army. A social worker by training, Brosius also served in a variety of positions with non-profit organizations and educational institutions. Originally from Lockport, Illinois, she holds a Masters of Social Work from the University of Southern California and an undergraduate degree from Clemson University.
Liz Hart, Deputy Social Secretary
Liz Hart was Executive Producer of Vice President-Elect Kamala Harris' virtual event studios on the Biden-Harris Campaign and Transition, and Coordinating Producer of the 2020 Democratic National Convention. Prior, Hart was Senior Producer on an international campaign for the Tokyo 2020 Olympic Games. Hart served as Director of Message Events for Vice President Joe Biden during the Obama-Biden administration, as director of the 2016 Democratic National Convention's media studio, and as an Advance Associate for the White House. Outside of government, Hart is a six-year livestream producer for Times Square New Year's Eve, managed audience technology for four Super Bowl Halftime Shows, and has overseen special projects for the Motion Picture Association and UN Foundation, among others. Hart previously worked in event hospitality for the Disney Event Group at Walt Disney World, Marriott International, and for multiple planning and design firms in New York City. Hart opened her own company in 2015 to focus on mission-driven projects around women's empowerment, kids and family entertainment, and innovative technology. Originally from Virginia, Hart is a graduate of Virginia Tech.
Michael LaRosa, Press Secretary
Michael LaRosa was the Traveling Press Secretary and Chief Spokesperson for Dr. Jill Biden on the Biden-Harris Campaign and Transition. Prior to joining the campaign, LaRosa was Communications Director for the House Democratic Policy Communications Committee in the Office of Speaker Nancy Pelosi. He also served as Communications Director for the U.S. Senate Committee on Energy and Natural Resources under Ranking Member Senator Maria Cantwell (D-WA). LaRosa was a booking and segment producer for MSNBC's Hardball and a writer for MSNBC's digital platforms. Before his time as a TV producer, LaRosa was an aide to the Deputy Director of OPM, New York Senator Kirsten Gillibrand, and Illinois Congresswoman Melissa Bean. Born and raised in Easton, PA, he holds a Master's degree from the American University and an undergraduate degree from Seton Hall University.
Gina Lee, Director of Scheduling and Advance
Gina Lee is the Deputy Director of the Office of Dr. Jill Biden at the Biden-Harris Presidential Inaugural Committee. On the Biden-Harris campaign she served as the Director of Scheduling and Advance to Mr. Doug Emhoff and, before that, as the National Finance Events Director. Prior to joining the campaign she was a Senior Policy Associate at the Biden Foundation supporting Dr. Biden's work to uplift military families and advocate for affordable access to community college. Lee also held roles on the Hillary for America campaign as Scheduler to Senator Tim Kaine, and in the Obama-Biden White House Offices of Legislative Affairs and Presidential Personnel. Born in South Korea and raised on Long Island, NY, she is a graduate of Boston University.
Vanessa Lion, Deputy Policy Director
Vanessa Lion served as Briefings Director for the Biden-Harris Campaign and on the Biden-Harris Transition. Prior to the campaign, she was a consultant at McKinsey & Co., where she primarily worked with public sector, education, and healthcare organizations. Lion also lived in Geneva, Switzerland where she worked at The Global Fund to Fight AIDS, Tuberculosis, and Malaria. Originally from Texas, she holds a master's degree in public policy from the Harvard Kennedy School of Government and a bachelor's degree from the Solvay Brussels School of Economics and Management.
Jordan Montoya, Director of Advance & Trip Director
Jordan Montoya served as Dr. Jill Biden's Trip Director, Senior Aide, and Scheduler on the Biden-Harris Campaign. During the Obama-Biden administration, Montoya was the Deputy Press Secretary for Interior Secretary Ken Salazar and later served as Deputy Director of Advance for Vice President Joe Biden and Dr. Jill Biden. Prior to her role on the Biden-Harris Campaign, Montoya was a Policy Associate at the Biden Foundation supporting the development and execution of the foundation's pillars of higher education, military families, and foreign policy. Additionally, she served as an Associate Director at the international non-profit organization Save the Children. Born in Colorado, Montoya is a graduate of Stanford University.
Garima Verma, Digital Director
Garima Verma served as an audience development and content strategist on the Biden-Harris Campaign. Before joining the campaign, Verma was a volunteer with the content team, designing graphics for distribution to Biden-Harris volunteers across the country. She previously worked in the entertainment space marketing films at Paramount Pictures and television shows at The Walt Disney Company's ABC Network and media agency Horizon Media. She has also served as an independent consultant in marketing, design and digital for a number of small business and non-profit clients. She was born in India and grew up in Ohio and the Central Valley of California. Verma is a graduate of the University of California, Los Angeles.
Joseph R. Biden, Press Release - Jill Biden Announces Additional Members of the Office of the First Lady Online by Gerhard Peters and John T. Woolley, The American Presidency Project https://www.presidency.ucsb.edu/node/347703