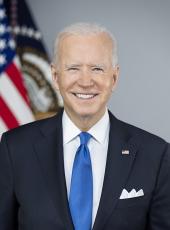 Press Release - ICYMI: Public Health and Scientific Experts Say GSA Ascertainment Is Critical During Pandemic
This week, some of the nation's largest medical groups joined Dr. Anthony Fauci, as well as members of the Biden-Harris COVID-19 Advisory Board, in calling for the GSA to stop delaying ascertainment and ensure a seamless transition as COVID-19 infection rates surge across the country.
The experts emphasized the need for a smooth transition to bolster the COVID-19 response and prevent further harm to the American people. The experts said that ascertainment was necessary for the Biden-Harris transition to help determine the public health and economic steps to get the virus under control, to deliver immediate relief to working families, to address ongoing racial and ethnic disparities, and to reopen our schools and businesses safely and effectively.
NBC News: Leading medical groups urge Trump to share Covid data with Biden to 'save countless lives'
[By Geoff Bennett, Kristen Welker, Dareh Gregorian and Rebecca Shabad, 11/17/20]
Top officials from organizations representing American hospitals, doctors and nurses are calling on President Donald Trump to share critical Covid-19 data with President-elect Joe Biden's transition team "as soon as possible" to "save countless lives."
In a letter released Tuesday, the CEOs of the American Hospital Association, the American Medical Association and the American Nurses Association urged the Trump administration to "work closely with the Biden transition team to share all critical information related to Covid-19."
"Real-time data and information on the supply of therapeutics, testing supplies, personal protective equipment, ventilators, hospital bed capacity and workforce availability to plan for further deployment of the nation's assets needs to be shared to save countless lives," they wrote in the letter. "All information about the capacity of the Strategic National Stockpile, the assets from Operation Warp Speed, and plans for dissemination of therapeutics and vaccines needs to be shared as quickly as possible to ensure that there is continuity in strategic planning so that there is no lapse in our ability to care for patients."
The letter cited their perspective as "providers of care for all Americans" who "see the suffering that is occurring in our communities due to COVID-19. We see families who have lost both parents from COVID-19; we see children suffering from long-term effects due to a COVID-19 infection; and we see minority populations disproportionately suffering from the devastation of the COVID-19 pandemic. It is from this front line human perspective that we urge you to share critical data and information as soon as possible."
Buzzfeed: Joe Biden's COVID-19 Team Can't Get The Data It Needs From The White House
[By Zahra Hirji, Henry J. Gomez, 11/17/20]
"There are career officials at [the US Department of Health and Human Services] that are right now developing plans for February and March on vaccine distribution," [Dr. David] Kessler said on the Tuesday call. "Our team cannot communicate with them. We are setting up our recommendations to the president-elect for the same task. The sooner the Biden transition team can meet with officials working on these questions, the more seamlessly the transition will be for the American people."
"Getting everyone vaccinated who wants to be vaccinated is a daunting challenge under the best of circumstances," he added.
Vivek Murthy, another cochair of Biden's coronavirus task force, confirmed on the call that the transition team is not getting even basic information from the White House. Asked by BuzzFeed News if it's receiving real-time data on the nation's supply of therapeutics to treat COVID-19, tests to discover the virus, the number of people hospitalized with the virus, or amounts of personal protective equipment, Murthy said, "The simple answer to that, unfortunately, is no on all of those items."
NPR: Biden's COVID-19 Advisers Plead For 'Ascertainment' So They Can Plan For January
[Tamara Keith, 11/17/20]
"There is valuable information inside the administration that is held by career officials, by political appointees and others who have been working hard on the COVID response for the last year," said Murthy. "We need to talk to those individuals. We need to work together with them. And if we do that then I am confident we can come up with the best possible plans for the country on January 20."
Biden's team also wants more insight into supplies of personal protective equipment. "There has to be Day One readiness," said Dr. Marcella Nunez-Smith, another Biden COVID adviser. "If you want a smooth transition, we need to be working together."
Politico: Biden Covid advisers say transition delay hurts pandemic prep beyond vaccines
[Alice Miranda Ollstein, 11/17/20]
"Not only do we need cooperation in order to ensure that we have a good vaccine delivery plan — we really need it across the board," said Vivek Murthy, one of the co-chairs of the advisory board. "That cooperation will impact how effective we are at closing the testing gap, ensuring that hospitals and doctors and nurses have enough protective equipment like masks and gloves and make sure we have enough syringes and swabs to proceed with a vaccination campaign."
Biden has previously warned that the General Services Administration's delay in recognizing him as the winner of the election could hamper his team's ability to create a national vaccination campaign should one or more of the promising candidate vaccines gain emergency authorization — a warning echoed by top federal infectious disease expert Anthony Fauci, who is so far barred from any communication with Biden's team.
Former FDA Commissioner David Kessler, another co-chair of the group, said Biden's advisers also lack the information they need to move forward on Biden's call for investing in rapid, at-home coronavirus tests.
CNN: Fauci says the pandemic response would be "better" if Biden transition began
[Sarah Westwood, 11/15/20]
Dr. Anthony Fauci, the nation's top infectious disease expert, told CNN that the nation's pandemic response would be better served if the White House allowed a transition with President-elect Joe Biden's team to begin.
"Of course it would be better if we could start working with them," Fauci said on CNN. "It's almost like passing the baton in a race," Fauci added. "It certainly would make things more smoothly if we could do that."
Fox News: Biden's COVID advisers stress there's 'no time to waste' on coronavirus transition
[Paul Steinhauser, 11/17/20]
The co-chairs of President-elect Joe Biden's COVID advisory board are emphasizing that "there's no time to waste" in the transition from President Trump's administration to the incoming Biden administration when it comes to combating the coronavirus pandemic.
"We need to be allowed to immediately begin work with our colleagues in the current administration to plan to execute a national vaccination effort and end this pandemic," David Kessler, a co-chair of the advisory board and former FDA commissioner, told reporters on Tuesday.
The president-elect's team cannot communicate with the Trump administration, Kessler said. And he stressed that it would be better for Americans on the whole for Biden's team can meet with government officials soon.
CNN: Biden Covid-19 adviser says lack of official contact with Trump administration "is really setting us back"
[Naomi Thomas, 11/18/20]
"We haven't had any official contact between the transition team coming in and the current administration. It is really setting us back," Bright said on CNN's New Day.
They are working hard to ensure that the best plans are in place for equitable distribution of the vaccine and that everyone who needs it first is prioritized and can get it, he said.
"We haven't been able to sit down with the Trump administration at all, to be able to understand what plans are in place, where the gaps are, where help is needed, and how we can make sure there's a smooth handoff after January 20, where the bulk of these vaccines will be administered after that date," he said.
Joseph R. Biden, Press Release - ICYMI: Public Health and Scientific Experts Say GSA Ascertainment Is Critical During Pandemic Online by Gerhard Peters and John T. Woolley, The American Presidency Project https://www.presidency.ucsb.edu/node/347146