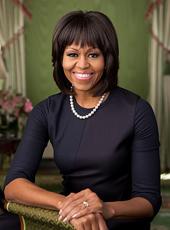 Press Release - First Lady Michelle Obama Celebrates American Companies Committed to Creating and Selling Healthy Products
Mrs. Obama's visit to a Springfield, MO Walmart highlights that what's good for kids and good for family budgets can also be good for business
Springfield, MO – As part of the celebration of the third anniversary of Let's Move!, First Lady Michelle Obama today visited a Walmart in Springfield, MO to celebrate American companies that are committed to creating and selling healthy products. In doing so, these companies are showing the country that what's good for kids and good for family budgets can also be good for business.
The Walmart store Mrs. Obama visited was built as part of the company's Let's Move! commitment to open or expand up to 300 stores in communities with limited access to healthy, affordable food.
Echoing what she wrote in an op-ed in today's Wall Street Journal, Mrs. Obama today said, "For years, the conventional wisdom said that healthy products simply didn't sell – that the demand wasn't there, that higher profits were found elsewhere, so it just wasn't worth the investment. Thanks to Walmart and so many other great American businesses, we are proving the conventional wisdom wrong. Every day, with their success, these companies are showing us that what's good for kids and good for family budgets can also be good for business."
At today's event with the First Lady, Walmart announced it has made significant progress in its efforts to make food healthier, and healthier food more affordable. In the first two years of their comprehensive, five-point effort to provide its customers with healthier and more affordable food, Walmart has saved their customers more than $2.3 billion on fresh fruit and vegetables and opened 86 stores in underserved communities. Walmart is also unveiling its "Great For You" icon – a front-of-package label, backed by rigorous nutrition criteria, designed to help customers quickly find healthier choices. More than 1,300 Walmart Great Value and Marketside items, as well as fresh and packaged fruits and vegetables have the icon.
"We are proud of the work we have done in the last two years to make it easier and more affordable for our customers to buy healthier food, and we know there is more work to do," said Leslie Dach, executive vice president of corporate affairs at Walmart. "We applaud First Lady Michelle Obama's continued leadership. Her passion is encouraging companies and organizations, like Walmart, to make continued progress that positively affects the health and wellness of the communities we serve."
First Lady Michelle Obama was joined by local Springfield mom and teacher Stephanie Kennedy who, since adopting her grandchildren, realized she needed to make a change. During the last two years, she lost 70 pounds by eating healthier and is now trying to teach her students and grandchildren about the importance of eating healthy.
"As a mom of two young children, I shop for groceries on a tight budget," said Kennedy. "If there's a choice I can make that's both less expensive and more nutritious, that's a win for me and my family. It was an honor to share today with the First Lady– she inspired me to continue to make better choices for my family. It's not every day you get to share your grocery list with the First Lady!"
The event was part of the First Lady's three-city, two-day tour celebrating the three-year anniversary of the Let's Move! campaign.
Michelle Obama, Press Release - First Lady Michelle Obama Celebrates American Companies Committed to Creating and Selling Healthy Products Online by Gerhard Peters and John T. Woolley, The American Presidency Project https://www.presidency.ucsb.edu/node/351457