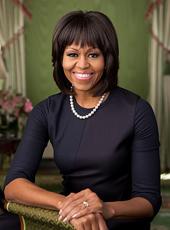 Press Release - First Lady Michelle Obama Announces Seven Organizations Join Drink Up Effort to Encourage Americans to Drink More Water, More Often
Brita®, First 5 Santa Clara County, Haws Corporation™, Nalgene® Outdoor Products, S'well Bottle, Santa Clara Valley Water District and The California Endowment will support Drink Up through products and marketing efforts
WASHINGTON, DC –Today, First Lady Michelle Obama joined the Partnership for a Healthier America (PHA) to announce that seven organizations have joined or renewed their support for the Drink Up effort, which encourages people across the country to drink more water, more often. Brita®, First 5 Santa Clara County, Haws Corporation™, Nalgene® Outdoor Products, S'well Bottle, Santa Clara Valley Water District and The California Endowment will support Drink Up by promoting its messages on water filtration systems, re-usable water bottles, drinking fountains or other products and programs. The First Lady also highlighted a new study from Nielsen Catalina Solutions (NCS), which found that a recent online ad campaign for Drink Up fueled a 3 percent lift in incremental sales of bottled water among those exposed to the campaign.
"When the Drink Up campaign was launched last year, it had one simple goal – to get kids and families excited about drinking water," said First Lady Michelle Obama. "And today, less than a year later, we know that water sales jumped nearly three percent among people who saw Drink Up ads. So I am thrilled about the additional commitments to continue this effort that are being announced today by Brita, First 5 Santa Clara County, Haws, Nalgene, the Santa Clara Valley Water District, S'WELL Bottle Company and The California Endowment. And I am confident that in the coming months and years, we're going to see people across this country drinking more and more water."
"As Drink Up encourages more people to drink more water, we also want to help make choosing water an easy choice. The efforts announced today – along with our current supporters' efforts – will help us show more people that you are what you drink, and when you drink water you Drink Up," said PHA CEO Lawrence A. Soler. "We applaud the efforts of each of these supporters toward helping us take another step closer to providing access to water for more people wherever they are, whenever they want it, however they want it – be it tap, filtered or bottled."
For complete information about this PHA commitment, visit AHealthierAmerica.org and YouAreWhatYouDrink.org.
Michelle Obama, Press Release - First Lady Michelle Obama Announces Seven Organizations Join Drink Up Effort to Encourage Americans to Drink More Water, More Often Online by Gerhard Peters and John T. Woolley, The American Presidency Project https://www.presidency.ucsb.edu/node/351410