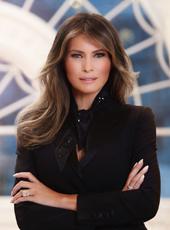 Press Release - First Lady Melania Trump Expands Her Initiative With the Addition of More Than 20 Be Best Ambassadors
Agency-specific Ambassadors will Serve as Liaisons with the East Wing to Help Improve the Lives of Children
First Lady Melania Trump's BE BEST campaign reaches new heights. Today, the Office of the First Lady is announcing 21 BE BEST Ambassadors from key agencies across the Administration to help further the First Lady's goal of educating children and parents about the issues they face, and promoting programs and services available to help them with today's challenges.
At her one-year anniversary celebration in May, Mrs. Trump acknowledged and thanked BE BEST's first Ambassador, a representative with the United States Agency for International Development (USAID). The First Lady also called upon other agencies across the Administration to appoint a BE BEST Ambassador and today, the office is proud to be working alongside 22 BE BEST Ambassadors, who will focus on resources and opportunities to help make a difference in the lives of children.
Since the announcement of BE BEST, the First Lady has collaborated with numerous departments and agencies to advance each of the three BE BEST pillars – the well-being of children, online safety, and combatting opioid abuse. Over the past two years Mrs. Trump has carried her BE BEST message—one of hope and empowerment—to children and families in the United States and around the world, including her first solo trip to Africa with USAID to visit the beautiful countries of Ghana, Malawi, Kenya and Egypt. She has emphasized the urgency and severity of our Nation's opioid crisis with visits to multiple newborn intensive care units, conducting listening sessions, and hosting roundtables to shine a light on successful programs across the country. As part of the broader effort to reduce addiction, she has spoken to thousands of children of all ages about the dangers of drug abuse. She has met with major technology companies to understand the challenges that each faces in the effort to address negative behavior online, and has encouraged children to practice digital civility and responsible behavior. She has met with more than 30 foreign diplomats, heads of state, or spouses to exchange ideas on the challenges children are facing all over the world. Mrs. Trump also reconvened the Interagency Working Group on Youth Programs in order to build upon the good work being done across the government.
"I am thrilled that we have identified and partnered with so many organizations both inside and outside of government to help promote and expand the three pillars of BE BEST," stated First Lady Melania Trump. "As we move into the next phase of my initiative, I look forward to the work ahead. There is no greater opportunity than that of helping children reach their fullest potential as they grow up."
The new Ambassadors will serve as a point of contact for moving BE BEST forward within their respective agencies.
Melania Trump, Press Release - First Lady Melania Trump Expands Her Initiative With the Addition of More Than 20 Be Best Ambassadors Online by Gerhard Peters and John T. Woolley, The American Presidency Project https://www.presidency.ucsb.edu/node/334285