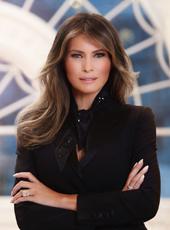 Press Release - First Lady Melania Trump Attends Red Ribbon Rally
First Lady Melania Trump visited the Drug Enforcement Administration (DEA) this morning, joining Acting Administrator Uttam Dhillon, for the DEA's Red Ribbon rally. The rally served to drive messaging around Red Ribbon Week, a nation-wide campaign dedicated to encouraging students to pledge to live drug free. The campaign runs from October 23rd-31st. Guests invited to today's rally included nearly 150 students, members of the military, DEA employees, drug abuse prevention partners, and other government officials.
Prior to taking the stage, the First Lady met with Mrs. Mika Camarena, wife of fallen Special Agent Enrique "KiKi" Camarena. Agent Camarena's story is the foundation of the Red Ribbon Week campaign. It is a reminder of the dangers surrounding illegal drug activity and honors all those who serve to protect our communities against drug violence.
Mrs. Trump engaged with the audience on tackling opioid abuse, a primary focus of her three-pillar BE BEST campaign. The First Lady encouraged the youth in the audience to take the pledge and to live drug free. The First Lady also addressed the stigma surrounding drug dependence and the equally important role of providing a support system that encourages and enables drug-dependent people to seek out proper help. In addition, the First Lady highlighted the addiction associated with e-cigarettes and youth vaping, and stressed the need to educate both children and families about the dangers associated with the habit.
Following her remarks, the First Lady joined Acting Administrator Dhillon in presenting awards to the Red Ribbon contests winners.
Mrs. Trump's visit marks the first time a First Lady of the United States has visited the Drug Enforcement Administration Headquarters.
"Today's Red Ribbon rally actively engaged our youth and resulted in so many of our children choosing to take the pledge and to live drug free," said First Lady Melania Trump. "I applaud the tough work that the Drug Enforcement Administration, alongside so many of our agencies, is doing in the fight against drug abuse. Agent Camarena's story is, unfortunately, all too common and I want to thank Mrs. Camarena and her entire family for choosing to share their story to help drive the changes needed. I hope my visit this morning helps to highlight the importance of Red Ribbon Week in schools and communities nationwide."
FULL REMARKS BELOW
Good morning everyone. I am so pleased to be here and for the opportunity to talk about the importance of being drug free and helping to share the message of Red Ribbon week. This campaign actively engages with schools, resulting in students pledging to be drug-free while honoring the work being done by many Americans to keep our communities safe.
My initiative, BE BEST is dedicated to helping children and ensuring that we are doing all we can to take care of the next generation. Since its launch last year, I have used BE BEST to shine a light on programs and people that show what it means to 'BE BEST'. Whether it is showing a simple act of kindness, providing care where there is a need, or teaching something valuable, 'BE BEST' promotes the positive actions happening in our communities and around the globe, and helps children understand what it means to live healthy lives.
In my time as First Lady, I have traveled to hospitals and visited rehabilitation centers where I have seen firsthand the horrible results of drug abuse. Our Administration will continue working hard in fighting the opioid crisis. I know Director Jim Carroll of the Office of National Drug Control Policy is with us this morning and I applaud and support the continued efforts he and the entire office are doing to help in this fight. Illegal use of drugs destroys too many families in our country. Drugs are taking a toll on our most vulnerable. For example, an infant that is born with neonatal abstinence syndrome is a direct result of opioid abuse. In November of last year, during a town hall with students from Liberty University, I addressed the stigma surrounding drug dependence and addressed the issue again in March in Las Vegas. I will continue to address addiction as long as it affects our children, our youth, and our schools. We need to continue encouraging teenagers and young adults that have fallen into drug addiction to be brave enough to admit it, to talk about it, and to get help. This also includes addiction associated with e-cigarettes and vaping. It is important to me that we all work to educate children and families about the dangers associated with this habit. Marketing this addictive product to children must stop.
Today is an opportunity to be proactive in our efforts to eliminate drug use and addiction among our youth. For Red Ribbon week, students can sign a pledge that, if honored, will lead to a lasting positive impact on their lives and the lives of their friends and peers.
I want to thank the United States Drug Enforcement Administration for their involvement in Red Ribbon week and all they do to keep our schools, communities, and cities safe from criminal drug use. Special Agent Enrique "KiKi" Camarena's story is a testament to the strength that comes from a community devoted to caring for one another. It is an honor to have the wife of fallen Agent Camarena with us today. Mika, I am so sorry for your family's loss. Thank you and your family for continuing to share KiKi's incredible story. What started as a small hometown club that honored the life of KiKi has grown to a nationwide campaign for students to commit to living healthy and drug free lives.
Thank you again for having me here today and thank you to the students who will be sharing what it means to be drug free later in the program. I encourage young Americans everywhere to sign the pledge to be drug free and continue to BE BEST.
Thank you and may God Bless you, your families and the United States of America.
Melania Trump, Press Release - First Lady Melania Trump Attends Red Ribbon Rally Online by Gerhard Peters and John T. Woolley, The American Presidency Project https://www.presidency.ucsb.edu/node/334852