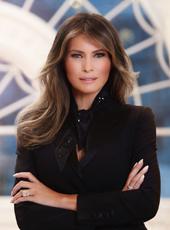 Press Release - First Lady Melania Trump Announces Planned Stops During Visit to Africa
In remarks delivered today during a reception she hosted for delegates to the 73rd Meeting of the United Nations General Assembly (UNGA), First Lady Melania Trump announced the stops she will make during her upcoming visit to Africa.
This will be the First Lady's first major solo international trip. Mrs. Trump will travel the first week of October to Ghana, Malawi, Kenya, and Egypt.
Since launching her Be Best campaign in May, Mrs. Trump has had the opportunity to meet with children all over the world, promoting successful organizations and programs that share her goal as First Lady of the United States—supporting and helping children.
"Since becoming First Lady, I have had the privilege of speaking with many of the spouses of world leaders," said First Lady Melania Trump. "Our discussions are always united by the universal desire to provide children with the support and tools necessary to grow up happy, healthy, and responsible adults. I am thrilled to be working with the United States Agency for International Development (USAID) on what I know will be a meaningful trip."
The First Lady's Office is working closely with USAID to plan the visits on her upcoming trip. During the trip, Mrs. Trump will learn more about the United States role in providing assistance to help countries become self-sufficient. Her trip will focus on maternal and newborn care in hospitals, education for children, the deep culture and history woven into each African country, and how the United States is supporting each country on its journey to self-reliance.
PRESS OPPORTUNITIES
An official press pool will accompany Mrs. Trump on her travels.
There will be several opportunities for expanded press events. Any additional outlets that are interested in covering specific events or countries may sign up:
FULL UNGA REMARKS BELOW:
Good morning and thank you all for being here today.
Let me begin by thanking Administrator Mark Green for the kind introduction. I have been so impressed with the work the United States Agency for International Development does around the world, and am excited to work with them on my upcoming trip to Africa.
When I launched BE BEST, it was with the goal of combatting some of the issues that children face today by shining a spotlight on successful programs and organizations that teach children the tools and skills needed for emotional, social and physical well-being.
Since the launch, I have had the opportunity to meet children all over the world, with the goal of talking to them about the importance of healthy living and responsible habits.
Last June I spoke at the Students against Destructive Decisions National Conference – a training program for middle and high school children to become leaders in encouraging their peers to live drug-free lives.
In July, I visited the Royal Hospital Chelsea in London, England, and I met local schoolchildren educated under the motto "the best that we can be." We spoke at length about the importance of kindness and how each of them lives under their school's positive motto.
I was also able to visit the Microsoft Innovation and Policy Center to meet with students included in Microsoft's Council for Digital Good. The students provide ideas and feedback for Microsoft's youth-focused online safety policy work. They had designed art projects representing their individual ideas of what it means to be civil in this digital age.
There are many programs across the country that are doing great things for children, and I believe we can replicate many of these programs overseas. This is why I am pleased to be working closely with USAID as I prepare for my first major International trip to Africa. By working with developing countries around the world to help them with their journey to self-reliance, USAID's work embodies much of what Be Best stands for.
Because of the many successful partnerships they have built in both the public and private sectors, USAID is able to maximize their impact and work towards a time when there will no longer be a need for foreign assistance. When more people have opportunity, and when societies are freer and more democratic, our own country is safer and stronger.
October 1 will mark the first day of my solo visit to four beautiful and very different countries in Africa – Ghana, Malawi, Kenya, and Egypt – all of which have worked alongside USAID and our partners to make great progress in overcoming some of their biggest challenges.
I'd like to take a moment and thank the First Lady of Ghana for being with us today. Mrs. Akufo-Addo, I look forward to visiting your country and know we will find ways to continue working together even after my visit. In Ghana, USAID's programs have focused on healthcare by supporting efforts to expand the coverage and quality of healthcare for mothers and newborns, and educating women and young children about the importance of proper nutrition.
I see the First Lady of Malawi is also with us today. Professor Mutharika, thank you for being here. In Malawi, USAID has demonstrated that education is one of the keys to combatting poverty and promoting prosperity. Their efforts aim to increase access to education, and work to ensure all children acquire the skills needed to succeed in school and life. I am very excited to have the opportunity to visit Malawi and better understand how our countries can continue working together for a prosperous future.
I also want to recognize Mrs. Kenyatta, of Kenya. Wonderful to see you again. It was great to host you in the White House a few weeks ago. In Kenya, USAID works on a variety of programs, including early-childhood education, wildlife conservation, and HIV prevention. Mrs. Kenyatta, I look forward to visiting your country and know that together, we will be able to do great things on behalf of children.
My final stop, which is Egypt, will focus on the country's tourism and conservation projects, but I know that through USAID, we have worked with the people of Egypt to promote an environment in which all groups of society – including women and religious minorities – can lead productive and healthy lives. In fact, their programs have directly supported a reduction in infant and maternal mortality rates, improved early-grade reading, and restored and preserved historical sites vital to Egypt's tourism.
USAID's motto is "From the American People." I am so proud of the work this Administration is doing through USAID and others, and look forward to the opportunity to take the message of my Be Best campaign to many of the countries, and children, throughout Africa. Whether it is education, drug addiction, hunger, online safety or bullying, poverty or disease, it is too often children who are hit first, and hardest, across the globe. Each of us hails from a country with its own unique challenges, but I know in my heart we are united by our commitment to raising the next generation to be happy, healthy and morally responsible adults.
I want to thank you all for being here today, and I look forward to our continued work on behalf of the next generation.
God bless you, your families, each of your countries, and may God bless the United States of America.
Melania Trump, Press Release - First Lady Melania Trump Announces Planned Stops During Visit to Africa Online by Gerhard Peters and John T. Woolley, The American Presidency Project https://www.presidency.ucsb.edu/node/346060