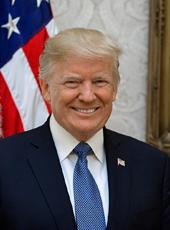 Press Release - Ensuring Our Nation's Water Security
Our Nation depends on a robust water infrastructure system and continued access to safe, secure, and affordable sources of water. We need it to grow our crops and produce food for the world, extract and process minerals, generate electricity, and manufacture products we use in our everyday lives. As we mark World Water Day, the Trump Administration remains committed to enhanced water security. That is why the President's National Science and Technology Council (NSTC) today released its Coordinated Strategic Plan to Advance Desalination for Enhanced Water Security.
Sudden events such as droughts, floods, hurricanes, and other hazards impact our water infrastructure and our ability to supply safe and clean sources of water. In fact, 40 out of 50 State water managers expect freshwater shortages to occur in their State within the next 10 years, according to a 2014 Government Accountability Office report. The Trump Administration is ready to address these challenges and the NSTC's plan is the latest effort to ensure our Nation has continued access to secure and reliable water supplies.
Enhancing Water Security. Desalination is the process of removing salt and other minerals from water to make it drinkable or usable in other industries. The NSTC's newly unveiled strategy focuses on establishing desalination priorities, strengthening R&D cooperation and coordination with domestic and international stakeholders, and promoting the use of public-private partnerships to enhance our Nation's water security through desalination.
Improving Water Reliability. President Trump issued a Presidential Memorandum on Promoting the Reliable Supply and Delivery of Water in the West in October 2018. This initiative focuses on improving the use of technology to increase water reliability, improving forecasts of water availability, and streamlining regulatory processes.
Creating Technological Advancements and Innovations. Secretary of Energy Rick Perry launched the Water Security Grand Challenge, a White House-initiated, Department of Energy-led framework to advance transformational technology and innovation to meet the global needs for safe, secure, and affordable water.
Coordinating Water Reuse. In February, the Environmental Protection Agency announced the development of a national Water Reuse Action Plan. From recycling treated wastewater to finding new applications for water produced from oil and gas extraction, there is innovative work happening across the water sector and EPA's Water Reuse Action Plan will be the first initiative of this magnitude that is coordinated across the water sector.
Modernizing Water Infrastructure. As called for in President Trump's Executive Order on promoting agriculture and rural prosperity, Secretary of Agriculture Sonny Perdue issued a report that highlights the need to modernize rural utilities, including enhancing water infrastructure to ensure rural communities have access to clean water.
Accelerating Investment in Communities. EPA oversees the implementation of the Water Infrastructure Finance and Innovation Act (WIFIA), a federal credit program to accelerate investment in water infrastructure. EPA provides borrowers long-term, low-cost supplemental loans for regionally and national significant projects. EPA is in the second year of implementing this program and to date, has issued seven loans through the WIFIA program totaling over $1.8 billion dollars to communities across the country. When combined with other funding sources, these projects will help finance over $3.8 billion dollars in infrastructure investments while creating over 6,000 jobs. This year, EPA has invited an additional 39 projects across the nation to apply for WIFIA loans that, when combined with other funding sources, could help finance over $10 billion dollars in water infrastructure and create up to 155,000 jobs.
Beyond the initiatives outlined above, every American can help improve our Nation's water security through conservation. Increased water conservation efforts by both users and water utilities are among the most cost-effective ways to reduce demand and improve water security. In addition to conservation, continued development of new and innovative technologies is needed to support access to clean, potable water in order to ensure rural and urban prosperity, national and economic security, and health for all Americans. Together we can solve the future water availability and security challenges that our Nation faces.
Donald J. Trump, Press Release - Ensuring Our Nation's Water Security Online by Gerhard Peters and John T. Woolley, The American Presidency Project https://www.presidency.ucsb.edu/node/334695