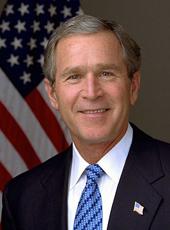 Press Gaggle by Tony Fratto and Dennis Wilder, NSC Senior Director for Asian Affairs
James S. Brady Press Briefing Room
9:33 A.M. EDT
MR. FRATTO: Good morning, everyone. Actually, before I start, I think you probably saw the page. Dennis Wilder from National Security Council, the Senior Director for East Asian Affairs will be with us to talk about President Lee of South Korea, who will be with us tomorrow. And so I'll ask Dennis to come up after I go through some of the scheduling items and make an announcement.
The President had his normal briefings this morning. At 10:05 a.m., the President makes remarks to recipients of the President's Environmental Youth Awards. Just a little bit of background. These were established in 1971. They recognize students from grades K through 12 who have led environmental efforts in their communities. The awards are administered by the Environmental Protection Agency, and each of the EPA's regional offices selects winners. The First Lady will be there participating as well.
At 1:15 p.m., the President meets with Gordon Brown, the Prime Minister of the United Kingdom, in the Oval. We have stills at the top for that. And as you know, 2:35 p.m., the President participates in a joint press availability with Mr. Brown in the Rose Garden. Again, beautiful weather today to be out in the Rose Garden.
At 6:50 p.m. this evening, the President and Mrs. Bush will welcome the Prime Minister and Mrs. Brown at the North Portico, and then they will have a social dinner at 7:00 p.m. in the Yellow Oval.
Quick --
Q: Brown actually will attend the dinner in his honor? (Laughter.) Sorry.
MR. FRATTO: That was Mark Knoller's sarcastic question, transcribers. (Laughter.)
Q: That's one in a row. (Laughter.)
MR. FRATTO: Today at 1:30 p.m., the Department of Defense, in partnership with the Veterans Administration and the National Institutes of Health and some of America's finest research institutions will announce the creation of the Armed Forces Institute for Regenerative Medicine. This isn't the kind of thing we usually announce from here, but it is an exciting thing that the Armed Forces are working on, and the economic -- I'm sorry, the health researchers are working on.
Regenerative medicine is a promising new field focused on the repair and replacement of tissues and organs, which has been made possible in part by progress in stem-cell research. The center will use regenerative medicine to improve the lives of our wounded warriors and other Americans. The creation of this center for excellence is another important step by the administration to help the men and women who have protected our nation recover from injuries and to lead healthy lives. If you'd like to cover this event, please contact the Department of Defense.
And with that, I'll invite Dennis up to give you a little bit on the visit of President Lee, and he'll be able to take a few questions. And then I'll come back after Dennis.
Q: Tony, where will that event be?
MR. FRATTO: At DOD.
Q: DOD.
MR. FRATTO: Yes.
MR. WILDER: Thank you. Good morning. The President and Mrs. Bush are looking forward to hosting President Lee and his wife at Camp David this weekend. They'll share an informal dinner Friday night, and then on Saturday there will be a broader meeting to include additional members of their economic and defense teams, followed by lunch. They will participate in a press availability just before lunch.
South Korea, as you know, is a long-term and staunch ally of this nation, that has stood side by side with us in defense of freedom around the world. South Korean troops have served in Iraq since 2003, and in 2004 they became the third largest troop contributor to the coalition, when they deployed the Zaytun Division in northern Iraq. South Korea is our seventh largest trading partner, and the very hard working people of South Korea have transformed that peninsula from a place where per capita income -- or per capita GDP, I should say, was only $100 in 1960, to a situation today where South Koreans enjoy a per capita GDP topping $24,000.
President Lee, demonstrating the importance he places on this relationship, decided his first overseas trip would be to the United States. This is also the first time a South Korean President has visited Camp David. Even though they've not met before, President Lee and President Bush have a great deal in common. President Lee is a self-made businessman who came to politics after a successful career with Hyundai Corporation. Like President Bush, he served in local government before becoming a national figure. As mayor of Seoul, President Lee gained a reputation as a hands-on executive who knows his own mind and knows how to lead. They share many values in common, including a deep Christian faith, a deep concern for human rights, and an abiding belief in democracy, liberty and free markets.
Topping the bilateral agenda will be their work toward passage in their respective legislatures of a free trade agreement that was signed last summer. This agreement is the largest free trade agreement we have negotiated since NAFTA, and it is estimated that when ratified, it will add $20 billion or more a year to two-way trade between our nations.
This FTA is good for workers and businesses in the United States, and good for workers and businesses in Korea. But I think it's important also to remember it is strategically important as it helps to cement an alliance that has helped keep the peace and will continue to help keep the peace in Northeast Asia.
On the subject of the alliance, we are going through what is called the alliance transformation. It has been underway since 2004, and as you know, we are repositioning our troops on the Korean Peninsula into two main hubs south of Seoul. Another key element of this transformation of our presence in Korea is a planned transition of wartime operational control to the Republic of Korea. This is a sign of our confidence in a very capable South Korea military.
Obviously, the two leaders will also discuss the six-party talks. South Korea is playing a key role in these negotiations, and President Lee has repeatedly said that South Korea's policies with the North will hinge in part on progress on denuclearization. And he has urged the North Koreans to fulfill their obligation in this phase; include providing a complete and correct declaration of all their nuclear weapons programs, their nuclear proliferation activities, and to complete the agreed disablement.
Disablement at Yongbyon is continuing under U.S. supervision, and we are sending an experts group back to Pyongyang next week to see if we can make progress on the declaration that the North Koreans are obligated to provide under the February 2007 agreement.
There are many other regional and international issues I'm sure the two leaders will discuss. But let me just conclude these remarks by saying that Americans should be very proud of our relationship with the South Korea people. Americans sacrificed in the 1940s and the 1950s in order that South Koreans could be free. South Koreans are eternally grateful, and in fact the President of South Korea is at Arlington this morning. And they have returned our goodwill by being steadfast front-line allies.
The President and Mrs. Bush look forward to renewing the bonds between the South Korean people and ourselves through this visit, and strengthening the alliance for the challenges ahead.
Q: Do you think that North Korea has any intention of honoring its promise to make a complete and correct declaration?
MR. WILDER: I think the North Koreans signed the agreement last year in good faith. And I think that we have every indication that the North will comply with its obligations.
We, as the Secretary, I think, said just a few minutes ago, though, are going to have a verification mechanism. We are not going to just simply accept the North Korean declaration without ways in which to make sure that the North Koreans live up to their obligations. And that is part of the process we're going through as we complete the Phase Two part of this effort.
So we will trust but verify, and that will --
Q: How will you do that?
MR. WILDER: I think I will leave it to a later date to explain that. We are working with the Chinese on this, we are working with the other six-party members on this, and we're not prepared yet to talk about the details.
Q: But presumably it would involve the cooperation of the North Koreans.
MR. WILDER: Absolutely. And part of what that team will do next week in North Korea is discuss this.
Q: In light of the Speaker's decision on the Colombia free trade agreement and the indictment of the head of Samsung today, what do you think of the prospects of getting a South Korean free trade agreement this year, if any?
MR. WILDER: Well, first of all, I read a very interesting editorial in the Detroit Free Press this morning. As you know, Detroit is probably the place where they are least enthusiastic about this particular free trade agreement. And what the editorial said was, let's take a good look at this free trade agreement; let's not rush to a judgment that it is not in the interest of American workers.
What I think we hope is that once we complete the negotiations on beef, which, by the way, are continuing today in Seoul, and are continuing in a very constructive manner, we hope that the Congress will have the opportunity to look hard at this agreement. We hope that the Speaker will allow that process to go forward, and that they will see just how benefit -- how much benefit there is in this agreement for Americans.
This is a huge trading partner of the United States. This is a nation where one million South Koreans now are American citizens. This is -- ethnic Koreans, I should say. This is a nation that we have deep bonds with and that our business interests are huge. We should not throw away an opportunity to expand that relationship.
I will tell you that in the last couple of -- or since Speaker Pelosi made the decision on Colombia, I have had many East Asian diplomats come to me concerned about a growing protectionism in the United States, and concerned that Americans are turning their backs on what has been a cornerstone of our relationships in East Asia. So I think it is very important for the Congress to think this one through clearly. This is part and parcel of our strategic relationships all across the region.
Q: Could you elaborate on that? When it comes to trade, you said it would increase trade by $20 billion between the two countries.
MR. WILDER: That's right.
Q: Which way, though? Our goods going to --
MR. WILDER: Both ways. I mean, this is --
Q: Is there any way you can break it down?
MR. WILDER: Well, I think it -- it's really tough for me as an non-economist to stand up here and try to work through all of that. But if you look at the elements of the free trade agreement, certainly agriculture is going to benefit. American agriculture right now has high tariffs against oranges and other produce going into Korea. There is a high demand for those items in Korea. Once those tariffs come down, we're quite confident there's a big market. Beef, before the South Koreans put the restraints on beef sales, we had a billion-dollar market in Korea in 2003. We can easily have that market again in Korea. There is a huge market for American beef there.
And so there are many aspects in which this deal will open up opportunities for American business.
Q: But can you say if there will be more opportunities open for American businesses or for South Korean? I mean, who will be the winner here?
MR. WILDER: You know, the problem with making that judgment is it depends on the industrious nature of businesspeople. I mean, you've got to be out there selling your product, and what we do is provide the opening. Our job is not to tell the Koreans what to buy. Our job is to make sure that market is free and fair and open, and it's up to American business to make the deals that benefit the American people.
Q: Not to belabor the point. Is this the argument that you have to make to Congress if you want them to pass this, that if --
MR. WILDER: Absolutely. And people from USTR will be able to speak to that in much more detail than I can. I'm just not the expert on the details of this agreement.
Q: Do you expect U.S. and South Korean negotiators or the two Presidents to reach an agreement on -- during this visit, during Lee's visit, on opening up the South Korean market to American beef?
MR. WILDER: We are extremely hopeful. The -- I talked to USTR this morning. The negotiator remains in Korea working the deal. She has been there all week working this deal. It is a very cooperative process, a cordial process we're involved in. So I think it's looking hopeful.
Q: Is this something that the two Presidents could announce on Saturday?
MR. WILDER: If the negotiators tell them they can announce it, they can announce it. (Laughter.)
Q: Any view of that chances of that? You seem extremely hopeful.
MR. WILDER: I'm hopeful. I'm very hopeful.
Q: Is it reasonable to assume that there's a little bit of a domino effect here, though, because now that the Colombia -- the rules have been suspended on Colombia, that would seem to make the Koreans less willing to compromise on beef.
MR. WILDER: You know, that's not our experience in these negotiations at this point. The South Koreans made a strategic decision to move forward with this free trade agreement. Because their future is tied to the United States -- and I can't emphasize enough, if you haven't been out in East Asia, you need to get out there and see the level of trade and the level of interest in American investment and American opportunities. These are countries that desperately want to move forward with freer and freer trading regimes with the United States.
Q: If they're not going to get the free trade agreement, why should they compromise on beef?
MR. WILDER: Why would you say they won't get the free trade agreement?
Q: -- it's less likely now that the Colombia --
MR. WILDER: I think you're prejudging the situation. I think we need to wait and see what the agreement looks like. And let's get the agreement done, in terms of the beef agreement, and let's present that to the American people and to the American Congress, and let's see what happens from there.
Q: Will the agreement be submitted to Congress this year?
MR. WILDER: I don't have a beef agreement yet. So for me to say that, yes, it will, presupposes that we're going to get beef in the next couple of days here. I don't have that, so I can't say that it's going to be submitted yet.
Q: Dennis, on the declaration. The media reports out of the region are now that the understanding with the United States and North Korea is that there won't be a declaration; there's going to be something called an acknowledgment, where the United States lists what it has concerns about, and North Korea will acknowledge those concerns. It's not even going to be made public. Is this expert commission next week, is this the last attempt at a formal declaration by North Korea before you shift to this acknowledgment?
MR. WILDER: I think we're conflating two different issues here. As part of the February 2007 agreement, the North is committed to providing a complete and correct declaration related to their nuclear program. No one has let them off the hook on that declaration. That declaration is and remains a crucial part of getting beyond Phase Two to Phase Three.
What you are talking about is side negotiations that the United States has had with the North Koreans. That's a different matter because that involves different kinds of activities, such as proliferation, and that is being handled in a different manner. But the North and all members of the six-party talks expect this has to come up with a list of the facilities that produced the nuclear weapons. That includes Yongbyon but it includes a lot of other facilities from the iron-ore enrichment all the way to the nuclear test sites. And that is a declaration; that is what we expect to see in the declaration: the plutonium cycle that led to nuclear weapons.
Q: I'm obviously not as close to this as you are, but for months and months and months from that podium, various spokespeople have said that the North has to come up with a full declaration, including its proliferation activities. You seem to be decoupling that now, saying that there's a side negotiation with the United States on proliferation, and a declaration about the list of the facilities used in the production of nuclear weapons. Is that right?
MR. WILDER: It isn't decoupled. These two things will stand together. They are part and parcel of the same process. How we have gotten there are two different methods of negotiating with the North Koreans.
Q: You said to wait --
Q: One question just on the Gordon Brown visit.
Q: Could I ask a question on --
Q: But it's about Burma and Tibet, which is in his portfolio. (Laughter.)
MR. WILDER: Okay.
Q: But I just wanted to ask, because -- do you think that the British -- Gordon Brown is very, very interested in both those subjects; you know, shares that passion with the President. Do you think that there's any opportunity for collaboration in pushing the process forward on both those issues in terms of getting the Chinese to be more cooperative on those two issues; what kind of discussions are being held to that end?
MR. WILDER: Absolutely. First of all, Prime Minister Brown has taken a very strong stance on human rights issues related to China and East Asia. He made an excellent speech on Burma not too long ago. We would hope that the British will continue to speak out on the Burmese situation, and I think they will -- I know they will. They are as concerned as we are about the process leading to the referendum -- the fact that groups in Burma are not allowed to express their position on the referendum freely; the fact that the referendum is a flawed referendum at this point that bars certain people from even engaging and holding public office because they were married to foreigners, or are married to foreigners; the fact that the referendum and the constitution talk about 25 percent of the seats in the legislature being reserved for the military. You know, all of these things need a free and fair airing, and that's not happening right now in Burma.
What needs to also happen is that the Burmese need to invite in international monitors. The British have called for this, and we have called for this, and the U.N. has called for this. How do you make sure, in a place like Burma, where freedom has been so restricted, that this process of holding a referendum really is open. So of course it will be a subject of discussion today between the two leaders.
Q: On the trade -- you said, be patient, don't prejudge it. Will there be a surprise in this that will reflect the new reality that the Democrats really are in control? And will there be a concession on the part of the Koreans and will we see labor movement on the Democrats who want to export our worker rights?
MR. WILDER: Actually Congress has been involved. I think there's a misconception that these FTAs are simply presented to the Congress as faits accomplis. That's not true. It's not true on the Colombia agreement and it's not true on this agreement. We have had -- I shouldn't say "we" -- others in the administration have had serious negotiations with the Hill. This is why we are pressing so hard on beef, because -- not only because we want to protect the cattle industry in America, but because the Congress has said this is a very important thing to get in the free trade agreement.
So we are actually in the process of negotiating -- very responsive to the interests and concerns of the United States Congress. The Congress knows this agreement well, and the Congress has said, if you get beef there are many members of Congress who are quite ready to vote for this. Do we have all the votes? I don't know yet. But I can tell you that there is a great deal of interest in this free trade agreement on Capitol Hill. There are a great many constituencies that believe it will benefit them. And that's why we're hopeful that people will keep an open mind to it.
Thank you.
MR. FRATTO: Thanks Dennis.
MR. WILDER: Sure.
MR. FRATTO: Any other questions?
Q: Yes, the Gordon Brown. So last time the President told us, no, he's not angry at Gordon Brown for pulling troops out of Iraq; Gordon Brown has since said, since the fighting erupted around Basra, the clampdown on the Shiite militias -- attempted clampdown, he's going to put those withdrawal plans on hold. Is the President going to say "I told you so" today?
MR. FRATTO: No, look -- we think that the British have been very responsible --
(Announcement interruption.)
MR. FRATTO: Maybe someone could tell our staff that a gaggle is still ongoing. (Laughter.) No, look, we have a -- we think the British have been very responsible in their operations in Basra. Their support for the Iraqi-led operation a couple weeks ago was impressive, even heroic, flying helicopter runs evacuating injured soldiers from the fighting, was -- under fire -- was very impressive. They're performing their overwatch mission we think with great courage and distinction. And of course we expect that Iraq, Afghanistan and other operations that we're involved with with the U.K. will be discussed today. And so you'll have a chance to hear from the President and the Prime Minister this afternoon on that.
Q: Does the President have any feelings about Gordon Brown meeting with the -- his would-be successors this morning? Does he feel that's good, a problem? What's his reaction to that?
MR. FRATTO: We don't think it's a problem. I haven't asked the President on that, but I can tell you, you know, generally we think it's probably a wise move by the Prime Minister to get to know who -- one of the individuals who will likely be President in a year from now. So it makes sense. We think it's -- we certainly have no objections to it at all.
Jon.
Q: Yes, on global warming, I just wanted to ask, it seems like the President's speech yesterday, because he didn't lay out any details -- he was saying we want to see action, we don't accept any of the action we've seen, but we won't lay out any details of the kind of action we want --
MR. FRATTO: But I think there's time for that. I think that's overlooking -- I think some people have overlooked the major news that the President made yesterday, which was committing a national economy-wide goal to halt carbon emissions. That was a very important piece of the puzzle to lay out there as we move forward in the international arena and domestically in addressing this issue.
Let's be clear: Slings and arrows would have been thrown yesterday, no matter what we said, from different quarters, and that's the nature of the debate on climate change. And you're never going to make everyone happy on it. What we did was go through a very rigorous and thorough policy process, and the President's thinking on this is what he announced yesterday, which is this goal to help the international process move forward, and to give signals to policymakers here in Washington as to what we believe are prudent ways of going forward.
Q: Do you believe that the rest of those signals, if there are more to be given, will be done publicly or privately?
MR. FRATTO: Both publicly and privately.
Q: So there could be more disclosure of what you guys want publicly.
MR. FRATTO: Yes, well, this is going to evolve. I mean, this is -- it's going to go on for the rest of the year, at least, within -- for the administration in terms of the major economies process. Congress has legislation -- the Senate is planning to discuss legislation and to debate it on the floor early in June. So this will be an ongoing process.
Q: Tony, the German Environment Minister, in his reaction to the speech -- the reaction was entitled, "Bush's Neanderthal Speech." Did you guys talk to Western European allies and other major economies about what the details were going to be in his speech before he put forth --
MR. FRATTO: I'm not sure what those communications were. You're always going to see lots of hot-blooded reaction to anything said on climate, and so you should just be -- just be prepared for that.
Q: Oh, those hot-blooded Germans. (Laughter.)
MR. FRATTO: So you're going to see that. You'll always have people saying it's too much or it's too little, and you should just expect that as we go forward. What we try to do is talk about what is aggressive and achievable and possible in ways that will still allow this economy to grow and allow the standards of living for Americans to continue to grow. And we think that's important for the world to consider also as they go forward.
The easiest thing to do is to stand up and pronounce your commitment to some unachievable goal, and reap all of the short-term political benefit that that would -- that you would get for doing that. The hard thing is to try to set aggressive but reasonable goals, and then doing the work to achieve it. And that's what we've done throughout this administration, is we have -- we have actually set goals and met them, and there are a lot of countries around the world who have set goals and failed to meet them, for whatever reason -- either the goal is unachievable or they lack the political or economic or technological capability of meeting those goals. But we have tried to set aggressive but meaningful goals that we then go out and do the hard work of actually meeting or exceeding them. Okay?
Andrew, last one.
Q: Can you give us any specifics on what the President and Prime Minister will discuss on the economy and financial regulation?
MR. FRATTO: Yes, certainly. Gordon Brown, as you know, has spoken a great deal on it, having spent a decade as Chancellor of the Exchequer for the United Kingdom; has lots of ideas for dealing with financial markets and financial crises. And we work very cooperatively with the U.K. on these issues. He talked about an idea that involved more early warning work on behalf of the IMF, working with the Financial Stability Forum. It's an interesting idea. We would like to see more details about it, but clearly a huge -- both in terms -- a huge amount, both in terms of volume and value of the world's financial transactions go through London and New York, and there's a great deal of expertise on both sides of the Atlantic. We want to continue to work together to try to find ways to have the flexibility and the systems in place to prevent crises from happening in the future. We're still learning lessons from this -- the crisis in the credit markets, and we're going to take those lessons and go forward and try to make the system healthier.
Okay. Thank you.
END 10:03 A.M. EDT
George W. Bush, Press Gaggle by Tony Fratto and Dennis Wilder, NSC Senior Director for Asian Affairs Online by Gerhard Peters and John T. Woolley, The American Presidency Project https://www.presidency.ucsb.edu/node/277137