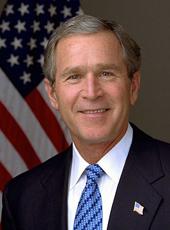 Press Gaggle by Tony Fratto
Aboard Air Force

One En Route New York, New York
8:51 A.M. EDT
MR. FRATTO: Good morning, everyone.
Q: Good morning.
MR. FRATTO: Let's see -- we're making our way to New York City. The President this morning taped the radio address. The topic is the economy. He'll continue his focus on the economy, as he is today. He had his normal briefings. At 11:20 a.m. this morning the President, as you know, makes remarks to the Economic Club of New York. At 12:55 p.m. this afternoon the President will make remarks at the Republican National Committee Luncheon.
And the President will also do a couple of interviews today. He'll spend time with the Wall Street Journal Editorial Board this morning, and will tape an interview with Larry Kudlow of CNBC.
Q: Is that the down time at the hotel?
MR. FRATTO: Yes, that's right.
Questions, then I'll go to the week ahead later.
Q: Any reaction on --
Q: Why did the President intervene in the smog decision?
MR. FRATTO: What we were trying to do on the smog decision was try to have a decision that was consistent with our interpretation of the statute. This was not a weakening of regulations or standards governing ozone, but it was an effort to make those standards consistent.
There's no question that we have an interest in how federal regulations impact communities. You heard from a lot of -- and you will hear from a lot of communities around the country on how -- on their ability to comply with ozone standards. There's no question we want to continue to reduce the amount of pollution in the air; that's what the primary standard does. It puts in place the most stringent smog standards in history. It's going to be very difficult for communities across the country to comply with that standard.
But clearly, the EPA thought that was the appropriate place to end up in their regulation, and we've been -- we agree with that. What we were dealing with was more of a technical matter on the secondary standard, that would monitor the public welfare benefit of reducing particulate matter. And it's a different standard. We sought advice from the Justice Department, as you would expect us to do, in how to carry out our decision on that. And that's what we did, and we did it conforming with the law.
Q: Tony, any reaction to the Tibetan street protests, and the Chinese government's reactions to that?
MR. FRATTO: Yes.
Q: It's the Tibetan street protests.
MR. FRATTO: We believe Beijing needs to respect Tibetan culture; they need to respect multi-ethnicity in their society. We regret the tensions between ethnic groups and Beijing. The President has said consistently that Beijing needs to have a dialogue with the Dalai Lama.
Q: Ethnic groups in Beijing?
MR. FRATTO: And Beijing, so between --
Q: Ethnic groups and Beijing.
MR. FRATTO: Right.
Q: Has there been any contact between the U.S. government and China about this?
MR. FRATTO: I'm not aware -- not that I've heard since we took off.
Q: Tony, can you give us a sense on how much campaigning and fundraising the President is going to be doing over the coming months?
MR. FRATTO: Well, we'll certainly do a lot of fundraising. We'll do as much campaigning as we can, and that the House and Senate -- as much as the House and Senate parties want us to do, and our nominee-to-be, John McCain, Senator McCain would like us to do. Remember, it's his campaign, and we want to help in any way we can. The President will certainly be out raising a lot of money. We have far more invitations to host fundraisers than we can possibly fill. So we'll do as much as the President's schedule will allow.
Okay? Oh, I'm sorry, week ahead. This weekend the President will be at Camp David. He'll return to the White House on Sunday afternoon.
Monday, March 17th, the President meets with the Prime Minister of Ireland. That's in the Oval Office at 10:15 a.m. At 10:25 a.m. the President makes remarks at a St. Patrick's Day reception in the East Room. At 3:45 p.m. in the afternoon the President participates in a photo opportunity with the Children's Miracle Network Champion Children. That's at the South Portico of the White House.
On Tuesday we'll be traveling to Florida to talk about trade.
Q: He's not going to the Hill this year?
MR. FRATTO: I don't have that on the schedule right now, no. On Tuesday the President will travel to Florida to talk about trade, and we'll get you details as soon as we can.
On Wednesday, March 19th, the President makes remarks on the global war on terror. That's at the Pentagon, at 10:00 a.m. At 11:20 a.m. the President meets with the President of Georgia in the Oval Office.
On Thursday, March 20th, the President meets with the Prime Ministers of the Bahamas, Barbados, and Belize.
Q: Don't you think we should do that there?
MR. FRATTO: I think we should -- I do think we should do that there. It would be much more appropriate.
Thursday evening he'll overnight at Camp David, and be at Camp David through Easter weekend.
Okay?
Q: Thank you.
END 8:58 A.M. EDT
George W. Bush, Press Gaggle by Tony Fratto Online by Gerhard Peters and John T. Woolley, The American Presidency Project https://www.presidency.ucsb.edu/node/277516