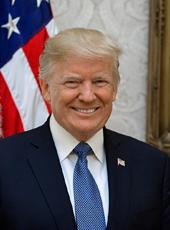 Press Gaggle by Principal Deputy Press Secretary Sarah Sanders
Aboard Air Force One
En Route Washington, D.C.
8:25 P.M. EDT
MS. SANDERS: I know that it's late and you guys are probably tired, so we'll keep this short. Obviously, the President was focused today primarily on healthcare in a meeting earlier today with a number of senators, as well as with Obamacare victims once he got on the ground here in Wisconsin. Also with a heavy emphasis on workforce development which he's focused on all week this week. And those are the big priorities that he spent the majority of his day today on and will continue through the rest of this week.
Again, because I know that you have probably lots of questions, I'll leave it at that and we can go ahead and jump in.
Q: Is the President considering whether or not he will fire or seek to have Robert Mueller fired as the Special Counsel?
MS. SANDERS: While the President has the right to, he has no intention to do so.
Q: Did the President watch any of the Jeff Sessions testimony? And what did he think?
MS. SANDERS: He wasn't able to watch much of it. He was preparing for the stop here today. But what he did see and what he heard -- he thought that Attorney General Sessions did a very good job, and, in particular, was very strong on the point that there was no collusion between Russia and the Trump campaign.
Q: Sarah, did the President call the GOP healthcare bill "mean" during his lunch with senators today?
MS. SANDERS: I'm not aware. I wasn't part of that meeting. But I know, in general practice, we don't comment on rumors or private conversations of that nature.
Q: Has the President authorized Secretary of Defense Mattis to set troop levels in Afghanistan?
MS. SANDERS: I don't have anything I can comment on that right now, and I would refer you to Secretary Mattis at this point.
Q: Sarah, the North Koreans sent back a university student who's in a coma. What does the President think about the fact that this young man is in a coma?
MS. SANDERS: Obviously, you know, that's extremely sad, but bringing Otto home was a big priority for the President. He worked very hard and very closely with Secretary of State Tillerson in order to do that. And right now, his thoughts and prayers are with his family.
Q: Can you give us a little bit more detail on that? What do you mean when you say he worked hard with Tillerson? I know this all sort of came to a head, I guess, on June 6th when the United States was informed about his condition. But can you give us some detail about meetings or discussions or what the President had?
MS. SANDERS: Not at this time. And the Secretary of State may be able to provide more information on that front.
Q: Sarah, the President has said he wants the Republican healthcare plan to be more generous. What does he mean by that?
MS. SANDERS: Again, I'm not going to comment on rumored conversations, but I'll let him -- he's been speaking about healthcare and his position on that. I think the big priority for him is the fact that Obamacare is completely collapsing and we have to repeal and replace it. And as he's made very clear, that's a big priority for him right now.
Q: Sarah, he said that in public.
Q: That was in a pool report.
MS. SANDERS: Okay.
Q: There has also been talk that a senate bill could even be coming out tonight. Is the President -- so far, when he heard from all these senators today, is he happy with the direction that the Senate Republicans seem to be going in? Is he pushing them to be more generous on preexisting conditions? Or -- you know, where does he stand in relation to the Senate bill?
MS. SANDERS: I think at this point, he's just encouraged that things are moving forward. And again, I think his biggest priority is making sure that we get the best healthcare possible for the American people because the one we have isn't sustainable. And so he's going to continue working with both the Senate and the House to make sure that Obamacare is repealed and replaced with something much better that's affordable and sustainable.
Q: Sarah, do you have any more details on the announcement that's expected on Friday about changes to Cuba policy? What parts of the Obamacare administration's policy is the President planning to roll back? And what is he planning to announce in Miami?
MS. SANDERS: There aren't any final decisions on that front yet. But as soon as we have information on that, I would be happy to share it with you.
Q: Just to follow up on that, you mean there's no final decisions? Or you just don't have them to provide for us?
MS. SANDERS: My understanding is there's not a final decision and that it's all still being reviewed at this time.
Q: But he is going down there despite the fact that no final decision --
MS. SANDERS: Again, we haven't made an announcement about that specifically, but we'll keep you posted when we do.
Q: Has the President decided when he's going to announce whether he has tapes of the Comey conversations?
MS. SANDERS: I don't know that he's made any more decision on that other than what he said at the press conference last -- that it would be soon.
Q: What are the President's feelings on Mueller at this point? Did he interview him for FBI director? And does he have confidence in him in his current role?
MS. SANDERS: I do know that he did interview him, I believe, the day before he was named as Special Counsel. And beyond that, what I said earlier, I don't have anything to add.
Q: Do you have any more details on the workforce development stuff -- whether the apprenticeship program is only in high schools or whether it would be corporations? Any more details on how that would work or how it would be encouraged?
MS. SANDERS: No. I know that some more details will be coming out at the event tomorrow, and certainly don't want to get ahead of any announcements there. But happy to answer questions following up from there.
Q: The President said something today about wanting to have every high school in the country have an apprenticeship program, and I hadn't heard that in any of the background information. Is that something that's going to be part of these announcements too? Or was he just kind of speaking a little off-the-cuff on that?
MS. SANDERS: Again, I'm not going to get ahead of any announcements or the event that will take place tomorrow. I'll let the President make those announcements at that time.
Anything else? Also, I do know -- just to add in, you had asked me specifically about the fundraiser tonight. It was for the Friends of Scott Walker, and I think roughly over 300 people attended.
Q: Do you know how much money was raised?
MS. SANDERS: I haven't heard that yet. But if I do, I'll let you know.
All right, thanks guys.
END 8:31 P.M. EDT
Donald J. Trump, Press Gaggle by Principal Deputy Press Secretary Sarah Sanders Online by Gerhard Peters and John T. Woolley, The American Presidency Project https://www.presidency.ucsb.edu/node/329203