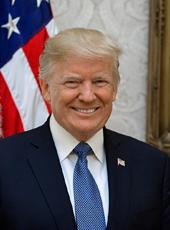 Press Gaggle by Principal Deputy Press Secretary Raj Shah
Aboard Air Force One
En Route St. Louis, Missouri
11:31 A.M. PDT
MR. SHAH: Okay, just very briefly, we're headed to Missouri, where the President is going to be going to Boeing, talking to both workers, executives, and local leaders about the tax cut bill that was passed last year, as well as other policies that we are enacting to help improve the economy, help spur investment in this country, help create jobs, expand wages, create better opportunities for workers and businesses -- American workers and businesses.
Remember, Boeing is one of the earlier companies that announced that they were going to provide bonuses and wage hikes to their workers. So we have seen this trend of hundreds of different companies making announcements along that front as a result of the tax cut bill the President signed into law. So we're looking forward to that event.
And with that, I'll take your guys' questions.
Q: British Prime Minister Theresa May is calling for the United States to cooperate more in dealing with Russia and the poison nerve gas attack. What is it you plan to do? Will you expel any diplomats, like Britain is doing? What are you planning to do?
MR. SHAH: Well, I won't get ahead of any potential announcements. But I'll say that, as the President said yesterday, it certainly appears to be like Russia, that Russia did commit this act based on all the evidence that Britain has available. The President did tell the Prime Minister on the phone yesterday that the United States stands 100 percent with our ally, the UK, on this matter.
Q: So no specifics about sanctions or potentially expelling folks?
MR. SHAH: I don't have anything specific at this moment.
Q: Does the President accept that Conor Lamb won in Pennsylvania-18?
MR. SHAH: So let me say a few things, just very briefly, about that race. You know, the President's engagement in the race turned what was, you know, a deficit for the Republican candidate into what is, essentially, a tie. Also, you know, the Democrat in the race really embraced the President's policies and his vision, whereas he didn't really embrace Nancy Pelosi and the Democratic Leader.
I'm not going to comment beyond that on the race; I'll let the political officials do that. But those are just the White House's observations on the election last night.
Q: What does that mean going into the midterms for Republicans' chances?
MR. SHAH: Well, again, I don't want to -- I want to observe the Hatch Act and not get too much into politics. Look, campaigns -- each campaign is unique, each candidate is unique. We saw that last night, and we'll see that in 2018.
Look, Republicans running for office -- and the President does want candidates that embrace his policies and his vision to win up and down the ballot. Republicans running for office have a great record to run on. They have a great record on the economy. And what the President is going to be able to talk about today, in Missouri, it's something that America hasn't and an American President hasn't been able to talk about in a long time: a booming economy, low unemployment, wages that are beginning to rise, and wealth rising in the country overall.
So a lot economic benefits, a lot of national security issues to talk about. So candidates that embrace the President going into this fall, we think, will have better prospects.
Q: A question on the Russia thing. Does the United States accept Britain's conclusion, or has the United States been involved in any way -- the FBI or anybody else -- in looking at the evidence in itself?
MR. SHAH: Yeah, the United States has no reason to question, and stands firmly behind our UK ally and their assessment in this matter.
Q: But can you confirm -- wait, my question is, though, has the FBI or any American organization examined the evidence or been involved in the investigation in any way?
MR. SHAH: I'm not aware of any independent assessment by an American law enforcement or intelligence agencies.
Q: Smattering reports that Larry Kudlow is going to be the next Gary Cohn. What do you have on that?
MR. SHAH: The President thinks very highly of Larry Kudlow. They had a great conversation on the phone yesterday. You know, many people do want the job of Director of the NEC. We'll have an announcement soon.
Q: Has he been offered the job? Was he offered the job on the phone call?
MR. SHAH: They had a great phone conversation and we'll have an announcement at the appropriate time.
Q: There was also a report, just as we were taking off, about the President would potentially be open to some type of short-term DACA deal. Can you talk about whether that's on the table?
MR. SHAH: The White House opposes a so-called "three-for-three" deal. In fact, as a result of the budget caps deal and the routine appropriations process, that should yield funding for a border wall in the omnibus. Securing the border is one of the most vital functions of the government and a core part of any routine funding bill. Separately, we've never stopped working to negotiate an immigration reform package that addresses DACA, stops illegal immigration, and secures and modernizes our legal immigration system.
Q: That's a no? He doesn't support any type of short-term? Or does --
MR. SHAH: What we're saying is that we have had ongoing negotiations on the issue of immigration along the terms that have been pretty publicly and well-discussed.
You know, if there were a deal cut and that could be added to the omnibus, we would welcome that. But right now, what was reported as a three-for-three deal is not something the White House would support.
Q: Raj, what's the White House response to these walkouts at schools all across the country?
MR. SHAH: Yeah, look, the President shares these students' concerns about school safety. That's why he's rolled out proposals that deal with background checks, such as support for the Fix NICS bill. We put out a statement of administration policy in support of the STOP School Violence Act. He's talked about the need to improve our mental health policy proposals for states, such as red-flag laws.
So there's a series of proposals that the President has rolled out as part of an ongoing conversation to address school violence.
Q: Did the President seem happy and satisfied with the wall prototypes that he saw yesterday?
MR. SHAH: Yeah, I mean, you saw him, right? I think he was energized by it. I thought that he really liked to see the different proposals that were out there.
You know, as a builder -- and I was in the briefing with him that you guys saw from border security personnel -- he really understands the differences between these different prototypes: the pros and the cons; what makes a certain type of prototype more effective in deterring illegal immigration and also more difficult to jump over. So, yeah, I think he got a first-hand, a really good look at the different options that are available.
Q: Is the President -- we heard that the President is pushing for additional tariffs on China. Can you talk a little bit about what the timeline might be for that, what mechanisms he might be interested in using, what this will look like?
MR. SHAH: I don't want to speculate on potential moves when it comes to tariffs. I will say that the President campaigned on, believes in strongly, that American workers and American businesses have been ripped off by foreign trade competitors and partners in the past, and he wants to level the playing field.
His goal is free, fair, and reciprocal trade agreements in which other countries grant American products and American exports just as much access as we grant to their products and their exports -- imports into the United States. He's going to be pushing for that, and there could be additional actions.
Q: What's the approximate timeline?
MR. SHAH: I'm not going to speculate on that.
Q: Could you give us, sort of, a definitive timeline on the Rex Tillerson firing? When did the President decide to do it? When did Kelly contact Tillerson? What happened exactly?
MR. SHAH: Well, as we've said, the White House did inform Secretary Tillerson about this -- about the President's decision on Friday. And he returned to the United States, obviously, from his trip abroad, and the announcement was made on Tuesday morning.
Q: Did Tillerson not believe what Kelly told him? Or was he buying -- trying to buy more time?
MR. SHAH: I wouldn't speculate on what Secretary Tillerson's perspective was. What I would just say is that he was informed of the President's decision on Friday.
Q: Could you tell us, was there any reaction to Senator Paul saying he will oppose Pompeo and Haspel?
MR. SHAH: Well, we think that Director Pompeo will make a fabulous Secretary of State. He'll receive broad bipartisan support, and he's really experienced and has great relationships on the Hill.
With respect to Gina Haspel, she's already won pretty public bipartisan support. Everyone from the Chairman of the Senate Intelligence Committee, Richard Burr, to folks like James Clapper and Leon Panetta have voiced public support for her. She would be a fantastic CIA Director. She would be the first female CIA Director in history, which is an important milestone. And we look forward to her confirmation.
Q: Is he comfortable with her history when it comes to torture and running one of those CIA black sites?
MR. SHAH: Her background will be evaluated like all people's backgrounds are during the confirmation process. But we are very proud of this pick and we believe that she will be confirmed and make a great Director of Central Intelligence.
Q: As the President said yesterday, he's close to getting the Cabinet that he wants. We're hearing about David Shulkin, we're hearing about Ben Carson, we're hearing about H.R. McMaster. What can you say?
MR. SHAH: There's a lot of speculation. We deal with rumors and innuendo all the time. There's no personnel announcements.
Q: Is he considering Perry as a replacement for Shulkin?
MR. SHAH: I have not heard that for certain. And again, I don't want to sit her and respond to every single rumor mill -- pieces of speculation that's thrown out there.
Q: Does the President have confidence in Secretary Shulkin?
MR. SHAH: Look, the President has confidence in his entire team. When he does not, you guys will know about it.
Q: Is McMaster leaving?
MR. SHAH: Again, more speculation. I'm not going to address any of it.
Q: Has the President talked to Bolton about being National Security Advisor?
MR. SHAH: Thanks a lot, guys.
Q: No, there's more.
MR. SHAH: Yeah.
Q: On Russia -- coming back on Russia. Prime Minister May has taken very significant action in response to what she considers to be an attack against the sovereignty of Britain. Why has the President not done something similar against what most people consider to be an attack on the sovereignty of the United States in terms of the election?
MR. SHAH: Well, I would step back and question the premise of that.
Q: (Inaudible.)
MR. SHAH: Well, hang on. The President's National Security Strategy laid out several specific -- and, you know, I think it's on four or five different specific page numbers -- lays out how the United States should be counteracting both Russian cyber threats and the election meddling that was engaged on in 2016, and that we suspect, and are preparing for, against two-thousand -- for 2018.
It involves a multi-agency, multi-pronged approach, which the Department of Homeland Security is working with state and local election officials to harden our defenses. It involves law enforcement dealing with this matter. It involves intelligence agencies dealing with this matter. There have been briefings with the President. There has been a National Security Council meeting on this matter. So this President is taking this matter very seriously.
There will be more things that we can make public about his actions. But we take the integrity of our elections extremely seriously. We are treating it with the utmost forethought, and frankly, we don't want to see the mistakes and the failure to act from the last administration plague our elections in 2018.
Q: You're talking about prevention rather than retaliation. What has he done for retaliation?
MR. SHAH: There are steps that I'm talking about that we can talk about. Then there are steps that we can't talk about publicly but that our adversaries know that we are engaged in.
Q: What happened to Johnny McEntee?
MR. SHAH: I'm not going to address that. Look, Johnny McEntee has taken a position at the campaign and I think he's going to do a great job.
Q: Will the President take some action that we can see that would be tied to what happened in Britain with the poison nerve gas?
MR. SHAH: Again, the President had a great conversation with Prime Minister May. I'm not going to get ahead of anything that may be announced or any statements that may go out.
Okay, thanks, guys.
Q: I have a question about California. In California, the President met with border security officials, he spoke to troops, he met with people who support him in the RNC fundraiser. Why didn't he meet with California lawmakers or maybe people who disagree with him on some policies issues?
MR. SHAH: Well, I think -- look, the visit was about supporting our troops at Miramar and also about border security. So he met with the appropriate -- both military officials but also with the appropriate border security personnel from the DHS Secretary -- you know, Kevin McAleenan at ICE and other appropriate officials.
All right. Thanks, guys.
Donald J. Trump, Press Gaggle by Principal Deputy Press Secretary Raj Shah Online by Gerhard Peters and John T. Woolley, The American Presidency Project https://www.presidency.ucsb.edu/node/335847