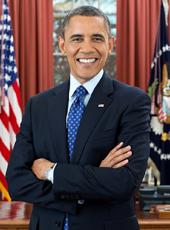 Press Gaggle by Principal Deputy Press Secretary Eric Schultz
Aboard Air Force One

En Route Los Angeles, California
2:45 P.M. PST
MR. SCHULTZ: Welcome, everyone. Before I do get to your questions, I wanted to take a minute to mark an anniversary. We've got a couple of anniversaries on this trip; this one is not as fortunate as yesterday's.
One year ago today, the President sent a detailed ISIL-specific AUMF proposal to Congress, and while we firmly believe we have the authority for our efforts against ISIL, passing an ISIL-specific AUMF with bipartisan support would provide a clear signal of unity to the men and women of our armed forces, to our allies, and to our enemies.
And as many of you will recall, since you covered it at the time, the AUMF reflected extensive consultations with members of both parties in both the House and the Senate. At that time, we heard loudly and clearly from members of Congress, like Senator Cruz, for example, who said, "It is long past time for the White House to seek an AUMF from Congress, which is the only body that has the constitutional authority to declare war." At the time, Senate Leader Mitch McConnell said, "It would be even better if the President asked us for what he wants. But we're not going to wait forever." And then-Congressman Ryan said it would a "good sign for the American foreign policy to have a new one updating our AUMF to declare our mission with respect to ISIS." As he said, "Congress is the one who declares war. This is Congress's responsibility."
Yet 365 days later, Congress has utterly failed to fulfill its responsibility. Meanwhile, the President's strategy to degrade and ultimately destroy ISIL has continued to make notable progress. For example, our coalition is now 66 partners strong. The coalition has launched nearly 10,000 strikes against ISIL in Iraq and Syria. ISIL has lost about 40 percent of the populated territory it used to control in Iraq. And in Syria, counter-ISIL forces are continuing to make progress towards Raqqa. And we assess that ISIL now fields 19,000 to 25,000 fighters in Iraq and Syria, which is the lowest assessed range since we began conducting rigorous reviews of the group's manpower in 2014.
So in all this, we just want to make one point abundantly clear -- that our men and women in uniform and our coalition partners on the front lines of our war against ISIL are all doing their jobs while Congress has remained, unfortunately, on the sidelines.
With that, I'm happy to take your questions.
Q: So you can talk a little bit about what the administration is doing to try to get Congress to move toward a vote on an AUMF?
MR. SCHULTZ: I can. In addition to spending many months consulting with them on the development of our text, and ceding to their request of sending up language, we have sent key leaders to testify before Congress, including the Secretary of State, the Secretary of Defense, and the Chairman of the Joint Chiefs. We've answered questions in public settings and in private settings, held numerous meetings with members of both parties. And the President appealed directly to Congress in both his 2015 and his 2016 State of the Union address, calling for Congress to step up to the plate.
Q: Eric, the President today talked about the state of the campaign, in Atherton. And over the past 24 hours, there's been a lot written about whether the success of Senator Sanders and the early troubles of Hillary Clinton suggest that the Democratic primary has become a referendum on the President's legacy, and so far, it's not running the President's way; that this dissatisfaction that voters have with Hillary Clinton is in part a dissatisfaction with the President's legacy, particularly among progressive Democrats. Does the President share those concerns? Do you share those concerns?
MR. SCHULTZ: Mark, I will quibble with one piece of the premise of your question, which is, Senator Sanders is someone who was at the White House a few weeks ago, and I believe went out immediately after his meeting in the Oval Office to speak with all of you, and told all of you that he believes the President has done a fantastic job. In a separate interview, he said the President has done an excellent job. So I believe that Senator Sanders has said he's very proud of the President's record over the past seven -- or eight years, and wants to build on that.
So the President has also said very candidly that he understands the energy that Senator Sanders has tapped into; that this has been a thread prevalent in our politics for many decades, and that it's real, and that the frustration in Washington is not something to dismiss, rather to acknowledge. And I think that's why you heard the President speak not only today about this, but also yesterday in his address to Springfield that we can all do a whole lot more to improve our politics and make sure that Washington is more responsive to its citizenry.
Q: I think a lot of people today are going to read those remarks as the President sort of trying to calm Democrats' nerves now that the race for the Democratic nomination has gotten a lot more unsettled. And people would see that as a way for him to sort of put the finger on Hillary Clinton, to tip the scale toward Hillary Clinton since established Democrats are worried that she might not be able to take her campaign as far they thought from the beginning. Is that the way people should read his comments?
MR. SCHULTZ: Kevin, I think you heard -- you mean the comments today?
Q: Yeah.
MR. SCHULTZ: The comments at today's fundraiser are comments that he's made for the past seven or eight years, or even longer. He believes that there is a choice facing this country this coming fall where Democrats and Republicans will present very different views on where to take this country. And that's regardless of where the Democratic nomination shakes out, or the Republican contest shakes out; that there will be a chasm in perspectives between the two general election candidates. Republicans continue to push forward on an agenda that wants to take us back to old policies, old economic policies. And Democrats want to build on the success of the past seven, eight years.
That success includes the longest stretch of private sector job growth in our nation's history. That success means the lowest rate of uninsured in our nation's history. That success means slowing the cost [growth] of health care costs to unprecedented levels. And that also means turning our energy sector -- turning our energy technologies to the most clean energy we've ever seen. And that also means the vast significant progress we've seen in education, like graduating the most high school seniors we've seen in a long time.
Q: Jay Carney said yesterday on CNN that he thinks there's no doubt that the President wants Hillary Clinton to win, and that that's his assessment after watching what the President has said. Is he wrong? Is one of your former spokespeople at the White House wrong about what the President is thinking on this?
MR. SCHULTZ: Toluse, I did not get a chance to see that interview or that segment, but I did see some of the reports on it. And I would just tell you that if you want the best insight into the President's thinking on the 2016 race, specifically the contest on the Democratic side between Senator Sanders and Secretary Clinton, I'd urge you to look at an interview he did a few weeks ago where he opened up pretty candidly about the race.
Q: What did he mean when said strange things can happen when people are afraid or frustrated or angry? What "strange things" is he referring to?
MR. SCHULTZ: I think the President wants to make clear that Democrats -- which was the audience for this event -- can't take anything for granted, and that when there is frustration in Washington, that that animates the electorate. And so, again, I think what he wants to do is lay out the choice that voters will face this fall.
Q: The President also mentioned the Supreme Court in his remarks today. Can you give us any readouts of people -- either international leaders or domestic leaders -- with who he's discussed this?
MR. SCHULTZ: Jeff, I don't have any private conversations between the President to read out to you. But as I think I mentioned yesterday, we have a robust outreach to our partners that helped negotiate the deal amongst just under 200 countries in Paris. And so that diplomacy and those discussions are ongoing.
Again, my colleagues have assured their counterparts in other countries that the United States is absolutely going maintain -- be able to make its commitment, again, despite this temporary, procedural determination by the Supreme Court earlier this week.
Q: Can I ask you one thing about Sunnylands? The summit begins I think in the afternoon of Monday and concludes maybe 24 hours later. The President is going to be at Sunnylands for three days before that. Will he be welcoming any of the leaders early in any way, perhaps to play golf or anything like that? Or will it strictly be personal time? Or can you tell us what you will do if he's not going to do that?
MR. SCHULTZ: I do expect the President to take advantage of gorgeous California and take some down time over this holiday weekend in advance of the summit. But if he has any -- if any of those work responsibilities or functions come up, we'll be sure to let you know.
Q: So you're not saying whether he's -- one way or the other whether any of the leaders would come early and be there early on the weekend?
MR. SCHULTZ: If I were you, I would check with those delegations to figure out their schedules. But again, if there's any engagements that involve the President, we'll let you know.
Q: Along the same lines, Eric, the outgoing leader of Myanmar, or Burma, Thein Sein, has said he will not be coming to the ASEAN Summit. What's the White House's reaction to that? Are you disappointed?
MR. SCHULTZ: Jeff, again, our view is this is a summit that gives us the opportunity to highlight the breadth and depth of our new strategic partnership with ASEAN countries. And it's an important opportunity for those heads of state to hold discussions with President Obama on critical political, security, and economic issues. So we understand the delegation lists are still being finalized. I urge you to reach out to their government to figure out who they're planning on sending.
Q: Yeah, we already know that. And that's my question. They're not sending Thein Sein. Does the White House have a reaction to that?
MR. SCHULTZ: I don't have a particular reaction. Again, we look forward to the discussion. But it's my understanding that the delegation lists are still being finalized.
Q: A couple of Flint questions. The mayor of Flint said that she wants Obama to visit the town and the city to see what's going on there. Is there a chance that the President will visit Flint sometime in the future?
MR. SCHULTZ: Toluse, I don't have any updates on the President's travel. As you know, the President had an opportunity to speak with the mayor a few weeks ago when she was in Washington. He found the conversation enlightening. He was able to hear firsthand about the conditions up in Flint. And he later I think spoke very publicly and candidly that he would be beside himself if his family was living under the conditions that that community has had to go through.
I think that's why you see this President marshal resources from the federal government across the board to make sure we're supporting the efforts in Flint. For example, as you know, FEMA is providing bottled water, filters, test kits and other items. HHS has public health experts on the ground providing a range of assistance. The CDC is assisting the state in assessing lead exposure in homes with children. And the EPA is, of course, sampling and monitoring residential water.
As you know, we also -- in a way to streamline our support, the President directed one official at the Department of HHS to manage our effort, to make sure that the people of Flint and leaders there were getting the assistance they needed.
Q: There are some Democrats on the Hill that want to link funding for Flint and for Zika. I'm wondering what the White House reaction is to that strategy.
MR. SCHULTZ: Toluse, I know that there's going to be a lot of machinations on the Hill over this. We obviously sent a proposal, supplemental funding bill to deal with Zika. That was about $1.8, $1.9 billion. We want Congress to start considering that swiftly.
As far as funding for Flint, we've said we would be supportive to make sure that Flint gets the funding they need. But in terms of specific vehicles, that's something we're going to defer to our colleagues on the Hill.
Q: Do you have a comment on John King being nominated to Education Secretary, and what message you have for Congress in terms of the confirmation?
MR. SCHULTZ: I do. We believe that now is the right time for the administration to nominate John King, and we believe now is the right time for Congress to move on this nomination. All too often we've seen Republicans play politics with our nominees. Our nominees are often slow-walked for months, if not years, and then they're typically confirmed almost unanimously -- 80 or 90 to zero.
So clearly, these are not objectionable officials. To the contrary, they're unquestionably qualified, brilliant, thoughtful policymakers. So we would urge Congress to move quickly to confirm Dr. King.
Q: -- the Internet tax bill that cleared Congress today?
MR. SCHULTZ: I don't have an update on that for you. I can check.
Q: Since you're spending the day fundraising, do you know -- has the President agreed to a specific number of fundraisers for each of the Democratic committees?
MR. SCHULTZ: Kevin, I don't have an update on that for you. As you know, today we're at an event for the Democratic Senatorial Campaign Committee and for the Democratic National Committee. We have a few more events later this afternoon. But the President is absolutely committed to making sure that Democrats have the resources they need to wage effective campaigns in 2016.
Thank you, guys.
END 2:59 P.M. PST
Barack Obama, Press Gaggle by Principal Deputy Press Secretary Eric Schultz Online by Gerhard Peters and John T. Woolley, The American Presidency Project https://www.presidency.ucsb.edu/node/311951