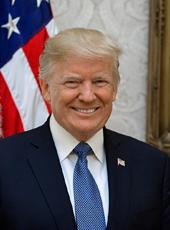 Press Gaggle by Press Secretary Sarah Sanders, Acting Immigration and Customs Enforcement Director Tom Homan, and a Senior Administration Official
Aboard Air Force One
En Route Yuma, Arizona
1:30 P.M. MST
SENIOR ADMINISTRATION OFFICIAL: Good afternoon. The President is going to visit a U.S. Customs and Border Protection hangar facility where we have unmanned aerial systems and some other tools and techniques we use to patrol the border.
The visit to Yuma is very relevant because it's an area where the strategy that the President is pursuing, articulated in his executive order, emphasized in his budget request for FY18, has worked, and worked dramatically. By putting up a border wall, by adding agents from 200 to 800, between 2005 and 2009, and including the technology and access roads needed to patrol the border effectively, apprehensions were reduced from 138,000 crossings in 2005, in just three years, down to under 10,000.
That's the kind of success that the President's strategy can realize in other parts of the border that are busier, such as Rio Grande Valley in South Texas. So it's a really important stop to emphasize his strategy and his message.
MR. HOMAN: I'm Tom Homan from ICE. Look, I'm here to support our sister agency, CBP. Look, immigration enforcement is more meaningful when you have a true interior enforcement strategy, which we have under this President.
So as a CBP official just said, the numbers on the border are down drastically, almost 70 percent last month. That comes hand in hand with better border security, better tools, better equipment, better technology on the border, together with a strong interior enforcement.
Interior enforcement is meaningful. For those who get by the Border Patrol, they need to understand there's no safe haven in the United States. So they got to understand, if you get by the Border Patrol, ICE is looking for you. I think hand in hand, ICE and Border Patrol is sending that message, and I think it has a direct reflect on the kind of apprehensions on the southwest border.
Q: What's the President's message to the Senate on this border issue with the funding held up?
MR. HOMAN: Look, I think the President's message is, we need a strong border and we need strong interior enforcement. What he's done so far has worked, so we need the funding to make it permanent. We need funding to build a wall.
Look, I've been doing this 33 years; I started in the Border Patrol. The border wall is successful. Wherever that border wall has been built, the numbers have declined. Less drugs, less bad people, less illegal aliens coming in. I mean bad people, I mean anybody who wants to come into this country and do harm.
The border wall works every place it's been -- San Diego, Yuma, El Paso. It's worked. It declined in apprehensions, declined in crossings. And I think together with interior enforcement, the President's plan is working. So the funding needs to come through to make this a permanent fix. We can only get better with more funding, more equipment, and more manpower.
Q: Just to be clear, those measures were made during the previous administration. Is that right?
SENIOR ADMINISTRATION OFFICIAL: They were made during the Bush administration, those investments, and sustained. But, really, the FY18 request is a reasonable, balanced request of a border wall -- $1.6 billion -- as well as technology, additional Border Patrol agents, additional ICE agents, and access and surveillance equipment that will let us patrol that border more successfully. So it's a balanced request that we support strongly at the operational level.
MR. HOMAN: Look, I think the message being sent on interior enforcement -- which wasn't part of the last administration, not to the extent it is now -- interior enforcement is sending that clear message that if you are lucky enough to get by the Border Patrol, in the last administration you're home free unless you commit yet another crime and get arrested and get put in jail, and get convicted of that crime. Now the message is clear: If you're in the United States illegally, if you happen to get by the Border Patrol, someone is looking for you. And that message is clear and I think it has a direct impact on the decrease in apprehensions.
Q: Do you think the President should pardon Joe Arpaio?
MS. SANDERS: I can speak to that, actually. I know that that's a question that you guys have asked a lot today. I can tell you that there will be no discussion of that today at any point, and no action will be taken on that front at any point today.
Q: And, Sarah, tonight is the first time the President has done a rally since the Charlottesville events of about over a week ago. What kind of a tone does he want to set when he's speaking before supporters tonight?
MS. SANDERS: This is a campaign event, so I can't get too deep into the specifics just because of the legal lines there. But I think the President was clear last night on what he feels like the tone of the country should be. I think he's been clear in every statement that he's made, and condemns hate in all form. He has been consistent in that, and I think you'll see that again not just tonight but throughout his tenure as President.
Q: Did he have any hesitation about doing this after the mayor of Phoenix encouraged him not to come, and just after the response to his comments last Tuesday?
MS. SANDERS: I haven't spoken to him directly about that, so I'm not sure if there was a hesitation on that front. But I think the President always appreciates the opportunity and the ability to talk directly to the American people. I think we saw that last night, and that certainly was a great moment and a positive step forward. And I think that he'll continue to do that. And the more that the President has the ability to talk directly to the American people, that's always a good thing.
All right, guys, I'll come back in between. If you guys have one or two more questions for these guys --
Q: What will he be doing between --
MS. SANDERS: We're going to sit down during the landing, but I'll come back if you guys want to ask one or two more questions of these guys before the stop.
Q: Is there anything we'll see today in terms of technology that is specifically new since the Trump administration came into office?
SENIOR ADMINISTRATION OFFICIAL: No. Those budget procurements are still happening under the FY17 budget. But this is technology that the President is investing in and is sustaining that's going to improve our capability. We're going to be getting more hours for our UAS and more mobile surveillance systems that aren't going to be demonstrated today.
END 1:37 P.M. MST
Donald J. Trump, Press Gaggle by Press Secretary Sarah Sanders, Acting Immigration and Customs Enforcement Director Tom Homan, and a Senior Administration Official Online by Gerhard Peters and John T. Woolley, The American Presidency Project https://www.presidency.ucsb.edu/node/330958