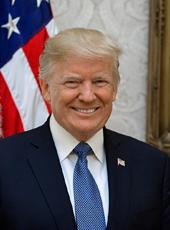 Press Gaggle by Press Secretary Sarah Sanders
Aboard Air Force One
En Route Nashville, Tennessee
5:08 P.M. EDT
MS. SANDERS: We'll keep the intro quick and jump straight in. Obviously, there's been a lot of news today around all the conversations with North Korea. The President thinks that the ongoing discussions are going very well and that the meetings taking place over this week that we talked about earlier this morning, and the statement I sent out, are certainly signs of progress.
As you know, Prime Minister Abe will be in D.C. next week, and we're looking forward to that meeting.
Otherwise, I'll jump right in and take a couple questions.
Q: Sarah, the President has been a big supporter of Roseanne Barr. What is his and the White House's reaction to her comments today and to ABC's decision to cancel her show?
MS. SANDERS: Look, as you know, the President has been extremely focused, as I just walked through the things going on with the upcoming summit. And the President is focused on North Korea. He's focused on trade deals. And he's focused on rebuilding our military, the economy. And that's what he's spending his time on; not responding to other things.
Q: Because he's been focused on that show before. I mean, he called her after the show did really well. Does he have a reaction to what she said?
MS. SANDERS: Again, the President spent his day focused on dealing with the things going on with North Korea, trade rollout this morning. A lot of activity going on at the White House that the President has been focused on.
Q: Does he think the show should have been cancelled?
MS. SANDERS: Again, that's not what the President is looking at. That's not what he's spending his time on. And I think that we have a lot bigger things going on in the country right now, certainly that the President is spending his time when it comes to policy.
Again, we've had some major policy announcements today both on trade and in the ongoing discussions around North Korea.
Q: You kept saying upcoming summit, and I think there's just -- to kind of put a button on it, at this point, is the President's letter operative? Or is it operative that he expects a summit to occur after the G7 in Singapore?
MS. SANDERS: Look, the President's letter specifically said that we were open to the meeting at the time. And again, we expect it to take place. But we'll see what happens. We're going to be prepared. If it takes place on June 12th, we'll certainly be prepared. If it for some reason takes place at a later date, we'll be prepared for that as well.
Q: What determines whether or not the summit is back on? What determines whether or not that gets rescheduled?
MS. SANDERS: I mean, I think there are a number of factors. Again, denuclearization has to be on the table and the focus of the meeting. And the President has to feel like we're making progress on that front. And the only one that will make that determination will be the President.
Q: Sarah, can you talk about why the President said the New York Times had made up that senior White House official when that White House official was someone that was in a press office-organized sanctioned briefing?
MS. SANDERS: Certainly. Obviously, the President knows his team. But the New York Times put something in their story that was completely out of context and wasn't what that official said, and stated that he had said the meeting was "impossible," which never took place and wasn't the comment of that official.
Q: Sarah, when the President visited Puerto Rico, he said it wasn't a "real catastrophe" because there were only, I think, 16 people who had died in the official government count at the time. There's a Harvard study today that I think said 4,600 people died as a result of the storm. So I'm wondering if that's changing the President's thought about whether this is a real catastrophe or the grade that he gave himself for the U.S. response to -- the federal government response to the storm.
MS. SANDERS: Certainly, we continue to be supportive of the Governor of Puerto Rico and the transparency and accountability. And the people of Puerto Rico deserve nothing less than that, and we're going to continue to be focused on helping in every way we can.
FEMA has already done the largest response ever in history to any natural disaster. They're in Puerto Rico, and we're going to continue to give as much assistance as possible. And I would refer you to them on some of those specifics.
Q: Sarah, this weekend the President tweeted that the policy of separating children at the border is "horrible." But that is a policy that was instated by his own administration. Why would he say that?
MS. SANDERS: Look, that's not what the President wants. The President has been extremely clear that he wants to close these loopholes. It's not a new policy that started under the Trump administration. In fact, a lot of the photos that you guys have tweeted out from the media blaming the President came from 2014 during the Obama administration.
The President wants to close the loopholes. He wants to fix the system. And he's called on Democrats in Congress to stop blocking this from happening and actually help get these things passed and actually fix our immigration system.
Q: Sarah, is the President concerned about the political turmoil in Italy and the effect that that's had on the stock market and the markets in general?
MS. SANDERS: Certainly something that we're watching. Obviously, we're keeping a very close eye on that. As we've said many times before, we want to focus on the long-term stability of the economy, and we're going to continue to do that. And we're going to keep an eye on what's going on in Europe.
Q: This weekend, Rudy Giuliani basically admitted that calling Mueller's probe a "witch hunt" is part of a public opinion effort -- an effort to sway public opinion. Is that what the President is trying to do? Is he trying to discredit this investigation when he says that?
MS. SANDERS: I think the President is stating a fact. It is a witch hunt. He knows exactly what he did and what he didn't do. And he's been very clear from day one that there was no collusion. The President won the election because he was the best candidate, because he had the right message. And Hillary Clinton was terrible, and the country rejected her. And I think we saw that overwhelmingly on Election Day. And the President has repeated the line that it's a witch hunt because that's what it is.
Q: Sarah, if the President doesn't want these families to be separated, does that mean that he opposes the zero-tolerance policy laid out by the Attorney General earlier this month?
MS. SANDERS: Again, the President wants to see the system fixed. He doesn't want to just keep kicking the can down the road. He doesn't think that's the best way forward. He wants to close the catch-and-release system. Again, this wasn't a policy that was created under this administration. But unlike previous administrations, we actually enforce the law. We actually think the law means something, and we're enforcing it. But the President wants to see that change because he wants these loopholes closed.
Q: Sarah, has the President had any conversations with Kevin McCarthy about a leadership succession in Congress? Let me amend that to say McCarthy or any of his allies or anybody on his staff?
MS. SANDERS: I'm not aware of a specific conversation. I mean, obviously he speaks to Kevin McCarthy periodically. But if you're asking if there's a specific support, I believe the President said that he'd allow the House to make that decision over that.
Q: The President tweeted this morning that he believes Robert Mueller's team is going to interfere with the midterm elections. I'm wondering if you can flesh out how he believes the Special Counsel's work is going to interfere with the midterm elections.
MS. SANDERS: The point he's making is that by continuing the witch hunt and the hoax, that they're impacting, and could meddle and impact the elections that are coming up.
Q: One quick one to follow on Jeff.
MS. SANDERS: Let me close to say that we got to take -- we'll take one more question before we sit down.
Q: Well, a quick one to follow on Jeff. You were talking about the long-term economic situation in Italy. The President obviously was a big supporter of Brexit. Does he believe that Italy should stay in the Eurozone?
MS. SANDERS: Sorry? I couldn't hear that last part.
Q: Does he believe Italy should stay in the Eurozone?
MS. SANDERS: I don't have a specific administration policy on that front right now. But we're going to continue to monitor what's happening there.
Q: And one more. Students have started to go back to school in Santa Fe, Texas today. Will the President stop there when he goes to Texas later this week?
MS. SANDERS: We'll keep you guys posted on the schedule. But we'll likely have some engagement with the people that were impacted by that tragedy. But we'll keep you posted on the specifics of what the Texas trip will look like.
Q: When will the North Korea decision be made, whether the Singapore summit is going to go ahead? Do you have a deadline for when you have to say yay or nay?
MS. SANDERS: We're moving forward, and we'll be prepared either way. And we're planning as if it is happening. And we -- again, we're expecting that to take place. But we'll be prepared, and that's what we're going to do right now is focus on the preparation side.
Q: Has he had --- has the President -- sorry -- had any direct communications with Kim Jong Un?
MS. SANDERS: Again, we're not going to comment on those comments.
Donald J. Trump, Press Gaggle by Press Secretary Sarah Sanders Online by Gerhard Peters and John T. Woolley, The American Presidency Project https://www.presidency.ucsb.edu/node/335877