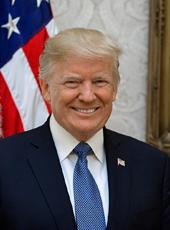 Press Gaggle by Press Secretary Sarah Sanders
Aboard Air Force One
En Route Miami, Florida
11:48 A.M. EDT
MS. SANDERS: We're tight on time, so I'll skip any introductions. We're headed -- to make it really brief, we're headed to Florida to a economic tax roundtable specifically with Hispanic business owners and business leaders.
The President will make remarks and take a few questions from the group at the roundtable. And then we'll head to Mar-a-Lago from there.
Q: Is the President going to have more Russia sanctions today?
MS. SANDERS: We'll keep you guys posted. As we said -- actually, I don't know if Raj popped back here and gave you a note, but we sent a note to the pool, I think, just as we were taking off. So you guys may have missed. We're evaluating, but nothing to announce right now.
Q: Sarah, do you know if the President watched the Comey interview last night?
MS. SANDERS: He saw bits and pieces of it. He didn't watch the entire thing.
Q: What was his reaction?
MS. SANDERS: I think it's pretty similar. We didn't learn anything new. Pretty much the same feelings. The President has been pretty clear what those are, as has the rest of the administration. Comey is a self-admitted leaker. Been proven to be dishonest. And I think that his credibility is really at hand, and it's quite interesting that he would question someone else's when he has such a lack of credibility himself.
Q: Just on Syria -- over the weekend, Macron said that he talked to the President and convinced him to double-down on the U.S.'s commitment to Syria. In light of his talk of a sustained commitment over the weekend, what is the U.S.'s commitment to Syria right now?
MS. SANDERS: Again, our policy hasn't changed. We're still committed to defeating ISIS. We want to see that happen. The President also wants the people in the region, our Gulf partners, to step up and do more, and he wants them to take on some of the financial responsibility of all of the military provided there in the region.
Q: Sarah, was President Macron mischaracterizing his conversation with the President?
MS. SANDERS: No. Again, the President is committed to defeating ISIS. We've talked about this for a while, but our policy hasn't changed. We still have troops on the ground. But the President wants to bring those people home, and that hasn't shifted.
Q: At the NSC meeting, he talked about bringing them home in about six months. Is that still operative?
MS. SANDERS: We don't have a timeframe on it. As I said in the briefing -- I know, at least, when I was asked either later that day or the next day -- we addressed that. It's not based on an arbitrary timeline, but on defeating ISIS and also getting the Gulf partners in the region to step up and do more both militarily and financially.
Q: What was the reason for Jon Lerner's withdrawal from being the VP's national security advisor?
MS. SANDERS: You know, I think he felt -- there's a specific statement on that. I can't quote it from memory right here. But I know he didn't want to be a distraction, and wanted to be able to focus on helping the administration move forward. And he's going to continue to serve Ambassador Haley and help her in that role.
Q: Sarah, is the President inclined to fire Rod Rosenstein? Has his thinking on that changed?
MS. SANDERS: I don't have any personnel announcements on that front at all.
Q: Did the President learn about the Lerner appointment in the media? Or where did the President learn that Lerner was --
MS. SANDERS: I'm not sure where he was specifically -- was notified, whether --
Q: Was he surprised by it?
MS. SANDERS: Look, he's a member of the administration. He's still continuing to serve in a capacity with Ambassador Haley, and that hasn't changed.
Q: Sarah, there was a report that the President was unhappy that 60 Russian diplomats were expelled -- that he wasn't happy with that number. He thought that the U.S. was much higher than other countries. Is that report accurate? What's the President's response to that idea of expelling 60 diplomats?
MS. SANDERS: The President is the one that gave the directive. The President has been clear that he's going to be tough on Russia. But at the same time, he'd still like to have a good relationship with them. But that's going to be determined by whether or not Russia decides if they want to be a better actor in this process or not.
But so far, we've seen that isn't the case, and the President is going to continue to be tough on them. And that's why we're continuing to evaluate a number of sanctions.
Q: And is Putin still welcome for a White House summit? Is that still on the table?
MS. SANDERS: The President still would like to sit down with him. Again, he feels like it's better for the world if they have a good relationship. But that's going to depend on the actions of Russia. We've been very clear, in our actions, what we expect. And we hope that they'll have a change in their behavior.
Q: Sarah, is Michael Cohen still the President's personal attorney?
MS. SANDERS: I believe they've still got some ongoing things, but the President has a large number of attorneys, as you know. But I don't have any updates on that front beyond what we've already said.
Q: And so when it comes to the court case today in New York, the President would like to keep his communications with Michael Cohen privileged and confidential?
MS. SANDERS: The President would like to keep the communications he has with any attorney under attorney-client privilege. That's the reason you have attorney-client privilege. My guess is all of you, if you have attorneys, would like to maintain that as well.
Q: Going back to the Syria air strikes, was the President pushing for options that would have included hitting Russian and Iranian targets in Syria?
MS. SANDERS: We're not going to get into any other options that were on the table. We're going to continue to keep a number of options on the table if Syria and Russia and Iran don't show to be better actors in this process. So I can't go any further than the targets that were part of the strike and successfully hit.
Q: The President tweeted earlier today about Andy McCabe. I'm just wondering if he still thinks that the way that his firing was handled by the Attorney General is satisfying, or does he want more action to be taken against Andy McCabe based on the reports --
MS. SANDERS: I think that's something for the Department of Justice to determine. Certainly, there's great cause for that to be looked into further. But that would be a decision of the Department of Justice whether or not they feel they should move forward with a more formal investigation beyond the IG report.
Q: Sarah, can you talk a little bit about the meeting with Abe?
MS. SANDERS: I'm sorry?
Q: Can you preview the meeting with Abe a little bit for us?
MS. SANDERS: We're going to do that a little bit over the next 24 hours. We'll have some of our team come back. But we expect it to be very positive. Obviously, the President has got a great relationship there, and it's going to be centered primarily on preparation for talks with North Korea as well as a lot of trade discussion is expected to come up.
Q: Trade, including maybe rejoining the TPP?
MS. SANDERS: I'm not going to get ahead of anything that may or may not happen in the meeting. But as the President said, he wants to make sure we have good trade deals, and we'll see what that looks like.
I'll take one last question.
Q: Speaking of trade, the President tweeted about China as a currency manipulator this morning. Why hasn't he officially labeled China a currency manipulator like he promised to during the campaign?
MS. SANDERS: They're on the watch list. That's something that the Treasury Department is watching very closely and we're continuing to monitor it.
Q: Is he still considering it? I mean, is this something he still wants to do?
MS. SANDERS: Again, they're on the watch list, and it's something that the Treasury Department and the administration is constantly monitoring.
All right, thanks guys. We'll circle back. I don't think we'll have time to do much on the next flight. But if you have other questions, we'll be around. Just let us know.
All right. Thanks guys.
Donald J. Trump, Press Gaggle by Press Secretary Sarah Sanders Online by Gerhard Peters and John T. Woolley, The American Presidency Project https://www.presidency.ucsb.edu/node/335865