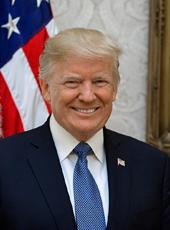 Press Gaggle by Press Secretary Kayleigh McEnany Aboard Air Force One
Aboard Air Force One
En Route Joint Base Andrews
7:40 P.M. EDT
MS. MCENANY: So I just wanted to give you guys an explanation of where we were. We were obviously outside of Fort Bragg. So the President met with Army Special Operations Forces. He gave the Presidential Unit Citation to our heroes who conducted the al-Baghdadi raid. What was it — a year and three days ago today? In Syria. It was a really special moment. It meant a lot to the President. He was with our heroes for about an hour, just having casual conversation, taking their questions, talking to them.
And then he ended the visit by paying his respects at a Special Forces memorial. So it was all in all about what — an hour and a half, I think? Is about right.
And I think that's about it for me. Did you guys see the breaking news while I was gone?
Q: Lil Wayne (inaudible).
MS. MCENANY: Well, there's that breaking news. The Lil Wayne breaking news — which, I will say, his account was not hacked. I know that there are reports out there that it was hacked. That's not the case.
The President met with Lil Wayne this morning, in Miami, in a really good, productive meeting. Lil Wayne's team had been talking to the White House, and Lil Wayne directly to the White House, for a little bit.
And it just materialized with the tweet today. It was a good meeting that the President had.
Q: Has the President been watching the stock market? It was — it's been down by 2,000 points over the last couple days. It went up a little bit more today, but it's been down. I'm just curious if he has a reaction to that.
MS. MCENANY: I haven't spoken to him directly about that. But I know he was quite enthused by the GDP numbers this morning: 33.1 percent, largest-ever growth in a single quarter. And it's more — it's making up about two thirds of what we lost in the pandemic. So he's very encouraged by that. And we continue to exceed expectations.
Another thing I would note is, did you guys see the other breaking news when I was gone, or — Hunter Biden?
Q: About Iran? Or —
MS. MCENANY: No. I'll give you a hint: Hunter Biden.
Q: Then no. (Inaudible.)
MS. MCENANY: A DOJ source confirmed that there's been an FBI —
Q: (Inaudible.)
MS. MCENANY: No, I'm — no, I'm just noting that there is a DOJ source that confirmed that there's been an FBI investigation going back to 2019 into Hunter Biden and his associates for money laundering. And the reporting says it's still open today. I don't know whether that's true. I guess that's for you guys to ask the questions.
So, for your colleagues, your DOJ beat reporters. So get them to ask some questions so we can find out.
Q: Did the President discuss that with the Attorney General at all?
MS. MCENANY: No. The President was unaware of that when the reporting came out. So, in fact, I saw the reporting on my phone and I showed him it.
Yeah.
Q: When you say that, "the team that did the al-Baghdadi raid," do you mean —
MS. MCENANY: Yes.
Q: — all of them? Most of them? Half of them? Can you give me a sense of —
MS. MCENANY: Yeah, I can't confirm exactly who was there. But I can just say that it was the team that conducted the al-Baghdadi raid and got the Presidential Unit Citation. I think this is the second one, I believe, this President has — has given out. So a very special, significant moment. And it was really wonderful to see the President interacting with our brave men and woman in uniform.
Q: Kayleigh, Dr. Fauci has made — is back in the news for advocating for a national mask mandate. Has the President — is he aware of that? Does he have any response to that call, and as cases go up in key states?
MS. MCENANY: I haven't seen Dr. Fauci's comments. The President has always followed CDC guidelines, which is: Wear a mask when you can't social distance. That's where the President has always stood. Yeah, nothing has changed.
Q: Was the President informed and was he concerned about what happened with his supporters at the Nebraska rally the other night after he left? Getting stuck in the cold for several hours.
MS. MCENANY: That's — the President loves his supporters. And in that particular case, we had — and again, this is more a question for the campaign, so I'm just going to repeat what they've said, which is that we had about double the buses as what the campaign normally has there. There were tents where there was hand warmers available, hot chocolate. There were some road closures that made it logistically difficult.
But the President loves his supporters; he wants to make sure they're taken care of. And, you know, we will — we look at each and every rally to make sure that that happens. But — but just make no mistake, he loves the men and women of Omaha and wanted to make sure that — that they were taken care of in the aftermath, and certainly as we saw the reporting.
Q: Was that a factor at all in the decision to postpone today's rally, to not have another situation where attendees might be in some —
Q: Harm's way.
Q: — harm's way?
MS. MCENANY: That was the campaign's decision, but as I understand it, there was bad weather and very strong winds. So it just — it wasn't possible to do.
Q: Kayleigh, the President has previously said that he might be willing to put money into his own campaign. Do you know if that's been discussed or whether he's still considering putting money into his own campaign?
MS. MCENANY: I'd have to refer you to the campaign on that. But, you know —
Q: But you've been speaking on behalf of campaign. Can we ask in your —
MS. MCENANY: Yeah, he's —
Q: — personal capacity if that's the case? Or —
MS. MCENANY: No, you know, I've just been repeating the statements that the campaign put out. But I can't provide any new information. That'd be the campaign.
Q: Does the President have plans to speak with Emmanuel Macron in France? Does he have plans to speak with Emmanuel Macron in France (inaudible)?
Q: Macron.
MS. MCENANY: Not that I'm aware of, but, you know, who knows.
All right, we're just trying to get from place to place as we approach this five-state [event] swing.
Q: Kayleigh, there was an NBC report about retaliation for the Soleimani killing against Pentagon officials. Is there any concern of something imminent happening?
MS. MCENANY: What was it?
Q: There was an NBC report about retaliation by Iran for the Soleimani killing.
Q: That they would target certain ambassadors, U.S. officials, or that kind of thing.
MS. MCENANY: Yeah, I — I haven't seen that or I haven't looked into that. But, you know, the President is very proud of his decision and our good, hardworking military men and women who are the ones who took out Soleimani and al-Baghdadi. Tremendous accomplishments. And I think our heroes deserve all the credit there, and this President for being a real leader and making those decisions.
But I got to go, guys.
(Goes off the record.)
(Goes on the record.)
Q: How did Lil Wayne come together?
MS. MCENANY: I mean, just back on the record, there's just been conversations that have been going on for quite some time. I mean, I think the President — you're seeing a number of people come in and support him because his accomplishments speak for themselves.
I mean, permanent HBCU funding, criminal justice reform, lowest black unemployment, homeownership going up, wages going up. And, of course, the pandemic — we had to artificially shut down the economy, but it's coming back, and I think the GDP numbers today are evidence of that. And I think you're seeing a lot of supporters come off the sidelines and want to join the President in a second term.
Q: Is the President concerned about the rising cases that we're seeing across the country? I mean, is he expressing some worry about, you know, a worsening situation economically, for example?
MS. MCENANY: Economically?
Q: Yes.
MS. MCENANY: The President believes that we're going to continue to go on the trajectory we're currently on, which is back to the hottest economy in modern history. We're constantly monitoring the pandemic. But it's worth noting, as the President has consistently, that we've seen an 85 percent reduction in the fatality rates. We have working therapeutics now. We're at a different place now than we were in March, certainly. We have a great testing system — a high volume of tests.
And I think what you're seeing is, if you're under 70, your chances of surviving are upwards of 99 percent. And above 70, it's still very close to that range because it's testament to remdesivir and dexamethasone, and the President breaking down barriers, deregulating, and making those possible.
And we're still hopeful for a vaccine by the end of the year. It'd be the fastest vaccine in history, and President Trump deserves all the credit for that.
Thank you, guys.
END 7:48 P.M. EDT
Donald J. Trump, Press Gaggle by Press Secretary Kayleigh McEnany Aboard Air Force One Online by Gerhard Peters and John T. Woolley, The American Presidency Project https://www.presidency.ucsb.edu/node/346740