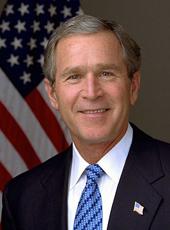 Press Gaggle by Gordon Johndroe
Aboard Air Force One

En Route Canada
11:48 A.M. EDT
MR. JOHNDROE: The President is on his way to Canada now for meetings with the President of Mexico and the Prime Minister of Canada. First of all, he had his normal intelligence briefing this morning. He's also been briefed on the latest with Hurricane Dean. As far as that is concerned, our Ambassador in Jamaica has taken action there to free $100,000 in initial funds for Jamaica. Southern Command has also moved some assets into the area, some ships, in case they are needed in Jamaica.
When it comes to Mexico, USAID, the Agency for International Development, and specifically its Office of Foreign Disaster Assistance, has sent additional personnel to Mexico and will be there to help them as they assess their potential needs as Hurricane Dean strikes.
It's also -- we know that FEMA continues to work with Texas, although it's less likely at the moment that Texas is in the direct path, but it's something that we don't take lightly and will continue to monitor.
Also, with regards to the remnants of Tropical Storm Erin and the flooding that that has caused, the President was also briefed on that this morning. Secretary Chertoff is on board for the trip to -- for the meetings in Canada. He will update the President on FEMA activities, both in preparation in Texas, as well as on the remnants of Tropical Storm Erin in Oklahoma and the Midwest.
Also on board is Secretary of Commerce Gutierrez, traveling to Canada for the meetings with the Mexicans and the Canadians.
One update to the schedule: On Air Force One, prior to takeoff, the President awarded a Department of Defense Medal for Exceptional Public Service to Harry McKillop, age 85, of Dallas, Texas. For nearly four decades, Mr. McKillop has undertaken missions to find Americans either captured or lost as POWs and MIAs, or men, women and children kidnapped and imprisoned in foreign lands. Mr. McKillop served as a naval officer aboard the USS Phoenix in the Pacific during World War II.
This afternoon, when the President lands at 1:15 p.m., he'll be greeted by the Governor General of Canada. We will then head to the meeting location and the President will meet with Prime Minister Harper, then have a bilateral with President Calderón. And then the three leaders will participate in a dinner about 7:00 p.m. tonight, where they will focus on Western Hemisphere affairs issues.
And with that, I'm happy to take your questions.
Q: Two on Iraq, if I could. First, Prime Minister Maliki is in Syria. Are there any concerns about that kind of a mission to Syria? Is he carrying any particular message that you know of?
MR. JOHNDROE: Well, I think, one, we want the Iraqis to have good relations with their neighbors. That's important. But I also think that the Prime Minister will be delivering a message to the Syrians, which is, please stop allowing foreign fighters, extremists, to enter Iraq through your country.
I think that the Prime Minister feels strongly about that. He knows it's a problem of foreign fighters coming over the Syrian border into Iraq and then killing innocent Iraqis, killing American and coalition forces. And so I think it's important that they have good relations with Syria, but I also know that he'll deliver -- likely deliver a strong message that a stable Iraq is in the interests of Syria.
Q: And the second one is, there's been some confusion about the whens, hows, wherefores of the Crocker-Petraeus testimony to Congress. Can you say when they're going to testify before Congress and under what conditions?
MR. JOHNDROE: Yes. General Petraeus and Ambassador Crocker will testify in open hearings on the Hill. Administration officials are reaching out to Hill leadership today to discuss with them the potential dates for that testimony. Given the tight schedule leading up to September 15th and the congressional recess with Rosh Hashanah coming up, the likely dates for testimony are September 11th and 12th.
Q: That's really just because of the tight schedule and not because it's September 11th?
MR. JOHNDROE: That's right. Congress is not -- as of right now, based on the last we checked, Congress is not in session because of the Rosh Hashanah holiday, very much the week leading up to that Saturday, September 15th.
Q: Have you heard anything about Calderón might not stay because of the hurricane?
MR. JOHNDROE: As of right now, the schedule -- the scheduled bilateral meetings with President Calderón are going forward. We have been in touch with the Mexicans. I know that the Mexicans are monitoring the situation as Hurricane Dean approaches. No change in the schedule as of noon Eastern right now, but obviously we're staying in touch with them and would understand, certainly, if he needed to cut his visit to Canada short to return to Mexico to deal with problems there.
Q: What is the top thing that you expect to come out of this summit?
MR. JOHNDROE: Well, I think this meeting is a reaffirmation of the commitment that all three of these countries have to creating a secure and prosperous continent. I think they're going to go over a number of issues on both the security and the prosperity front, from trade to border security to a host of issues. And I think that we've got very close relationships -- relations with these two countries, and this meeting reaffirms that.
Q: Do you expect this meeting to yield any concrete agreements?
MR. JOHNDROE: I don't expect any major announcements to come from the meeting. I think it's a continuance of discussions that we have regularly with our two closest neighbors.
Q: Gordon, what do you make of Canada's quest to claim the Northwest Passage?
MR. JOHNDROE: We look at the Northwest Passage as an international waterway, and want the international transit rights to be respected there. But certainly President Bush will listen to what Prime Minister Harper has to say. But I know that the Canadians and the Russians have had some discussions and some little back-and-forth on the issue. So that's separate and apart, I think, from the Northwest Passage.
Q: On the NSA wiretap stuff, documents for the subpoenas are due today. There's word that Fred Fielding is going to ask for more time. Why is that?
MR. JOHNDROE: Mr. Fielding sent a letter to, I believe, Senator Leahy last week outlining why additional time was necessary, I think in part because we didn't -- an August 20th deadline was not in the original request. But I think Mr. Fielding's letter lays out specifically how we're going to work with them and hopefully come to some sort of accommodation. So we'll get you a copy of that.
Q: The Canadian press is reporting that the three leaders are going to be announcing some sort of new border protocol, for like if an emergency happens, these kind of regulations would take effect -- eliminate tie-ups that we saw back in -- under September 11th.
MR. JOHNDROE: I think -- two of the topics on the agenda are emergency preparedness, as well as border security. So I'm sure they'll discuss the issue. But I don't have any specific announcements to make right now.
Okay?
Q: Thank you.
Q: Gordon, is that why -- the awarding of the medal, is that why we were delayed 15 minutes on the ground?
MR. JOHNDROE: Yes.
Q: And does that gentleman work with any organization in particular?
MR. JOHNDROE: Not that I'm aware of.
END 11:57 A.M. EDT
George W. Bush, Press Gaggle by Gordon Johndroe Online by Gerhard Peters and John T. Woolley, The American Presidency Project https://www.presidency.ucsb.edu/node/276085