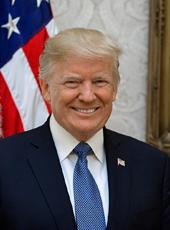 Press Gaggle by Deputy Press Secretary Lindsay Walters
Aboard Air Force One
En Route Bismarck, North Dakota
3:14 P.M. EDT
MS. WALTERS: Good afternoon, everyone. We've had an eventful flight. We're almost in Bismarck, North Dakota. I wanted to start by giving you a brief hurricane update:
While we continue to focus on the critical rebuilding and recovery efforts in Texas, we are closely monitoring Hurricane Irma. We urge all residents and tourists in Florida, Puerto Rico, and the U.S. Virgin Islands to listen to local authorities during this dangerous storm.
The White House, FEMA, and all federal agency partners stand ready to assist. I can tell you that, today, the President spoke to the governors of Florida, Puerto Rico, and the U.S. Virgin Islands.
So, as you all know, tax reform is at the top. As we move to Bismarck, North Dakota, tax reform is at the top of the President's agenda. The President has been speaking about simplifying our tax code for the benefit of all Americans since the early days of the campaign. And here we are, on our way to North Dakota, to see him again demonstrate this commitment to the American people.
Fixing our broken tax code is the single-most important action that we can take to boost our economy and help the middle class get ahead. We must streamline in order to eliminate advantages for those who work the system. We must inspire job creation and wage growth. We must encourage multinational companies to invest their money in the United States. And we must provide tax relief for middle-income Americans.
In doing so, this tax reform will bring jobs, bring back wealth, and bring back hope. This will ultimately result in a better life for all Americans.
Following the productive conversations that took place yesterday with key members of Congress and his administration, and again this morning with the bipartisan congressional leadership, the President is now on his way to Bismarck to address the issue with the American people at the Andeavor Refinery. This is the President's first trip to North Dakota and his fifth trip west of the Mississippi River since his inauguration.
North Dakota has demonstrated history of bipartisan support for tax reform. In 1986, the last time Congress passed major tax reform, President Reagan's tax plan received support from a Democratic senator in North Dakota. The President is looking forward to a meaningful discussion today with Senator Heitkamp to continue this bipartisan legacy as he continues to encourage cooperation over congressional leaders across the aisle on such an important issue.
Only through such cooperation will productive work begin this fall to ensure this critical legislation makes its way through Congress and ends up on the President's desk.
One thing additionally to highlight today: The President will continue to contrast the offshoring model that has resulted from the current tax code with the American model that our reforms will implement. As you know, we have four principles: We need to cut the a tax code that is simple, fair, easy, and -- easy to understand. We will cut taxes for middle-class families. We will restore our competitive edge so we can create more jobs and higher wages for all Americans. And we will bring back trillions of dollars currently parked overseas.
To give you three excerpts from today's speech -- excerpt number one: "I want all Americans to be inspired by the North Dakota example. This state is a reminder of what can happen when we promote American jobs instead of obstructing them."
Second example: "Both the Reagan tax cuts were passed by a Democratic majority in the House, a Democratic Speaker, and the vast majority of Democrats in the Senate, including the Democratic senator from the great state of North Dakota. If Democrats continue their obstruction, if they don't want to bring back your jobs, raise your pay, and help America win, voters should deliver a clear message: Do your job to deliver for America or find a new job."
With that, one other thing that has been on the top of a lot of your questions today has been the President and First Lady's personal donation to Hurricane Harvey relief efforts. I'm proud to let you know that, today, President Donald J. Trump and First Lady Melania Trump announced a personal donation of $1 million to Hurricane Harvey relief efforts, and have designated 12 organizations to receive contributions.
The President and First Lady witnessed the work of some of these groups firsthand while visiting with hurricane survivors, first responders, volunteers, and federal, state, and local officials, and are proud to further assist the recovery efforts in Texas.
Several of the following organizations were recommended at the invitation of the President by members of the White House Press Corps. He would like to thank those who made recommendations for their attention to this important cause. The President and First Lady continue to pray for the people of Texas and Louisiana. The organizations in which the President and First Lady will be donating to are: Reachout America, Red Cross, Salvation Army, Samaritan's Purse, ASPCA, Catholic Charities, Direct Relief, Habitat for Humanity, Houston Humane Society, Operation Blessing, Portlight Inclusive Disaster Strategies, and Team Rubicon.
With that, I will take your questions.
Q: Vice Chair of the Federal Reserve, Stanley Fischer, resigned today. I'm wondering whether the White House has any reaction and if you can give us any insight into timing for filling some of the empty spots on the Fed.
MS. WALTERS: I believe Mr. Fischer was going to put out a statement this afternoon, if he hasn't done so already. We have no announcement at this time, and we'll keep you abreast as we have a personnel announcement for that position.
Q: The last time the President did a trip like this for tax reform, he called out the Democratic senator in Missouri by name. He was pretty tough on her. Senator Heitkamp, of course, traveled with him today. Is she going to get similar treatment or different treatment?
MS. WALTERS: I'm not going to get ahead of how the President -- what he's going to say in his speech. But as you saw, the President is committed to reaching across the aisle and having this be a bipartisan effort to pass tax reform. You mentioned the Senator is on board today with us.
Q: I know the President came back and told us earlier about the three-month extension. Is that three months -- is that what he asked for, or was that a negotiation, a compromise with the Democrats? That three-month extension, did he want something longer?
MS. WALTERS: There are a lot of items that are on the President's agenda this fall. Pushing this three months allows us to focus on tax reforms and those other issues that are important right now as we move forward.
Q: They have the money for the hurricane relief. Is that coming from the Trump Foundation or from the President's personal bank account?
MS. WALTERS: The President and First Lady are making this donation. I believe it is from them. I will confirm that for you, but I believe it is their personal account.
Q: And then also, the tax reform bill that you guys are referring to as an example of bipartisan cooperation that Reagan signed into law, my understanding was that was a revenue-neutral piece of legislation. Is that something that the President is hoping to achieve with his tax reform bill?
MS. WALTERS: The President is hoping to get a tax reform bill that works for all Americans. As we said, this is something that needs to build up the middle class.
Q: Lindsay, one of the big questions around DACA is what will happen to those who are serving in the military. Has the White House considered what will happen in particular to these Americans, or these DREAMers specifically?
MS. WALTERS: The White House is hopeful that Congress will do their job. We've called on Congress to take action. They have six months to put a bill on the President's desk to be signed, and we hope that Congress gets to work and does their job.
Q: The President said that if they didn't, he would revisit the issue, suggesting that he'd take some kind unilateral action if they don't do anything in six months.
MS. WALTERS: The President called on Congress to address DACA and other immigration reforms. If Congress does not take action on its own initiative, the President will make the case more directly to the American people to help ensure that Congress does its job.
Q: Only at the end of six months he's going to make his case to the people?
Q: What does that mean?
MS. WALTERS: The President has called on Congress. Congress has six months to act, and that's what they need to do right now.
Q: And if they fail, what happens? What does he do?
MS. WALTERS: I'm not going to speak to hypotheticals. Congress has six months to --
Q: He raised the hypothetical, so --
Q: He said he would revisit it.
MS. WALTERS: The President addressed this earlier. As I said to you, the President has called on Congress. If Congress does not take action on its own initiative, the President will make his case more directly to the American people.
But right now, Congress needs to act. We need to be asking the question of Congress: Are you going to do your job? What are you going to do to ensure that in six months there is a bill on the President's desk?
Q: What case is he going to make to the American people? Is it, you should provide protection for these DREAMers? Or should pass a border security bill? I mean, what is the case he is going to be making after that time?
MS. WALTERS: I go back to what I said; why don't we ask Congress if they're going to do their job? Congress has six months to place a bill on the President's desk and to have real and responsible immigration reform. And that's what they need to do. They need to work on immigration reform, and let's look at Congress and see if they can get something done in the next six months.
Q: Would the President sign a clean DACA bill just to do with the DREAMers and restoring their status?
MS. WALTERS: Right now we're focused on Congress doing their job and passing a responsible and real immigration reform.
With that, because I know we're about to land, I'm going to let Marc Short take a few questions, since he's here with me, to speak this morning about the meeting that occurred with the Minority Leaders.
MR. SHORT: And I just want to answer your questions. I think the President talked earlier about the cordial environment in the meeting and the need to have a bipartisan solution on several of the big issues we're facing. And as Lindsay mentioned to you, we believe that helping to clear the decks in September enables us to focus on tax reform for the American people. We need to get the economy growing again, and that's what the President is focused on.
Q: Marc, on DACA, why couldn't you say what the White House is doing behind the scenes to get a deal on the President's desk six months from now? What will that deal look like? What will the White House --
MR. SHORT: Well, behind the scenes, I wouldn't bring it out here in front of you. But I think that you'll see the administration looking forward to lay out its principles in a broad sense on what we would want to see done. I think the President has also made clear that he does believe that we need to help ensure border security.
Q: And will the President be engaging now? Why wait six months from now to get engaged?
MR. SHORT: I think the President has been engaged all along on these issues, and you'll continue to see him engaged.
Q: Marc, on the debt ceiling, members of the Freedom Caucus and other members -- Republican members in the House -- were not thrilled with tying the debt ceiling to Harvey relief and the CR. Is the President going to be talking to them, reaching out to make his case of why to support that deal?
MR. SHORT: I have a meeting with members of the Freedom Caucus tomorrow, and I've heard other Freedom Caucus members make the case for a shorter-term debt ceiling extension.
Q: Tied to the Harvey relief?
MR. SHORT: They made a case for a short-term extension. They're going to, it looks like, get a shorter-term extension.
Q: Marc, how concerned is the White House, if at all, that having this three-month deal expire when it does in December puts extra pressure on tax reform? I mean, does it pose risk for messing that up in terms of the timing?
MR. SHORT: I think it puts pressure on all of us to get tax reform done before December. I think that we know that the economy has struggled for too long, and we need to get it turned around.
So it does help to put it front and center for all of us, and that's what we need to be focused on for the next three months. Because you're right, December is going to have a lot on the plate.
Q: On tax reform, is the President still committed to a 15 percent corporate rate? Or is he willing to negotiate on that at all?
MR. SHORT: The President wants a 15 percent corporate rate.
MS. WALTERS: Okay, I think we're going to head back, as you guys can feel the turbulence.
Thanks again.
Q: Do you think you'll have something more on Fischer later then?
MS. WALTERS: Not today. Fischer was putting out a statement, though -- which probably came out while we were in the air.
Q: The White House isn't going to have a --
MS. WALTERS: Let me get back to you on that. We don't have a personnel announcement at this time. So should there be --
Q: And no reaction to him leaving, in the sense that he's a very senior guy --
MS. WALTERS: Let me get back to you on that.
Q: Yeah, yeah, okay. Thank you.
MS. WALTERS: You're welcome.
END 3:26 P.M. EDT
Donald J. Trump, Press Gaggle by Deputy Press Secretary Lindsay Walters Online by Gerhard Peters and John T. Woolley, The American Presidency Project https://www.presidency.ucsb.edu/node/331055