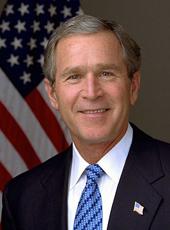 Press Gaggle by Dana Perino and Admiral Ziemer
Aboard Air Force One
En route Hartford, Connecticut
9:52 A.M. EDT
MS. PERINO: Okay. We are on our way to Connecticut, and I have a special guest with me, Admiral Tim Ziemer, who I will turn over to in a second, because he heads up the President's Malaria Awareness Initiative and was with the First Lady yesterday and has an update for you. Let me do that schedule really quick and then I'll turn it over to him and then take questions at the end on other topics, if you have them.
At 7:00 a.m. this morning the President taped his radio address. In it he will call on Congress to pass the Ensuring Continued Access to Student Loans Act to help ensure the stability of student loans. I would refer you back to maybe either the gaggle or the briefing from the other day, in which I explain the concerns that we've had and the letter that Secretaries Paulson and Spellings sent, and Director Nussle, calling on the Senate to move swiftly on this education authority to purchase federal family education loans, because we are concerned about a possible problem when the students start applying for loans -- which their peak season comes up in July and August this year.
And then at 8:00 a.m. he had his normal briefings. At 9:00 a.m. he signed the Presidential Proclamation in honor of Malaria Awareness Day. I'll let Admiral Ziemer talk a little bit about that. At 11:10 a.m. the President will visit the Northwest Boys & Girls Club, and then at 11:45 a.m. will make a statement on Malaria Awareness Day. At 1:35 p.m. he attends a David Cappiello for Congress and Connecticut Victory 2008 reception. And then he'll return to the White House at 4:20 p.m. tonight.
Onboard the aircraft is Congressman Chris Shays. So before I do the week ahead or answer other questions, let me turn it over to Admiral Ziemer.
ADMIRAL ZIEMER: Good morning, everybody; nice to be with you. Today one of the events, which is a continuation, really, of two years of events of this administration's commitment to doing something about the malaria problem in Africa -- is to highlight the fact that in addition to the U.S. government's position, it's essential that we get partners engaged. In addition to our bilateral and G8 partners, it's important for the private sector and the civic sector and the business sector to engage.
So today we're highlighting and acknowledging the fact that, based on the White House summit last year that the President and First Lady hosted, where the Boys & Girls Club pledged to participate on the civic side to build awareness and to get engaged as kids in the fight against malaria -- so today is an opportunity to showcase the outstanding work that the Boys & Girls Clubs have already done in one year to acknowledge a couple key individuals who have actually gone out and raised $11,000, $20,000, $30,000 and giving it through "Nothing But Nets" or through "Malaria No More" channels to save lives in Africa.
So today, again, we're acknowledging the civic side of the partnership, acknowledging some individual efforts and continuing to support the Boys & Girls role in the fight against malaria.
Q: Senator McCain I think today pledged to end malaria in Africa if he becomes President. Is that a realistic goal?
ADMIRAL ZIEMER: Yes. Scientifically, it is. When you look at the complexity of the context of each country, of course it begs the question, "Can we?" But malaria is a disease that we understand, we know what causes it and we know how to prevent it and we know how to cure it.
To date -- and let me -- the other context is, to date, 3,000 kids are going to die of malaria in Africa. And if, in fact, we know how to prevent it and we know how to cure it, that's unconscionable. This administration has embraced two major infectious diseases: HIV/AIDS and malaria. And this President, with a $1.2 billion commitment, has basically energized the malaria fighting community.
So along with our other funding partners -- like the Global Fund, of which 30 percent of the money comes from the U.S. taxpayers and the World Bank, of which the United States government is contributing a lot to, and the Gates Foundation, and then the private sector, like "Malaria No More" and "Nothing But Nets" -- we're seeing a 300 percent increase in funding.
So with the awareness and with the leadership coming together through WHO, through governments and through the private and civic sectors, and, most importantly, with our host governments, I think that we must say elimination is the goal. And let's not pin ourselves down on a timeline, because what's going to happen -- if people trying to figure out when we're going to eliminate it, we're going to fall short. This is a complex disease, it's been around for thousands of years and I think today what we're seeing is more funding, improved leadership and the science and the commitment to move in that direction. So I'm encouraged that people are talking about elimination.
MS. PERINO: Can I say one thing? The President is going to today talk about Zanzibar and the example there -- could you give that to them as a preview?
ADMIRAL ZIEMER: Yes. The President's Malaria Initiative has invested, to date, about $300 million. And with our other partners we're seeing some significant trends. In Zanzibar -- and the President will highlight this -- using blood smears, positive proof, we're seeing infection rates of 20 percent from kids going into the clinics, to less than 1 percent that are positively infected with malaria.
MS. PERINO: Is that over two years?
ADMIRAL ZIEMER: Over two years. And that's after the use of bed nets, insecticide-treated bed nets and spraying homes. In Malawi, where we have really accelerated the distribution of insecticide-treated bed nets, we're seeing a drop of 43 percent in anemia. And of course, malaria causes anemia, which is a significant thing.
We're also seeing significant percentage drops in places like Tanzania and Uganda. I brought along some handouts here, which has specific data on what we've done and some of the trends -- I'll be happy to leave with you if you find that helpful.
Q: Can I ask about the funding? The President this year proposed $30 billion over five years for HIV, and Congress approved $50 billion. So why the disparity? Why so much more for HIV than for malaria?
ADMIRAL ZIEMER: I would say there's a correction: Congress hasn't approved it; the House has approved the bill, and the Senate is still working through it.
Q: But still a wide disparity from the President's proposal of $30 billion, his own proposal, versus $1 billion [for malaria].*
ADMIRAL ZIEMER: HIV/AIDS is a huge problem. When you look at the complexity of HIV, a lot of funding is needed. But what's significant in this PEPFAR bill is tucked in, in the same bill, is authorization for increased funding for malaria and TB. So what's significant here is that this bill recognizes again that this administration is committed to doing a whole lot more against the infectious diseases of HIV/AIDS, malaria and TB.
So if you look on, like, page 32 of the bill, you'll see that malaria and TB funding has increased. It's authorized up to a billion a year, which has never been -- happened.
Q: Is that a White House proposal?
ADMIRAL ZIEMER: Yes.
Q: That's the White House --
ADMIRAL ZIEMER: It's in the bill.
Q: It was proposed by the President, as opposed to inserted in the bill by Congress?
ADMIRAL ZIEMER: It is the congressional bill.
MS. PERINO: We'll check to see if that was our original proposal.
ADMIRAL ZIEMER: But it also reflects this administration's commitment -- let me just remind you, in 1997 USAID spent a million dollars on malaria in Africa. This year as we ramp up, my budget is $388 million for only 15 countries. So this administration and this Congress has changed the landscape with funding like we've never done historically before.
Q: Why Connecticut for this event? I mean, it seems -- it just seems a little odd, but, you know, why pick Connecticut?
ADMIRAL ZIEMER: Well, because there are 4,000 Boys & Girls Clubs that -- this club, I think, is the first one.
MS. PERINO: First ever.
ADMIRAL ZIEMER: When this -- when the Boys & Girls Clubs were invented, Connecticut was the first one, I understand. And it's an opportunity to showcase the NBA, professional soccer; get the high-level celebrities. Melinda Doolittle will be there; she's been with the First Lady and me in Africa just to bring awareness up. So I'm really grateful that when the opportunity comes in that we can leave Washington and acknowledge where communities are engaging.
Today at Georgetown University there's a huge effort. In Oklahoma, they set today aside as Malaria Awareness Day. So throughout the country there are different organizations on the academic level, civic level, to bring the awareness up and challenge people to do something. So I think it's a natural fit as we go to Connecticut today.
Q: On the global health issue -- obviously there's a food crisis right now. You've got food riots, severe -- a severely worsening problem. How does that interact with malaria -- with your malaria policy? And do you plan to do more about --
ADMIRAL ZIEMER: Unfortunately, poverty is really the basis of malaria. Years ago we had as much malaria in this country, but we sprayed, we put screens in our windows, we put air-conditioning in our houses, and basically we've eliminated the parasite. We still have the same mosquitoes that they have in Africa, and if the parasite pops back up, we'd have a malaria epidemic if it wasn't controlled.
But when you look at the world situation and poverty, it spreads across every aspect of the complex world that we're in. Certainly, if we save a child or a mother from malaria or HIV and they die of hunger, that's unconscionable too. So as we work together, we can't say it's either/or. We've got to collectively look at the priorities, look at the shifting landscape, and do the best we can with our other partners.
MS. PERINO: Thank you. I'll let you go back to your breakfast.
ADMIRAL ZIEMER: Okay.
MS. PERINO: I'll pass them out.
ADMIRAL ZIEMER: Yes, take a look at this. We released this yesterday; it's on our website, and we welcome any questions through Dana. We want to be informative; grateful to have you along.
MS. PERINO: Stuart, will you do the honors after this? Okay. Anything else before I do the week ahead?
Q: What happens next on North Korea talks? What happens next?
MS. PERINO: You guys, you've got to -- maybe I need to stand on a box.
One of the things I would do is refer you to the intelligence community's background briefing. They released a transcript last night, so I would -- late last night, so let me refer you to that to make sure they answer a lot of your questions. One of the things that we believe and hope that this disclosure will do is help North Korea come forward on its declaration on three areas: the proliferation activity, but also to provide a more complete and accurate disclosure of their plutonium activities, and their enrichment activities as well. So we are hopeful, and we have negotiators on the ground who are continuing to talk with them and work with them, as they have been, and we'll have to see what they -- the ball is in their court for the next set.
Q: Is the United States contemplating any further action against either North Korea or Syria?
MS. PERINO: I would refer you to that briefing from yesterday for details on that. But I think -- you heard Secretary Rice last week and the President just last Saturday at Camp David talk about the next step, and I'd just reiterate it. We have negotiators on the ground, and what we hope is that this will encourage them to come forward with a full and complete declaration on those three areas of their activities.
Q: What about Syria?
MS. PERINO: Well, we called on them to make a -- to come clean to the world, and I saw today that the IAEA is taking this matter very seriously. And I don't know what their next steps will be at the IAEA, but we would encourage Syria to come clean on their activities.
Q: Anything else? They said they were upset that you guys all waited so long for this to come out.
MS. PERINO: We acknowledge that they made that statement, but I do think that what -- where we are now is pleased that they are taking it seriously, and encouraged by the rapid response, and hope that they will be able to get somewhere with the Syrians.
Q: Dana, on another topic, why did the President want to make a statement about the economy and the checks today? Was there something that prompted that, or --
MS. PERINO: Well, yes, the news of the day --
Q: -- see it on --
MS. PERINO: The news of the day -- last night the IRS was able to announce that the rebate checks, in the form of the direct deposit, are going to be able to reach people's bank accounts earlier than expected. They had anticipated it would be May 2nd; that is next Friday. It's actually now going to happen on Monday, May -- I'm sorry, Monday, March -- April 28th.
Q: Just whatever next month is.
MS. PERINO: Thank you -- Monday, which is a full five days sooner. And the President wanted to make that clear to people because they are starting to anticipate that they'll be getting these checks.
The other point that he made today is that there are still some people out there who do not file income tax returns because they do not pay enough in income taxes, but a lot of those people are still eligible to get a rebate check. But in order to get it, they still have to fill out an easy form -- but they have to fill it out, and if they don't fill it out, they're not going to get the rebate checks. So the President took this opportunity to again remind people that they can get their check, but they have to fill out this form, and they can do so by going to the IRS website, or their local IRS office will have it, too.
Q: Can I have a quick question on the fundraiser? The President's job approval rating is now 22 percent, according to American Research Group. Have you seen any drop-off in demand for him as a fundraiser at all?
MS. PERINO: Well, you've been on all the trips. Have you seen any drop-off in demand?
Q: I'm asking you.
MS. PERINO: Look, when it comes to the President's fundraising, supply cannot keep up with demand. We are unable to get to all of the fundraisers that we have requests for. And I don't have the exact totals with me, but I know that the President continues to make great gains with the Republican Party and individual candidates, as he'll do again today.
Week ahead?
Q: Please.
MS. PERINO: And then we'll release this so that you don't have to write everything down, because it's kind of busy.
As you know, Saturday night he will remarks at the White House Correspondents Association dinner. On Sunday he'll be here in D.C. On Monday he will meet with the President of Guatemala; Oval Office, pool at the bottom. At 1:55 p.m. on Monday he will meet with the Co-chairs of the U.S.-Brazil CEO Forum. He will have them over at the EEOB Room 350; pool at the top. And then the President will meet with the National Commander of the American Legion, Oval Office, at 3:30 p.m. that day.
On Tuesday at 1:15 p.m. the President will meet with the Special Representative of the United Nations Secretary-General for Afghanistan. At 1:50 p.m. the President makes remarks on National Volunteer Week, and we'll do that in the Rose Garden, open press.
On Wednesday, April 30th, at 11:00 a.m. he will have a photo opportunity with the 2008 National and State Teachers of the Year, an annual event. I can't -- I feel like it just happened, but time, I guess, is going by fast. Stills at the bottom of that. And then the President will make remarks to them in the Rose Garden; that will be open press. At 3:20 p.m. he'll have the New York Giants in; South Lawn, open press. At 6:55 p.m. he'll attend a National Republican Congressional Committee Reception -- aha, another one, Roger -- at a private residence in Fairfax, Virginia.
On Thursday, May 1st, he will make remarks on the National Day of Prayer in the Rose Garden. And at 2:50 p.m. he will make remarks at a celebration of Asian Pacific American Heritage Month.
Friday, May 2nd, there will be travel to Missouri -- details to be announced. And then he will overnight in Crawford for two nights. You guys will probably want to get that back to folks so that you can get your rooms organized, okay?
Q: He's overnighting two nights --
MS. PERINO: Friday night, May 2nd, and Saturday night, May 3rd.
On Sunday, May 4th, the President will deliver the commencement address at Greensburg High School, a year to the day of that devastating tornado. And we'll release that as soon as possible so that you can get that out there.
Q: Friday?
MS. PERINO: To be announced. We're nailing down some details. Okay? All right.
END 10:10 A.M. EDT
* Q: Why has the President requested more funding for PEPFAR than for malaria, and do you support the higher authorization in the House bill?

"HIV/AIDS is a complex disease that requires a comprehensive – and more costly – response, requiring expensive anti-retroviral drugs, the development of distribution systems, and training for health care workers, among other costs. On a per capita basis, attacking malaria is significantly less expensive."

"In his budget the President committed to doubling our original commitment over the next five years from $15 billion to $30 billion. The House of Representatives approved bipartisan legislation that advances reauthorization of the life-saving work of the PEPFAR program. The legislation also authorizes additional spending above the President's request, including additional authorized funding for tuberculosis and malaria programs. Once authorizing legislation is passed, we look forward to working with the appropriations committees to determine the appropriate funding levels for these programs."
George W. Bush, Press Gaggle by Dana Perino and Admiral Ziemer Online by Gerhard Peters and John T. Woolley, The American Presidency Project https://www.presidency.ucsb.edu/node/277528