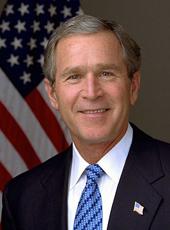 Press Gaggle by Dana Perino
Aboard Air Force One
En Route Nashville, Tennessee
10:36 A.M. EDT
MS. PERINO: Good morning. We're on our way to Tennessee. The President had his normal briefings this morning. At 10:55 a.m. he will make remarks to the National Religious Broadcasters 2008 convention. It is at the Gaylord Opryland Resort and Convention Center there in Nashville. He did speak to them before -- I got this question yesterday and I didn't know it off the top of my head -- February 10, 2003. This is the 65th annual NAB convention.
We have some members of Congress with us on the flight, Congressman Lincoln Davis and Congresswoman Marsha Blackburn. I know Mike Pence is going to be coming back with us, but I didn't see him on this flight, but I'll double-check that.
Q: Who was the first one? I'm sorry, Dana.
MS. PERINO: Congressman Lincoln Davis. And then the President will attend an RNC luncheon at Senator Frist's house. And then we get back to the White House at 4:50 p.m.
I have a couple of announcements. One point about tomorrow night. At 7:55 p.m. the President will make remarks at the Kuwait America Foundation's Stand for Africa Gala Dinner. That's at the Ambassador of Kuwait's residence. The remarks will be pool coverage. His remarks will highlight the President's Malaria Initiative and the importance of fighting malaria in Africa. Each year the Kuwait America Foundation hosts a benefit dinner at the residence of the Ambassador of the State of Kuwait. Mrs. Bush attended in 2006 and 2007, and this year the Kuwait America Foundation is co-hosting the Stand for Africa Gala with Malaria No More, to raise awareness about malaria in Africa.
Upon arrival, the President is going to meet a very special person, Dr. Karla Christian. She's a pediatric heart surgeon at Vanderbilt University Children's Hospital. Several months ago Marines who were on patrol in Haditha came across a toddler named Amenah and they noticed that she had a blue tint to her fingertips, and one of the Marines recognized that as a possible heart conditions. Military doctors checked her out; they found out she did have a heart defect, and they couldn't get her the lifesaving treatment that she needed in Iraq. And so after being contacted about this situation, working with the Marines, who worked very hard to raise the money to be able to get Amenah to come here, Dr. Christian volunteered to perform the lifesaving surgery free of charge. And she's here in Nashville, and the President is going to be able to meet her. He will also introduce her to you all and make a couple of remarks.
Q: Where is this taking place?
MS. PERINO: At the airport, as soon as we land.
Q: Can you spell her name?
MS. PERINO: Yes, I can. Amenah, and then her last name is al-Bayati. She has now returned to Iraq, and they -- her family was able to have a big event for her. I think your network last night did a story about her. The Pentagon put out a press release on March 9th.
Q: Do you know how old she is?
MS. PERINO: She's two years old. So you can check out that press release and get a little bit more detail. It's the march 9th press release that was released by MNFI.
One point quickly about the remarks. The President is going to be talking about Iraq and Afghanistan. In particular, he'll be talking about the God-given right to freedom that every one of us is given. And he will also talk about some of the details surrounding the descriptions of the nature of the enemy in both Iraq and Afghanistan.
And then looking forward, what he will talk about is the upcoming NATO summit and the importance that Afghanistan as an agenda item is going to be at that conference in Bucharest, and then two weeks later we have -- sorry, one week later we have General Petraeus and Ambassador Crocker testifying on Capitol Hill.
So in between now and then, the President is going to be giving several speeches. He's also going to be getting several briefings, both at the Pentagon -- as you know, he's done this before, if you look at last September as an example. He got several -- he had several meetings leading up to it, including secure video teleconferences and meetings at the Tank, meetings at the State Department, and getting all of this information to digest before making a decision about any possible changes in the way forward.
I would also point out today that the President will mention the Fairness Doctrine. As you know that some people in Congress have wanted to reprise the idea of the Fairness Doctrine. The President several months ago said he would veto legislation if it came to him. He will reiterate that today at the National Association of -- the NAB event.
Finally, there are reports today that some in the House Democratic leadership are planning to have more discussions about their position on the Foreign Intelligence Surveillance Act, and the reauthorization of the Protect America Act. Some of these things that they are suggesting were already debated in the Senate and soundly rejected. That includes setting up jurisdiction for federal courts. The way we look at this is that the House -- some House Democratic leaders are preventing the will of the Senate and the will of a majority of the House from voting how they would on the Protect America Act; that if the vote was held today it would pass, and we could give the intelligence community the certainty that they deserve.
We are concerned that they're just trying to avoid this vote. We would like to continue to work with them, on top of the hundreds of hours of meetings and briefings we've done with them, and the amount of documentation that we've given. We believe that they have ample information in order to be able to hold this vote and to allow us to go forward with the Protect America Act, which, again, passed the Senate 68 -- by 68 votes -- so both Republicans and Democrats joining in on that.
And that's all I've got.
Q: Dana, I have questions on two topics. Today's speech -- what's the strategic value in discussing the tactics of the enemy? What's to be gained by that, and why now?
MS. PERINO: I think it's important that everyone recognize who we are dealing with. This is an enemy that has sworn to kill Americans, wherever and however they can, and the President made a strategic decision early on in his administration, after we were attacked, that we would take this fight to the enemy. And that's precisely what we've done.
And I think that what the President wants to remind people of is, this brutality that we see in our -- sometimes on our TV screens or read about in the newspaper, it's very real, and unless confronted, it's going to come to our shores, or even hurt more innocent civilians in Iraq, Afghanistan or elsewhere, as we've seen around the world.
And so he will talk about both the Taliban and al Qaeda. I think it's absolutely appropriate that the President point out the brutality with which they live, and also how these individuals, these terrorists, such as the ones that flew their airplanes into the World Trade Center, were convinced that it -- they were doing this for God, and that this would see them into a better life in the afterlife.
Well, we all know that this is the evilness that is perpetrating amongst not just grown people who are enticed into doing this, but increasingly, unsuspecting individuals, such as the mentally troubled women in Iraq who were blown up with remote detonators in the middle of the pet market in Iraq, or if you look at children who are being used, both in Afghanistan and Iraq. And the President wants to make it very clear who we are dealing with.
Q: Well, just to quickly follow up on that, it's five years, almost, into the war. Is there a sense from the White House that the American people has kind of lost track of this? People don't know who the enemy is by this point?
MS. PERINO: No, no, I don't think is the case, but I think that it is incumbent upon the Commander-in-Chief, when we are fighting a war, to keep the American people apprised of the situation, especially when we have tens of thousands of our men and women in uniform who are fighting for us, to remind the American people why we are there, and give them a progress report and status report as to where we stand and whether or not we need to change gears in order to further build on security gains, such as in Iraq -- or continue to work with our NATO partners in Afghanistan to make sure that we can beat back the Taliban as a alliance. And that will be topic number one in Bucharest.
Q: One more on -- does the President have any reaction to the news involving Governor Spitzer?
MS. PERINO: The President's only reaction was that he thought that it was a sad situation, but that he would have no further comment.
Q: Dana, anything to say about gas -- oil hitting about $110 a gallon -- $110 per barrel today?
MS. PERINO: My reactions are similar to the reaction that I've given you in days past, Matt, which is that the price of crude oil and, therefore, the price of gasoline is very high, and we know it's impacting America's consumers and small businesses, especially, and we are very concerned about it.
There are things that we can do that can help us over the long-term take care of this, but this problem didn't get started overnight, and it's not going to be solved overnight. We have a lot we can do, but there's some things that we can't do, and it would be wrong of the President to provide false hope to people to think that we are going to be able to have an immediate impact to reduce gas prices. This is something we're going to have all work through.
One of the things that the President is determined to do is to make sure that we don't do anything that would further weaken the economy, such as raise taxes. And, in fact, Congress is going to be debating that -- Democrats are going to be debating the budget resolutions this week, in which they would definitely raise taxes on the American people. And we think that they're already taxed enough and that, given that they're paying higher gas prices and that we're working through a credit crunch and a housing slowdown, that the last thing that we should do is raise taxes and make the problems worse.
Q: Anything to say about the concerted action by the Fed and other central banks around the world to improve liquidity in the financial markets?
MS. PERINO: The President welcomed the step today by the Federal Reserve and he has full confidence in Ben Bernanke at the Fed. Beyond that I cannot comment in specific.
Q: Did he know that that was being developed, that kind of program, by the Fed?
MS. PERINO: I will check. I don't know.
Q: -- want a wire call?
MS. PERINO: Want a wire call?
Q: Yes.
MS. PERINO: Okay. Okay, I'll tell Carlton.
END 10:47 A.M. EDT
George W. Bush, Press Gaggle by Dana Perino Online by Gerhard Peters and John T. Woolley, The American Presidency Project https://www.presidency.ucsb.edu/node/277500