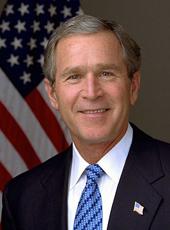 Press Gaggle by Dana Perino
Aboard Air Force One
En route Sochi, Russia
2:31 P.M. (Local)
MS. PERINO: All right, everyone, we're on our way to Sochi, Russia. The President is looking forward to this meeting with President Putin and meeting with President-elect Medvedev. You have the schedule; it's quite extensive for what we're going to be able to achieve over the next couple of days. When we arrive, we'll do the Winter Olympics briefing for the President, and before we go to the social dinner.
So there are several meetings tomorrow -- well, I shouldn't say "several," two meetings in the morning and then a press avail, and then the working lunch. This is an opportunity for both Presidents to have a broad range of discussion on many of the issues they've been both working on over the past eight years. And as you recall, President Bush said that when he talked to President Putin and suggested this idea in a letter, of working together to put down in words the range of issues that they work on together, so that the next Presidents -- the Russian one will obviously take office before ours does in January 2009 -- that they would have a nice, smooth transition and be able to continue the cooperation on the major areas, of which -- let me just remind you of the four broad areas: security cooperation, non-proliferation, counterterrorism, and economic issues.
I anticipate that the leaders tomorrow will continue to have discussions on all of those areas, while they also deepen and broaden the relationship, before handing it off to the next Presidents. We're calling it a strategic framework -- they haven't even had their meeting yet, so I'm not going to tell you all -- I'm not going to be able to tell you all that's in it, because they're going to have some discussions about that over the next day-and-a-half, or day, before we head home. So we'll get you more detail on that tomorrow, hopefully right after the press availability.
Q: Are you looking for any -- are there any substantive discussions tonight, or is it completely --
MS. PERINO: I think that they wanted to have a social dinner. That doesn't mean that you can't talk about substance when you're at a social dinner, but the purpose of today's -- tonight's meeting is to get there for a briefing about the Olympics. Obviously, Russia is very happy and excited about hosting the Winter Olympics. And we know from our own experience that's no small feat. So they are getting ready to start on all of the construction and preparations for that. And they want to talk to -- want to show the President what they're planning. And then we'll go to the social dinner. Tomorrow he'll meet with President Putin and then with President Medvedev. There will be the press avail, and then the working lunch.
I will say President-elect Medvedev is going to participate in tonight's social dinner, then he'll obviously have his meeting with the President tomorrow, and then be a part of the working lunch tomorrow, too.
Q: Have you gotten any signals from the Russians about where they stand on missile defense?
MS. PERINO: Well, I think that you heard best from President Putin himself yesterday, when he was in Romania, when he left and did his press conference -- and remind you that what we have been trying to do is reassure Russians that the missile defense system is not aimed at them; that we believe that it is possible for the United States, Russia and Europe to all work together. And we're been trying to improve transparency and confidence building measures along those lines.
We're going to have to do more work after Sochi. No one has said that everything would be finalized and everyone would be satisfied with all the preparations, because we haven't even started to work on the technical aspects of the system. We're still on the early part of these discussions; they've just actually recently started in diplomatic time frame.
So we'll have some more work to do afterwards, but we think the dialogue is headed in the right direction, and that this meeting will be able to push that along even further.
Q: So we should not expect any agreement on a deployment of missile defense within the next --
MS. PERINO: I think that would be premature. I think that all along, what we -- I think we have made great strides in bringing confidence to the Russians that this system is not aimed at Russia, and Russia is not the enemy. You've heard the President say he believes the Cold War is over.
And if you look at what NATO just did this past week on missile defense, people have come to the realization that together, working cooperatively, we can help deter or prevent an attack from a rogue nation in the Middle East, not from Russia.
Q: He's never met with Medvedev before. Is this --
MS. PERINO: They have met, but not had in-depth conversations, and certainly not at the presidential -- obviously President-elect Medvedev wasn't President, so the conversation was quite different.
Q: The President likes the personal, likes feeling one-on-one and looking people in the eye. So how is the President sizing up the President-elect as he's going into this meeting?
MS. PERINO: Well, I think that we have to let -- let's let these meetings take place. I think that the fact that President Putin invited President Bush here, and that President Bush agreed to come, shows that the United States and Russia does have good relations. There are many issues that we agree on, and there are some that we haven't agreed on. In regards to the issue that the President brings up every time with President Putin, regarding tolerance of minority rights, or diversification of views, political freedoms, press freedom, the President will continue to bring those up. And he has no plans to shy away from doing that.
And I think he's really looking forward to having this meeting with President Putin, who he's gotten to know over the years. As the President said, they had diplomatic head butts along the way, but we've also cooperated on many different issues. And I think that when the President meets with President-elect Medvedev, he will be able to help solidify that smooth transition that both Presidents are seeking for their predecessors -- I mean, their successors.
Q: Dana, Senator McCain has had some pretty tough things to say about Russia in the last few weeks. Do you think that that could come up in any of these conversations? Has that come up in the planning at all?
MS. PERINO: Not from our standpoint; not planning to talk about that, no.
Q: Do you anticipate something being signed tomorrow?
MS. PERINO: A strategic framework? We do think --
Q: Some paper?
MS. PERINO: -- we believe that we are headed towards that direction, to be able to sign something, but because they haven't even had their meetings yet, nothing is finalized, and so it would be a little premature for me to say.
Q: Do you expect it to be a very broad brush stroke, or --
MS. PERINO: I think it will be broad, and I think that it will touch on all those different areas. Of those four broad areas I gave you, there's lots of different things within those areas, from the -- we've talking about Iran and North Korea, matters of mutual concern, that there will be -- just highlights of those issues, but I don't expect a lot of detail.
Okay?
END 2:39 P.M. (Local)
George W. Bush, Press Gaggle by Dana Perino Online by Gerhard Peters and John T. Woolley, The American Presidency Project https://www.presidency.ucsb.edu/node/276949