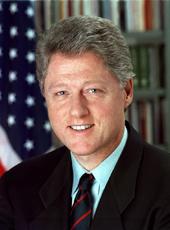 Press Briefing by Stanley Roth, National Security Council Senior Director for Asian Affairs
The Briefing Room
1:32 P.M. EDT
MR. MCCURRY: Moving on in our cast of characters and special guest attractions today, some of you had asked, with President Kim Yong-sam here for a very important bilateral meeting between the United States and the Republic of Korea, that we do a little preview of that meeting. I've asked Stanley Roth, who is the Senior Director at the National Security Council for Asian Affairs, to give you a snapshot of that bilateral meeting tomorrow and just some of the issues that will be under discussion between the two Presidents.
Stanley, thank you for stopping by.
MR. ROTH: Mike asked me to begin by going over the schedule. President Kim arrived at Blair House yesterday after two previous stops in the U.S. where he met with Secretary Christopher at Blair House. He's accompanied by his Foreign Minister, by his Trade Minister and a rather large official retinue. He's had a very busy schedule today including a wreath-laying ceremony at Arlington Cemetery. He addressed a joint session of the Congress at 11:00 a.m. He's got several speaking engagements this afternoon and is hosting a reception at the Corcoran Gallery tonight.
Tomorrow, the official part of the trip, he will have a private session followed by a group meeting with senior members of the Cabinet. So the two Presidents will meet beginning around 11:40 a.m. for approximately an hour. This will be followed by a press availability in 450 OEOB. They will part briefly and then come together again for the 2:30 p.m. Korean War Memorial dedication and then they will prepare for the state dinner at 7:15 p.m. On Friday, President Kim will meet in the morning with Vice President Gore and then he will return home to Korea.
In terms of the substance of the trip, let me begin by putting it in context. This is the fourth meeting between the two Presidents. President Clinton went to Korea in the summer of '93. They met after in the White House after the summit at the time at Blake Island. They met again last year at the APEC meeting in Bogor, and this will be the fourth face-to-face meeting. The Koreans like to point out they've been in very close contact by phone and letters as well. I think it's up to about 10 phone calls, and so it is a close relationship.
The primary issue that occasioned the visit, as you know, is the dedication of the Korean War Veterans Memorial. And last year President Kim accepted an invitation from President Clinton to come for this event. It has been planned for a long time and the state visit has been built around that.
There's no shortage of substantive topics to discuss during both the private meeting and the group meeting tomorrow morning. They will discuss, of course, the security relationship, and President Clinton, of course, will reaffirm the U.S. commitment to the security treaty and reaffirm what he said in 1993, that U.S. troops will remain in Korea as long as they want them there.
As you might expect there will be significant discussion about the North Korean nuclear agreement and the agreed framework, and in particular the two Presidents will discuss next steps, and the main next step is the meeting of KEDO, which is the Korean Peninsula Energy Development Organization, which will be meeting with the North Koreans in September to come up with the next steps in the light-water reactor contract.
A prominent topic of discussion will be North-South dialogue and how to get the North Koreans more involved with the South in a productive dialogue. And, of course, they'll discuss the question of a peace agreement. The North Koreans have consistently tried to negotiate a peace agreement with the United States. We have just as consistently refused to do so, telling them that they need to negotiate with their partner on the Peninsula, the South Koreans. And the President, of course, will reiterate our commitment to the armistice regime, the U.N. command, until such time as there is a peace commitment between the two parties on the Peninsula.
And, finally, we expect a discussion of economic relationship as well. This won't be in the form of a trade negotiation, but rather in the sense of broader themes both economic reform in the Korean economy as it assumes a larger regional and global role. I expect them in particular to discuss APEC. Both countries have been strong supporters of having a concrete blueprint or an action agenda at the upcoming APEC meeting in November in Osaka.
I think, at this point, just open it for questions.
Q: So there's no chance for diplomatic relations with North Korea in the near future?
MR. ROTH: As you know, as part of the agreed framework we agreed to open up a liaison office in North Korea, subject to negotiating all the arrangements. And there are quite a few arrangements to be negotiated in terms of finding space and protections and the like. And those negotiations are underway in the State Department with their North Korean counterparts, but that hasn't been completed yet.
Q: Secretary of State Christopher is expected to announce some sort of major policy initiative on Asia on Friday. Can you shed some light on that issue?
MR. ROTH: I don't know that I would use the word initiative. He's going off, as you know, on Saturday to the annual ASEAN meeting and the ASEAN regional forum and post-ministerial conference and then to several other countries as well. Before departing, he's going to make a major speech laying out U.S.-Asia policy -- not just on any one country, but it will, of course, cover Korea and it will, of course, cover China. But I think this is the big picture to set the stage for his trip rather than to launch any specific initiative.
Q: So there will be nothing new in that speech? (Laughter.)
MR. ROTH: What will be new will be the explication of comprehensive U.S. policy towards Asia. (Laughter.)
Q: How would you characterize the future U.S. military obligation to South Korea and commitment to South Korea?
MR. ROTH: Well, it is a formal treaty obligation. So the President has made it very clear that U.S. troops will remain in Korea as long as the Korean people want them. We have approximately 37,000 troops there at the present time.
Q: At that level?
MR. ROTH: The level will depend on the circumstances on the Peninsula.
Q: To what extent will China figure in the agenda both in terms of Beijing's ability to help out with the North Korean situation, but in the broader Asian context where there seems to be growing nervousness about where China is headed?
MR. ROTH: I think China will be discussed between the two Presidents. The South Koreans have an improving relationship with the PCR. It is a relatively new relationship for them that started with economics, but now is broadening. President Kim has visited China. China has sent high-level visits to Korea. And I think he'll want to share some of his views. He'll probably also want to hear from President Clinton about China policy and the President will explain our China policy, reaffirming the one China policy.
Q: Speaking of China, Madam Chiang Kai-shek is up on the Hill today, I guess, and do you see any significance in the timing of her speech up there and is there a message to be sent by her?
MR. ROTH: I think that's a question you would really have to address to the Senate House of this event, Senator Dole and Senator Simon. But this has been planned for many months and I don't think the timing was picked in such a way as to coincide either with the Christopher visit or our current state of relations with China. It's just one of those things with the calendar.
Q: Would her appearance exacerbate the relationship between the U.S. and China?
MR. ROTH: There's no reason why it should. Our policy has been unofficial relations with Taiwan. She is not a government authority on Taiwan. She lives now, has resided for a number of years in New York. This is not the same as a high-level Korean official coming to the United States for the explicit purpose of a meeting. This is more in the question of a sentimental visit. But I think any other questions you should address to the senators.
Q: Did the President see her?
MR. ROTH: No.
Q: Could you just say a little bit about where the review process or selection process concerning an ambassador to Vietnam stands and anything about the timing that might be involved in that sort of selection?
MR. ROTH: All I can say is we're working on it. I have no indication of the timing.
Q: Will the President identify any potential areas of trade sanctions with the Prime Minister?
MR. ROTH: I don't believe the discussion is going to be about sanctions. I think the discussion is going to be how do we expand the trade relationship and how do we resolve differences on some of the sectors where we do have problems. We just accomplished an agreement last week on shelf life involving beef and pork products, and we have other areas where we're going to also be seeking progress. But I don't expect the President to be waving the sanctions wand.
THE PRESS: Thank you
END 1:41 P.M. EDT
William J. Clinton, Press Briefing by Stanley Roth, National Security Council Senior Director for Asian Affairs Online by Gerhard Peters and John T. Woolley, The American Presidency Project https://www.presidency.ucsb.edu/node/269908