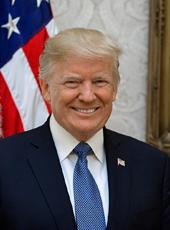 Press Briefing by Secretary of Veterans Affairs Robert Wilkie
James S. Brady Press Briefing Room
9:04 A.M. EST
SECRETARY WILKIE: Hello, everybody. Thank you all for coming. This is our week of weeks at the Department of Veterans Affairs. This is the week that we honor the 41 million Americans who have put on the uniform since the first shots were fired at Lexington Green in April of 1775.
Last night, the President held a ceremony with the National commanders of the Veterans of Foreign Wars, the American Legion, and Rolling Thunder to permanently honor those POWs and MIAs who have been lost to the history books since our first war in the 1700s. He ordered the flying of the POW and MIA flag at all federal departments and agencies. And that was an important first step on this Veterans Day, 101 years after the end of the Great War. And the President will be following that up with his attendance at the New York City Veterans Day Parade, the first President to attend America's largest parade, on Monday.
I am here to talk a little bit about the state of our VA.It is — it is my honor to have been the Secretary, now for a year and three months. As General Mattis used to say, "I was born in khaki diapers." So this is the world that I grew up in. And I want to say that this President was the first in the post-World War Two history to make veterans not only the centerpiece of his campaign, but also the centerpiece of his administration.
And he has made true to his commitments by authorizing us to present to the Congress the largest budget in the history of this department: $220 billion calling for 400,000 employees.
We have, in the last year, achieved the highest patient satisfaction rates in VA's history, sitting somewhere at about 89.7 percent.
The annals of the American Medical Association and the annals of Internal Medicine have said, just in the last year, that VA's healthcare is as good or better than any in the private sector. And our wait times are more than comparable with the private sector.
Under President Trump, our veterans are voting with their feet. This year of 2019, we have already had 3 million more appointments at VA than we did last year. The Veterans of Foreign Wars in their annual survey said that 9 out of 10 of their millions of members are completely satisfied with the way VA takes care of them. And those 9 out of 10 said that they are recommending to their comrades, who are not in VA, to join with us.
We're also in the middle of the greatest transformational period in our history. We have launched the MISSION Act — the MISSION Act that finally integrates VA with the entire American healthcare system. But more importantly, fulfilling the President's promise, this puts veterans at the center of their healthcare decisions, not the institutional prerogatives of VA, but veterans.
We finally give veterans the option of going into the private sector, if VA cannot provide them the healthcare that they need, or they live too far away from a VA Health Center that would not be conducive to their needs or their family's needs.
The other thing that we have done: We have finally put our veterans on the same plane as their neighbors. America's veterans now have access to urgent care. We are keeping them out of the emergency room with things like fever, the flu, or a sprained ankle.
The last few months since MISSION was kicked off on June 6th, we've had 70,000 urgent care visits. In addition to that, we're seeing about 5,000 visits a week. We've certified 6,000 urgent care facilities across America; we want to get up to 7,500.
In addition to what we have done that is visible to the entire country, the President has asked us to engage in fundamental reforms that are less visible to the general public.
Next year, we will be launching the electronic health record. For the first time, anyone who enters the military through a military entrance processing station will have an electronic health record that will be accessible to VA once that young American leaves the service. For the first time, we will prevent people, like my father, after 30 years of military service, from carting around an 800-page paper record, and we will have an entire history of that veteran's service stateside, in war, and overseas.
The other things that we have been doing: We have reformed our supply chain; we entered into a memorandum of understanding with the Department of Defense to finally computerize and nationalize VA supply chain. So we will no longer have stories about doctors at DCVA running across the street to MedStar to get equipment that they should have had to begin with. In addition to that, we are reforming our HR system.
One of the things that I discovered when I began service on August 1st — I asked a fundamental military question to senior leaders in our department: How many people do we have on the rolls? I got two different answers. And I asked for a manning document. In the military, a manning document is a system of requirements, and the number of people you meet need to have those requirements met. We now have a manning document.
In addition to that: Accountability. In this President's term, we have we have relieved over 8,000 employees of their duty at VA. The standard is, if you don't live up to your oath, if you don't live up to the standards that our veterans expect, that you will be asked to leave. This is a transformational moment in our history. We have relieved people as high as network directors to people at the other end of our employee chain. After the scandals of Phoenix, the scandals of 2014 and 2015, this is, I think, one of the strongest statements that we can make: that it is a new day at VA.
And, finally, two other things about transformation:
On the opioid front, we have not been immune to the crisis that has impacted the United States. But in the last year and a half, we have reduced the number of opioid prescriptions at VA by 51 percent. We have offered, for the first time, alternative therapies that, in my father's day, would have been anathema to the ethos. We now tell soldiers: Come in and try acupuncture, tai chi, yoga, music therapy. We're getting at the sources of the pain rather than treating the brain as we have with traditional opioid therapies.
And the last thing is suicide. A bit of a history lesson: The United States Army began taking statistics on suicide during the administration of Benjamin Harrison, who is only known for one thing: He was in-between two non-successive terms of Grover Cleveland. But Harrison, having been a general in the Civil War, recognized that there was a crisis in the frontier army. This is the first time that we have begun a national conversation about suicide prevention.
Fourteen — 60 percent — of those warriors who take their lives on a daily basis are not in VA. So we are calling for a national roadmap. I will have a report for you sometime in March, where we bring together Indian Health, HHS, HUD, DOD, and the rest of the federal government to actually begin a national conversation, long overdue, on mental health and addiction.
So I will conclude by saying that we have never had a President who has given this much attention and this much effort to those who have borne the battle. And it is my honor to be part of their team.
And I will stop. Yes, sir.
Q: Mr. Secretary, can you address — I recently spoke with veterans in Florida, Maryland, Virginia, D.C., Kentucky. They say the wait times are still horrendous at the VA hospitals and that the claims that you make have not actually taken place. Can you address the concerns of those VA members who say that we haven't made those strides forward that you claim you've made?
SECRETARY WILKIE: Well, I will say that, in an organization of 400,000 with 9.5 million people, there will always be a hiccup in the system. One of the things that the President has done by pushing MISSION is that when those wait times are complicated and they are overly long, we now give veterans the option of going into the private sector to make sure that those wait times are not a burden on that veteran. And just in the last few months, since June 6th, we've sent well over a million veterans into the private sector when we haven't met those wait times.
So there's always going to be hiccups in an organization this large. I come from that world. I understand it. I think MISSION is the great step forward, when it comes to addressing the kind of concerns that you've heard.
Yes, sir. Yes, sir.
Q: Speaking of the MISSION Act, the President frequently — over 65 times, as of last April — claims that he signed the VA Choice program, which has existed since 2014, when it was signed into law, under President Obama, into law. Have you advised the President that this claim is not correct and that the program has been around since before he was President?
SECRETARY WILKIE: Well, what he was saying was that he superseded Choice. He's given veterans choice under MISSION. The Choice Act —
Q: (Inaudible.)
SECRETARY WILKIE: Let me finish. The Choice Act that we replaced, we replaced it because it wasn't working. So he has given — he has given Choice in a —
Q: (Inaudible.)
SECRETARY WILKIE: I just gave the statistics: over a million since June 6th.
Q: But, sir, he claims that the Choice program was created under his administration. He's done it many, many times. It's not true, whether — you know, the MISSION Act did update and improve that program, as you say.
SECRETARY WILKIE: Yes.
Q: But the program existed since 2014. And I'm asking if you've advised the President that — to claim that VA Choice was created during his administration is not true.
SECRETARY WILKIE: I only go by what the President has done in the one year and three months that I have been Secretary. Choice —
Q: Well, he's told this lie many times —
SECRETARY WILKIE: I'll just — no, last time I'll say it —
Q: — while you've been Secretary, sir.
SECRETARY WILKIE: — Choice has been replaced by his signature legislation, MISSION. And MISSION is working in a way that, I think, has astounded most people in Washington.
Yeah.
Q: Mr. Secretary, in a court settlement yesterday, the President acknowledged that $2.8 million that were supposed to go to veterans during the campaign actually went to the Trump campaign. What's your reaction to that?
SECRETARY WILKIE: I have no reaction to that. I've been focused on running the department.
Q: Does that align with the President's vision for helping veterans though, sir?
SECRETARY WILKIE: I think the President's record speaks for itself. I will tell you — and I'm a pretty good historian and I grew up in this world: There has never been a President who has given this much attention to America's veterans or allowed for more transformation to go on in the lives of veterans in this department than this President has.
Q: Secretary Wilkie —
SECRETARY WILKIE: Yes, ma'am.
Q: In September, the Pentagon said that they saw a record number of suicide rates —
SECRETARY WILKIE: Yes.
Q: — among active duty troops.
SECRETARY WILKIE: Yes.
Q: I know you talked about suicide. Can you speak to that, specifically? How urgent of a problem is that for you and how are you going to address that specifically?
SECRETARY WILKIE: Absolutely. So in my previous life, I was Under Secretary of Defense for Personnel and Readiness under General Mattis. The military culture, as you imply in your question, has all be- — always been one where you don't talk about these thing; you don't talk about what you see in yourself or what you see in your comrade.
We began changing that by offering education, as early as boot camp, to look at the signs that you might see in training, in your career. We have to begin talking about the condition of our troops. And we have to be- — begin training, which we are, at the Department of Defense level, so that by the time that those Americans come to VA, they will already have had the cadence of mental health discussions before they reach us. But it is a cultural change that needs to take place.
I'll say one other thing to that: It's — to me, it's also a strategic imperative. I'll give you an example: In my father's day — he fought twice in Vietnam — if he had expressed any concerns — any anxiety — that would have been a one-way ticket out of the service. But it was also a one-way ticket out because people knew there were 10,000 draftees ready to fill that position. We don't have that luxury now with the all-volunteer force. We have to do a better job, and I think we are, of taking care of our warriors when they enter the service.
Q: And that report that you said was coming out — what is the timeline for that? How much urgency?
SECRETARY WILKIE: It should be in March. It's the PREVENTS Task Force. It's the whole-government, whole-health approach — a roadmap on national suicide. And I would also say, I think the greatest contribution that VA can make is that most Americans, at some level, understand what happens when an American puts on a uniform. We are seeing suicide levels spike across the country. New York Times just reported on a 56 percent increase in teen suicides. It's — teen suicides, the largest cause of death among teenage Americans. The New York City Police Department is having a crisis. I think we can offer a way forward.
And last thing, what I hope to see out of this — other than that medical roadmap — is that we open the aperture, when it comes to support for the states and localities and the charities, to help us find those veterans that we have not contacted.
Q: Mr. Secretary, thank you.
SECRETARY WILKIE: Yeah.
Q: This week, Senators Ernst and Capito sent you a letter expressing concerns about sexual assault in the VA.
SECRETARY WILKIE: Yes.
Q: Do you acknowledge that this is an ongoing problem? And what are you doing to fix it?
SECRETARY WILKIE: Well, we certainly have been changing the culture. I — in fact, I addressed the Center for Women's Veterans yesterday. We have extensive training for all of our employees.
This is not my grandfather's VA anymore. Ten percent of those who use VA are women. I expect that to go up to about 18 to 19 percent by 2025. So we have women's clinics. Most of our facilities have separate entrances for women. If anyone, veteran or employee, does something untoward — certainly the employee is disciplined, but the veteran is removed and put on warning that you're not going to be allowed back if you engage in that kind of behavior.
We are working feverishly on expanding our services to those victims of military sexual trauma. And I think we're working pretty closely with the Department of Defense. But again, I go back to the cultural changes that are taking place in this country and in — certainly, in the military. And I think we are doing a good job of catching up with that.
We have a zero tolerance policy and I stand by that.
Q: Do you have any new measures that you've implemented? I'm sorry, I just want to follow up, because —
SECRETARY WILKIE: Training.
Q: — you've talked about —
SECRETARY WILKIE: No, we've trained — we have training for all of our employees. We have — in our VA hospitals, we have notices. We talk to the veterans. Our employees are trained to intervene if someone does something like a catcall, which can be disquieting and certainly can — is disquieting to some of our female veterans. So we are — we are changing — changing that culture.
The other thing I will say is that, in several of the instances in that — in that letter, we moved vigorously to prosecute. The one that they reference about D.C. — within minutes of me hearing that, I contacted the Deputy Attorney General. I think that is another forceful way of handling that — things like that.
Q: You mentioned that the VA has had to kind of clean house over the last couple of years to remove people that were kind of hurting the bureaucracy. I'm curious: Do you envision more changes coming, in terms of personnel? Do you have another cleaning of the house, if you will? And how do you keep accountability intact, whether it be administration changes or —
SECRETARY WILKIE: Right.
Q: — you know, position changes?
SECRETARY WILKIE: Cultural change. Making sure that the standards are known by everyone. We are undergoing a transformation and an overhaul of our Office of Accountability and Whistleblower Protection. I intend to make that even more robust that it is.
Training, of course, goes on across VA. I think though that the message that we send out — because the story when I first came was that we were only firing custodians. When network directors are removed, I think that sends a very powerful message, up and down the chain of command, that everyone is held to those exacting standards.
And I expect that, particularly as VA has moved in an incredibly positive direction, that those — those standards and those practices will be maintained in the next few years.
Q: Is that still ongoing though — where people are being pulled out of the system?
SECRETARY WILKIE: Oh, yeah. Yes. Oh, sure. We do that on a daily basis.
Yes, sir.
Q: Mr. Secretary, McClatchy has found that veteran's cancer rates have jumped over the last two decades of war. Veterans serving in Iraq and Afghanistan say it's tied to burn pit or other exposure. But the VA is still denying their claims. So why won't the VA approve coverage for veterans now suffering?
SECRETARY WILKIE: Well, you have to go back and see where our burn pit process is. It's — right now, it's with the Department of Defense. The Department of Defense has responsibility. And I've had conversations with advocates like General Petraeus about this. My pledge is that we don't experience what my father's generation experienced, and that was those decades-long wait after we knew people were exposed to Agent Orange. I am waiting on DOD — and I think they will give it to me shortly — the results of all of their investigations into what went on in Iraq and Afghanistan.
I would also note though that what I have approved is separate and apart from a burn pits category. If we see — have any veteran who has any of the medical issues that could come from burn pit exposure, we see them on that basis. So I think we've seen about 50,000.
Q: We understand that misdiagnoses are a huge factor in the number of veterans that are dying from cancer because the VA is catching the cancers too late. So what additional expertise — will there be a hire to improve its cancer care for veterans?
SECRETARY WILKIE: Well, we are world leaders in cancer research. And we work collaboratively with the most important cancer research institutions in this country. We have partnerships with MD Anderson. We have partnerships with Stanford, Duke, Harvard, all of the great hospitals in Boston. So we believe — and I think the statistics show — that we are on the cutting edge of cancer research.
And, you know, we are not divorced from many of the issues that impact America, writ large. There is a shortage, in this country, not only of cancer providers, but there's a shortage in this country of mental health providers. We are trying to be as creative as we can to bring more people in those categories to us.
Yes, sir.
Q: Mr. Secretary, thank you. What do you — some veterans still have to wait up to three years to get their hearing, their appeals resolved. What are you doing about that backlog?
SECRETARY WILKIE: Well, we've undergone — thanks to this President — a massive appeals modernization program where we had hundreds of thousands of appeals on backlog from the last administration. We're now down to the tens of thousands. We've added employees to that.
We've actually done what hasn't been done: We've computerized our appeals process. When I was in, between administrations, the appeals were done primarily by hand, going from one hand to the next. So we are in the middle of completely computerizing that system.
And I expect that those numbers that have gone from the hundreds of thousands to the tens of thousands will be even smaller in the next few years.
Yes, sir.
Q: Just go back, briefly, to the suicide reports. There seems to be a disproportionate number of National Guard and Reserve victims who had not previously deployed. Is there any early sense — have you guys gleaned anything on that? And is this a population that needs more —
SECRETARY WILKIE: Yes. It's — of the 20 who take their lives every day, I think one, perhaps as many as two, a day, are from the Guard. It has been a problem that the Army began to notice, actually, in World War One, where people who did not deploy had disproportionate numbers of suicide. We are working with the states. We provide — I'll give you an example, in Tennessee. We will send out, to National Guard encampments, mobile VA centers to talk with the guardsmen, to work with the states.
It is a — it is a problem particular to those in uniform, and we are looking for as many creative ways as possible. I'm looking at proposed changes that can be made to the law because, most of the time, when these tragic things happen, the individual is not in federal status, and has not been, and is an employee of the state. But we are aggressively cooperating with the states on that. And you've hit on a very tragic but telling issue.
One more.
Q: What is your biggest —
SECRETARY WILKIE: Oh, no. I'm sorry. Yes.
Q: What is your biggest remaining complaint?
SECRETARY WILKIE: What?
Q: What is the biggest remaining complaint to the VA?
SECRETARY WILKIE: Okay. I will — well, let me take a step back and tell you: As I said at the beginning, I've been blessed in my career; I've worked for Condi Rice, Bob Gates, Jim Mattis, and Don Rumsfeld. This is the most exceptional professional experience I have ever had.
I was born in khaki diapers. I didn't expect it. But I will say that it is the most noble mission in the federal government. And I am surrounded by people who've dedicated their lives to veterans.
I will tell you what the most frustrating part of the job is. There are many people who still look at VA as if it were 2014, 2015, and 2016, when there was a scandal — a systematic scandal — a day. And that, as I said in my opening remarks, we were 17 out of 17, in terms of best places to work. Our patient satisfaction rates were below 50. I want people to take an unfiltered look at what we are doing and the breadth of the change that has been made, the support that we've been given by this President. It's unprecedented.
And I think when you do that, when you have an unjaundiced view of VA that is untethered from what has gone on in the past, I think it's an institution that most Americans can be very proud of. Thank you all very much.
END
9:28 A.M. EST
Donald J. Trump, Press Briefing by Secretary of Veterans Affairs Robert Wilkie Online by Gerhard Peters and John T. Woolley, The American Presidency Project https://www.presidency.ucsb.edu/node/335150