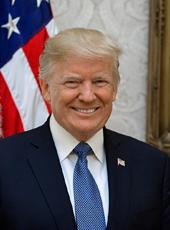 Press Briefing by Press Secretary Sean Spicer and Assistant to the President for Homeland Security and Counterterrorism Tom Bossert
James S. Brady Press Briefing Room
2:19 P.M. EDT
MR. SPICER: Good afternoon. Before we get started, I want to bring Homeland Security Tom Bossert back up here to discuss the administration's response to the ransomware hacking. And then I'll go on with the events of today and answer your questions.
Without further ado, Tom.
MR. BOSSERT: Thanks, Sean. Thank you. Good afternoon. I'm Tom Bossert, the Assistant to the President for Homeland Security and Counterterrorism. And if I could, I'd like to start today by acknowledging the fallen police officers that the President and Vice President acknowledged today. They are the frontlines of our homeland security. And the event today was an honor for me to attend.
On cybersecurity, as the President's Homeland Security Advisor, part of my responsibilities is to coordinate U.S. government cybersecurity efforts. I want to give you an update today on the ransomware attack that's been known as WannaCry or WannaCrypt.
We continue closely monitoring the situation around the clock at the highest levels of government. We're bringing all the capabilities of the U.S. government to bear on this issue, and are working side-by-side with our partners in the private sector and our international partners. I spoke moments ago with my counterpart in Great Britain and learned an update from them that they have a feeling of control over this ransomware event and that as their affected computers seemed to have been tied to this is a fact that there healthcare system is so large in network.
They are painfully aware, though, of the fact that this is a global attack, as are we. As of this morning, it has reached approximately 150 countries and infected more than 300,000 machines. The good news is the infection rates have slowed over the weekend. We had been concerned about that when last we talked.
The ransomware has disrupted telecommunications companies, hospitals, and other organizations. The UK National Health Care Service announced 48 of its organizations were affected, and that resulted in inaccessible computers and telephone service, but an extremely minimal effect on disruption to patient care. That was something quite evident in my conversation.
Computers at the Spanish telecommunications company, Telefonica, were compromised, and we had a small number of affected parties in the U.S., including FedEx.
Secretary Kelly at the Department of Homeland Security continues to lead operations and public/private coordination. His team is issuing twice daily situation reports, is holding multiple calls per day among experts in operational centers managing our response. As of today, no federal systems are affected.
Over all, the U.S. infection rate has been lower than many parts of the world, but we may still see a significant impact on additional networks as these malware attacks morph and change.
Despite appearing to be criminal activity intended to raise money, it appears that less than $70,000 has been paid in ransoms, and we are not aware of payments that led to any data recovery.
The Cyber Threat Intelligence Integration Center is also keeping us informed of the classified insights considering the investigation into the attacks.
And let me talk about now briefly the way ahead. It's important for our business and individuals to know that three variance of this ransomeware are reported to have emerged, using similar techniques. We talked last I was here about variance in this malware. If you follow the mitigation advice published by DHS, the FBI and Microsoft, and have patched your systems, you are protected against all these variance.
It's also important to know that pirated, stolen or otherwise unlicensed versions of affected software often will not receive patches. So it's important to not use that unlicensed software. If you do you'll be subject to extraordinarily susceptible infection.
While it would be satisfying to hold accountable those responsible for the attack, something that we are working on quite seriously, the worm is in the wild, so to speak, at this point, and patching is the most important message, as a result. Our business and government have responded with upgrades and patches, defensive mitigations, and this has dramatically reduced the vulnerable population over the last three days. But this needs to continue to be our focus.
I would finish by repeating advice that all organizations be vigilant in updating their software and that the only computers that can be compromised by the WannaCry or WannaCrypt virus are ones that do not have the latest security patches available from Microsoft.
Q: So this is one episode of malware or ransomware. Do you know from the documents and the cyber hacking tools that were stolen from NSA if there are potentially more out there?
MR. BOSSERT: So there's a little bit of a double question there. Part of that has to do with the underlying vulnerability exploit here used. I think if I could, I'd rather, instead of directly answering that, and can't speak to how we do or don't do our business as a government in that regard, I'd like to instead point out that this was a vulnerability exploit as one part of a much larger tool that was put together by the culpable parties and not by the U.S. government.
So this was not a tool developed by the NSA to hold ransom data. This was a tool developed by culpable parties, potentially criminals of foreign nation states, that was put together in such a way so to deliver it with phishing emails, put it into embedded documents, and cause an infection in encryption and locking. So the problem -- and I think I said this morning -- of the underlying vulnerability is something that is a little bit less of a direct point for me.
Q: I guess a shorter way to put it would be is there more out there that you're worried about that would lead to more attacks in the future?
MR. BOSSERT: I actually think that the United States, more than probably any other country, is extremely careful with their processes about how they handle any vulnerabilities that they're aware of. That's something that we do when we know of the vulnerability, not when we know we lost a vulnerability. I think that's a key distinction between us and other countries -- and other adversaries that don't provide any such consideration to their people, customers, or industry.
Q: You mentioned your British counterparts are feeling a sense of control. Was there any time that you monitored this here in the States where you felt there was any lack of control or this could get out of hand here? And if not, what is it about what was here that was protected that didn't exist, for example, in Europe or other parts that have obviously taken a much bigger hit?
MR. BOSSERT: No comparative lack of control, but my conversation today led me to believe that he felt quite comfortable -- my counterparts felt quite comfortable with where they stood today. Not compared --
Q: Right. But was there any time that you felt here that things could spiral out of control?
MR. BOSSERT: Well, as we were gaining and gathering more information, it was important for us to determine the parameters of this. Once we got our hands around the parameters of the malware, that's, of course, in the beginning moments that you're trying to get ahold of -- get the malware, analyze it, determine what's happening. In that time frame, you don't feel entirely in control, but you're searching for information. Once we got it and realized what the situation was, we realized there were patches available and had been available since March. And so, from that point, operation centers and communications become the key and they're imperative to how we handle this response.
And from the British perspective, I thought it was important to pass along from them two points -- one, that they thought it was an extremely small number of patients that might have been inconvenienced and not necessarily a disruption to their clinical care, as opposed to their administrative processes. And two, that they felt that some of those reports might have been misstated or overblown given how they had gotten themselves into a position of patching.
So we'll have to do the analysis and investigation later as to why certain organizations, systems or sectors were more greatly affected than others. So that's the point I'd like to elaborate.
Q: What is this bottom line to the average consumer? And what are we going forward to make sure that it doesn't get out in the open and affect --
MR. BOSSERT: The bottom line for the consumer is patch your software, provide automated patch support if you can -- turn that automated on. Make sure your IT service providers or IT folks within your organizations are patching your software. That's the bottom line. And this particular malware and the three reported variance that we've seen since are all fixable with patch. And that's something that you can get from Microsoft.
So that's our bottom line. And I don't want to encroach too much here of Mr. Spicer's time, but if I could, with that, maybe I'll take one more question, Sean, okay?
Q: Who did it?
MR. BOSSERT: We don't know. That's the attribution that we're after right now. It would be satisfying for me and for all of our viewers, I think, that if we find them and bring them to justice. I think that's something that sometimes -- attribution can be difficult here. I don't want to say we have no clues. As I stand here today I feel that the best and brightest are working on that.
So thank you very much. I'll let you know. Thank you very much.
MR. SPICER: Thank you, Tom.
The President was pleased to see this morning the National Association of Homebuilders and Wells Fargo announce earlier that recent reports show that U.S. homebuilder confidence continues to rise, with numbers now at their strongest since the housing bust. According to the NAHB's chairman, "This report shows that builders' optimism in the housing market is solidifying."
We've already seen tremendous response in the economy in the wake of the President's pro-growth agenda. The unemployment rate is at the lowest it's been in a decade. The manufacturing job openings are higher than they've ever been since 2006. And by nearly every measure of economic confidence, the future of the American economy looks very bright.
The President is also glad to see businesses once again making significant investments in America from Intel to General Motors to Walmart to Apple, who specifically just announced earlier this month they will start a $1 billion fund to promote advanced manufacturing jobs here in the United States.
And it's not just the President's domestic economic policies that are generating optimism. Just last week, we announced the first 10 agreements as part of the 100-day action plan initiated by President Trump during his meeting at
Mar-a-Lago with President Xi of China. As I noted last week, these arrangements are major wins for American companies across many different industries and sectors -- from natural gas to beef exporters to financial services -- who will all now have access to the massive Chinese market.
And, of course, those negotiations continue between our representatives. We look forward to sharing future developments with you as this process continues to unfold.
This morning, the President and the Vice President joined tens of thousands of officers and friends of law enforcement at the annual Peace Officers Memorial Service at the United States Capitol. This is the 36th year that the Paternal Order of Police has honored the memory of the brave men and women who have lost their lives in the line of duty with this service and ceremony.
In the Vice President's opening remarks, he reiterated the Trump administration's commitment to standing with the men and women of law enforcement "without apology." And the President said that these men and women are "the Thin Blue Line between civilization and chaos. Words cannot express the depth of our gratitude." But he hopes that the actions of this administration will show our men and women in blue "how deeply we care and how strongly we feel about protecting those who protect us all."
Earlier today, the President had the honor of meeting with officers and guests from police departments that recently suffered the loss of a police officer from Ulster County Sheriff's Department, Phoenix Police Department, and the New State Troopers. He also signed a proclamation in honor of Peace Officers Memorial Day and National Police Week.
The President was honored to just welcome recently in the last few minutes the Crown Prince of Abu Dhabi to the White House for an official visit. His Highness if a strong partner of the United States and a leader in the Middle East on a number of important topics, including defense cooperation, regional security, and counterterrorism. The United States and the UAE recently concluded a defense cooperation agreement that will allow us to work more closely together to address common security threats.
The President hopes to work together even more closely to resolve regional conflicts that raged across the region for too long. This is the President and His Highness's first meeting, and they have a lot to discuss, including bilateral trade and investment, as well as regional security issues. At the conclusion of the meeting we will make sure to have a readout.
Later this afternoon, the Vice President will swear in Robert Lighthizer as the United States Trade Representative. Ambassador Lighthizer has spent decades working at the highest levels of American trade policy, including as Deputy U.S. Trade Representative under President Reagan. The President is glad to finally have an unquestionably qualified individual in place as we fight for better trade deals that will put the American worker first.
And now that he's officially on board, this afternoon Ambassador Lighthizer is getting straight to work. Tomorrow, he will have a series of meetings on Capitol Hill, and on Thursday he will travel to Vietnam for the Asia Pacific Economic Cooperation meetings.
With Ambassador Lighthizer's swearing-in after an historic show of obstructionism by the Senate Democrats, the President will now finally have his entire Cabinet in place, able to fully implement the President's America First agenda across the entire spectrum of the federal government.
In other Cabinet news, Secretary Chao kicked off Infrastructure Week with an event with the U.S. Chamber of Commerce this morning, noting the newly reopened I-85 bridge in Atlanta as an example of what can be better accomplished with federal, state and local governments working together. Secretary Chao will be traveling to Atlanta on Thursday for the ceremonial ribbon-cutting.
Secretary Perry is in Texas today as part of VA Research Week to announce the Vets Project, a joint effort between the Veterans Administration and the Department of Energy to help data-map veterans' health records and solve health-related issues for veterans. This partnership, part of the Trump administration's commitment to modernizing the systems we use to care for our nation's heroes, brings together the VA's unparalleled healthcare and genetic data from its Million Veteran program with the Department of Energy's world-class technology to improve healthcare and quality of life for our veterans.
Secretary Shulkin of the VA will also be traveling this week to commemorate VA Research Week, speaking at the Brain Trust Pathways event in Boston on Wednesday. This event brings together public and private experts in research, treatment, prosthetics, IT and other specialties to focus on new and innovative ways to support veterans coping with the effects of traumatic brain injury and head trauma.
The State Department also had a few briefings today on the next step in addressing the Assad regime and the horrors it has committed on the Syrian people. The Trump administration believes that Syria's political future should be decided by Syrians in a free, credible and transparent process. However, we also believe that in a free process it's unimaginable that Syrians would choose to continue under the Assad leadership.
Syria will never be stable and secure as long as Assad is in power. The Assad regime has sunk to a new level of depravity, and it has done so with seemingly unconditional support from Russia and Iran. For these reasons, we continue to support the political transition process contained in U.N. security resolution 2254, and support the political process taking place under U.N. oversight in Geneva.
As we've said before, the United States remains open to working together with both Russia and Iran to find a solution that leads to a stable and united Syria. But in order for us to work together to bring an end to the violence in Syria, Russia and Iran need to acknowledge the atrocities of the Assad regime and use their influence to stop them.
As you can see, it's going to be a busy week for the President, the Cabinet and the staff, leading up to the President's first foreign trip that launches this Friday. We take off for Saudi Arabia later on Friday, and I plan to have General McMaster here hopefully tomorrow to walk through the trip with further detail.
And with that, your questions.
Q: Thank you, Sean. Just in China, NSC Senior Director say the U.S. is forming a working group and say the U.S. company have much to offer. So what's the prospective of the U.S. future collaboration in this --
MR. SPICER: As I mentioned with respect to the 100-day plan, I think there's a lot of areas that we are going to continue to work with China to develop a way forward. I think the relationship that the President established with President Xi down in Mar-a-Lago is continuing to pay dividends for our country. And whether it's this policy, or trade, or market access, we're going to continue to see all of those individuals from the President's Cabinet that were down in Mar-a-Lago continue to work with their counterparts in China to find a path forward.
John.
Q: Sean, a couple of topics, but first of all, back to what you said about Syria. Is the official policy of this administration now regime change in Syria?
MR. SPICER: I think I've made it very clear what our policy is and continues to be.
Q: Over the weekend, a lot of complaints from Democrats about the Comey replacement process. First of all, that Jeff Sessions is leading the search -- there are a lot of Democrats who think that because he recused himself from the Russia investigation he should not be in that position. Secondly, some Democrats in the Senate are saying that before they will consider the President's next nominee, they want a special prosecutor appointed to look into the Russia investigation. Can you respond to both of those?
MR. SPICER: I think this is a process that's running completely as it should. It's being headed by the Deputy Attorney General and the Attorney General. As we've noted in the past, the FBI director reports to the Deputy Attorney General. They continue to move through a series of highly qualified candidates, and it's -- obviously this is a huge priority for the President to make sure that we have someone that has the ability to administer the proper leadership to the FBI.
Q: And on the special prosecutor?
MR. SPICER: I think that's -- there's, frankly, no need for a special prosecutor. We've discussed this before. You have two Senate committees that are looking into this. The FBI is conducting their own review. And I think if you even look at what Acting Director McCabe said last week, he made it very clear that they had the resources that they need and that the work continues.
But the bottom line is, again, I think part of it is there's a difference between what we've talked about in that -- and it's been made very clear that there's been, with respect to the President himself, both Senator Schumer, Senator Feinstein, Senator Manchin and everyone else who have been briefed on this have been very clear that there was no collusion with respect to the President himself and no investigation there.
Blake.
Q: Thank you. Let me pick up where Mr. Bossert left off about this -- about the ransomeware attack. In the short term -- a short-term question and a long-term question. In the short term, is it the advice of the administration -- should somebody be -- who has their computer system infected not to pay the ransom?
MR. SPICER: As I said, I think that what we have seen so far that is the most effective is that if people take the necessary proper steps in advance and use the patches that are available to ensure that it doesn't happen. So prevention is right now the key that we're stressing.
Q: As it relates to the long term, at the end of the day this is extortion from likely hostile foreign actors. Might the administration set some sort of guidelines or policies as it relates to U.S. individuals, U.S. companies? Should they be approached as to what to do and maybe what not to do?
MR. SPICER: I think we can -- our immediate goal right now is to make sure we're protecting our both individual, commercial and government enterprises. And that work has proved to be -- the prudent steps that were taken have proven to be fruitful. And I think we're going to continue that. Right now, obviously, that's the number-one priority.
Q: Do you know what -- he mentioned FedEx. Do you know if that was a -- something specific happened to FedEx?
MR. SPICER: I don't. I can have Tom follow up.
Jim. Fred, I'm sorry.
Q: Thank you. Yeah, I wanted to ask about the election integrity commission. Is the primary goal of this going to be looking for recommending reforms of the federal laws, like the NDRA, or looking at (inaudible) or is it going to be more of an audit of the 2016 election?
MR. SPICER: The executive order that the President signed, and the Vice President and Secretary of State Kobach are leading, is a bipartisan commission of state elections officials that are going to look at all aspects of election integrity, including voter fraud and proper registration, and allegations of voter suppression. So I think they're looking at this holistically.
Q: Okay, and one more. As far as North Korea goes, with the new South Korean government coming in, does the administration advise against their reaching out or (inaudible) that they had towards the North Korean regime?
MR. SPICER: I'm sorry, say the --
Q: Oh, the new South Korean government -- is the administration advising against South Korea reaching out to North Korea after this weekend's missile test?
MR. SPICER: I think the President looks forward to having a conversation with the new President and discussing the way forward, but I'm not going to get ahead of that discussion at this point.
John.
Q: Thanks a lot, Sean. On the search for the new FBI director, the President today said that it's "moving rapidly." One name that was put forward over the course of the past 24 hours by the Senate Majority Leader is that of Merrick Garland. Is that a name that the President would possibly consider in the move to name a new FBI director?
MR. SPICER: The search for a new FBI director is being handled by the Department of Justice. My expectation would be that once they've conducted that search, they'll present names for consideration to the President. But they are the ones that are leading that effort.
Alexis.
Q: Sean, can I follow up on the tape question from last week? As you know, several Republicans have joined Democrats in seeking additional information from the White House, in writing, about the existence of any tapes, producing the tapes, and any further information about the potential taping of conversations. Is the White House intending to cooperate with those requests and furnish that information as requested in writing?
MR. SPICER: I think I made it clear last week that the President has nothing further on that.
Hunter.
Q: Wait, wait -- Sean, does that mean that the President will deny the request?
MR. SPICER: I said -- I was very clear that the President would have nothing further on that last week.
Q: You're describing a situation in which the President would defy the legislative branch's request. That's what you're saying.
MR. SPICER: Alexis, I made it clear what the President's position is on that issue.
Hunter.
Q: Sean, people clearly still have concerns about Russia's role in the election, even though the President has essentially said there's nothing to it. If there is nothing to hide, why not back a special prosecutor or independent commission just to settle it beyond any doubt?
MR. SPICER: Well, again, it's not a question of -- it's at what point -- you have a House and Senate -- a House committee, a Senate committee, the FBI. I don't know why you need additional resources when you already have three entities.
Q: Well, we saw polling this weekend from NBC News and The Wall Street Journal --
MR. SPICER: I understand that, but that's --
Q: -- 80 percent of people want this, and they don't have confidence in Congress.
MR. SPICER: With all due respect, I think the bottom line is you have three entities already looking into this matter. I think the President's position has been very clear that there's two issues at hand. One is the involvement of Russia potentially in -- with respect to an election, and then the President's involvement. The FBI director and others have made it very clear that the President is not a subject of anything. I think we have plenty of entities looking into that.
Trey.
Q: Sean, two questions for you. On North Korea, is there a new sense of urgency for President Trump to act following the successful ballistic missile test over the weekend?
MR. SPICER: I think there is no question that North Korea continues to threaten the United States and our allies, Japan, South Korea, and its neighbors, including both China and Russia. I think we are calling on all of those folks in the region, particularly China and Russia, to do everything they can in terms of sanctions to help resolve the situation and bring stability to the Peninsula.
Q: On a quick domestic issue, what characteristics is President Trump looking for in an FBI director?
MR. SPICER: I think obviously he wants someone with high integrity and the leadership skills to lead the entity. But I have not specifically discussed the qualities with him.
Richard.
Q: Thank you, Sean. Two questions. First one -- you told us over and over that, for NAFTA, we were waiting for Lighthizer -- Robert Lighthizer -- to be confirmed. Now he's going to be sworn in. Can you give us a better idea on the pace of the renegotiation of NAFTA now that we have a Trade Representative?
MR. SPICER: Well, I think -- I'd have to check the calendar, but I think we've got an hour or two before he's actually sworn in, so you may want to give him a little bit of time.
Q: Can we say like --
MR. SPICER: I don't -- because until he's sworn in and assumes the position -- as I mentioned, he's going to immediately go up to Capitol Hill and then off to APEC in Vietnam. So I'm sure we'll get around to it, but right now we still need to just go through the process of getting him sworn in.
Q: Last week -- quickly -- H.R. McMaster touched the topic. But when the President will be with NATO allies, is he going to ask for a larger, bigger involvement in Afghanistan with troops on the ground, from the members?
MR. SPICER: I'm not going to get into what he will say or will not say. He'll have an opportunity to make his position very clear when he goes.
Q: But more allies with soldiers on the ground?
MR. SPICER: I think until -- he hasn't even -- I don't think -- we haven't announced the Afghan strategy yet. I think he's been very clear. With respect to NATO, there's two issues. One is, he'd like to see a greater effort placed on counterterrorism -- on combatting terrorism. And two is to see more of the countries living up to their financial obligation that they agreed to.
Jim.
Q: Thank you, Sean. A two-part question. Is President Trump still committed to his 15-percent corporate tax rate? He's also under pressure to keep some existing loopholes, such as eliminating the state income tax write-off for high state taxes, such as New York and California. So is he committed to the 15-percent corporate tax rate? And is he also full steam ahead on getting rid of the write-off for high-tax states?
MR. SPICER: Well, Secretary Mnuchin and Director Cohn outlined the principles of his tax reform plan. We continue to meet with stakeholders and members of Capitol Hill, but that conversation continues. As I said at the outset, they're continuing to meet with individuals and those are part of those talks. So his plan has been pretty clear from the beginning as far as what he wants to see and the framework in which it's being guided.
Q: Should low-tax states, though, subsidize higher-tax states? Because places like Florida and Tennessee can't write off zero income taxes.
MR. SPICER: Again, I'm not going to get head of that debate. I think the principles that were outlines explain where the President's starting point is. He's going to continue to have those discussions.
Eamon.
Q: Thanks, Sean. On the search for the new FBI director, there have been some critics who have said in this particular political climate, whoever it is shouldn't be a current or former politician. We saw the list of people who have been interviewed, and we see that at least two of them are either current or former political figures. Does the President have a feeling on whether or not having held elective office is a plus or a minus to hold that job?
MR. SPICER: I don't -- as I mentioned just a minute ago, I have not talked to him about the specific qualities he's looking forward to seeing. But I know the Department of Justice continues to meet with these individuals, and so we'll have to see who they put forward.
Hallie.
Q: Thanks, Sean. I have two questions for you, but I guess I'm just looking for some clarity on one of my colleague's questions here. Why won't you just explain whether or not there are recordings of the President's conversation?
MR. SPICER: The President has made it clear what his position is.
Q: That's not my question, so why won't you explain it?
MR. SPICER: I understand that. Because that's what the President's position is.
Q: So given that you refuse to confirm or deny any of this, how is any senior official supposed to feel comfortable having a conversation privately with the President?
MR. SPICER: As I've said, Hallie, the President has made it clear what his position is.
Q: Even with these congressional lawmakers calling --
MR. SPICER: Hallie, I've answered the question over and over again the same way.
Q: So the second question that I have for you then is on the arguments that are happening now in the 9th Circuit regarding the administration's travel ban. One of the lines of questioning has been why the President has not disavowed his Muslim ban. Will he do that?
MR. SPICER: The President -- the executive order is fully lawful and will be upheld. We fully believe that. I think there's no question -- in fact, in one of the arguments in the previous cases, it was made clear that if anyone else had proposed this -- which just shows that it is legally sound. People are misinterpreting it. It was based on the law and the authority that the President rightfully has. That's it, plain and simple.
Q: My question is more, will he disavow the ban? He's never said it --
MR. SPICER: But the point is, is that the ban -- the measures that he took in that executive order are fully lawful and fully compliant, and make it clear that they seek to keep this country safe. That's it.
Q: But given these questions come up, is there any indication the President will come out and say, yes, I disavow what I said about not allowing --
MR. SPICER: Right now the President is focused on making sure that we make the appropriate arguments to get the ban in place.
Jon-Christopher.
Q: Thank you. Considering in contrast to much of the expression during the French presidential election -- and that has been reported in France, especially -- there may be a lot more in common between President Trump and the new President, Emmanuel Macron of France. Both former successful businessmen, both leaders of two very powerful countries, and two of the oldest allies going, basically. Knowing this, would the President look forward to an opportunity to bring this young President closer to him? Maybe meeting on the borders in -- at the G7? Or maybe even inviting him here to the Maison Blanche in the next few months?
MR. SPICER: If we have updates to share on additional -- individual leaders that he will be meeting with or meetings that he'll have during his trip, we'll be sure to give you an update on that. But with respect to whether it's the French President or any other head of government, the President looks forward to reasserting America's role in the world and reestablishing some of the relationships.
And I think what you've seen so far -- whether it's President Xi, or Prime Minister Abe, or other individuals -- as you can see by the week that we're having this week with the UAE, Turkey, Colombia, the President has made it very clear that he is going to do everything he can to reestablish relationships around the globe to help protect and advance our national interests.
Q: This is a special one.
MR. SPICER: They're all. Look --
Q: The oldest one. Before we were a republic.
MR. SPICER: Look -- right. I understand. There's a lot of relationships that the President wants to strengthen for the good of this country.
John.
Q: Thank you, Sean. Two brief questions. First, there are reports -- and it may be confirmed by now -- that Mrs. Callista Gingrich will be the third woman to be U.S. Ambassador to the Holy See. Official?
MR. SPICER: Nothing is official until it's announced.
Q: All right. Has her name been vetted with the Vatican?
MR. SPICER: I'm not going to -- that's a nice back-try, but I'm not going to -- (laughter.) The answer is we have no personnel announcements.
Q: The other question is not related to personnel but process with the FBI director. Sarah spoke last week about an interim or an acting director of the FBI. But with the interviews that you describe with the Department of Justice, can we expect that the name who is nominated for the position from that podium will be for permanent director and promptly submitted to the Senate?
MR. SPICER: That's what I believe the President's expectation is, yes.
Q: So no interim or acting?
MR. SPICER: Well, you have acting now until someone is selected. But the reason that the President's team is going through this process is to select the next director.
Mara.
Q: I have -- I know this isn't on the front burner right now, but I have actually the healthcare question.
MR. SPICER: Okay.
Q: As it goes to the Senate, I'm wondering if the President's negotiating strategy will change. Does he want to get involved earlier? Does he want to wait till the Senate kind of comes up with something? Does he have anything in particular he wants them to keep from the House bill, get rid of from the House bill? What's his approach to this new chapter in the AHCA repeal process?
MR. SPICER: Well, I think he feels very strong about the product that came out of the House, but he recognizes that the Senate has a duty to review it and to come up with ideas. And if it could be made stronger, then great. He's continued to have conversations with members of the Senate. His staff has had them as well. Our legislative team and others are in communication with the Senate and we'll continue to work with them.
But obviously they're an independent body. They have a right to go through their own process. And if we can make the bill stronger in any particular way, that's something that he'll support.
Q: But he kind of came in at the end to kind of close the deal in the House. Does he want to get involve more in the earlier stages of the process in the Senate, or just stick with the same negotiating strategy?
MR. SPICER: I think that the team has been intricately involved in the process for quite some time. And the President by several accounts was involved in a way that people hadn't seen on Capitol Hill in a long, long time.
Q: Two things. Just going back to the FBI director search, should we expect the President to begin interviewing personally the short short list before he leaves on the trip?
MR. SPICER: I think that's going to be driven by the Department of Justice. And as soon as the Department of Justice has a recommendation for the President, then we'll move on. But at this time, I don't have -- there's no update on where that is.
Q: And I want to go back to -- you started off with Syria there. The State Department today, of course, announced that the Syrian government has apparently been carrying out mass killings, burning thousands of prisoners. I'm wondering if that crosses any kind of red line for the President and whether we should expect to see any kind of military response to that.
MR. SPICER: Well, the President has always been clear that he's not going to telegraph actions that he takes. So that's number one. Number two is, I think what was important about what the State Department did today was to really enumerate the atrocities and the human rights violations that have been committed, and then further ask the world community to join with us to put pressure on Syria.
Q: Should we expect any direct action by the President --
MR. SPICER: Again, I don't think -- the President has made clear over and over again that he doesn't telegraph his actions. He's going to be continuing to raise this issue, but when he's ready to act he'll let everyone know.
Jen.
Q: When it comes to vetting for the FBI director, after the experience with Michael Flynn, is the White House recommending doing anything differently with vetting the FBI director? Are you already doing something different with that vetting?
MR. SPICER: I'm not going to get into internal processes that exist, but obviously, we will -- you'd have the full resources of the FBI. So I'm not going to get into how that process is handled.
Q: But are you going to change things up?
MR. SPICER: I'm not going to get into the processes of how that's being done.
Q: Sean?
MR. SPICER: Yeah.
Q: Okay. Two questions. Wanted to follow up on Hallie's question. How has the President made it clear what his position is on the --
MR. SPICER: I've answered that several times.
Q: -- he made it clear. All I've seen is the tweet.
MR. SPICER: Right. So that's his position. He said that he has nothing further to add.
Q: Okay, but he had "tapes" in quotes.
MR. SPICER: Kaitlan, I understand.
Q: Okay, I just wanted you to -- clarification on it.
MR. SPICER: There's nothing further to add on that.
Q: My second question is, has he made any other inquiries about the Russia investigation to any other FBI officials?
MR. SPICER: I don't -- no, not that I'm -- I haven't asked him about that but I'm not aware of anything.
Q: Okay, and one small follow-up. Last week, you said you would get back to us on who requested the dinner between him and Comey.
MR. SPICER: I still don't -- I apologize, I will follow up on that today. I think one of the things that's important with respect to that -- just to clear something up -- I think that there was clearly bipartisan support that Jim Comey wasn't up to the job. The President has every right to fire a person because he believed Director Comey lacked the judgment and the decision-making skills and wasn't up to the job.
The President's reaction to this, to what -- his position has been completely misrepresented. If you think about what he said to NBC News, he said, one, he didn't care that this action would made matter worse for him, that it "might even lengthen out the investigation" because he would take action against Jim Comey in firing him. He said that he wants the investigation to be done "absolutely properly," and he said that it might even confuse some people that he would take this action knowing it would make matters worse for him.
The actions that he took he knew could be detrimental to himself, but none of those things mattered because the President had to do the right thing for the American people because he believes that Jim Comey was the wrong man for that position. And I think that we've got to be very clear as to the reason that the President took the actions that he did. He knew that what he did could be detrimental to himself, it could lengthen the investigation, but he knew it was the right thing for the country, the right thing for the FBI, and the right thing to get to the bottom of this.
Q: Why does he feel that Comey was the wrong person for the American people?
MR. SPICER: Because he didn't have the leadership skills necessary to lead this -- that institution. And as he said in the statement at the time, the FBI is the crown jewel of law enforcement and they deserve a leader that can properly lead the institution.
Thank you guys very much. I'll see you tomorrow.
END 2:53 P.M. EDT
Donald J. Trump, Press Briefing by Press Secretary Sean Spicer and Assistant to the President for Homeland Security and Counterterrorism Tom Bossert Online by Gerhard Peters and John T. Woolley, The American Presidency Project https://www.presidency.ucsb.edu/node/327612