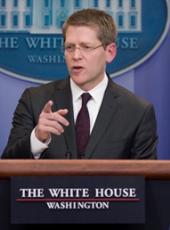 Press Briefing by Press Secretary Jay Carney and Deputy National Security Advisor for Strategic Communications Ben Rhodes
Killyhevlin Hotel
Enniskillen, Northern Ireland
9:53 P.M. BST
MR. CARNEY: Thank you for being here. Thank you for your patience. I know it's late, at least in this time zone, so I will not spend any time with announcements at the top except to welcome -- we lost power. There we go, good.
As you know, the President had a series of meetings today for part of the G8 summit and around the G8 summit. Ben Rhodes, Deputy National Security Advisor, is with me. He can read out to you those meetings -- most recently, the President's meeting with President Putin. I am here to take questions on other issues if you have them. But I will turn it over to Ben for that. Thank you.
MR. RHODES: Thanks, everybody, and thanks to those in Sligo for working with us through this miracle of modern technology.
I'll just go briefly over the events of the day and then focus on the Russia meeting, because I think that's the one of most interest right now. But this morning, you heard the President's speech in Belfast. After that, he was able to visit the school with Prime Minister Cameron. And I would note that, importantly, this is an integrated school that brings together Catholics and Protestants to forge a new generation of people in Northern Ireland who are working together to advance the type of permanent peace the President spoke about in his speech. So this school was a good symbol of the type of progress that the President was talking about in his speech.
After he came to Lough Erne for the G8 meetings, he met with the Italian Prime Minister just as an initial meeting as they kick off their working relationship; had a brief discussion of the global economy. And the President extended an invitation for the Prime Minister to visit Washington in the near future. And we'll have to work out a date for that.
After that, you saw the President's meeting with other European leaders to launch formally the negotiations of the Transatlantic Trade Investment Partnership, T-TIP, which is a key part of our global trade agenda and our economic agenda promoting economic growth and job creation. And you saw in the fact sheet that the first negotiations will kick off in July in Washington.
Following that was the opening plenary on the global economy, and you'll see a statement out of the G8 on the outcome of that meeting, which focused on ways to work together to promote economic growth -- T-TIP, of course, being an important part of that -- and also how to balance the fiscal measures that are being undertaken with strategies that work together to promote growth.
But then the President had a bilateral meeting with President Putin of Russia, and I'll just go briefly through some of the highlights of that meeting. It was a two-hour meeting, and as you heard both Presidents say, they had a very candid and wide-ranging discussion of a number of issues on the bilateral and global agenda.
First of all, they discussed economics and how to increase trade and investment between the United States and Russia. They've also agreed to form a working group to focus on that issue, led by Vice President Biden on the American side and Prime Minister Medvedev on the Russian side, to take up this issue of how to increase trade and commerce across the United States and Russia, given the fact that now Russia is a member of the WTO and there are good opportunities for our businesses to get into the Russian market, and then, similarly, for Russia to have increased ties with the United States.
Secondly, they discussed counterterrorism issues. The President thanked President Putin, as you heard him indicate, for their cooperation after the Boston attacks. And they agreed, after Boston and leading into the Olympics in Sochi, to focus on increasing the nature of our counterterrorism cooperation and they very much agree that this is an issue where the U.S. and Russia can work together.
Third, they discussed a range of issues associated with nuclear weapons and nuclear security. They reached an agreement to renew the cooperative threat reduction program, commonly known and Nunn-Lugar, which was set to expire. This will allow us to continue to work with Russia to secure nuclear materials not just in our countries, but also in third countries.
They also discussed broadly strategic stability between our two countries. Associated with that, the President indicated that he believes that we can continue to work with Russia to pursue further reductions in nuclear arsenals beyond the New START levels.
And they also discussed missile defense. And this is an area where they agree that we need to continue to have the type of technical exchanges and exchanges of experts so that we can forge a basis for cooperation going forward.
Then there was a discussion of nonproliferation challenges, in particular North Korea, where we've been closely coordinated and aligned generally in our view that the cycle of provocative actions needs to come to an end and we need to get back to the issue of denuclearization.
Iran -- and both leaders believe that the aftermath of the Iranian election provides an opportunity to explore whether a diplomatic solution can be reached to the Iranian nuclear issue. And they agreed to continue to coordinate closely with the P5-plus-1 in pursuit of that goal.
Then there was a discussion of Syria. And as you heard both leaders indicate, we've clearly had differences over Syria in the past and continue to have differences as it relates to principally the fact that the United States believes that any transition in Syria has to involve Bashar al-Assad leaving power. However, they do believe and recommitted themselves to working for a negotiated, political settlement to end the violence in Syria.
And as you've heard us say over the last several days, this continues to be our preference in terms of an outcome in Syria -- that if we can get the two parties to the table and help forge a political settlement that allows for a new government to emerge and the conflict to come to an end, that would be our preference, that would be Russia's preference, and that would be in the best interest of the Syrian people and the international community. So in that vein, they agreed to continue to work towards a follow-on to the Geneva process in which the opposition and the regime are coming together, supported by the international community, in talks about reaching that type of political settlement.
Then they touched on the broader Middle East and North Africa and the changes taking place, particularly given the focus here at the G8 on Libya and the trends in the region.
So they covered a lot of ground. The only other thing I'd note is that the two leaders agreed that in advance of the G20 in St. Petersburg, there will be a bilateral summit between the United States and Russia in Moscow. So we'll be going to Moscow before we go to St. Petersburg for the G20. And we surely will be continuing to discuss all of these issues as well as other things.
So with that, I know Jay would be happy to take questions on anything.
MR. CARNEY: Yes. I just wanted to say that in trying to incorporate both sites here, we'll start with four questions here, then we'll take four via the remote site, and then we'll try to bounce back and forth so that everybody has a fair opportunity.
Peter.
Q: Thank you, Jay. Thanks, Ben. Did the issue of chemical weapons come up? And is it fair to say that there's a difference of opinion on that evidence?
MR. RHODES: The issue of chemical weapons did come up. The President raised it and you heard him mention it in his public comments as well. And the Russians, of course, have been more skeptical of the evidence that we put forward. We believe to be highly confident in that evidence, given the multifaceted nature of where we're making our conclusions from, which is physiological samples as well as intelligence reporting, open-source reporting, and individual reports.
However, I think what the President's point was and what we want to do with the Russians is focus our efforts on empowering a U.N. investigation that can also get to the bottom of this. So in other words, the best way to clear up these questions is for the Assad regime to provide access to that U.N. investigation, which they have so far not done.
So our message to the Russians, in addition to the briefing we provided them on our assessment, is that if you believe that these issues can be cleared up, then the Assad regime should allow for inspections of all of the alleged incidents, including the four incidents that we enumerated in our letter to Ban Ki-moon.
I think, as a general matter, the Russian government shares an interest in making sure that chemical weapon stockpiles are secure within Syria. It's in nobody's interest that those weapons be used or transferred to terrorist organizations. So there, too, there's a basis for us to cooperate. We would like to see that lead to greater cooperation from the Assad regime in the ongoing international efforts to investigate these incidents.
Julie.
Q: Thanks, Ben. On the question about the difference on what you think should happen with Assad, did Putin give any indication that he's moving on that position? And if chemical weapons evidence and just the general violence in Syria haven't gotten him to move on that position, what do you guys have left to try to prod him along? And if you can't prod him along then what's the point of a political conference where you're at odds over what the outcome should be?
MR. RHODES: Well, I think the principal point is that the status quo is not one that Russia is happy with either. The status quo is inherently unstable. It's leading to refugee flows. It's leading to increased violence within Syria and within the region. You heard President Putin himself allude to the growing loss of life in the country. And so Russia has a fundamental interest in making sure that there is some type of political process that can lead to stability in Syria.
And so that's why they're not simply invested in saying, we're just going to back Assad and that's the totality of our policy. They very much want to encourage this type of political process.
As you said, we've been very clear and up front in stating our view that Assad would need to go as a part of that process. I think the Russians would want to see those talks emerge between the opposition and elements of the regime in some type of transition plan. But we both agree that it's worth getting the parties to the table to have that discussion and to have that negotiation about how a transition moves forward.
And the Russians profoundly understand that if you don't have a political process, there's going to be a war, and somebody's going to win the war, and that's going to take a very long time and a lot of people are going to die and there's going to be a lot of spillover effects. And that's not in anybody's interest.
So that's why I think you heard the two leaders emphasize publicly that while we've had these differences, we really do want to find some common ground here where we're each working to bring the parties to the table here and see what can be done through a political process -- because the alternatives, no matter how you look at it, are worse than negotiating a political settlement.
Q: Ben, one for you and then one for Jay. On the talks on Syria, you and both leaders said that the conversations were very candid. Can you give us a little bit of color? What was the environment like when they were talking about that topic? Was it tense? Were the leaders open in a way we haven't seen before?
MR. RHODES: I'd say a couple of things. And first of all, one that's to Julie's point, what you've heard President Putin say a number of times is, to them, this is not all about Bashar al-Assad somehow. To them it's about their interests in Syria, and their interests in Syria fundamentally have to do with stability. And so, in other words -- Julie asked if there was movement -- again, I don't think the Russians would portray this as they're invested just in Bashar al-Assad and no other alternative. They're invested in a stable outcome, and they want to make sure that any transition that emerges preserves that goal.
In terms of the atmospherics, we've been having a discussion with the Russians about Syria for some time now at a variety of levels. So they don't necessarily need to review the full bidding of what's taken place. So, first of all, this wasn't the majority of the meeting; this was about a fifth of the meeting, from my understanding. And I think there wasn't an extended discussion as there was even in Los Cabos about the differences between the two countries. It was more about what can we do to continue to be invested in this Geneva process; what can we do to use all the respective influence to get these parties to the table in a manner that could be successful.
So this is a businesslike relationship. But these are discussions that -- again, it's not as if leaders have to bring each other up to speed. They know full well the perspective that they each bring to the Syria issue.
But, again, I think President Obama's point to President Putin has continued to be we're interested in an outcome that does restore stability; we just don't think that can be done unless you have a change, a circuit-breaker, essentially, in Syria where Assad steps aside. So I think there is an intent to signal the convergence of views on a political process, understanding that there's a lot of history in terms of the differences we've staked out on Syria.
Q: Patriots owner, Robert Kraft, insinuated that his Super Bowl ring was stolen by President Putin some eight years ago, and then went on to say that he had an emotional tie to it and the White House even intervened and said it would be in the interest of the U.S.-Russian relations to say it was a gift. Was the ring stolen? Was it a gift? And when was the White House made aware of this?
MR. CARNEY: I will turn that over to Ben. (Laughter.)
MR. RHODES: I'm not aware of any discussions that may have happened with Mr. Kraft. This did not come up in the meeting between the Presidents. And we'll have to review whether we had any -- heard anything from Mr. Kraft, because I'm certainly unaware of anything. Did he suggest it was in this White House or the previous? Because as a Jets fan, even though the Jets haven't won since '69, I know the Patriots haven't won in a while either. (Laughter.) So I think it was under the Bush administration that this might have taken place. But we can check whether we ever heard from him.
Q: I had a serious one, instead of like counting how many times the Bush administration has been blamed for something.
MR. RHODES: It had more to do with the Patriots than the Bush administration.
Q: Did the President detail the level or the kind of assistance, military assistance, in either his meeting with Letta, Cameron? I know that it wasn't really formal with Cameron or Putin.
MR. RHODES: No. The meeting with Cameron was rather informal, as you saw. Syria will be on the agenda tonight at the leaders dinner, and I think the President will have opportunities to speak to some of his counterparts there. I think with the Prime Minister of Italy, I think their discussions focused a little bit more on the economy and just kicking off their relationship.
With respect to President Putin, I think President Obama didn't go into those types of details. We simply reiterated the reasons why we feel like it's necessary to support an opposition in the face of a regime that has been using such horrific violence against them. So it's more at the level of principle than that type of detail.
MR. CARNEY: So now we'll endeavor to take questions from the press file. We know there will be a delay. You might have to be self-selecting because we can't really see that well in terms of who gets a question. Somebody speak up.
Q: Jay, it's Jon Karl. Just two quick ones. First, did Putin agree to stop sending arms to President Assad's government, or indicate he would continue to do so? And just curious -- did that report about the alleged spying on Medvedev in the 2009 G20 conference come up and did the President apologize for the U.S. role in that alleged spying?
MR. RHODES: On your second question, that issue did not come up. Nothing came up associated with the recent disclosures, so it was a non-event at this meeting.
As a general matter, I think the United States and Russia are well aware that each of us has an intelligence community and we have had dialogues on these issues for years. But this didn't emerge as an issue at this meeting.
On your first question, the Russian position has simply been that they're fulfilling contracts associated with past practices, past business with the Syrian regime. We have indicated that we don't believe additional arming of a regime that's engaged in the activity that we've seen of the Assad regime is in the interest of peace and stability in Syria.
And I think the President reinforced that point as well as, in particular, the importance of ensuring that they're not against weapons systems that could potentially proliferate to other groups in the region through Syria. So I think it was more a general point that he made about the lack of faith we have in the Assad regime in any way, shape, or form to use weapons responsibly. And that was a point that he reiterated, as we often do with the Russians.
Q: Ben, you spoke about they agreed to work for a follow-on from the Geneva process. That seems a lot less definitive than this idea of at some point in the next few months holding a conference in Geneva. Has that been shelved for now because of events on the ground or difficulty in getting it to take place?
MR. RHODES: No, I think that any Geneva process would ultimately have to involve representatives empowered by the regime and by the opposition coming together in that type of conference. So that certainly remains the goal of the Geneva track.
Clearly, the case is it will take some work to have the opposition feel like they can be invested in that type of process. Our point has been that ultimately it's in the best interest of the Syrian people to invest in a peaceful political track. At the same time, the Russians can play a constructive role in making clear to the Assad regime that they have an interest in coming to the table.
And they indicated that they would do that. That is something that the Russians have committed to playing a constructive role on in terms of getting the regime seriously invested in the Geneva process.
So that is something we will continue to work towards. In the interim, we want to make sure that we have an opposition that is strong and cohesive. And part of the purpose of our policy in providing the support we have to the opposition over time has been in helping to help build an opposition that can be broadly representative of the Syrian people, that can include the different factions from within the country, that they can express a moderate platform about Syria's future, given our concern about some extremist groups.
So our investment in the opposition is an investment in a future of Syria that can hold together and that can be on the other end of that type of political track. But in the meantime, we need to make sure that they have the capability, the wherewithal, to meet humanitarian needs where they can and to also meet their defense capabilities.
I should add just one thing, since I meant to do it in the opening. Tonight in the dinner discussion, the President will also indicate, consistent with a call that has gone out for the United Nations for additional humanitarian assistance into Syria, that the U.S. will be providing over $300 million in additional humanitarian assistance for the Syrian people. And that includes food, medical equipment, water, shelter for people both within Syria and in neighboring countries. And a significant amount of that funding will go inside of Syria -- a little less than half -- and then a significant amount will go to some of the countries bearing the burden of these refugee populations -- Lebanon, Jordan, Iraq, Egypt as well. Because the international community has an obligation, even as we deal with the political situation and the security situation, to address the humanitarian situation.
So I mention that -- I meant to in the opening.
Q: Is that new money, Ben, or is that money that's --
MR. RHODES: Yes, that's new money. So that will bring -- we'll have a fact sheet on that, but that will bring the total assistance that we provided on the humanitarian side to over $800 million.
Q: Was Mr. Putin at all responsive to the idea of peeling Assad away from the rest of his regime and letting someone under him basically negotiate with the opposition -- which seems to be your strategy?
MR. RHODES: Again, like I said, I think the fundamental view expressed by Russia is not that this is all about Assad. To them, it's all about having a stable outcome. So in terms of who comes to the table, that type of discussion, it's certainly the case that you could have empowered representatives of the regime. And in terms of how it unfolds, it's our belief that we can get to an outcome in which there's an agreement for Assad to step down as part of that process. Because basically there's no way you can foresee, given what's happened, the opposition coming to terms with a leader who has been so abhorrent in the conduct he's carried out against his people -- killing tens of thousands of people, including so many innocent civilians.
So we believe Russia's investment here is not in one man, it is not just in Bashar al-Assad. It's in a stable outcome. And we believe that that can be reached through this type of Geneva political track that is what we're pursuing.
Q: Hey, guys, it's Shawna Thomas from NBC. Did the Russians agree to allow the U.N. -- to push Assad to allow the U.N. for their own investigation? And yesterday, Putin had much more colorful language with Prime Minister Cameron about people helping out the opposition. Was any of that kind of language behind closed doors? What do you think accounted for a lighter tone in front of cameras?
MR. RHODES: I think it's noteworthy, because I think both leaders went out of their way to underscore that they can work together on this issue, and that we don't necessarily need to focus on -- the differences are well known, but that if we are sending a message that the U.S. and Russia, as two leading world powers and two countries who've been deeply engaged in the Syria crisis, if they can project a message that they have a convergence of views as it relates to a political negotiation, that keeps the possibility, the prospect of that political track alive. So I think you saw an intentional effort by both leaders to underscore where there was convergence in their views.
Jeff.
Q: Further on the tone, aside from the bit about Judo at the end, it seemed particularly relaxed to me. Can you give an overall description of what the tone was like during the meeting? And secondly, given both the differences and the areas of agreement, how will you move forward tonight with common language or uncommon language in the communiqué about Syria?
MR. RHODES: Well, look, I think this question around kind of the body language comes up every time we meet with the Russians now. And I think the -- well, what you see is what you get, and the sense that this is a business-like leader in President Putin and these are business-like discussions. But the President's view of the meeting was they were able to really have an in-depth exchange. It went two hours, it went far over the time budgeted for it precisely because they're each leaders who kind of get right to the point here and don't need to circle around it.
So I think you got a sense that these are some of the most difficult issues in the world today. And if you go down the list of what they talked about, many of these are issues where we reached an agreement: to have an economic coordinating body to restart the cooperative threat reduction program; to cooperate on nuclear security; on Iran, to send a common message; and on Afghanistan, we still transport our troops in and out of Afghanistan through Russia.
The point being is that there's bandwidth in the relationship for a lot of cooperation, even when we have difference, and even within the Syria issue, there's that bandwidth. And that's the message that the leaders wanted to send.
And they had a discussion that was a bit broader than the specifics here about the nature of this relationship and is this relationship going to be one that allows us to work together in a positive environment or are we going to kind of go down a spiral of having a series of irritants. And they both expressed that it's not in anybody's interest for the U.S. and Russia to go through that type of process; that we need to invest in one another and invest in having a constructive relationship. So that was the general tone of the discussion. And your --
Q: The communiqué?
MR. RHODES: Oh, yes. The leaders will discuss Syria tonight at the dinner, and we'll have to see what type of language. I mean, I think it's fairly evident that there's a difference of view on Syria between the United States and some of our -- well, the former G7, and Russia has taken a different position. But I think the goal of working these issues through a G8 is to see what type of common ground can we forge, and that's what they'll be doing at the dinner tonight.
Q: Ben, on the issue of military support, until now the conduits for arms to the rebels had come through Arab countries, Persian Gulf countries. And we haven't heard much from the G8 allies or some other European allies to join the President as the President has done. So I'm wondering if there's a risk -- even though there's rhetorical support from France -- if there's risk that the President stands alone or the U.S. stands alone among the larger industrial allies on that issue?
MR. RHODES: It's an ironic question because it frequently comes at the other way, that the Europeans are doing more when, in fact, I think on Syria as a general matter we have been a leading provider of humanitarian assistance, on lethal non-lethal assistance, and we're taking this step to provide support for the military opposition.
In terms of -- I think what you've seen is that nations that are most immediately affected in the region are the most invested in this process. And so it's only natural that Turkey and Jordan, which border Syria, as well as the Gulf countries -- Saudi Arabia, United Arab Emirates, Qatar -- have provided significant support to the opposition and are deeply invested because this is their neighborhood. These refugees pose a direct threat to their security. They don't like to see a massacre happening so close to their borders. They don't like to see the type of interference that Iran and Hezbollah have shown inside of Syria.
So I think it's natural that the most invested countries in terms of support to the opposition are going to be the countries in the region. I think what you see from our European allies, and particularly France and the United Kingdom, is a significant amount of political support for the opposition. They've provided assistance to the opposition. They have lifted an arms embargo through the European Union to open up a broader set of options for them to consider in terms of their support for the opposition.
So they are aligned with our policy in terms of having a robust set of pressures on the Assad regime, significant assistance flowing into the opposition, coordination with the 11 countries in Europe and the region who are working most closely with the opposition, but also supporting a political track.
So I think the President feels like he's in good alignment with Prime Minister Cameron, President Hollande and our principal European partners on the issue.
Q: But would the President prefer to have their specific military support?
MR. RHODES: Look, I think each country -- I don't want to speak for them -- each country is going to make their own determinations about the type of assistance they're going to provide. I think we want -- and I know there's so much focus on the military side, but we want to strengthen the opposition comprehensively -- as a political entity, as an entity that can provide humanitarian support to the Syrian people, as an entity that can come to the negotiating table, and to the military opposition as well.
And different nations are going to be able to feed into that process in different ways, and that's why we had this Friends of the Syrian People grouping, that's why they have this core group of 11 nations who come together precisely to determine essentially how can different nations add value and the types of support they're providing.
And so part of this is giving a coordinating mechanism so that we're not working across purposes; in fact, what we're doing is amplifying each other's support. Because, again, you're going to have a range of types of support from different countries.
Q: Ben, I'm sorry, I was fielding some emails so could you address Nunn-Lugar? I apologize. But the Russians have not been at all eager to extend that umbrella agreement, and it was -- the President's remarks suggested something short of a pure extension. Can you tell us what concessions maybe the United States has made, or what modifications there have been? And was there any discussion of human rights in some of those political trials, like Pussy Riot, to -- or did the fact that this didn't come up in their public remarks indicate it didn't come up privately as well?
MR. RHODES: Well, with respect to Nunn-Lugar, you're right, the Russians have been raising concerns about how to renew this program, which is precisely why we were very pleased we were able to reach an agreement.
I think their concerns were well founded in some respects, in that the Nunn-Lugar program was designed in the immediate aftermath of the collapse of the Soviet Union, and that involved very aggressive efforts to secure materials in Russia and across the Soviet Union. So that demanded a certain set of agreements between the United States and Russia. And, in some respects, it involved a very aggressive and intrusive set of efforts in securing those materials.
This will be a new framework for cooperative threat reduction. But it meets our standard because it allows for us to cooperate on nuclear security issues in both countries -- in Russia and the United States -- but also, importantly, joint efforts that we can undertake in other countries. I'll give you an example of that. For instance, in the context of the nuclear security summits we've been having, the United States and Russia have worked together in Central Asian countries to help them remove stockpiles of HEU. So for instance, you remember the announcement that President Obama was able to make with President Medvedev and the leader of Kazakhstan about the removal of a significant amount of enriched uranium.
So in other words, it meets -- what it allows us to do is the baseline activities that are necessary for nuclear security: working together, in both the United States and Russia and around the world, to get this done. And that's the only way we're going to reach the goal the President has set of making sure that we can secure all vulnerable nuclear materials around the world.
Q: Well, what about human rights?
MR. RHODES: I should end -- yes, this did come up. And the President raised it in the context of making clear that what you see in the public back and forth on these issues is the sense that our concern about human rights is intended to undermine the Russian government in some way. We think the President's point that he made is simply that the United States speaks out for certain things as a matter of principle; it's not targeted at any political agenda. And that's something we do all over the world; it's not at all unique to Russia.
And so it came up in that context and it came up in this context of making clear that we're going to have differences, but that those differences should not stand in the way of us working together on a very broad agenda that we have with the Russians as well.
MR. CARNEY: Okay. As we bring this home, let's go to the filing center. Yes, sir.
Q: Just specifically on the two countries' respective differences in military assistance to the opposing sides in the Syrian civil war, was there any progress made on the differences they have with military assistance of any kind at all? Or was there a sharpening of differences there?
MR. RHODES: No. Well, there certainly wasn't a sharpening of differences. Again, I think the Russian perspective has been that they want to fulfill the contracts that they have. Our perspective on their assistance has been that the Assad regime is not a regime that should continue to receive arms, given what they've done with them. And this is the fundamental difference we have about the legitimacy of the Assad regime. So, clearly, we have a different perspective as it relates to support for the regime and support for the opposition.
I think one area where we communicate to the Russians -- how we can find a convergence of interest. For instance, Russia has expressed concerned about the emergence of extremist elements in the opposition, and we share those concerns. We've identified the al Nusra front as a terrorist organization. And part of the rationale of supporting the opposition is to create a more moderate foundation for opponents of the regime so that we're marginalizing extremists and empowering people that we believe will respect the rights of the Syrian people in a post-Assad Syria.
So our point to the Russians is, we can actually share your interest here. Both of us would be put at risk if extremists were able to get a foothold in Syria. That's precisely why we want to strengthen a moderate opposition. And, by the way, those are the people that would represent the opposition if we were able to move forward with a Geneva process. That's very difficult in the current environment; we understand that, given the situation on the ground.
But that's where I think there can be convergence in our perspectives, because the objectives of where we're trying to get in Syria when they're articulated are not necessarily different. We both want to see an end to the conflict. We both want to see stability. We don't want to see extremists gain a foothold.
Our point to Russia is this status quo is not taking you in that direction, and that the only way to get in that direction is both to see that there is an opposition that is more moderate, that can come together with elements of the regime, and to have this type of political process.
And this is an important point we've said many times: We don't envision the dissolution of the government. We're not saying that the institutions of the state, including people that the Russians have relationships with, need to be wiped out. We're saying that Bashar al-Assad, the top of this regime has lot their legitimacy. We wouldn't want to see a dissolution of the institutions of the state. So what you want to see is some type of transition that preserves state institutions but brings in the opposition and vests them in a transitional authority that we can have confidence will respect the rights of the Syrian people and bring about an end to the violence.
Q: Jay, going back to the meeting with Letta and the economic aspect -- we know that Italy wants to promote growth, which is in line with the U.S. So how -- can you go in detail about addressing that? And was there a discussion maybe to isolate some of the European countries that are more cautious about growth, like Germany?
MR. RHODES: Well, I think, first of all, President Obama was able to express support for Prime Minister Letta's economic program and his emphasis on growth. President Obama also indicated that he knew that there are some very tough decisions that have been taken in Italy, and there are going to be tough challenges ahead. And he wanted him to know very much that he has a partner in the United States. And that's the reason for the meeting and that's the reason for the invitation to Washington.
They do share an agreement that there needs to be an emphasis on growth, and that in the context of fiscal consolidation there are growth strategies that are pursued at the same time. And that ultimately is what's going to lift countries out of recession. And I think we see that that is not as controversial or in dispute as an idea as it was a year or two ago at these types of summits.
So I think you've seen -- clearly there's not a uniformity of view within Europe, but I think you've seen a greater convergence around the notion that growth needs to be a part of the equation. And I think that was a key reason for expressing very early on in Prime Minister Letta's tenure our support for the economic challenges that he has to deal with and the program that he set out for doing so.
MR. CARNEY: If we have time for one more if there is more in the filing center.
Q: To follow on the question of Mr. Letta, is there any plan about the stabilization of Libya? You talked about the issue was discussed with the President.
MR. RHODES: The question is about the discussion of Libya, and there was. The Italians have worked very closely with us and other European partners around how to support Libya's transition, which is noted between the two leaders, but I think this will be a bigger focus tonight and tomorrow.
And what we want to discuss with our European allies is how can we provide support for Libyan security forces. You have a situation of a very unstable security environment with different armed groups -- militias and some extremist groups -- operating within the country.
You've got a leader in Zeidan that we believe wants to move the country in the right direction -- and he's here at the G8. And so I think what you'll see is an effort by the United States and our European allies to come to a common position as to how we can express that support and implement that support for the Libyan leader and the Libyan people as they work through a very difficult transition.
Q: Just real quick on tomorrow and tax avoidance -- obviously, a big push. Any areas of disagreement, or is pretty much everyone on the same page?
MR. RHODES: Well, my understanding is, thus far, there's an intent to find agreement. You heard Caroline speak about this at length the other day, but essentially the goal of cracking down on tax avoidance, bringing greater transparency to it, this is something we've pursued in the United States and we agree with Prime Minister Cameron that we can work together multilaterally to promote approaches that achieve those objectives. But I don't want to get ahead of the discussions tomorrow, but I think thus far the atmosphere has been one of seeking to find common ground.
MR. CARNEY: Okay, thank you all very much. Hope this worked for you. It was excellent for us. Thanks.
END 10:17 P.M. BST
Jay Carney, Press Briefing by Press Secretary Jay Carney and Deputy National Security Advisor for Strategic Communications Ben Rhodes Online by Gerhard Peters and John T. Woolley, The American Presidency Project https://www.presidency.ucsb.edu/node/303851