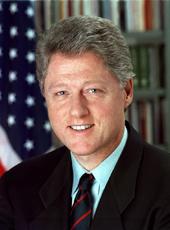 Press Briefing by Mike McCurry
Edgartown Elementary School

Martha's Vineyard, Massachusetts
1:35 P.M. EDT
MR. MCCURRY: Hello, everyone. I love it when we have such nice sound. What meager scraps would you like to start with first?
Q: Birthday presents.
MR. MCCURRY: Birthday presents. Okay, let me talk about last night. First of all, Vernon and Ann Jordan and their family are staying out in Chilmark at a beautiful farm, the Allen Farm. The Allen (sp) family has farmed here on Martha's Vineyard for 300-plus years, and they have an old, restored farmhouse that I guess is over 200 years old where Vernon and Ann are actually staying. It's a beautiful place. It's an active farm. They've got all kinds of livestock. They do some of their own crafts and things like that there.
They had a very quiet, simple dinner with Vernon, his family; Vernon's daughter and her family came for dessert. And -- Phil Revere were there and the Clintons. And it was very low-key. They had a coconut cake from a local bakery here. They had barbecued chicken from chicken raised on that very farm and island corn. And as they -- they did candles on the cake and sang to the President "Happy Birthday." Isn't that sweet.
The gift that I am reporting to you is, given collectively by all of them to the President was a beautiful wool sweater made from wool taken from the sheep that live right there on the Allen farm.
Q: What color is it?
MR. MCCURRY: I'm a failure. (Laughter.) Okay -- I'll find out. I think it was blue, but I'm not absolutely sure of that. Why don't we call it blue? Let's call it blue unless you hear otherwise. (Laughter.) That's right -- I refer you to the President's lawyers on that question. (Laughter.)
Q: Who owns the farm? It's not Jordan's farm, is it?
MR. MCCURRY: It's the Allen family. I didn't catch -- Mrs. Allen's, I think it's been in her family, but it's the Allen family farm.
And then, this morning the President has been doing some work. He's been on the phone with folks back in Washington, and he's just been hanging around with the First Lady. I just left them, they were having a nice, quiet lunch together. I think Chelsea may be off doing something on her own. But they were relaxing and doing some work and on the telephone.
Q: Two questions. The collective gift -- so Mrs. Clinton and Chelsea didn't additionally give them their own gifts, this was the one --
MR. MCCURRY: I suspect -- I think they all presented the sweater to him and that's the gift they gave him. They may have -- the Clintons may have had some of their own gifts that they just elected to keep private.
Q: The second question would be, the Post had stories this morning about meetings going on back in Washington. Can you talk to us a little bit about that and what's going on?
MR. MCCURRY: Yes, I can't. I think they are -- the White House consists of multiple worlds and I'm in the one that's safely here on vacation and I have not been a part of those discussions down there. And I've read and talked to some of those participating and I'm not sure that that's anything other than people in the dead of August with little else to do, you know, having meetings.
Q: Have you talked to the Chief of Staff?
MR. MCCURRY: I have not talked to the Chief of Staff. I've talked to the Deputy Chief of Staff and the Chief of Staff in residence here, Mr. Sosnik. And I talked to some of the participants in some of those discussions and I think they are basically contending with the situation that we face and thinking through how the President, when he's finished with vacation, gets back in September into pushing forward on those things that he was elected by the American people to do. And they're talking about how is the best way to do that and how can they maximize his effectiveness as our elected President, and I think it's obvious that they would be having those kinds of discussions.
Q: The folks that the President talked to this morning from Washington, were they attendees at this meeting yesterday?
MR. MCCURRY: That I talked to?
Q: No, that the President talked to.
MR. MCCURRY: I'm not sure who all he talked to, but I think he's been more concentrated on the foreign policy side of things this morning.
Q: So does that mean that the people that he spoke to this morning in Washington were foreign policy advisors and not --
MR. MCCURRY: The ones that I know that he has talked to for a fact were his foreign policy advisors, especially Mr. Berger.
Q: The discussions, you said, are about what he can do later in September -- were they at all about possibly next week, and do you have any more information about possible trips next week?
MR. MCCURRY: I don't have any information about next week at this point.
Q: Is it accurate to characterize those meetings as reflecting the concern they have that his ability to govern and his ability to put forward his proposals has been damaged by the admissions he made on Monday evening?
MR. MCCURRY: I think it's accurate to say that they're assessing what the public discussion has been in Washington since the -- can you hold on just a second?
They're trying to assess what the situation is that the President will face as he re-engages on the agenda he's put before the country. And that is affected by a lot of the chattering that goes on in Washington, obviously. And so they're figuring out how best to contend with that environment.
Q: A lot of this is about public relations -- getting his agenda going, but also about his public image and you're the Press Secretary, you're not deeply involved in these meetings?
MR. MCCURRY: Well, it's hard for me to be in meetings in Washington when I'm here carrying out my duties here in Martha's Vineyard. But I have been on the phone, as I said, with a lot of those participants. And of course I render my advice on those subjects when I have good advice to give.
Q: Mike, you said you don't have anything about next week or the rest of the week. Would I take from that that you're not ruling out the possibility of him traveling or doing something --
MR. MCCURRY: I'm sorry, I can't hear you.
Q: You said you don't know yet about next week. In other words, it's a possibility -- a possibility that he would travel --
MR. MCCURRY: It's possible what?
Q: Possible he'll travel?
MR. MCCURRY: Yes.
Q: Mike, Monica Lewinsky is testifying today before the grand jury and she has told friends that she's upset with the way her relationship has been portrayed. Is there some sense that the White House or the President -- apology to her?
MR. MCCURRY: I don't think that the President or the White House has been particularly following her business today.
Q: But you have been following her for the past seven months. And there's been a lot of chatter out of the Clinton camp about her credibility, her work record at the White House. Is there any sense that there needs to be an apology for that?
MR. MCCURRY: I think the President has indeed apologized to the nation for this, and did so on national television the other day. And I think if he has anything that he wishes to say directly to her or to her family, I'll check and report back to her.
I need to do a very important piece of business. In about 10 minutes the President will be here. He has an announcement that he has to make on a national security matter. I want to alert the pool, because if they would like to assemble cameras they ought to start doing so right away.
Q: Live?
MR. MCCURRY: If you can have the capacity to go live, that's fine.
Q: In here?
MR. MCCURRY: He'll do it right here where I'm standing. He has a national security announcement that he has to make.
Q: How long is it?
MR. MCCURRY: It will be a very short statement. He will speak for about 60 seconds. He will then leave shortly thereafter to go to Washington. The pool that is currently with him -- to go to Washington, D.C. The pool that is now with him will travel with the President on Air Force One. I've got six additional seats that we have freed up. News organizations that would like to go, put your news organizations name on a piece of paper and give it to Nanda Chitre and we'll conduct a lottery for the five seats. I think we have actually five seats, five extras that we have.
Q: When is he coming back?
MR. MCCURRY: I anticipate the President returning either tonight or sometime tomorrow here to Martha's Vineyard.
Q: Did you say he's traveling abroad?
MR. MCCURRY: No, he'll be going back to Washington, D.C. The President has -- if you can listen carefully to me, the President will be speaking here very briefly. He will have an additional public statement I anticipate later in the day in Washington. You should also be prepared for briefings that will happen at the Pentagon in a short while.
Q: He is going back to Washington after he makes his speech?
MR. MCCURRY: Correct. After he speaks to you here -- he wanted to come and talk to you first, before he leaves. The briefings will be in Washington, at the Pentagon. And I expect a briefing at the White House later in the day by Mr. Berger and perhaps others.
Q: Mike, for planning purposes, what's the topic?
MR. MCCURRY: It's a national security matter and you'll know in a very short while.
THE PRESS: Thank you.
END 2:00 P.M. EDT
William J. Clinton, Press Briefing by Mike McCurry Online by Gerhard Peters and John T. Woolley, The American Presidency Project https://www.presidency.ucsb.edu/node/271132