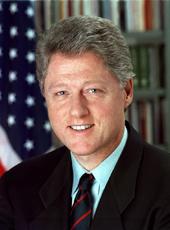 Press Briefing by Dee Dee Myers
The Briefing Room
3:48 P.M. EST
MS. MYERS: Before we begin the background briefing on today's event and the empowerment zones, I thought I'd give you an update on the earthquake.
President Clinton was informed about the earthquake this morning by Secretary Cisneros, who called him around 8:00 a.m., told him about the situation. The President then called his brother in Los Angeles, Roger Clinton, to make sure that he was okay, which he was, just to get an assessment from him about events that had transpired. He then turned on the television and watched -- flipped around from channel to channel watching developments there.
Meanwhile, the White House was informed early this morning as the earthquake was happening. Christine Varney and others, Mack McLarty, were notified, and they began to put the sort of response process in motion. Mack talked with FEMA Director James Lee Witt, who began coordinating federal assistance immediately. And the President then notified people that he wanted to be briefed in more detail at about 11:00 a.m. So he came in about 10:00 a.m., was brought up to date again by Mack McLarty, was briefed in more detail 11:00 a.m., at which time he placed calls to James Lee Witt, who told him he was on his way out there, had already been in touch with people on the ground, both state and local officials. The President then called Mayor Riordan and told him that he was watching the situation closely, that his heart and the hearts of everybody in the country was going out to the people of Southern California and that the White House would work and the federal government would work as closely as they could with state and local officials.
The President then spoke to Governor Wilson, and the Governor informed him that a disaster declaration would be coming today. And the President said he would sign that as quickly as he could. We expect that this afternoon, and we hope to have the President sign it this afternoon, and we will provide some kind of a forum for that -- probably 5:00 p.m. or 5:30 p.m.
Q: What would that specifically put in place?
MS. MYERS: It will sort of launch a number of programs. Basically it will provide low-interest loans for the replacement of homes, businesses and personal property. Those are provided by FEMA, SBA and the Economic Development Association, which is part of Commerce. There will be additional cash grants provided by FEMA, longer-term disaster housing, up to 18 months, for people who lose their homes. Clearly, we don't know yet how many people that will affect. That's coordinated by HUD and FEMA. There's other programs, including emergency food stamps, disaster unemployment assistance and crisis counseling, and finally public assistance for rebuilding roads, bridges --
Q: What about hospitals and health care?
Q: What's the damage assessment so far?
MS. MYERS: It's too early to say. James Lee Witt and Secretary Cisneros are on their way out there now, as is John Emerson. Mack McLarty asked John Emerson, who's a Deputy Assistant here at the White House, to go to coordinate White House efforts on the ground. Christine Varney, who is the Cabinet Secretary here in the White House is coordinating events here.
Q: Planning a presidential trip?
MS. MYERS: The President asked James Lee to call him and to stay in close touch with him when he arrives out there. He's expected to leave right about now, weather permitting, arriving in Los Angeles around 8:00 p.m. or 8:30 p.m. tonight. If the local officials there, the state and local officials, and James Lee and others believe the President can be useful, we'll certainly take a look at that.
Q: Maybe this week?
MS. MYERS: Again, it will depend on the assessment of things on the ground. I think the President is waiting to hear from them. Secretary Pena is also on his way out there. He was in Birmingham today. He left from there and is expected to arrive in Los Angeles around 6:00 p.m.
Q: What about Ron Brown, is he coming back to go out there?
MS. MYERS: Not expected. There is somebody from Commerce going -- Assistant Secretary of Commerce Larry Parks, who's with the Economic Development Administration.
Q: Dee Dee, have you been able to reach your family, and can you tell what their experience has been?
MS. MYERS: Unfortunately, I have not been able to reach my own family. As you know -- many of you know -- I'm from there. I did hear from friends of the family. My family is fine. The house is not in such good shape, as are a number of people --
Q: How close are they to the epicenter, do you --
MS. MYERS: My parents live in *San Canyon, which is quite close to the intersection of the 14 and 5 Freeways where the interchange collapsed. The house has suffered quite a bit of superficial damage, and it's unclear to me whether there's any structural damage, so -- it's a mess.
Q: But you think your parents are okay.
MS. MYERS: My parents are fine, thank you.
Q: Is this your house or this is the house they live in now?
MS. MYERS: It's my parents' house, yes.
Q: Where you grew up?
MS. MYERS: Yes. So, others in the neighborhood I grew up, there's a lot of damage in my hometown.
Q: Where is the heaviest damage, do you know?
MS. MYERS: Unclear. I think the northern San Fernando Valley seems to be hardest hit. And I think it'll take sometime
before we know exactly what the damage is, again, which is why the President has sent a team out there. A number of federal agencies are already involved -- the Department of Defense, Transportation, HUD, a number of other agencies.
Q: What is defense doing?
MS. MYERS: Defense provided transportation for the Secretary -- for Secretary Cisneros and other federal officials. They're standing by at a FEMA center is San Francisco. And, as events would have it, there is still a FEMA center open in Southern California due to the fires. And so that site has been staffed up again, and I think is ready to coordinate any assistance.
Q: What about hospitals and medical care? Is there any federal effort to get emergency medical treatment into the region?
MS. MYERS: I think that that will be pending a request from the state and local officials. And I don't think we've received anything on top of the emergency disaster declaration yet. But certainly we stand ready to provide whatever assistance we can.
Q: Is there any thought of need for troops to patrol or send national guard or anything like that?
MS. MYERS: Again, that would have to be requested by the local officials, and there's been no such request yet.
Q: Can they get in LAX?
MS. MYERS: I'm not sure what airport. My latest understanding is that LAX has been partially reopened, the other regional airports are open.
Q: Dee Dee, does it seem more serious than what President -- you know, got an informed opinion on what was going on when he made his remarks this morning?
MS. MYERS: Oh, I think that the initial assessments were that it's quite serious -- 6.6 on the Richter Scale is very serious. And the President's been keeping informed of this, being briefed regularly about it. And, again, I think has directed federal officials to work very closely with state and local officials to provide whatever assistance the federal government can.
Q: these officials doing?
MS. MYERS: The first thing, I think, is to assess the damage. And the second thing is to provide whatever assistance state and local officials request and is possible to put forward.
Q: How long do you expect them to stay out there?
MS. MYERS: As long as it takes.
Q: How much money do you think will be required initially to get the federal government's response going?
MS. MYERS: I don't have any initial assessments yet. I think that will -- Christine says that we expect something, an initial assessment later today. I think it may take sometime before we can have an accurate assessment of the damage.
Q: But is money available already in terms of not going back to Congress and requiring --
MS. MYERS: Yes.
Q: additional appropriations?
MS. MYERS: Yes, yes.
Q: How much money is available?
MS. MYERS: Unclear. I think that there are a number of different ways that we can assess money or tap money that's already in the system. We've done it for other disasters this year. It's been a busy year for James Lee Witt and the folks over at FEMA between the floods and the fires and now the earthquake.
Q: Is the unhappy that he was not notified earlier?
MS. MYERS: No, I think he was notified within a half an hour of the quake. And certainly, the White House was notified immediately and began to take appropriate action.
Q: We were told he was notified by Cisneros -- no, that's not true?
MS. MYERS: No, he was.
Q: Eight o'clock in the morning?
MS. MYERS: Correct. The earthquake struck around 7:30 Eastern Time.
Q: Dee Dee, as an earthquake veteran, and you're looking at those pictures, what's your take on what you see?
MS. MYERS: Well, I am something of an earthquake veteran, actually. It's hard to tell. It's a little unnerving to see your community suffering another quake like this, and it's been a tough couple of years for Los Angeles generally. I think the President's concerned about that as are all of us. I'm certainly not an expert on earthquakes. But the biggest one I was ever in was, I think, 6.1 in 1971 which did a severe amount of damage. I think that there's great concern about the disruption in transportation due to collapsed freeways, about damage to homes and other building and infrastructure. And we're just going to take a look at it and do whatever we can to help rebuild.
Q? I remember the President saying that both the floods and the hurricanes have spent accounts down. He's actually borrowed from other accounts. Has there been any consultation with Congress about perhaps an emergency appropriation?
MS. MYERS: I'm glad you asked that. Actually, the WHite House has been in touch with all members of the California delegation who are affected by this, including Senators Feinstein and Boxer and then members of Congress Tony Beilenson, Henry Waxman, Howard Berman, Jane Harman, Julian Dixon, Lucille Roybal-Allard, Xavier Becerra. And the President will probably speak directly to some of them later today.
Q: What about the leadership, Dee Dee -- be necessary to get money moving.
MS. MYERS: The President hasn't spoken to anybody yet. We've been, I think, focusing more directly on people who are affected. Certainly, we'll consult with members of Congress as the week goes on. Today is a federal holiday, and a lot of the members, of course, are still out in their districts, so certainly we'll do what we can to marshall the requisite resources.
Q: Congress is not back until later in the week, do you expect that there might be somewhat of an emergency request ready to go as soon as Congress comes back?
MS. MYERS: I think we'll have to take a look at that. Certainly we'll wait until James Lee and others get out there and can give us some kind of an assessment about what might be needed, but I wouldn't rule that out.
Q: Dee Dee, has the President talked to Governor Wilson? And have you -- have you put any thought into changing the 75-25 ratio between Fed and state assisted -- disaster assistance?
MS. MYERS: Yes, the President spoke to Governor Wilson around 11:45 a.m. this morning. The usual ratio is that public assistance is 25 percent state, 75 percent federal -- 25 percent state and local. I don't know whether there have been any thought given to changing that yet or not. Certainly we'll have to wait and see how things progress.
Q: Do you think the President might do one of these satellite TV addresses to the people in Southern California?
MS. MYERS: We haven't had a chance to discuss that yet. I think at this point we want to get a better view of what's happening on the ground. Again, I think the President wants to hear from James Lee Witt and others out there and assess the situation; then, again, he will be signing the disaster declaration. As soon as we have a specific time for that we'll let you know. Again, probably 5:00 p.m. or 5:30 p.m.
Q: What does that require -- knowing how much damage there is?
MS. MYERS: No, it just requires that the state has to request it. The actual request goes from the state to FEMA to the White House, and the documents, as we understand it, are en route.
Q: You said the President hasn't spoken to any other members of Congress directly. Has he spoken to anybody else, like the Mayor or anybody else directly besides Governor Wilson?
MS. MYERS: Yes, Mayor Riordan, Governor Wilson both this morning -- 11:00 a.m. -- he spoke to Mayor Riordan first at around 11:35 a.m., Governor Wilson around 11:45 a.m.
Q: Did the President place those phone calls, or did they call him?
MS. MYERS: No, no, the President placed those calls.
Q: Are there any plans for the President to go out there at all?
MS. MYERS: Again, we'll wait -- he's asked James Lee Witt to call him after assessing the damage and talking with state and local officials and to tell him whether or not that would be useful. If there's some useful role for the President, then certainly we will take a serious look at that.
Q: What do you mean they're en route? Are they coming from California?
MS. MYERS: No, they're on route from here to Los Angeles. And they were supposed to leave at around 3:30 p.m., I think, weather permitting.
Q: Is the President still having his physical tomorrow.
MS. MYERS: Yes.
Q: And what time does that take place?
MS. MYERS: I think it's -- he leaves at 7:45 a.m. by helicopter, flies to Bethesda, and we expect it to take several hours. I don't know yet exactly what forum we'll report on it.
Q: Well, I hope we'll have a thorough report.
Q: Roger Clinton --
MS. MYERS: He just gave him an assessment of where he was. I think Roger said he was sleeping, and just told the President what it was like going through that earthquake. The President obviously just wanted to make sure that his brother was okay.
Q: He doesn't live out there, does he --
MS. MYERS: He does.
Q: Does he have a house or --
MS. MYERS: I believe he lives in an apartment, but I'm not sure.
Q: damage --
Q: didn't fall down --
MS. MYERS: I don't know. It did not fall down, that I know of.
Q: Can you tell us anymore about the week ahead?
MS. MYERS: No, actually. I'll be happy to put that out later today. So I think we'll go to the background briefing now on earlier events. Do we need a few-minute filing break?
Q: Yes.
MS. MYERS: Okay, why don't we take a few minutes and then we'll come back.
THE PRESS: Thank you.
END 3:55 P.M. EST
William J. Clinton, Press Briefing by Dee Dee Myers Online by Gerhard Peters and John T. Woolley, The American Presidency Project https://www.presidency.ucsb.edu/node/269732