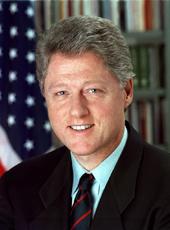 Press Briefing by Dee Dee Myers
The Briefing Room
9:45 A.M. EST
MS. MYERS: There have been no changes in the President's schedule. Chancellor Kohl will arrive at 10:30 a.m. We'll do a photo op in the Oval Office. They'll meet in the Oval Office for about two hours. Then they'll walk over to the Residence at 12:30 p.m.; there will be an op as they go onto the Colonnade together. They'll have lunch in the Family Dining Room. And then they'll face the press corps in the East Room at 2:00 p.m.
At 11:30 a.m. here, senior White House Treasury and State Department Officials will brief on the progress of Serbian sanctions. And then at 7:30 p.m. the President will have dinner with members of the Senate to discuss Russia. And, again, as I said yesterday, he will watch the Razorback game tonight.
Q: How about the weekend?
MS. MYERS: No changes in the weekend schedule. He does the radio address tomorrow at 10:06 a.m. and will attend the Gridiron Dinner tomorrow night. And there are no other plans for the weekend.
Q: How many senators are coming tonight?
MS. MYERS: About 15.
Q: Can you tell us who they are?
MS. MYERS: I don't have the list with me.
Q: You'll put out a list later though, right?
Q: What about last night's dinner, Dee Dee?
MS. MYERS: It was a very productive session. The President listened more than he talked. He wanted to get input from members of the House about the Russia aid package, about how that should look, what should be included. And they'll still going to continue to consult on it over the course of the next week or so.
Q: Would you say it was a good meeting?
MS. MYERS: It was -- I'll go out on a limb here and say that it was a very good meeting.
Q: Filing break. (Laughter.)
Q: Dee Dee, does the White House believe that if there was any real imminent threat to Yeltsin, that it has diminished now?
MS. MYERS: Well, again, I don't want to comment on the internal day-to-day happenings in Russia, but they -- it's been encouraging and the President continues to support President Yeltsin. And we're glad we're moving forward with progress on the summit and we look forward to meeting him next weekend.
Q: Has the President's staff discussed with him the concerns some people have about the deaths in Mississippi jails?
MS. MYERS: The President is aware of it. I believe the Justice Department is taking a look at it. But I don't know the specific details. I would refer you to Justice on that. The President is aware of it.
Q: How was he made aware of it?
MS. MYERS: Through news accounts and others. I'm not exactly sure what forum. But he said clearly that the other day when he was asked about it that he was aware of it.
Q: Can you tell us more about next week's travel; when he's going to leave; will he be at the Forest Conference all day on Friday and then --
MS. MYERS: We're still working out the specific details at the end of next week. He's be there on Friday. I don't have a specific agenda for Friday. We'll spend the night in Portland Friday night -- that's the tentative plan -- and go to Vancouver on Saturday morning.
Q: The Vice President's -- appoint people on the Forest Conference?
MS. MYERS: They're organizing it. Obviously, the President's involved, but --
Q: Right.
Q: Dee Dee, is Mrs. Clinton back?
MS. MYERS: No, she's still in Little Rock.
Q: She's going to chair the open hearings Monday?
MS. MYERS: She's still scheduled to be at Monday's hearing.
Q: Do you anticipate with her having been away that there's going to be a delay in that announcement as of May 1st?
MS. MYERS: No, we're still moving forward to announce the health care plans in the first week in May.
Q: Will she be back for those? She will chair then?
MS. MYERS: She's scheduled to chair the task force hearing on Monday, yes.
Q: What's the Serbian sanction update that you're talking about?
MS. MYERS: To just talk about -- we believe the sanctions are having an impact and we're just going to talk about specifically what kind of impact.
Q: Are you announcing any new --
MS. MYERS: No, this is just to update -- we've tightened sanctions in recent weeks, and this is to report on the progress of those sanctions -- how they're being --.
Q: Can you tell us who's going to brief?
MS. MYERS: It will be a background briefing, but it will be Leon Feurth and then an official from Treasury representing the team -- the Treasury team, and then somebody from State who's been involved in the State Department team.
Q: Thank you.
? Q: Come on, you've got to be faster. (Laughter.)
Q: I lost my train of thought. I had a question.
Q: Your speed is overrated.
Q: How's the jogging track? (Laughter.)
Q: on television. (Laughter.)
Q: Oh, I remember now. This is a question from the office. When he goes to Baltimore to throw out the first pitch, how is he going to get to Baltimore? (Laughter.) Is he going to fly to Baltimore or drive? Is he going to drive to Baltimore? Bus to Baltimore?
MS. MYERS: I don't think we've worked that out yet. I don't know.
Q: How will we get there? Will we join him there or --
MS. MYERS: Mule train for the press corps. No -- he'll probably helicopter.
Q: Helicopter --
MS. MYERS: Probably. The last time we went to Baltimore we helicoptered. It just depends. He may drive. I'm sure that you all will drive.
Q: Is there guaranteed seating for everyone in the White House press corps?
MS. MYERS: No, Dodger fans only will be seated at the Baltimore Orioles game.
THE PRESS: Thank you.
END9:50 A.M. EST
William J. Clinton, Press Briefing by Dee Dee Myers Online by Gerhard Peters and John T. Woolley, The American Presidency Project https://www.presidency.ucsb.edu/node/272187