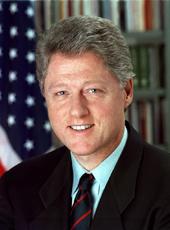 Press Briefing by Dee Dee Myers
Edgartown Elementary School

Edgartown, Martha's Vineyard
11:15 A.M. EDT
MS. MYERS: The President, as you may or may not know, is horseback riding with Chelsea. They went down to Scrubbyneck Farm and are riding back to Oysterwatcha. And after horseback riding, the President will have lunch with some friends at Ocean View Restaurant, Oak Bluffs. I'm sure the pool will provide a titillating report about that.
Mrs. Clinton is hiking with Bill Styron. They are at Black Point Pond, I believe that's in West Tisbury. It might be in Chilmark, but it's somewhere in the West Tisbury-Chilmark area. And afterwards, I believe Mrs. Clinton and probably Chelsea will go to the Styrons for lunch. And the rest of the afternoon is unscheduled and they have no plans at this point to go out this evening, although certainly hold open the possibility of doing so.
And that's it. Nothing else on the schedule at this point.
Q: Dee Dee, does his daily briefing and national security briefing, anything like that changed? His work schedule, in other words.
MS. MYERS: No. He's still receiving information about national security issues every day, mostly on paper but is being kept up to date about events around the world and is still in vacation mode and doing very little work -- no work.
Q: On Somalia, has anything happened in terms of his briefings on that? Is he looking at that very closely?
MS. MYERS: He's being kept up to date on events in Somalia, as in other places around the world. But there's been no change in the style of his briefings, no.
Q: Is he making any phone calls about Somalia to D.C.?
MS. MYERS: I don't -- not that I know of. He may have talked to one person, but I don't think so.
Q: Was he a player in the decision to send in the 400 additional troops?
MS. MYERS: He's being -- he was informed about it before it happened.
Q: It didn't require a decision from him?
MS. MYERS: Correct.
Q: Are you imposing sanctions on China?
MS. MYERS: The State Department will have more to say about that later this afternoon. As you know --
Q: Question?
MS. MYERS: The question was sanctions against China. And the answer is, the State Department will have a formal briefing on that this afternoon. Mike's going to have some details on that. Obviously, the President continues to be concerned about proliferation and nonproliferation issues and U.S. law does require us to impose sanctions if we find that China has violated the terms of the missile technology control regime. But Mike will have details on that at, I think, 12:45 p.m.
Q: Do you know how long the President is staying?
MS. MYERS: He's staying until Sunday.
Q: Do you have any time on when he's going back?
MS. MYERS: No, I don't have a schedule for Sunday yet.
Q: How about Labor Day?
MS. MYERS: No schedule yet for the weekend. I certainly wouldn't rule out at least one travel day over that weekend, but it's unclear, they haven't made a final decision.
Q: You don't think Little Rock or -- you don't think he's going to go away for all three days; you're saying maybe just one travel day? We're not holding you to it.
MS. MYERS: No, I don't know if he'll go someplace and sort of -- I meant one work travel day. I think you can expect some kind of an event somewhere in the country on Monday. But beyond that, there are no plans at this point for Labor Day weekend. I wouldn't rule it out.
Q: Can you give us any readout on his talk with Jackie O yesterday, what they talked about?
MS. MYERS: No -- I mean, they had a great time yesterday. I think it was a very enjoyable day, both boating with Jacqueline Kennedy Onassis and the other folks that were on the boat. When they docked off the beach there on that island, they went swimming and had lunch and they just had a great day and then went over to the Onassis -- to Jacqueline Onassis's house and then to dinner, as you know, at the -- whatever -- Outermost Inn. But I don't have any details about what they talked about, although I think the President just had a delightful day.
Q: There was some report that he talked about raising children in the limelight.
MS. MYERS: I think that that is a topic that the Clintons often talked to people who have been through it with. I don't know that for sure, but it is something that they often talk to people who have had similar experiences about.
Q: Did the President go out to breakfast the other day without the pool? There's one report that he headed out --
MS. MYERS: No. Rumors.
Q: The environmentalists have already begun to complain that the wetlands policy the President released yesterday is too weak. Has there been any reaction to that in the administration?
MS. MYERS: I think that the -- some folks in the environmental community are complaining that it's too weak, many in the development community are complaining that it's too strong. I think that means we've struck a good balance. I think it's a good policy, one that balances the need to preserve wetlands with needs of economic growth, and I think the fact that we're being criticized from both sides is I think a mark that we landed somewhere in the middle.
Q: And on another unrelated, entirely unrelated issue -- Judge Shoob in Atlanta is refusing to sentence the five people involved in the Iraqgate case because he basically thinks the administration's defense was kind of ridiculous. What's your position on that?
MS. MYERS: I'll have to take that. I don't have any comment on that.
Q: Has he made any comment during the week or before about the increasing number of State Department people who seem to be resigning over the Bosnia policy? How does that reflect on the Clinton Bosnia policy?
MS. MYERS: Well, I think it reflects on the nature of the situation in Bosnia. It is the most difficult foreign policy problem that we face. I think the President has said that a number of times. That certainly does not lend itself to easy solutions and that there are certainly some disagreement among even the experts in the policy community about the beat course of action. I think the President is sympathetic to people who, as a matter of conscience, feel that they have to resign. However, we're committed to the policy and are moving forward.
Q: What about Treasury? Is Bentsen going?
MS. MYERS: No, Secretary Bentsen is secretary of the Treasury and has no intentions of leaving.
Q: Do you have any idea what all that is about?
Ms. MYERS: I mean, I'm sorry to see Jack DeVore leave. I think he's done a wonderful job, as well as the Secretary's Chief of Staff and longtime secretary. But those are independent decisions that have nothing to do with the Secretary. I mean, for those of you who know Jack, for example, know he's been thinking about retiring for quite a while and is anxious to get back to Texas. And I just think they are three people who made independent decisions at a sort of similar time, but Secretary Bentsen has no plans to leave.
Q: Are we willing to send a significant number of troops to Bosnia to enforce a peace agreement? We've always said that he would send in troops as part of peace enforcement, but Owen is talking something in the range of 40,000. Where do you see the U.S. fitting into that?
MS. MYERS: Well, how to implement a peace agreement is something that is under discussion now. We haven't committed to any particular option. I think a number of options are being discussed. We've always said that we would work with the U.N. to implement a peace agreement if all the sides agreed to it. But we haven't agreed to a specific troop number.
Q: Well, do you foresee us being half or more, or is this, again, a role for the Europeans?
MS. MYERS: Again, those are details that are currently under discussion and I'm just not going to comment more on the talks in progress.
Q: But the statement still holds that we will contribute ground forces --
MS. MYERS: Well, we've never said exactly what that meant. We said that we would work to enforce any agreement that was reached and mutually agreed upon by all sides.
Q: Well, he specifically said ground troops.
MS. MYERS: That's the only circumstance under which we would consider sending in ground troops, but we've never said exactly how that commitment would manifest itself. I mean, we certainly never have ruled it out, and I don't intend to do that today.
Q: Well, you're softening it then.
MS. MYERS: No, I'm just making it clear that our position hasn't changed. How any kind of peace agreement would be enforced is something that's currently under discussion. And beyond that, I'm not going to say anything more than what we've said in the past.
Q: But we would expect Americans to be on the ground helping out in some form?
MS. MYERS: We haven't ruled it out. And again, that's the only scenario under which we have not ruled out the use of ground troops. So -- and I don't mean to rule it out today, it's something that we're discussing -- what our participation would be in implementing a peace agreement, should it be reached.
Q: Does his daily brief include the situation in Mostar? Has he said anything about it?
MS. MYERS: It does include the situation in Mostar. As you know, we did drop some food supplies and about 13,000 MREs yesterday and are continuing to work with the Croats to try to allow the humanitarian convoys through. And he is being kept abreast of that as well.
Q: Is there any administration response to this letter by some 80 congressmen who are upset that we're apparently settling Iraqi POWs in this country at taxpayers' expense?
MS. MYERS: No. We're aware of it. I don't know that the President has any comment on it at this point.
Q: Dee Dee, Lani Guinier's mother had some pretty harsh things to say about the President in an interview with The Boston Globe and I'm wondering, first of all, if you know if the President read that and if he had any comments on it.
MS. MYERS: No. I think he made all the comments he's going to make about Lani Guinier a couple months ago.
Q: And since he said at the time that he withdrew her nomination that he loved her and would be happy to -- I'm wondering if you can give us an explanation of why he hasn't called her since he's been visiting a whole lot of other people --
MS. MYERS: He's vacationing this month and calling -- seeing who he wants to see. And I think we'll let his schedule speak for itself.
Q: Do you think that the First Family might want to make Martha's Vineyard its perennial or periodic or constant, or whatever heck the word is, place to vacation? (Laughter.)
MS. MYERS: I think that the First Family has had a wonderful time here, they've enjoyed themselves greatly. But I don't know that they'll ever pick -- they may choose at some point to pick someplace that they go every year, but I don't think they're willing to say it at this point.
Q: Have they asked Vernon Jordan to stake a place out for them?
MS. MYERS: No.
Q: Could you give us your stock answer to the -- (laughter) -- to say that this is too shi-shi a place for the President to come? And was there any concern -- seriously -- was there any concern before he came that this would look like a playground of the rich and famous and maybe it's not a good idea to come here?
MS. MYERS: No. The President and his family came here because they enjoy the beach. As you know, the President likes playing golf, he has many friends on the island. And it gave them the opportunity to swim and walk and enjoy the company of their friends with some privacy. They've had a marvelous time here. And I think the President's -- I think the country is grateful that the President is taking some time off and enjoying himself and seeing his family.
Q: He's a man of the people, though -- he's golfing with Jack Nicklaus in Vail and hanging out with Jackie Onassis in Martha's Vineyard.
MS. MYERS: I think the American people are quite content to see their President relaxing. I think they understand that it isn't as easy for them as it is for an ordinary family to find the kind of peace and quiet that they need. And I think that people understand. And I think they are, again, just grateful that the family's having such a great time.
Q: Dee Dee, what Jill was talking about is whether this place is too elite, shi-shi a place.
MS. MYERS: I understand that. And I think that this is -- again, the reason they chose Martha's Vineyard was because it allowed them to participate in the kind of activities that they all enjoy with the privacy that they require. I think that the First Family does have some special needs when they take a vacation. This island happened to fit with those special needs and allow them to have -- enjoy the kind of activities that they all like. So it worked out well in that regard. And I think -- my point is I think the American people certainly understand that.
Q: Is there any other events that you could tell us about for the rest of the week that are scheduled -- this big dinner --
MS. MYERS: No. As of right now they have no schedule for tonight and nothing specific on the schedule for tomorrow. By the end of the day they may decide sort of what they want to do tomorrow, but they're taking it one day at a time. And so I have no more details on it at this point.
Q: Has he been informed of or commented on the pending Carville marriage?
MS. MYERS: I personally -- I think that's the -- you guys are burying the lead here. I think that today's news is that James Carville has allegedly admitted that he's engaged to Mary Matalin. It's in the Style section of the always credible Washington Post.
Q: It is true?
MS. MYERS: I haven't -- I have not spoken to James directly, but I want a personal confirmation of that one so. It's unbelievable.
Q: -- this Thanksgiving.
MS. MYERS: It's unbelievable. (Laughter.)
Q: Will the President attend the wedding?
MS. MYERS: I think if he's invited and it fits into his calendar, he'll certainly consider it. (Laughter.)
Q: Dee Dee, one last question. Is he wearing that Hawaiian shirt and straw hat on the horse today? (Laughter.)
MS. MYERS: I think I saw Dave Leavy walk in here.
Q: Who picks his clothing? (Laughter.)
MS. MYERS: The President is 47 years old. I think he's probably capable of doing that himself. (Laughter,)
Q: But is he color blind? (Laughter.)
THE PRESS: Thank you.
END 11:30 A.M. EDT
-0-

/U.S. Newswire 202-347-2770/
William J. Clinton, Press Briefing by Dee Dee Myers Online by Gerhard Peters and John T. Woolley, The American Presidency Project https://www.presidency.ucsb.edu/node/269252