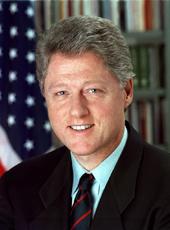 Press Briefing by Assistant to the President for National and Community Service Eli Segal, Attorney General Janet Reno, Interior Secretary Bruce Babbitt, Health and Human Services Secretary Donna Shalala, Housing and Urban Development Secretary Henry Cisneros, and Environmental Protection Agency Administrator Carol Browner
The Briefing Room
1:39 P.M. EDT
MS. MYERS: The following is a briefing to announce the winners of the first-ever AmeriCorps grants. Eli Segal will open it up, make remarks. Then, the order of speakers will be as follows: the Attorney General Reno, Secretary Babbitt, Secretary Shalala, Secretary Cisneros, Administrator Browner. Then, Mr. Segal will open it up to questions, take any questions you all have. When this ends, I'll come back and talk about any other topics of interest.
So without further ado, Eli Segal.
MR. SEGAL: Good afternoon, everyone. Today we're here to make some news, and maybe a little history as well. Today, we take the first step since last fall's passage of the national service legislation creating AmeriCorps, in transforming President Clinton's vision of national service, repeated so regularly and so frequently in the campaign, into reality.
In September, the first of 20,000 young AmeriCorps members will begin serving their country. Today we're here to announce the identity of the first 57 organizations with which they will serve. These first programs in the AmeriCorps National Service Network, will be joined by approximately 150 additional local organizations which will be selected later this summer.
These 200 organizations will choose the 20,000 AmeriCorps who will begin serving in September. In return for a substantial commitment to getting things done in their communities, AmeriCorps members will receive a minimum wage stipend, and after a full year of service an education award worth nearly $5,000 for each year, up to two, that they may be serving.
There's going to be intense competition for these AmeriCorps positions. We've already received 60,000 inquiries already, many months before the program begins, just as there has been intense competition among the organizations to run AmeriCorps programs.
The phase we announced today challenged national nonprofits, programs operating in more than one state, the Cabinet and the entire federal government itself to use the energy and the idealism of the young to help them achieve their objectives in a fresh new way.
The intensive nationwide competition began with an unprecedented outreach effort in which our corporation contacted more that 10,000 organizations and individuals. Proposals were evaluated -- first, by dozens of peer review panels composed of outside experts, those knowledgeable in youth development, academicians and community leaders -- and then the applications were vigorously reviewed by our staff.
Out of hundreds and hundreds of programs which applied, these 57 that we're going to be introducing today stand out as AmeriCorps' best of the best. We've provided summaries for you of all of them, but let me give you some sense of their breadth and why we are so excited today as we move the vision of National Service to reality.
To help make America safer, AmeriCorps' Department of Justice project will put members of the Los Angeles Police Department's substations to help with community policing and in neighborhoods to set up block watches. While in Kansas City, the AmeriCorps National Council of Churches partnership will team up AmeriCorps members with ministers and former gang members to move kids out of gangs and into classrooms and into jobs.
And in North Carolina, AmeriCorps members of Johnson C. Smith College will train middle school kids to settle disputes among their classmates without resort to violence. To help make America smarter, AmeriCorps and the Public Education Fund Network will team retired IBM executives with younger AmeriCorps members to open the world of computers for schoolchildren and their teachers in dozens of inner-city schools all over the country.
College students and teen parents will partner with the I Have Dream Foundation in ten cities to adopt entire classes of elementary school students, mentoring and tutoring them and doing community service projects together. To help make America healthier, returned Peace Corps volunteers will join AmeriCorps, working through four schools of public health all over the United States to bring basic health services to the working poor in a number of cities.
Meanwhile, AmeriCorps members, with the National Community AIDS Partnership, will team up with the United Way and Boys and Girls Clubs to use theatre and other methods to teach AIDS prevention to young people in five cities.
To help homeless Americans get back on their feet, AmeriCorps will hook up with Habitat for Humanity to build houses in hurricane-ravaged Homestead, Florida, while military veterans will sign up for AmeriCorps in a partnership of the VA and the National Coalition for Homeless Vets, renovating housing and providing recovery services to vets in Houston.
To make America's environment cleaner, the Navy will sail a seaborne conservation corps of at-risk youth to reclaim the shoreline of Galveston Bay in Texas while the Department of Interior will send a corps of environmental science students to help save the Everglades. And the Navajo Nation will keep its young tribe members at home to use the latest scientific methods and traditional tribal techniques to save Southwestern watersheds.
In all, the first group of AmeriCorps programs will operate in 47 states and the District of Columbia. We're going to be providing more than $31 million to national nonprofits and $16 million more to programs sponsored by the Cabinet and other federal agencies. We supply the statistics today to show you the level of buy-in for President Clinton's historic initiative. But it can't begin to convey the level of excitement that thousands of our people feel as we partner the government with an engaged citizenry in a fresh new way.
We don't kid ourselves; AmeriCorps is not going to solve the massive problems we confront in America. But it is going to make a difference. AmeriCorps is a delivery system for change. One year from today, with 20,000 AmeriCorps out there, communities around the United States will know it, see it, and feel it.
Now I'd like to congratulate those Cabinet members, five of whom are with us today, representing all of the federal AmeriCorps programs. They're going to include the Departments of Justice, Interior, HHS, HUD, Agriculture, Transportation, Veterans Affairs, Labor, Energy, and Defense, the EPA, plus the Legal Services Corporation, the National Endowment for the Arts, the Neighborhood Reinvestment Corporation, and the National Institute for Literacy. Truly a remarkable competition. Hundreds and hundreds wanted to participate in the launch of AmeriCorps; their proposals were excellent, but not quite good enough.
We've asked some Cabinet members who have been particularly engaged in national service to join us today and tell us a little bit about what their departments are going to do. I take great pride in beginning this by introducing, first, Attorney General Reno.
Let me say one quick word about the Department of Justice and their involvement. Not only is the Department of Justice actively engaged as we're about to launch national service in September, but this particular summer we will be launching, are launching -- in fact, this week the President will be in St. Louis on Friday to do it formally -- we're launching our Summer of Safety, which will partner this summer for eight and a half weeks, young people and people young in spirit all over the United States, combining national service and public safety in a wide variety of programs.
The Justice Department has been particularly helpful to us in getting our Summer of Safety to a point we'll be able to report after the summer to the American people about the number of block associations created, about the number of senior escort services created, about all the kinds of things in the cities of America which shows what you can do when you can match together our government with an engaged citizenry.
But for now, I think the Attorney General is going to talk to you about her involvement and her department's involvement in AmeriCorps. My great pleasure in inviting the Attorney General to come to the microphone.
ATTORNEY GENERAL RENO: Thank you, Eli. And thank you for your leadership in this remarkable effort. The Justice Department-sponsored national service program will send 210 AmeriCorps participants to weed-and-seed sites, to seven weed-andseed sites across the nation. From Los Angeles to Philadelphia, San Antonio to Seattle, AmeriCorps participants will be engaged in trying to prevent crime, improve police protection and public safety programs, assist crime victims and improve police and community relations.
Our participants will work with uniformed community policing officers to assist them in solving the crime-related problems in their community. We have already watched beginnings of this effort as young people have joined with community police officers who are their mentors as well. And giving these young people the opportunity for service has given them the sense that they can make a difference, that they are somebody, and that they can be involved.
They will work with the schools to help teach our young people conflict resolution and peer mediation techniques, and they will engage in a variety of after-school activities designed to constructively channel the energy of our young, provide increased security in areas experiencing a high incidence of crimes, such as bus stops and playgrounds, and by providing safe corridors for schoolchildren returning home.
When I ask young people who have been in trouble what they would want to do to have prevented the trouble in the first place, they tell me again and again, something to do in the afternoon and in the evening. I look at so many young people who want to contribute, want to make a difference. This is an opportunity to bring these two great needs and urgings together so that we can really reinvent communities and give young people a chance to grow.
Thank you so much for your leadership.
MR. SEGAL: A former VISTA supervisor, someone who was prepared to actually testify for me last year as we moved our legislation through the House from the Senate, Secretary Bruce Babbitt has been there from the beginning, understands national service in a way few others do.
Our partnership at the Department of Interior will be truly historic. The Department of the Interior has, for a long time, understood the underlying principles of national service. Our award today will allow Interior to take this to a new level.
It's my pleasure to introduce Secretary Babbitt.
SECRETARY BABBITT: Eli, thank you. The participation of the Interior Department marks the revival of an old tradition that goes clear back to the Civilian Conservation Corps of the 1930s, in which some of the most magnificent and productive work in the national park system of all time was done. A timberline lodge on Mt. Hood in Oregon, trails in the Grand Canyon, an enormous amount of work on Blue Ridge and the Great Smoky Mountain National Park.
The Interior Department has put together five projects which will draw people into a revival of that tradition out on public lands, building trails, improvements, environmental monitoring, the reconstruction of needed projects, a participation with the United States Geological Survey.
A majority of these projects will be focused around the large-scale ecosystem restoration projects that we have begun work on in the last year -- the Everglades in South Florida, a large project taking place among many partners on an international basis in the lower Rio Grande Valley of Texas. We'll have a group out at Fort Ord in California, a military establishment which is now going to be returned to the Bureau of Land Management as public space much in need of reconstruction of a 100-mile trail system, a variety of other amenities there, another group with the United States Geological Survey.
A fifth group will go to the Los Angeles area to work with the water agencies in public education and in water conversation programs as we move out into urban areas to inform citizens and work with them on water conversation projects.
In the 1960s, Donna Shalala returned from spending two years in the Peace Corps, and she tells us all how it changed her life. She came to Washington, and our partnership with the Department of Health and Human Services already has led to some remarkable achievements and remarkable immunization undertaken in the summer in the state of Texas is just one small indication of how AmeriCorps can work closely with the department in making this a better and safer place and a healthier place for our youngsters.
I'm happy to introduce to you Donna Shalala whose whole life has been about national service.
SECRETARY SHALALA: Thanks very much, Eli. Actually, it was 30 years ago to this month that I finished my Peace Corps tours of duty, and I'm delighted to be joining with my colleagues to celebrate the first grants under AmeriCorps. And Eli has just done a great job.
Actually, the Department has been involved in national service for a very long time through its National Health Service Corps which was established in 1972 and 18,000 health professionals have already gone through that program. We build on that tradition with three new service programs which will allow volunteers, AmeriCorps volunteers to roll up their sleeves and have a direct impact in the AmeriCorps priority areas of education and human needs.
In something called the Ad Corps, which will be run by our Administration on Developmental Disabilities, volunteers will help people with severe disabilities to find jobs and the housing necessary so that they can live independently. The Ad Corps will actually include volunteers who are themselves disabled as well as some who are not.
In the model Health Service Corps, the second grant that we've gotten, it's a project of our health resources and services administration, and volunteers there will bring the gift of good health to young families. In homes and in community centers, the new volunteers will teach parenting skills, offer counseling and even provide some clinical services. Thousands of children will be immunized, building on the summer program, thousands of children will be immunized and many families will receive regular primary care for the first time.
In the third program, our family serve volunteers will serve in the Department's Indian and Migrant Head Start programs. Working closely with Head Start staff, the volunteers will teach literacy to parents and help children obtain basic health and dental care. They'll extend the power of our Head Start programs. Building on the President's expanded commitment to Head Start, the AmeriCorps program will serve over 1100 families around the country.
And I should point out the Assistant Secretary who initiated that program, Mary Jo Bane, is another returned Peace Corps volunteer who is in this administration.
For us, this is an exciting partnership. It's really what the department's all about. All of the programs that we're announcing today combine the organizing skills and the expertise of government with the leadership and energy and the new ideas of young Americans. All of them build on a long tradition of promoting volunteerism and services in the Department of HHS.
The communities obviously will benefit. Young people, those that are disabled, old people will benefit. And, of course, the volunteers will benefit. And as a former volunteer myself, I don't think there's anything more important than finding out, through service, that you are, in fact, not only a citizen of the world, as it was in the case of the Peace Corps volunteers, but very much what it means to be a citizen in the United States. Thank you.
MR. SEGAL: Since he arrived in Washington a year and a half ago, Henry Cisneros has undertaken many new and exciting initiatives. Perhaps none is as important from our perspective as what he's been doing in public housing, particularly really distressed urban housing all over the United States.
We've already begun an exciting partnership with the Department of Housing and Urban Development to help in that. While the bricks and mortar are going to be supplied, we know that it takes community service to turn around some of the public housing projects of the United States. We are looking forward to a very, very close marriage with the department, not only in the depressed urban housing, but in many, many other initiatives together.
It's my delight to introduce to you our Secretary of Housing and Urban Development, Henry Cisneros.
SECRETARY CISNEROS: Thank you very much, Eli. One of HUD's highest priorities is to turn around the worst conditions in public housing in our country. And as we focus on public housing, one of the most exciting tools we have is something called "Hope 6 Grants." They have allowed us, over the course of the last year, to make allocations of over $1 billion to some 34 cities to turn around a single housing development in each place. That allows a large sum of money -- in some cases as much as $50 million -- to turn around a development like Cabrini Green in Chicago.
Eli and his staff, in their wisdom, have selected these kinds of turn-around sites as the places where AmeriCorps students will work. These sites are important because they will not only be places in which we test how one reduces density and does physical improvements, changes the architecture and physical configuration of the places, but as he said, very importantly, we put in place Human Services programs.
One can envision the AmeriCorps students involved in working with the residents in planning what they want those developments to be, and actually sitting down with officials and charting a new physical arrangement, new human services, a menu of programs for those sites, beginning the staffing relationships with schools and training institutions and child care and local libraries and local police officials, to make these new places.
This is a dramatic new start for public housing. It is a program that will ripple far beyond those sites. To have 100 AmeriCorps positions identified by Eli's staff is an immense human resource boon to these efforts. We're excited about this; it adds talent and energy and youthful vitality to this effort. Young people who can meet and match with the residents. We will begin in Los Angeles, Denver, Washington and other communities, will be extended as time goes along, and I want to thank Eli for selecting us for this effort, and really express my respect and appreciation for all the excellent work he is doing.
This is one of the President's highest-priority initiatives, AmeriCorps. And we are all fortunate that Eli Segal has been on the job to move it as fast and as aggressively as he has.
Thank you very much.
MR. SEGAL: Well, I thank you for those kind words, Henry. I couldn't help thinking as we were doing this -- I couldn't help thinking back to the campaign and the jolt of electricity whenever then-candidate Bill Clinton talked about national service and talked about his AmeriCorps.
Working with Administrator Browner and the EPA has been, more than anything else, has really kind of reminded me of what this is all about. I would say there were more staff hours placed in her department to make sure this was done well than any other department clearly in the federal government. There was a real passion to get this right, just like the passion we saw whenever the President talked about national service throughout the campaign. And I'm so happy that Administrator Browner's organization, the EPA, is going to be a participant in AmeriCorps as we launch it in September.
SECRETARY SHALALA: That's because she's younger than the rest of us. (Laughter.)
ADMINISTRATOR BROWNER: I've had my share of public service. (Laughter.)
I want to begin by thanking Eli for his leadership and commitment; without him, this would have never occurred. And it is incredibly exciting. We are very, very honored to have had so many of our projects chosen by your program, and we look forward to having the students join us later this year across the country.
Our responsibility at the Environmental Protection Agency is to protect the health of the people of this country to protect the health of the resources we all share -- the air, the land and the water. And our projects build on that commitment.
They will also help us fulfill our commitment as an administration to launching a new generation of environmental protection, one that involves people where they live in protecting their resources, in protecting their health. Our projects include a clean-up of the Anacostia River here in Washington, D.C., activities in Alaskan native villages where we have American citizens who live without safe tap water, without waste water treatment facilities, work along the U.S.-Mexico border to address the polluted drinking wells, the drinking wells that become tap water for the people of the border. We're going to be doing work in Oregon to help the schools install energy-efficient lighting. And, finally, we will be working in several inner cities -- Boston, Providence, Newark, San Francisco, Atlanta -- and in Washington state on issues of particular concern to those communities -- radon and lead abatement.
We know that one out of six children in this country are at risk of elevated lead exposures. And so we are very, very excited that these projects have been selected.
One thing I would like to say about the EPA projects is that we have structured all of them in a way that they can continue. This is not just a one-time commitment. This is a permanent commitment, and we will be working in the communities in a way that these activities will go on for quite some time as we seek to address these very pressing problems. Thank you.
MR. SEGAL: I view this first AmeriCorps competition as a resounding success. His Cabinet has responded to the President's challenge. Hundreds of nonprofits have as well. In fact, I only regret that we have the resources to invest in only one out of every five proposals we received.
But that itself is an encouraging statistic for those of us who believe that an intense competition among extraordinarily committed and talented organizations will produce a national service movement in which the American people will delight. And it'll all begin this September as AmeriCorps starts changing communities near you.
Now we'll be happy to field any questions you might have. If you have questions specifically directed at one Cabinet Secretary, he or she will be happy to take that on.
Q: Mr. Segal, these 20,000 AmeriCorps volunteers, will they have any say or input in where they go or what field they want to enter? Or will it just be assigned to a project?
MR. SEGAL: We should understand for 20,000 AmeriCorps are, themselves, going to be selected by the programs -- not by the government, not by my office of the Corporation of National Service. They will presumably be applying for those kind of programs in which they are interested. Those who are interested in literacy campaigns will apply for those. Those who are interested in environmental clean up will apply for those.
We expect there will be a good deal of flexibility in what they in fact will be doing. But they will essentially be assigning, signing up to do a specific project based on which organization they are going to be working for.
SECRETARY SHALALA: A lot more rational than the beginning at the Peace Corps.
Ms. Shalala said a lot more rational than the beginning of the Peace Corps. Hopefully, we have learned a lot of lessons from the past. We're going to be able to put together the poetry of national service with the pros and that we're going to come back a year from today and be really excited with what we've in fact achieved.
Other questions, concerns.
Q: With so many different programs with people doing so many different things, could there be a problem in the end when you're trying to show the impact of national service?
MR. SEGAL: Well, I view it as a challenge. There's no question, this is a movement which is decentralized and focused. We believe very much that Washington must not be a new federal bureaucracy here, that what we really are doing is matching resources with what is going on in local communities.
We believe there'll be many, many different ways in which we'll be able to show that this is in fact one national movement that has its manifestations locally. Common launch, names, uniforms -- there'll be a whole host of mechanisms by which we'll be able to show young people who are in fact working that they're not only working on their own project, but they're part of something larger than themselves in that project.
Q: You mentioned the campaign where President Clinton spoke of this as an, obviously, a much larger program that would allow anybody who wanted to go to college to get the money to pay for college. To what extent do you think the success of these first projects is going to help you and others who want to do that to let this thing eventually grow to the point where the President wanted it to be?
MR. SEGAL: We will not quibble with what the campaign said and it did not say on this point. But I do want to remark that when we have 20,000 people out there this year, that will represent more young people serving than served in any one year in the Peace Corps which never had more than 15,500 people in it, and now has about 7,000 people.
We believe that 20,000 will be a sufficient size to show impact in a comparatively short period of time. We believe the American people will respond accordingly and that the program will grow very quickly from 20,000 to the President's wish is that by the en of 1996, there'll be at least 100,000 young people who will have served in AmeriCorps.
We believe we're going to be able to show impact in communities. We believe it's something the American people will love.
Q: What percent of the money or the positions are going to these federal agencies, and why are so much of those going to those agencies? Is this a back-door way of shoring up your budgets?
MR. SEGAL: No. In fact, I should begin by saying that if anyone looks at this as one government department giving this to another government department, they've missed the thrust of what we're talking about.
The Cabinet of Bill Clinton is involved in more than just its own business. It's more than just involved in reinventing government. It's involved in maximizing the use of resources that are available. And that's what national service is. That's what we're going to prove with AmeriCorps.
This is not a lot of money for the Cabinet. To me, it is stunning that five Cabinet Secretaries took time out of their busy days to come here when the sum total of money that's going to the Cabinet in the first year is less than $15 million.
SECRETARY SHALALA: About one-ninth --
MR. SEGAL: It will be a very, very small -- yes, it's about one-ninth, maybe one-tenth of all the funds that are in fact going to be given out this time.
What we like to think about -- this is a new kind of partnership in which we can stimulate the Cabinet to take on new initiatives and that they can leverage these funds to build even more as we go forward.
Q: How many Cabinet departments' applications were rejected?
MR. SEGAL: Several were rejected. I believe that there was a total in the federal agencies of well more than 50 that applied, of which 15 were accepted. So, you see, even in the, among the Cabinet, many didn't make it; and a lot of federal agencies, in fact, did not make it as well.
SECRETARY SHALALA: But we also -- some of us submitted more applications than were accepted, too. Most of us did. So we didn't get funded everything we asked for.
MR. SEGAL: Extraordinarily competitive. If we have no other questions, Ginny, I think we'll close at an end.
Q: What is the basic motivation of people who want to become a member of AmeriCorps?
MR. SEGAL: I'm sorry?
Q: What is the motivation for people who would like to try out --
MR. SEGAL: You're asking the -- why they will join AmeriCorps?
Well, I think they're going to do it for several different reasons. If you'll remember in the course of the campaign, the President talked about this as opportunity and responsibility.
Young people will be given an opportunity to pay for a good part of their college education in exchange for serving their communities. A young person will receive again, in addition to a minimum wage stipend, will receive an educational award in the form of a scholarship or loan forgiveness just short of $5,000 for each year up to two in which he or she might serve.
The average young person graduates with about $6,500 worth of debt. If he or she graduates from a four-year public institution, this should go a good deal of the way towards retiring the debt. We think for the most part, however, the young people who will be participating in this are not doing it for that reason, are certainly not doing it for that reason alone.
We think that there is a new time in America. We do believe the service ethic which began in the early middle of the 1980s is exploding. We report that better than two-thirds of all young people entering college today, more than two-thirds of them are volunteering three hours a week already. We hope to build on that and to create a new service movement in our country.
THE PRESS: Thank you.
END 2:10 P.M. EDT
William J. Clinton, Press Briefing by Assistant to the President for National and Community Service Eli Segal, Attorney General Janet Reno, Interior Secretary Bruce Babbitt, Health and Human Services Secretary Donna Shalala, Housing and Urban Development Secretary Henry Cisneros, and Environmental Protection Agency Administrator Carol Browner Online by Gerhard Peters and John T. Woolley, The American Presidency Project https://www.presidency.ucsb.edu/node/269542