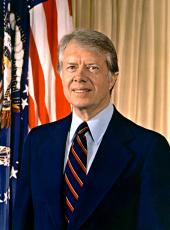 President's Commission on Coal Remarks on Receiving the Commission's Reports.
GOVERNOR ROCKEFELLER. Mr. President, I appear before you today in two capacities, as Chairman of your President's Commission on Coal and as Governor of the great coal State of West Virginia. As Chairman of the Coal Commission, I am proud to present you with this report, which holds our summary findings and our hopes for the coal industry of the United States.
THE PRESIDENT. Thank you very much.

GOVERNOR ROCKEFELLER. This is a product of many years of work, Mr. President. Secretary Wirtz, Mr. Presley, Marvin Friedman, Jesse Core, Senators Randolph, Huddleston, and Percy, Congressmen Perkins, Murphy, and Buchanan have all helped, as well as some of your own Cabinet Secretaries.
It is, Mr. President, a most workable plan. It describes how we can produce more coal in this country and how we can do so in a way which is fair, which is equitable, and which is environmentally sound. It describes how we can improve health and safety in this country, and also how we can improve the living conditions for the American coal miner. As Governor of West Virginia, I tell you that the people of my State, coal operators, miners, all of us stand ready to help you in implementing this plan for the future.
The steps that you have already taken in suggesting the legislation to Congress are critical and important steps in the right direction. With our great leadership in Congress, Senators Byrd and Randolph and our Congressmen from West Virginia and other States, we will help you get support for this plan. And when this plan is passed, Mr. President, we will lead the way in producing more coal. The people of my State are ready, are willing, and are able to produce coal.
Mr. President, we thank you for your leadership. We thank you for your commitment to coal. And with this report and with our own commitment for the future, we offer you our support and our continued hard work to keep this great Nation of ours energy independent, strong, and free. Thank you.
THE PRESIDENT. First of all, I want to express my deep thanks for these two reports. I would like to take a few minutes to read them through, and then I'd like to respond. [Laughter]
As a matter of fact, ever since I've been in office, ever since I've been living in this home, I have been deeply concerned about the same problems which you have come to discuss today. And I see a much brighter average countenance in this group than some of the occasions when I have met with this same group of leaders, who are so concerned about the present and future of the coal industry and about our Nation's energy security.
I'm pleased to be with you today to recognize the importance of coal and in honoring those who have helped America to recognize the importance of coal for our present energy needs, and most especially for our energy security of the nation which we love. Coal is our most abundant energy resource. We have one third of the world's total coal reserves. I've long believed that our Nation must use more of this natural resource in our own national defense.
Two years ago I established the President's Coal Commission—I announced it in West Virginia—to make recommendations on the major issues involving coal. These issues are difficult, they are sensitive, they are multitudinous, they are closely interrelated. The Coal Commission report has been submitted to me, and I thank very much the Commission and its staff for the quality of their work, for their dedication, and for this report, which will be a guide to many other than those assembled here in the White House today.
I'm especially proud of Governor Jay Rockefeller, Chairman of the Commission. The Commission's success and the proposals for increasing coal use and for a better life for those who work in the mines can be traced to his dynamic leadership and to his commitment to coal and to our country. I also want to thank the Members of the Congress assembled here, Senators from the coal States. I have met with every one of you, sometimes in very heated discussions, but they've always been productive for me and for you and for our country.
And the Members of the House of Representatives have joined in a most constructive fashion, bringing a grassroots approach to the entire analysis and to the entire study, which has let your own constituents express their views through you and me. And it's provided a soundness of judgment that's been beneficial to us all. I won't list the individual Members of the House and Senate who are assembled here, but I also want to mention the many others who have worked tirelessly to promote coal utilization.
I would say that the most important recommendation of the Rockefeller Commission was embodied in the utility oil and gas reduction proposal which I made to the Congress last Thursday. When Congress enacts this legislation—and every one of you should become a team to ensure the enactment of that important law—we will be acting decisively to re, duce the unwarranted use of oil and gas in the electric utility sector. This accelerated national effort at reducing our dependence on imported oil is essential. This year, we will send $90 billion of American money overseas to pay for oil which we are buying from foreign countries. We not only import extremely large quantities of oil, but along with it we import, as you well know, both inflation and unemployment.
This change toward using American produced energy is essential. And in the conversion of existing big boilers to coal and to other alternative fuels, we can provide America with its nearest term, most immediate, large-quantity reductions in oil and natural gas. The use of 3 million barrels of oil and natural gas per day in utility boilers now is a significant element in our Nation's dependence on that foreign oil which concerns us so much.
My proposal to the Congress is designed to reduce this use of oil and natural gas equivalent by 1 million barrels per day by 1990. It will provide significant economic and national security benefits and represents a sound investment in our Nation's energy security.
The proposal, as you know from your briefings which you will receive today, or have already received, consists of two parts. Phase I mandates the conversion of 107 coal-capable units at 50 different generating stations. $3.6 billion will be available in grants to pay for up to half the capital costs associated with the conversion of those plants from oil and gas on the one hand, to coal in the future. Phase II will provide a voluntary program that utilities may use to achieve savings in their consumption of oil and natural gas. $6 billion in grants will be made available under this part of the program to assist those utilities in making those investments.
The Commission report, which I've just received, but which I've seen and studied ahead of time, also recommends that a White House advisory council be established to advise the President on a continuing basis on coal policy matters, because if there's one element of American and worldwide society which is constantly changing, it's energy. And as changing circumstances present themselves to me and to our country, I need the constant advice of knowledgeable people who know about the reserve supplies, the best means of extracting those supplies for the market, the best means of utilizing this precious possession which God has given to our country. I intend to accept the recommendation and to have this commission or council work closely with me.
In addition, the Commission recommended that the National Academy of Sciences be commissioned to study why some coal mines are safer than others. Coal mining safety is of paramount concern to me, and I'm today commissioning such a study to report to the Secretaries of Labor, Energy, and to the chairman of the White House coal advisory council.
One of the great benefits of increased coal use is employment. And we want those new jobs throughout our country to he safe jobs. I'm aware of the environmental concern associated with the use of coal. We have not evaded this issue. We have addressed this problem forthrightly in all of my meetings. With everyone concerned with coal, I have insisted upon this procedure. Had we ever tried to mislead the public, or to evade an important subject, that evasion would have been counterproductive.
The Commission, in its report, from the very first day, bas showed that the subject of environmental quality has been included in all the recommendations made. Jay Rockefeller and his Commission have worked very closely with the Environmental Protection Agency and its officials, and there need be no apology made by the coal industry for all these recommendations, because we have absolutely not compromised the air quality standards established in the Clear Air Act, in the conversion of these plants from oil to coal, or in the other recommendations made by the Commission.
This is very important. I think not only will it address this issue forthrightly and accurately, but it will help to eliminate the exaggerated concerns that have in the past been an obstacle to the increased use of coal. Acid rainfall is a serious problem to which we must find an acceptable solution. When I meet with the Prime Minister of Canada or when I meet with the Chancellor of Germany or with other leaders throughout the world, not only in our own country, the subject of acid rain is a growing issue to be addressed and resolved.
Together, you and I, the Congress, of course, must complete a comprehensive study of this problem. It's a fairly new problem. It cannot be evaded, and I'm sure that we can find a solution to it. America has more minable coal reserves, as you know, than any other country on Earth. Every barrel of imported oil which we can replace with American coal will save us precious dollars which we would otherwise spend overseas. By keeping those dollars here at home, we can provide American jobs, we can cut down drastically on the inflation rate, and we can enhance our Nation's security.
Those possibilities will be realized if we are able to continue the close cooperation, the dedication, the sound judgment, the inspiration, and the hard work which has been personified by these men and women in this room. Together we can make our Nation more secure through a precious possession, coal. You've got a partner in the White House; together we will not fail.

Thank you very much.
Note: The President spoke at 1:08 p.m. in the East Room at the White House.
The reports are entitled "The President's Commission on Coal—Recommendations and Summary Findings" and "The President's Commission on Coal—Staff Findings" (Government Printing Office, 26 and 66 pages, respectively).
Jimmy Carter, President's Commission on Coal Remarks on Receiving the Commission's Reports. Online by Gerhard Peters and John T. Woolley, The American Presidency Project https://www.presidency.ucsb.edu/node/250021