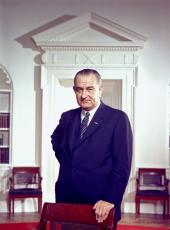 Presidential Unit Citation Awarded the 1st Marine Aircraft Wing.
THE PRESIDENT of the United States takes pleasure in presenting the
PRESIDENTIAL UNIT CITATION TO THE
FIRST MARINE AIRCRAFT WING
for service as set forth in the following
CITATION:
For extraordinary heroism and outstanding performance of duty in action against the North Vietnamese Army and Viet Cong forces in the Republic of Vietnam, from 11 May 1965 to 15 September 1967. Throughout this period, the First Marine Aircraft Wing, operating in I and II Corps tactical -zones of the Republic of Vietnam, North Vietnam, and adjacent waters, sought out and destroyed determined enemy forces and provided combat air support to ground forces of the Free World and the Republic of Vietnam. Participating in 195 major operations, and thousands of other attacks, the Wing continuously and aggressively carried the battle to the elusive enemy in bitterly contested actions. Operations such as DOUBLE EAGLE, HARVEST MOON, STARLITE, HASTINGS, PRAIRIE, UNION, HICKORY, COCHISE, AND SWIFT, reflect the high degree of superior airmanship, valor, devotion to duty and professionalism exhibited by personnel of the Wing. Although heavily committed to increased combat operations, the Wing developed and successfully employed new weapons, tactics, and procedures against the hard-core communist forces with gratifying results. Through the aggressive actions of the Wing, military and political victories were denied the insurgent communist forces, thereby providing a more stable atmosphere for the legally constituted Government of the Republic of Vietnam. The establishment, and logistical support of many separate airfields throughout the I Corps tactical zone and the vital air supply support provided the III Marine Amphibious Force and its allied ground forces, was a tribute to the resourcefulness and determination of the Wing. This dependable support was provided under the most trying and difficult combat conditions. Flying in fair weather and foul, against a fanatical, well-armed enemy, the uncommon courage and intrepidity of the Marine pilots and supporting Wing personnel, acting in a concerted team effort, contributed to another glorious chapter in an already illustrious history. The valor, devotion to duty, aggressive spirit, professionalism, and ingenuity of the entire First Marine Aircraft Wing in battle against a well trained, dangerous, and determined enemy, reflected the highest degree of heroism and exemplary performance, and were in keeping with the highest traditions of the Marine Corps and the United States Naval Service.
LYNDON B. JOHNSON
Lyndon B. Johnson, Presidential Unit Citation Awarded the 1st Marine Aircraft Wing. Online by Gerhard Peters and John T. Woolley, The American Presidency Project https://www.presidency.ucsb.edu/node/237269