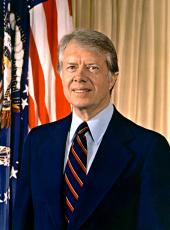 Presidential Advisory Board on Ambassadorial Appointments Announcement of Formation and Membership of the Board.
The President has invited a group of 20 Americans to constitute a Presidential Advisory Board on Ambassadorial Appointments. The Board, which is comprised of persons with backgrounds varying from education to government and diplomacy, will examine the qualifications of candidates under consideration for certain ambassadorial posts. It will advise the President and the Secretary of State, in confidence, of its findings.
The work of the Board will help to ensure that only qualified individuals are nominated by the President to serve as American ambassadors abroad. The Board will consider prospective nominees for ambassadorial posts for which noncareer individuals are being considered. The names of career Foreign Service officers as well as of prospective nominees from outside the Service will be submitted to the Board by the Secretary of State.
Governor Reubin Askew, of Florida, will chair the Board. To ensure their objectivity, members of the Board will be asked to agree not to accept appointment to an ambassadorial post during their service on the board, or for a period of at least one year thereafter.
Members of the commission on ambassadorial appointments are:
ANNE CLARK MARTINDELL, State senator from New Jersey

JOAN MASUCK, Unitarian Universal Association Planning Committee, Omaha, Nebr.

CHRIS GITLIN, Cleveland Council on Human Relations

NANCY FLAHERTY, assistant for Special Projects for Pittsburgh History and Landmarks Foundation

MARY JEAN PATTERSON, director, Washington office of the United Presbyterian Church

Gov. REUBIN ASKEW, Florida

MAURICE FERRE, mayor, Miami, Fla.

PROFESSOR JOHN HOPE FRANKLIN, University of Chicago

AVERELL HARRIMAN

PROFESSOR STANLEY HOFFMANN, Harvard University

DEAN Rusk

ALEX SEITH, partner, Lord, Bissell and Brook

DONALD STEWART, president, Spelman College, Atlanta, Ga.

TOM O'NEILL, Lieutenant Governor, Massachusetts

MARIA DURAN, television producer, Miami, Fla.

BEN WATTENBERG, author

LEONARD WOODCOCK, president, United Auto Workers

BARBARA WHITE, president, Mills College, California

VILMA MARTINEZ, president and general counsel, Mexican-American Legal Defense Fund

GOV. WILLIAM SCRANTON, Scranton, Pa.
Jimmy Carter, Presidential Advisory Board on Ambassadorial Appointments Announcement of Formation and Membership of the Board. Online by Gerhard Peters and John T. Woolley, The American Presidency Project https://www.presidency.ucsb.edu/node/244109